If you're looking for the best price on your crypto and want someone else to do the searching for you, the Voyager app might come in handy.
The company was founded in 2017 and is based in Jersey City, New Jersey. It's CEO is Stephen Ehrlich. Unlike other crypto exchanges, it works more like a crypto broker. The app's main selling point is that it scours the exchanges for the best price on the token you want, offering 100+ cryptos.
While it claims to be commission-free, its unique approach to fees has drawn some negative attention in the form of a class-action lawsuit that alleges hidden charges exceeding fees and commissions charged by competitors.
Three things to know about the app before starting:
The company raised $100.1 million and has since gone public. It trades in Canada and on the US OTC market under the ticker VYGVF.
Ability to earn up to 12% annually on certain coins held in your account.
The app is also ideal for institutions in need of order execution and custodial crypto services.
What is the Voyager app?
It is crypto investing app for iOS and Android. It connects you to more than a dozen crypto exchanges for more than 100 digital currencies and offers up to 9% APY on some assets. Please read our full review to determine whether this platform is right for you.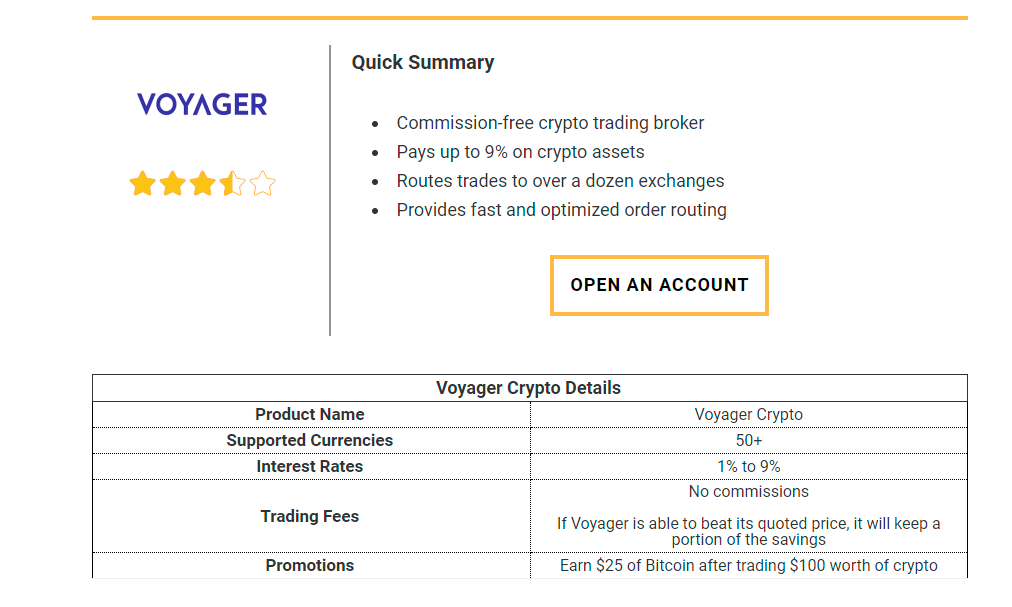 Fees and costs
No commissions, the app may earn a fee when it beats its quoted price, and you save money. The app's technology allows it to compare cryptocurrency prices on different exchanges. When the platform can save money on a price, it passes some of the savings on to you while maintaining a portion of those savings for itself. However, there are some other fees that you need to be aware of when you use the app.
Withdrawal fees
If you want to withdraw your crypto to an external wallet, you will see a dynamic fee. This fee depends on the token involved and the current balance, and any network fees for using the blockchain to complete the transfer.
Wire transfer fee
Voyager doesn't charge a fee for using ACH transfer for cash. However, there is a $50 fee for incoming and outgoing wire transfers, and you must transfer a minimum of $10,000 out.
Features
| | |
| --- | --- |
| Ease of use | The app itself is a hybrid of an app and loading web pages from their site. It tries to make the crypto purchasing experience easy. First, it's only available on mobile, and that's challenging when moving crypto assets between accounts. Second, the app has issues loading pages frequently enough that we had to document it. |
| Wallet | You can transfer assets from an external wallet to your Voyager account/wallet. When transferring funds out of your wallet and to an external wallet, you may have to wait a couple of days before processing the transfer. |
| Availability | It is available in every US state except New York, which always seems to be left out regarding US-based crypto exchanges. |
| Order types | It offers both markets and limited order types. A market order will execute at whatever the price is when the trade is set through. A limit order lets you set a specific price to execute a trade. |
| Referral program | If you can convince a friend to sign up with Voyager, deposit $100, and then trade that $100, you'll both earn $25 worth of Bitcoin. |
| Safety | It is a solid, reputable crypto broker. The firm uses high-end security features to help prevent hacking attacks. It's also a publicly-traded company, so all of the firm's financial dealings are available to everyone for added reputability. |
| Deposit fee | None listed |
| Deposit clear time | 5 business days |
| Deposit availability | Up to $10,000 |
| Mobile app availability | iOS and Android |
| Desctop availability | No |
Pricing
You only need $10 to trade cryptos at Voyager. But Voyager isn't precisely an exchange. The company describes itself as a broker facilitating trading through its routing technology.
How to start?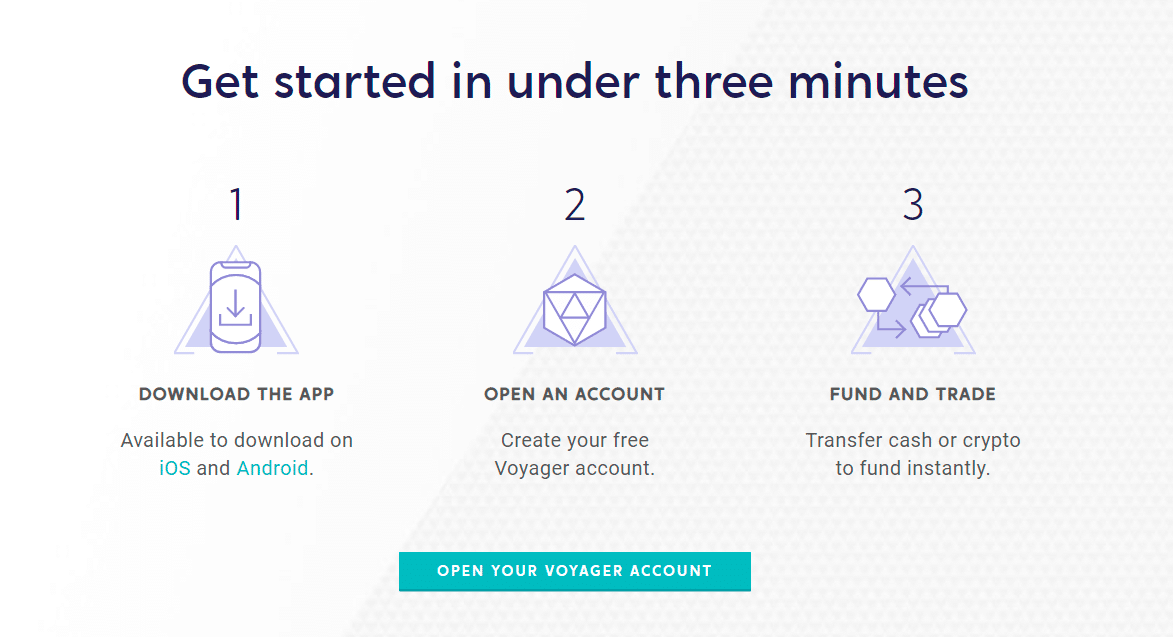 It is available for iOS and Android devices. You can start by following some simple steps:
Download the app
You need first to download the app.
Open an account
Enter your email address, choose a password, provide your name, address, and Social Security number, and verify your account via email.
Fund and trade
Deposit your crypto and start earning.
Approval can take up to 12 weeks but usually happens faster. In researching for this review, we found the approval happened almost immediately.
How much could I get for one month using the app?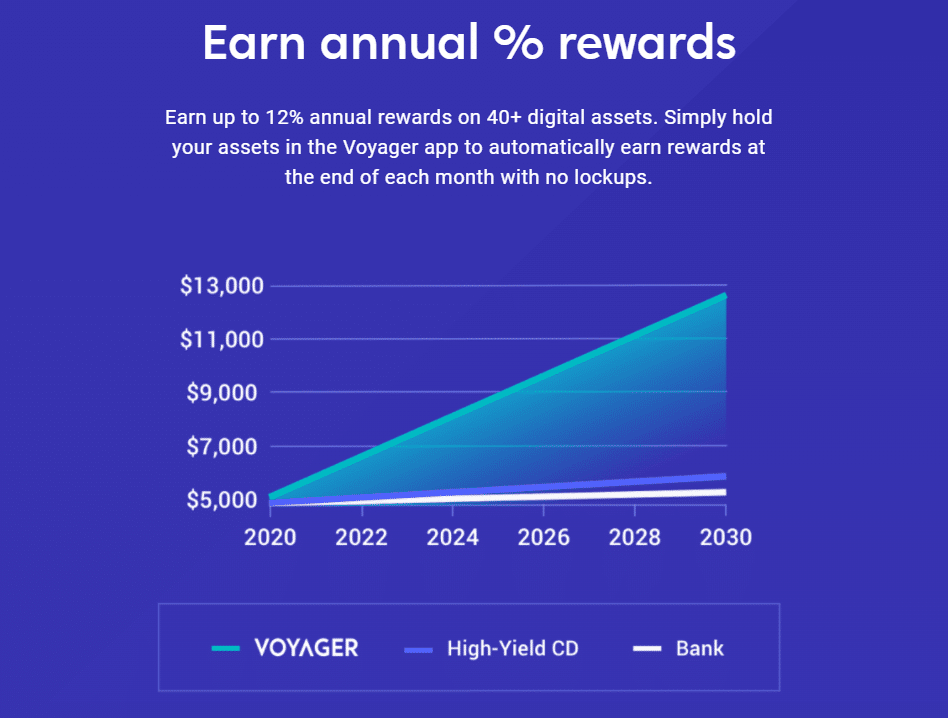 Voyager offers interest rates of up to 1% to 9% on various cryptos and stablecoins. Minimums and rates are listed below for four of the 24 coins you can currently earn interest on.
| | | |
| --- | --- | --- |
| Coin | Minimum | Interest rate |
| BTC | 0.01 | 6.25% |
| ETH | 0.50 | 5.25% |
| USDC | $100 | 9% |
| DOT | 25 | 8% |
The crypto app also lets you earn monthly interest payments for maintaining minimum balances of different cryptos, and institutional clients have access to order execution, liquidity, and custodial services. It's also introducing the Voyager Debit Mastercard, a card backed by a USD coin. The card allows you to earn up to 9% in crypto rewards each year.
The amount you earn is based on the token in question. For example, if you have a minimum monthly balance of 20 DOT, you can make 12% annually, while you need at least 0.5 ETH to earn 4.25% annually. Rewards are paid out in the token you stake, so if you stake DOT, your interest payment, which arrives monthly, will be paid in DOT.
How does the Voyager app compare?
Compared to other exchanges such as Celsius, BlockFi, BlockFolio, and Nexo, some of Voyager's interest rates are lower. Those exchanges also don't have minimums. However, it does offer interest on certain coins that aren't available on the other three exchanges.
Voyager, Mistplay, and Kraken all have the following: substantial crypto selections, low minimums, interest or staking rewards, and crypto services for institutions. But fees vary for each platform.
Pros and cons
| | |
| --- | --- |
| Worth to use | Worth to getaway |
| Access to multiple exchanges with one account. | Not available in New York. |
| FDIC-insured cash holdings. | Withdrawal fee when you move crypto from exchange to the wallet. |
| Commission-free trades. | No coin-to-coin exchange. |
Final thought
Voyager is an ideal crypto broker for new investors that want a simple-to-use platform that doesn't charge high fees. The firm's multitude of supported coins, VGX rewards program, and interest-bearing crypto savings accounts also make it popular among people who want to do more than just trade crypto.
At the same time, it is an excellent choice for people who prefer a mobile-first platform. Additionally, the firm's advanced charting features, multiple order types, and institutional investing make it worth considering for experienced investors that want a simplified yet robust trading process.