The Vanguard institutional index fund is one of the most considerable funds to invest in, allowing significant returns. It will enable investors to make money by investing and following the price movement. They don't need to perform any additional activities.
However, finding a reasonable investment opportunity requires basic knowledge and understanding of that fund or asset. You have to examine some essential attributes of these assets before investing, such as costs, volatility, performance, etc.
Are you looking to buy or sell VINIX? Or perhaps you're looking for a VINIX fact sheet, and learn about its alternatives? If so, you came to the right place.
Three things to know about the fund before starting:
The fund has returned 21.29% over the past year, 11.28% over the past three years, and 9.52% over the past five years.
It sits in the top third among its category peers.
An investment in the fund could lose money over short or even long periods. You should expect the fund's share price and total return to fluctuate within a wide range, like the fluctuations of the overall stock market.
About the VINIX
VINIX is a fund that seeks to track the performance of a measurement that determines the return of investments from large-capitalization stocks. The fund seeks to track the performance of a benchmark index that measures the investment return of the overall stock market. It employs an indexing investment approach to track the performance of the CRSP US Total Market Index. It invests by holding a collection of securities that approximates the index.
This fund tracks the performance of the S&P 500 index, which is a popular measurement to understand the US stock market. You can find large US companies' shares in this index. Meanwhile, holding each stock in approximately the same ratio as the weighting in the index.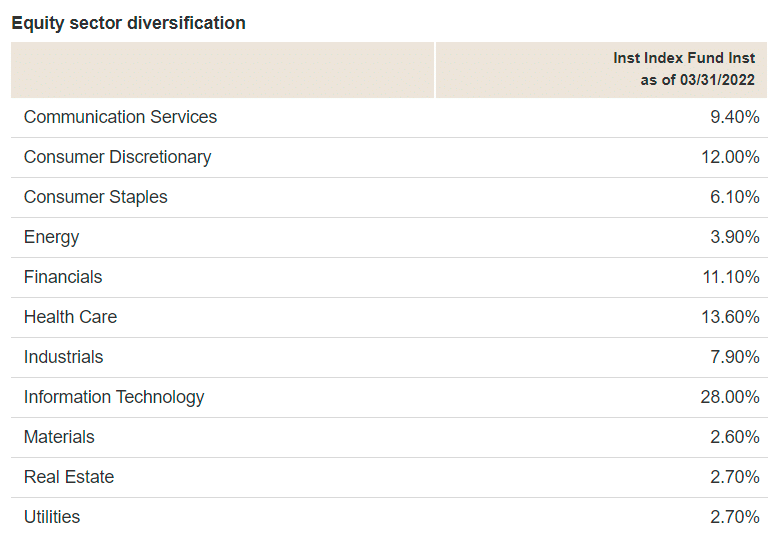 VINIX has 505 stock holdings and 0 bond holdings. The top ten holdings represent 28.19% of total assets.
Role in portfolio
The experience and stability of Vanguard's Equity Index Group have permitted continuous refinement of techniques for reducing tracking error. The group uses proprietary software to implement trading decisions that accommodate cash flow and closely correlate with index characteristics. The portfolio holds all stocks in the exact capitalization weighting as the index using full replication. Vanguard's refined indexing process, low management fees, and efficient trading have provided a tight tracking net of expenses.
Management
Launched in 1975, The Vanguard Group, Malvern, Pennsylvania, is among the most significant equity and fixed income managers. As chief investment officer, Gregory Davis, CFA, oversees Vanguard's Equity Index, Quantitative Equity, and Fixed Income Groups. Rodney Comegys, Principal and global head of Vanguard's Equity Index Group, is responsible for all equity index funds.
The Equity Index Group manages indexed equity portfolios covering US and international markets. It has developed sophisticated portfolio construction methodologies and efficient trading strategies that seek to deliver highly correlated returns with target portfolio benchmarks. The group has advised Vanguard Institutional Index Fund since 1990.
Risk
Investors should not forget about beta, a meaningful way to measure a mutual fund's risk compared to the market. VINIX has a 5-year beta of 1, likely to be as volatile as the market average. Another factor to consider is alpha, as it reflects a portfolio's performance on a risk-adjusted basis relative to a benchmark, the S&P 500.
Over the past five years, the fund has had a positive alpha of 0.01. This means that managers in this portfolio are skilled in picking securities that generate better-than-benchmark returns.
Stock market risk
The chance that stock prices will decline overall. Stock markets tend to move in cycles, with periods of rising stock prices and falling stock prices. The fund's target index may, at times, become focused on stocks of a particular sector, category, or group of companies. Because the fund seeks to track its target index, it may underperform the overall stock market.
Investment style risk
Large-cap stocks tend to go through cycles of doing better or worse than other segments of the stock market or the stock market. These periods have, in the past, lasted for as long as several years. The chance that returns from large-capitalization stocks will trail returns from the overall stock market.
Performance
Inception date: July 31, 1990
Expense ratio: 0.03%
Yield: 1.34%
YTD return: -4.60%
Category: Large Blend
Holdings turnover: 4.00%
Last dividend: 0.00
As of writing, it was trading at $350.29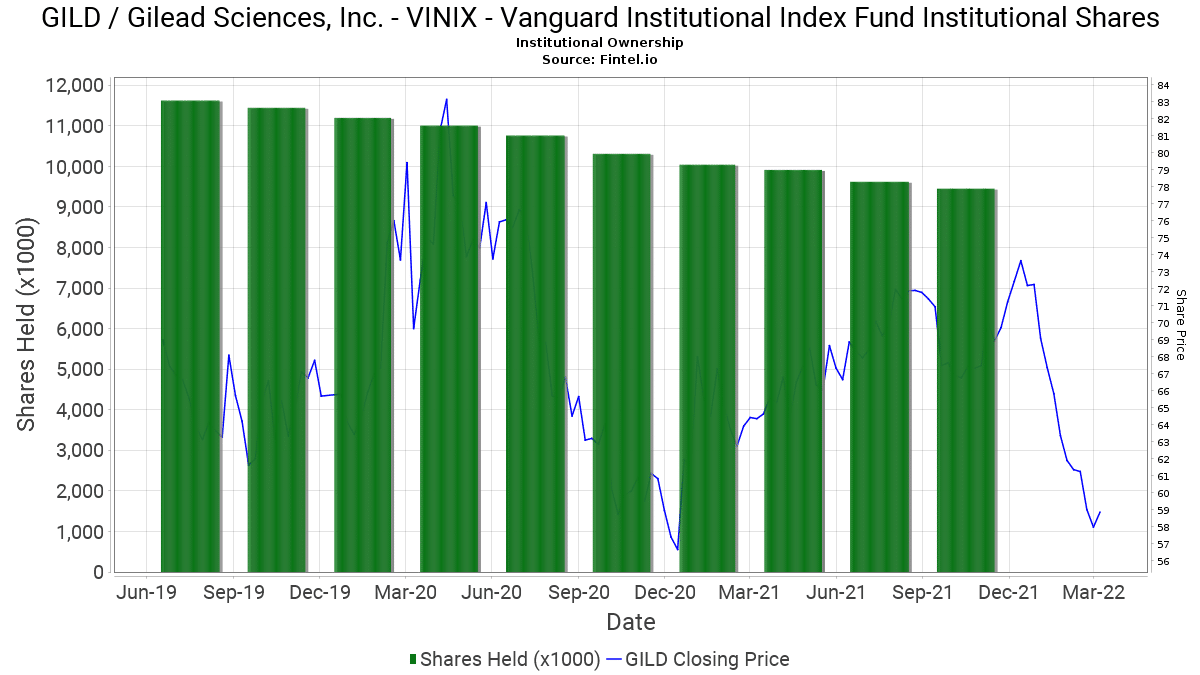 Of course, investors look for strong performance in funds. This fund carries a 5-year annualized total return of 16.75% and is in the top third among its category peers. Investors who prefer analyzing shorter time frames should look at its 3-year annualized total return of 20.69%, which places it in the top third during this time frame.
Fees
When you are in some mutual funds, the cost and fees become essential factors to consider. Despite all other things an equal, you can view a low-cost product as an outperformer. There is no load fund in VINIX when it comes to fees. Additional funds in this category got a 0.85% expense ratio on average. If you compare from the cost perspective, then VINIX is comparatively cheaper. You have to make an initial investment of $5 million and require at least $1 investment for each following.
Net expense ratio
This fund got an expense ratio of 0.035%, which is cheaper in comparison to other funds.
Final thoughts
Finally, you know the essential information you need to learn about VINIX. We suggest learning more about this fund before investing. Additionally, check on the facts of the duration of the investment. Your research on this fund doesn't have to stop here. You can check out all the significant index funds we offer by going here.