Cryptocurrency interest accounts are not a new concept in the crypto industry. These platforms allow high-interest cryptocurrency savings and borrowing accounts by keeping crypto coins as collateral and replacing greedy intermediaries.
Many platforms offer higher interest rates on crypto savings accounts and lower loan rates than traditional alternative options. The Celsius network is currently one of the most popular crypto lending platforms with several positive features.
However, it is mandatory to justify any platform from several angles when selecting any passive income app such as security, minimum deposit, interest rate, etc. This article contains a complete review of the Celsius app.
Three things to know about the Celsius app before starting:
The platform is user-friendly, and any beginner can use it without facing issues. So both crypto holders and beginners can choose this passive income app for making money.
This app allows users to deposit and earn interest over a particular period. It is also a crypto lending platform that enables users to borrow or take loans and return them with interest. In this case, the interest rate for a loan will depend on the asset you borrow.
Through the app, individual users generate passive income by holding their crypto coins.
What is the Celcius app?
The Celcius Network is a blockchain-based crypto coin lending platform; S. Daniel Leon, Nuke Goldstein, and Alex Mashinsky are the founders of this platform. It offers various financial services primarily popular for lending Bitcoin at the best rate. Celsius App alow users to borrow, buy, and pay in more than thirty cryptocurrencies.
The forming period of this platform is 2017, and the launching period of the native coin CEL is 2018. It is a London-based company with more than $100 million in investments. There are no withdrawal fees, limitations, or lock-up periods. So users can withdraw their funds anytime they want to. Celsius app offers a less complicated way to generate income and lower investment risks for both crypto holders and beginners. For better understanding, we are attaching a quick summary chart below.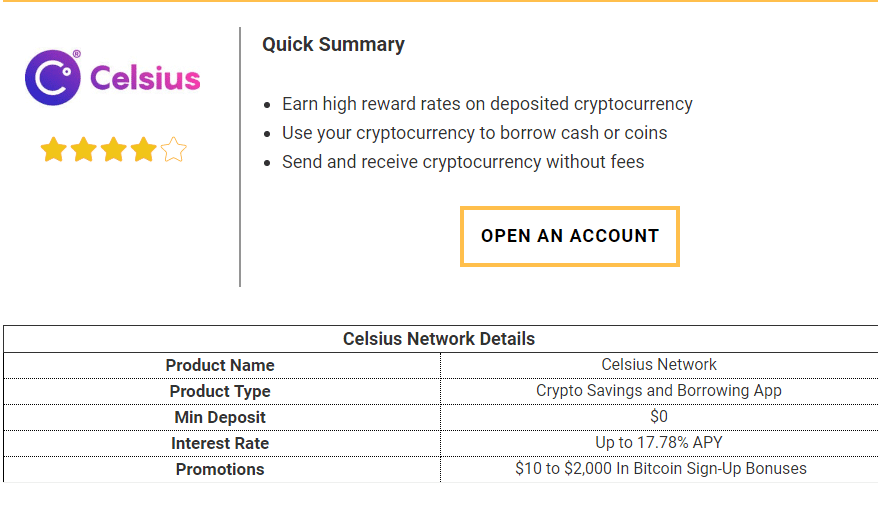 Fees and costs
The Celsius app is excellent as it offers many "no-fee" services to users as follows:
This platform can do this as it makes profits through borrowing and lending services. The Celsius app allows purchasing coins using several payment methods such as:
SEPA transfer
Bank transfer
ACH transfer (via Wyre)
Debit card
Credit card
This platform doesn't have crypto trading services but has partnerships with two platforms, respectively Coinify and Wyre. This partnership feature enables users to in-app purchase a limited number of crypto coins that users can deposit and purchase into the Celsius wallet. Check the chart below for checking loan fees and deposit restrictions.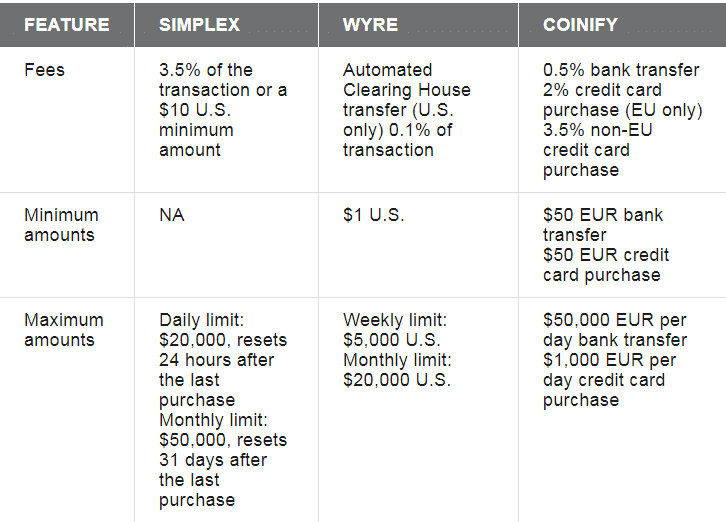 Features
The primary features the Celsius app offers:
Borrowing
This app allows over forty crypto coins as collateral when borrowing. There are no extra fees, only the interest on loans. This app may lend users' collaterals to institutional investors. You can choose the amount of crypto you want to use as collateral rather than putting all your crypto coins through a loan-to-value (LTV) ratio. The Celsius app offers 25%, 33%, and 50% LTV.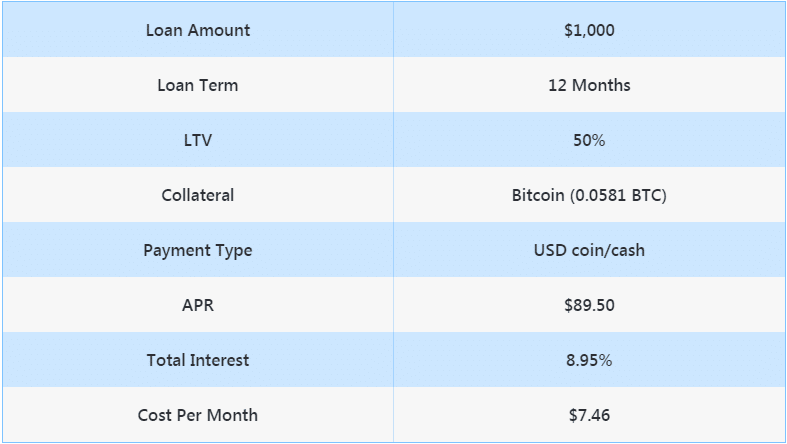 Reward/Earnings
You can expect to earn up to 17.78% APY when using the Celsius app for holding crypto coins. This unique platform currently pays interest on one Gold token (PAXG), ten+ stablecoins, and twenty-five+ cryptocurrencies.
Mobile platform
The Celsius app has a relatively user-friendly mobile platform that allows accessing all features, including growth charts, total earnings, total account balance, etc.
Customer support
This platform enables customer supports through calls, emails, and social media massaging.
Pricing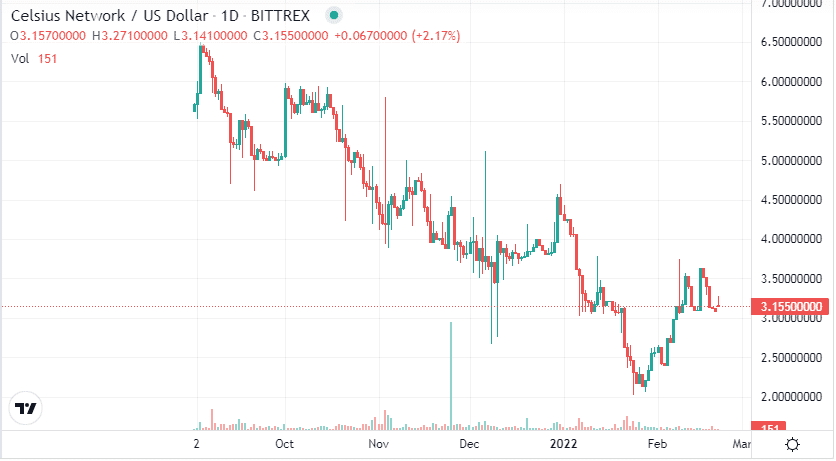 The native token of this platform, CEL, is floating near $3.15 today with a 24-H trading volume of $5,412,292. The fully diluted market cap is $2,109,458,626 and the live market cap is $724,269,205. The circulating supply is 238,863,519.83 CEL. Meanwhile, the total supply and the maximum supply are 695,658,160 CEL.
How to start?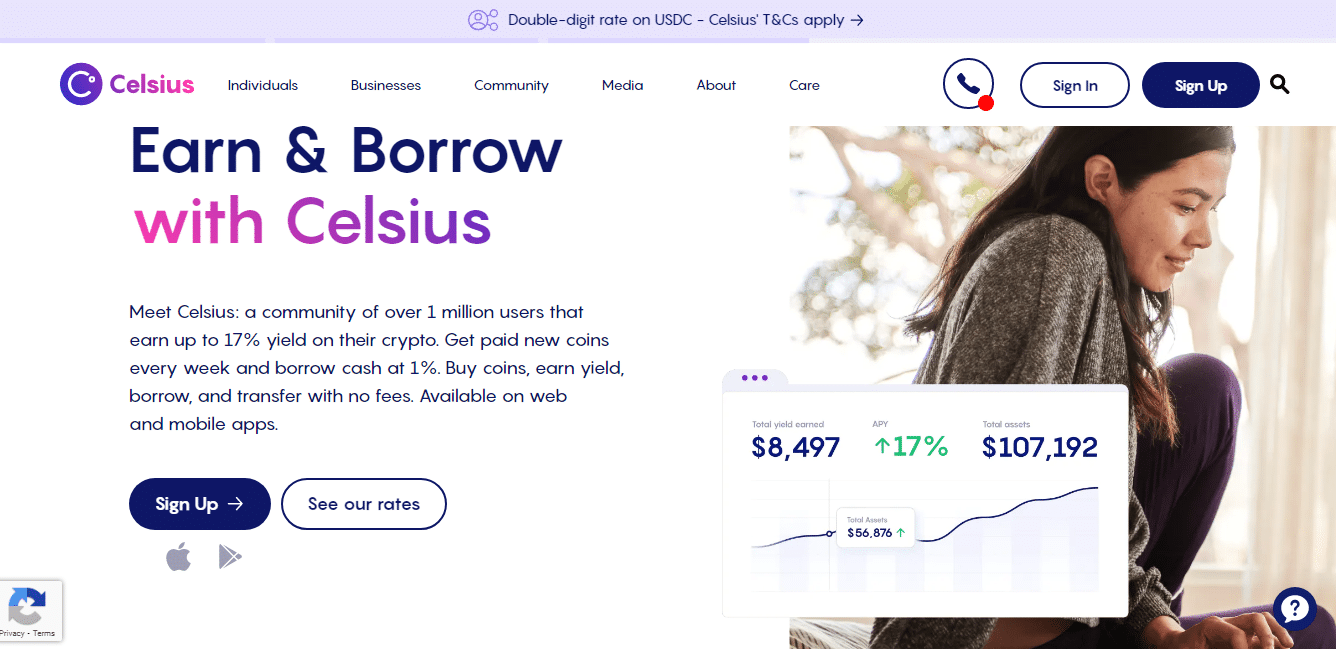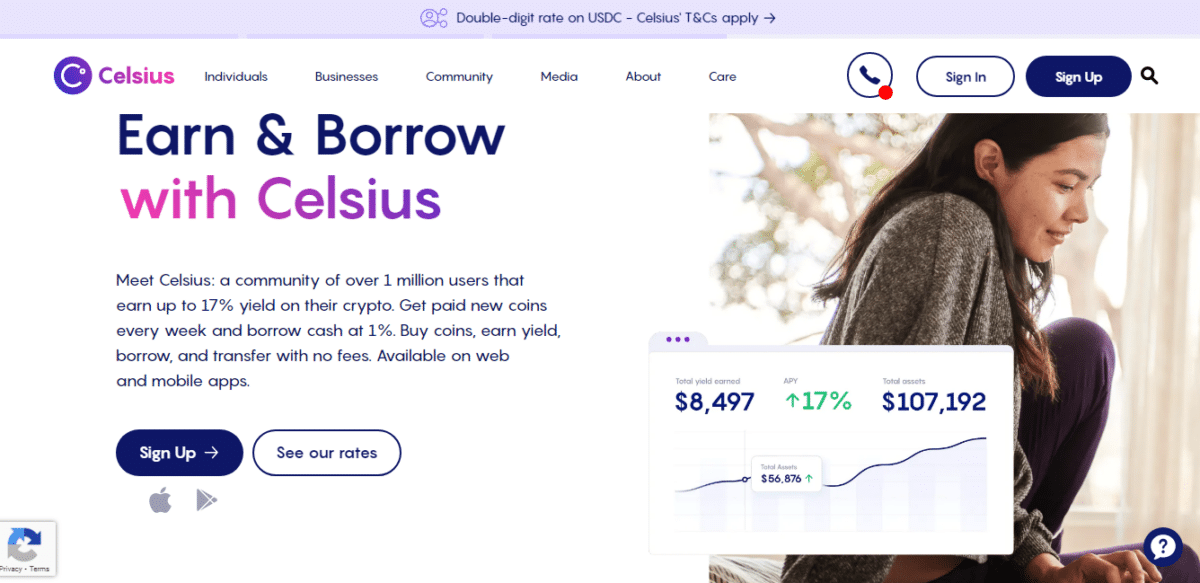 You can start with this app by following some simple steps:
Sign up
Go to the homepage and complete the sign-up process by providing your personal information.
Verify
Once you complete signing up, provide your documents to verify your account.
Start
You are all set to go. In this step, deposit your crypto and start earning.
How much could I get for one month using the app?
The Celsius app allows users to earn up to 17.78% APY on investments or keep/hold their assets on this platform.
How does the Celsius app compare?
The Celsius app offers the best interest rates for crypto savings accounts and low-interest rates on loans. Meanwhile, many other passive income apps and crypto lending platforms provide many other features. It allows earning weekly, whereas many other platforms may earn daily with your crypto assets. Some top platforms in this category are Nexo, MobileXpression, Fundraise, Mainvest, Paribus, Acorns investment app, Truebill app, etc.
Pros and cons
| | |
| --- | --- |
| Worth to use | Worth to getaway |
| CelPay is an easy-to-use and straightforward fund transfer system. | Only a handful of crypto coins and tokens are available to purchase. |
| This platform allows users from 150 countries worldwide to access via Desktop, Android, or IOS apps. | This platform doesn't have its exchange operating depending on third-party vendors. |
| It requires no fees for transfers, loan origination, and minimum balances. | The Celsius app doesn't allow accessing CEL tokens of its benefits to the United States residents. |
Final thought
The CEL token is already making upside which is positive for the Celcius app. If you plan to invest in crypto coins for a more extended period, the Celsius app can be the right choice. Moreover, if you have BTC, ETH, or other altcoins or stablecoins in possession, you can earn money using this app by holding.