Investors have been seeking alternative ways to generate income rather than traditional banking. Many suitable platforms enable this option for individuals worldwide, allowing deposit fiat currencies and generating passive income. Moreover, these platforms often make more money in interest rates than traditional banks. Nexo app is one of the worth-checking apps in this category.
However, it is mandatory to check many platform factors before investing, such as fees, costs, investment procedure, return amount offerings, etc. This article covers all primary information about the Nexo app.
Three things to know before proceeding:
The Nexo app is one of the best passive income apps in the crypto industry that offers many positive and attractive features.
Users invest their wealth to earn from interest or take loans from these platforms and repay with interest in these platforms. Some passive income apps also allow users to generate income by completing tasks not even need an investment.
Users generate passive income through the Nexo app by holding crypto assets.
What is the Nexo app?
It is a Switzerland-based lending platform that allows users to earn interest on cryptocurrency investments. Users can expect to earn an interest rate between 6%-12% APR for crypto coins as it varies by coins and distribution methods.
This app allows users to take loans based on cryptocurrency in their accounts without selling and repurchasing them. The interest rate for loans of crypto coins starts from 6.90% APR. Note that Nexo doesn't allow buying or selling crypto coins on their platform. The launching period of this company is 2018, and gain considerable popularity in a few years. We are attaching a quick summary chart of the Nexo app below for better understanding.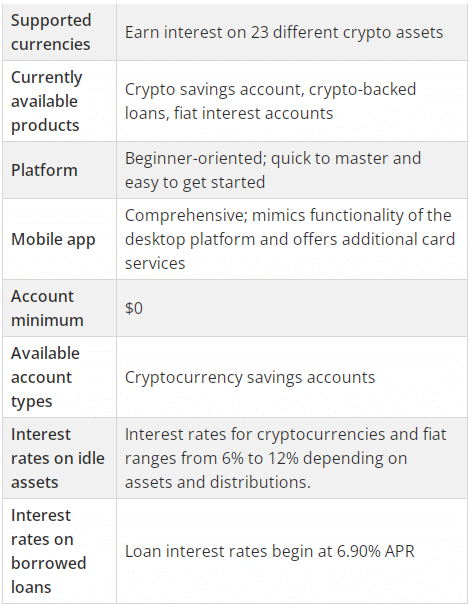 This app supports approximately 28 crypto coins to deposit on their platform and earn interest not limited to BTC, ETH, XRP, etc. This platform has a native ERC-20 token NEXO.
Fees and costs
Nexo charges minimal fees like many traditional savings accounts. Users don't need to pay any maintenance fees and can withdraw anytime they want. Users only need to pay brokerage fees when transferring funds directly from any crypto exchange wallet to their Nexo account. The fee varies with the brokerage you use, and there is no minimum deposit amount to earn interest from the Nexo app. Withdrawal minimum depends on the coin that you are holding.
For example, Tron has the highest minimum of 20 tokens, while BTC has the lowest 0.001 withdrawal minimum. This platform also offers loans.
Features
The key features of the Nexo app are:
High-yield interest
This platform offers high-yield interest to crypto holders. It offers a 4%-8% for crypto coins like ETH, BTC, etc., and a 10%-12% interest rate for stable coins like DAI, USDC, USDT, etc. Users don't need to sell their coins and earn up to 20% interest rates for holding that asset on this platform.
NEXO token
It is the native token of this platform, and you can use it as a source of revenue with discounts when you hold it.
Borrowing/loans
Nexo's crypto-backed loan is a unique feature. You can take a loan depending on the amount of crypto you invest, and there are no origination, prepayment, or installment fees; you only need to pay interest over the period that starts from 6.90 APR. The loan amount depends on the loan-to-value of your asset.
Mobile application
Nexo mobile platform offers all offerings of the desktop version. It has a card management service, two-factor authentication to avoid fraud, military-grade safety features, and interest notifications.
Customer support
Nexo offers three ways to contact: email ([email protected]), live chat, and online messaging.
Price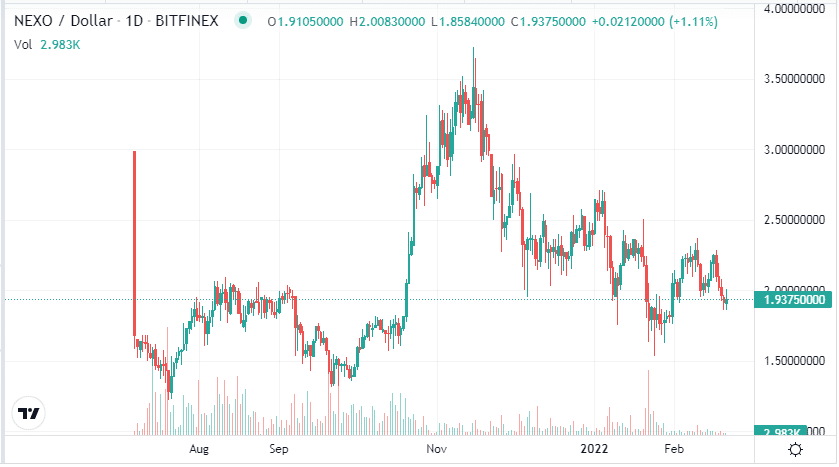 NEXO price is floating near $1.937 today with a 24-H trading volume of $6,365,091. The live market cap is $1,083,257,192. The circulating supply is 560,000,011.00 NEXO. Meanwhile, the total supply and the maximum supply are the same 1,000,000,000 NEXO.
How to start?
It is straightforward to start with this platform, even if you have never been on any crypto savings platform. It is a specific platform that only takes a few minutes to master. This platform has currently worth $12 billion assets under management and 3.5 million+ users around the globe.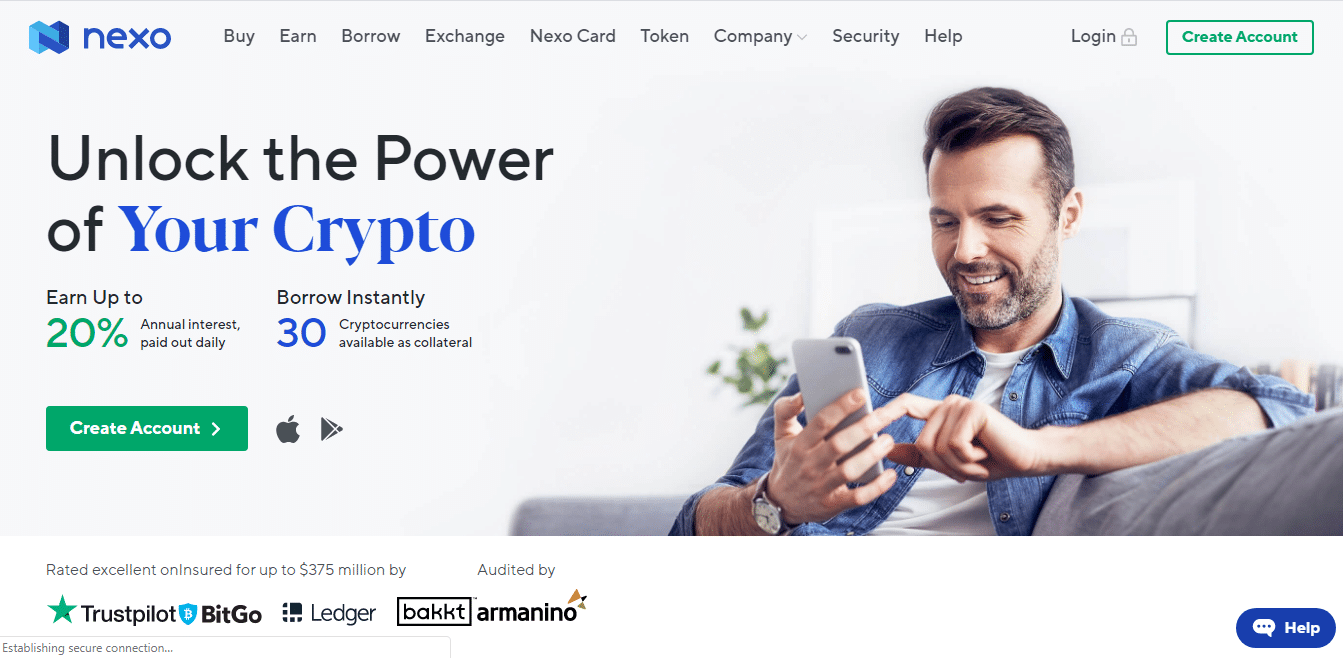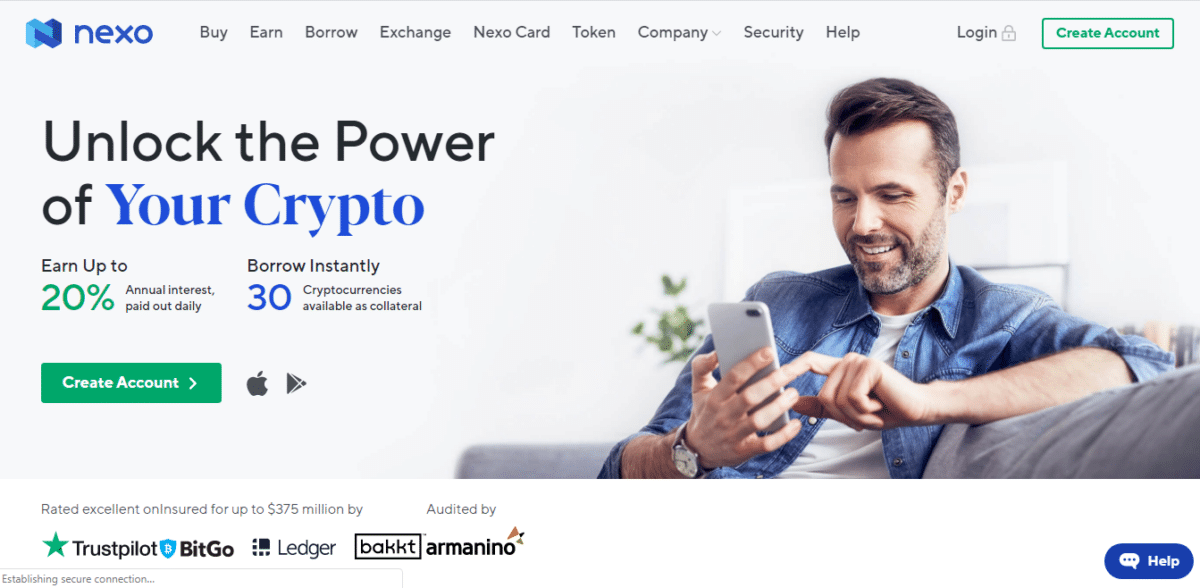 You can start with this platform by following some simple steps.
Sign up
It only takes a few minutes to complete this process. It includes providing your personal information, confirming the account, and getting started with a desktop or comprehensive mobile platform.
Easy using platform
Nexo is a very user-friendly application. Anyone can use this platform, including someone with no experience in transferring crypto coins. Moreover, it has a two-factor authentication feature to keep the account secure.
Automatic interest collection and payment
Once you complete your sign-up and funding processes, you sit back and relax; the platform will do the rest. Nexo calculates interest rates daily and deposits them directly to users' accounts.
How much could I get for one month using the Nexo passive income app?
It offers a 12% daily interest in 24 hours and 7-12% monthly.
How does Nexo compare?
Many passive income apps are available that allow users to generate income in a particular period. When comparing these assets, compare them by user experience and benefits, pricing and promotions, mobile app, customer service, and security. Some other apps in this category are MobileXpression, Mainvest, Public.com, Paribus, Fundraise, Truebill app, Acorns investment app, etc.
Pros and cons
| | |
| --- | --- |
| Worth to buy | Worth to getaway |
| Nexo offers high-yield savings accounts. | Fewer educational resources than other apps in the same category. |
| This platform is user-friendly. | Some countries don't allow this platform. |
| Nexo offers insurance and advanced security features. | Don't allow exchange currencies. |
Final thought
The Nexo app is an excellent platform, to begin with, to generate passive income from your crypto savings accounts. It can be an ideal choice for both seasonal and novice crypto investors. You need to invest actually on your brokerage platform so choose brokerage carefully.