Due to recent developments, the idea of the Metaverse has become popular among individuals from all walks of life. Various tech giants and large corporations are also arranging to adopt this current vogue.
The Metaverse concept is not new, as famous writer Neal Stephenson discussed this idea in his novel "Snow Crash" back in 1992. However, the notion has recently gained prominence due to the pandemic conditions and Facebook's rebranding.
Correspondingly, the value of Metaverse-linked cryptocurrencies is surging as these tokens are the primary transactional currency of the virtual universe. Following the trend, crypto enthusiasts are investing in Metaverse crypto, considering the massive potential of these coins.
In this article, we have listed the top Ethereum-based Meta coins to buy in 2021/2022.
Three things to know about Metaverse coins before starting:
These coins are the regulatory and transactional tokens of virtual reality platforms.
Some of them like AXS and SAND have displayed explosive growth of 10,000-20,000% in the past 12 months.
Cryptocurrency blockchain and decentralization technology regulate the Metaverse coins.
What are Ethereum Metaverse coins?
Metaverse refers to a virtual network and digital reality where people interact, buy goods, land, and other digital assets, attend events or engage in transactions. Metaverse creates a real-life 3D simulation with advanced features that allow users to share the same space with other people or avatars.
The Metaverse experience has no defined boundary as the gamers might already be inside this sphere. Moreover, people arrange art exhibitions, events, and digital festivals on the Metaverse platforms.
It is important to note that "Metaverse coins" regulate this virtual world as its streamlined currency. Blockchain technology powers most of these platforms, creating a decentralized environment involving non-fungible tokens and cryptocurrencies.
Moreover, Ethereum Metaverse tokens are specific cryptocurrencies built on the Ethereum blockchain according to the ECR-20 standard.
Reason to use for investors
According to professionals and analysts, Metaverse would be the new average life in the upcoming years. This virtual reality has an immense capacity to flourish due to its various appealing aspects, such as enhanced social interactions, trading of NFTs, and user-generated content availability.
Furthermore, most developing entities are incorporating Ethereum blockchain technology in their Metaverse projects. It is because the Ethereum platform allows the establishment of smart contracts and dApps. Decentralized applications enjoy autonomy with no interference from third parties or central groups.
In addition, blockchain users mine and validate the transactions, diminishing the risks of fraud and monopoly. Also, this blockchain incorporates a standardized set of rules and codes that has simplified the creation and publishing of dApps.
Here, we have discussed some ETH Metaverse coins that have shown remarkable performance recently and have excellent growth prospects.
1. Axie Infinity (AXS)
Price: $135.04
Market cap: 8.22 billion
Axie Infinity is a Ronin Sidechain (Ethereum chain) based play-to-earn competing game. This feature has added to the popularity of this NFT game as users can acquire in-game rewards and redeem them in real-life currency.
In this game, users create, breed, and fight with digital pets called "Axies." In addition, gamers trade and purchase virtual land plots and live in communities. AXS and SLP are the native tokens of this digital game. Players can earn AXS by winning battles or tournaments and trading Axies.
The AXS token has a current circulating supply of 60.9 million that can reach a maximum of 270 million. AXS coin has shown tremendous performance in the last five months by climbing from a mere 3-4$ range to around 140$.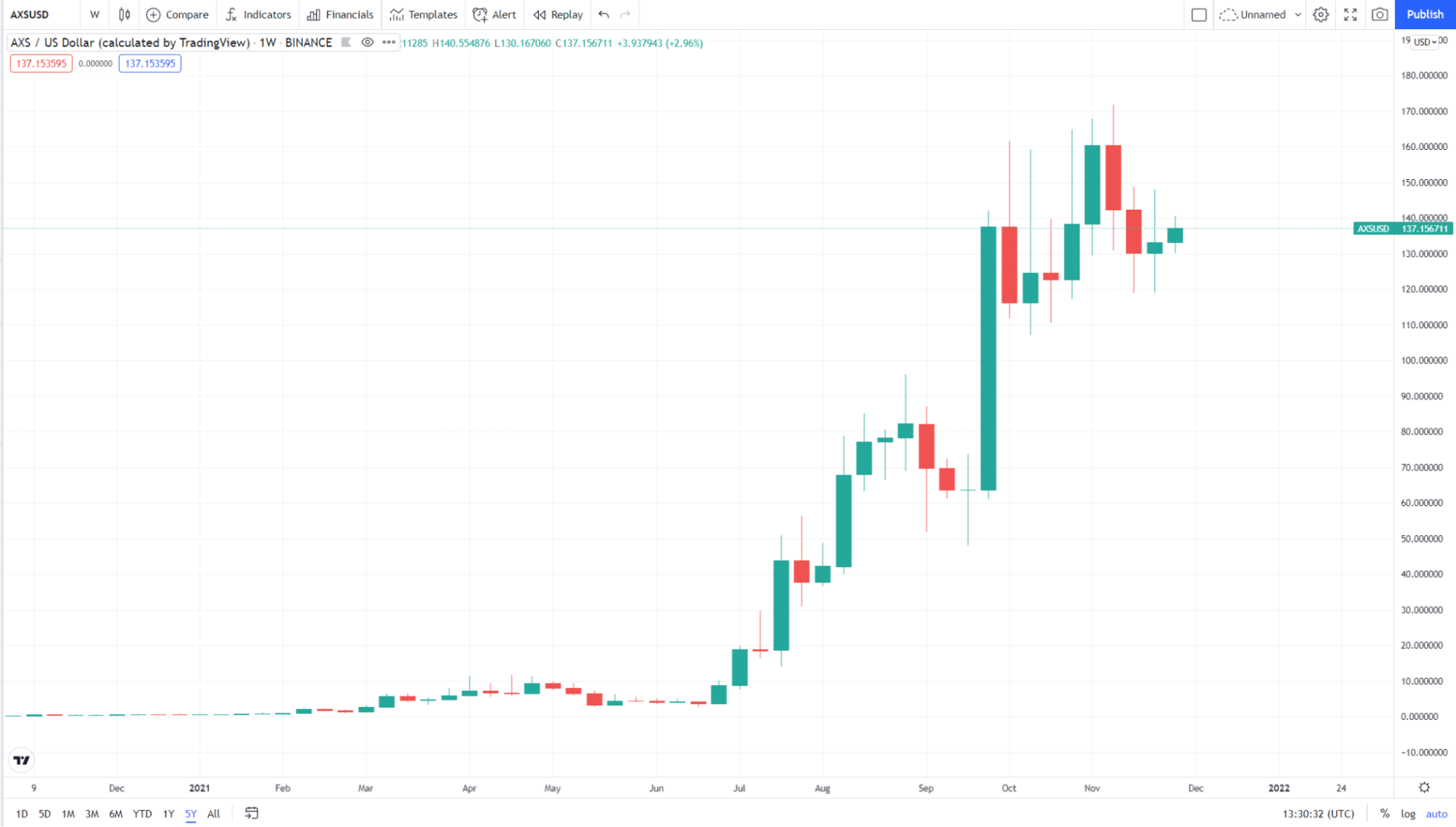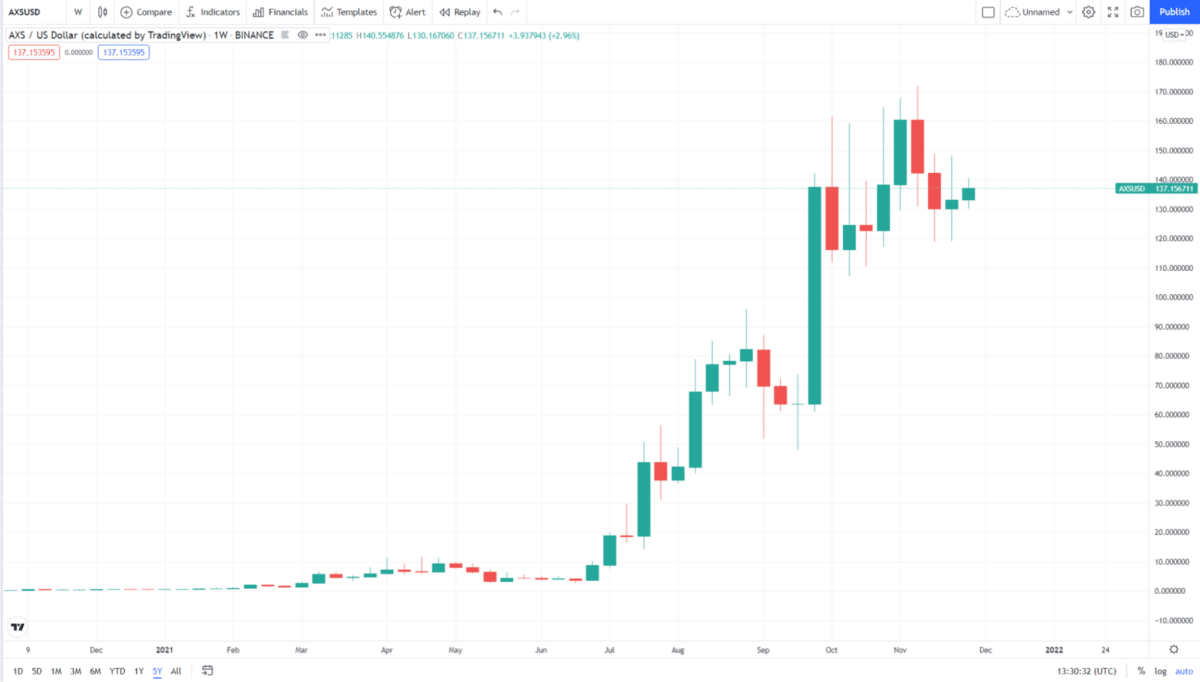 AXS coin price prediction 2022
The Axie Infinity coin has the potential to maintain its upward momentum in the following years. The price can cross the 400$ mark by the end of 2022.
2. Sandbox (SAND)
Price: $7.61
Market cap: 6.8 billion
Sandbox is an Ethereum-based virtual reality platform where users can buy or sell land plots and create their desired experiences. Moreover, Sandbox allows users to develop games and trade digital assets in a decentralized ecosystem.
SAND is the transactional token of this platform. Players utilize this coin to create, buy and sell the NFTs within the Sandbox world. This digital token has a set maximum supply of three billion, with the current circulating supply around 912 million.
In just the past 30 days, the coin value has surged from below $1 to around $7, exhibiting its massive potential.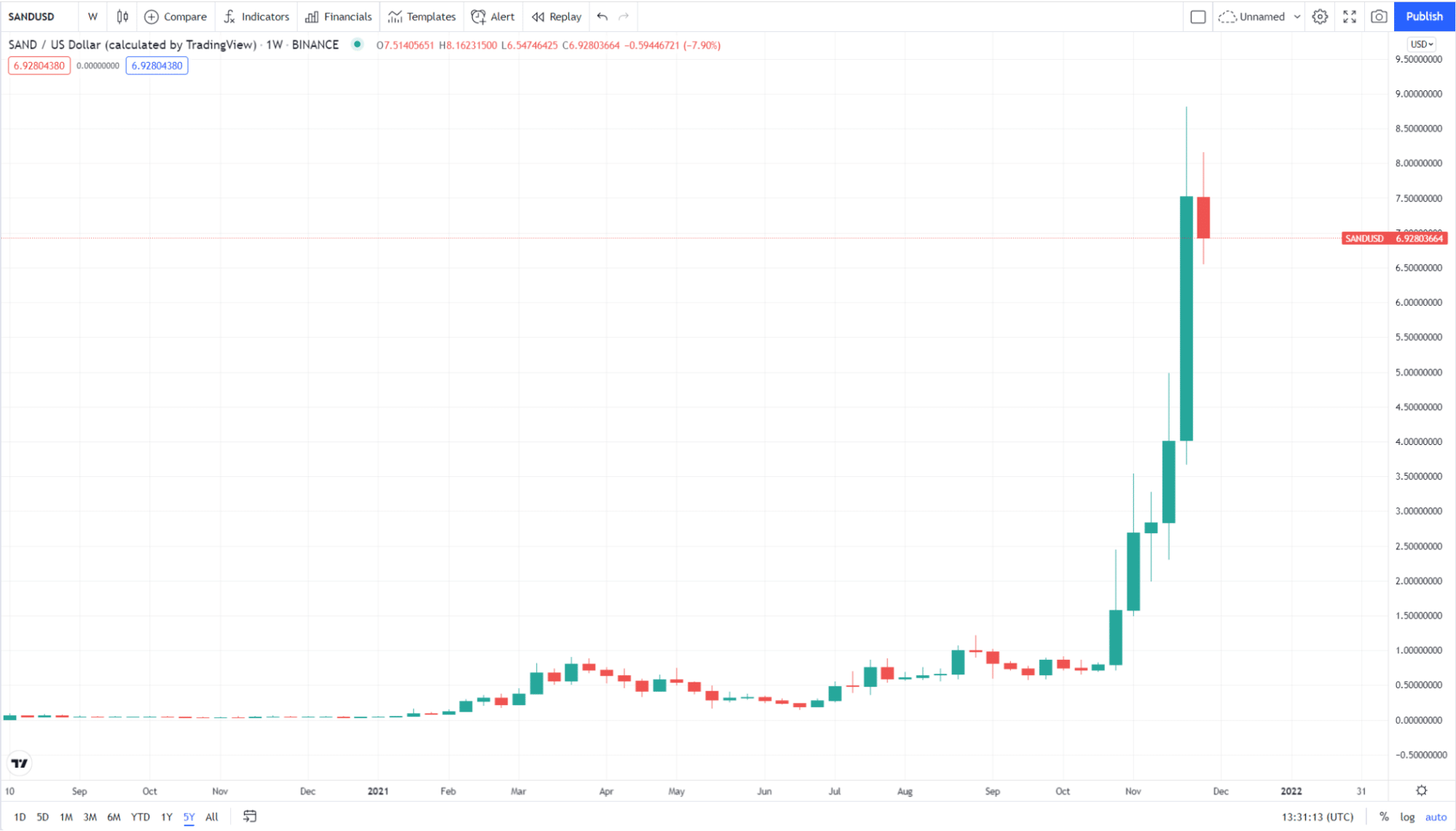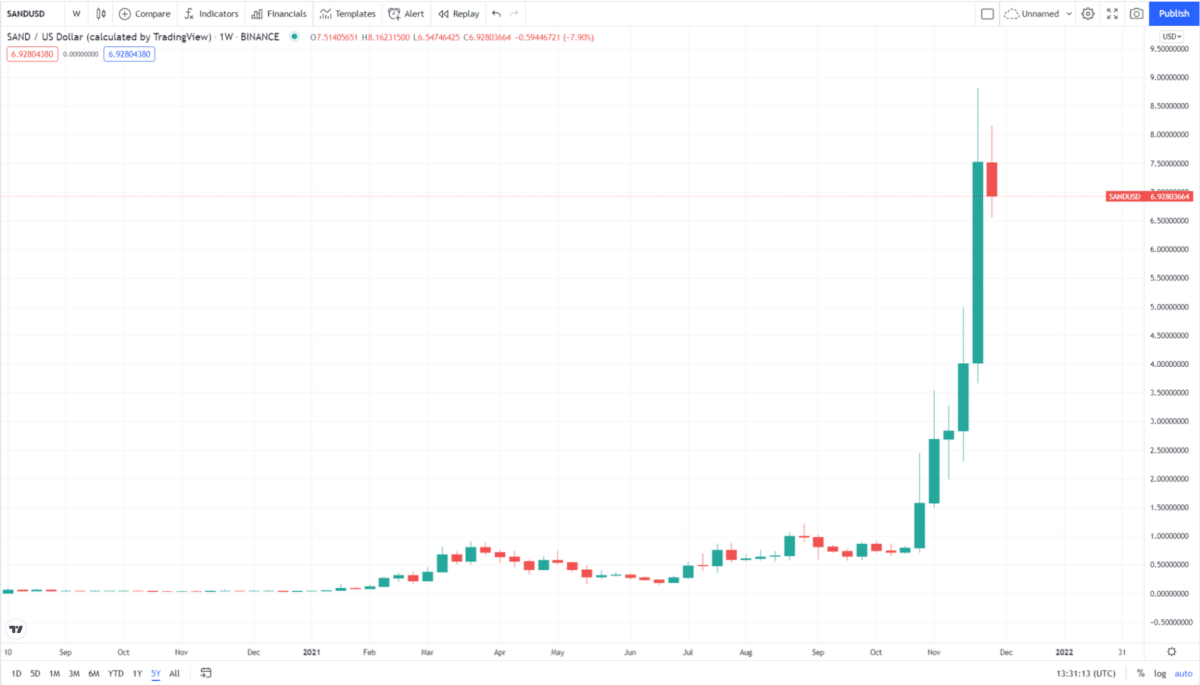 SAND coin price prediction 2022
In the wake of the increasing Metaverse popularity, the SAND value will likely continue enhancing in the upcoming years. By the end of 2022, it can reach up to $14.
3. Decentraland (MANA)
Price: $5.08
Market cap: 9.33 billion
Decentraland is a virtual reality platform powered on the Ethereum blockchain. This Metaverse allows the participants to establish and monetize land parcels. In addition, players can create virtual towns and marketplaces, arrange NFT exhibitions, and manage Metaverse festivals.
MANA is the utility ECR-20 token of this platform, utilized to buy and sell lands, wearables, and goods. The total supply of MANA is around 2.19 billion, out of which 1.8 billion are already in circulation.
The coin has shown remarkable performance in the last 30 days by climbing from below $1 to above $5.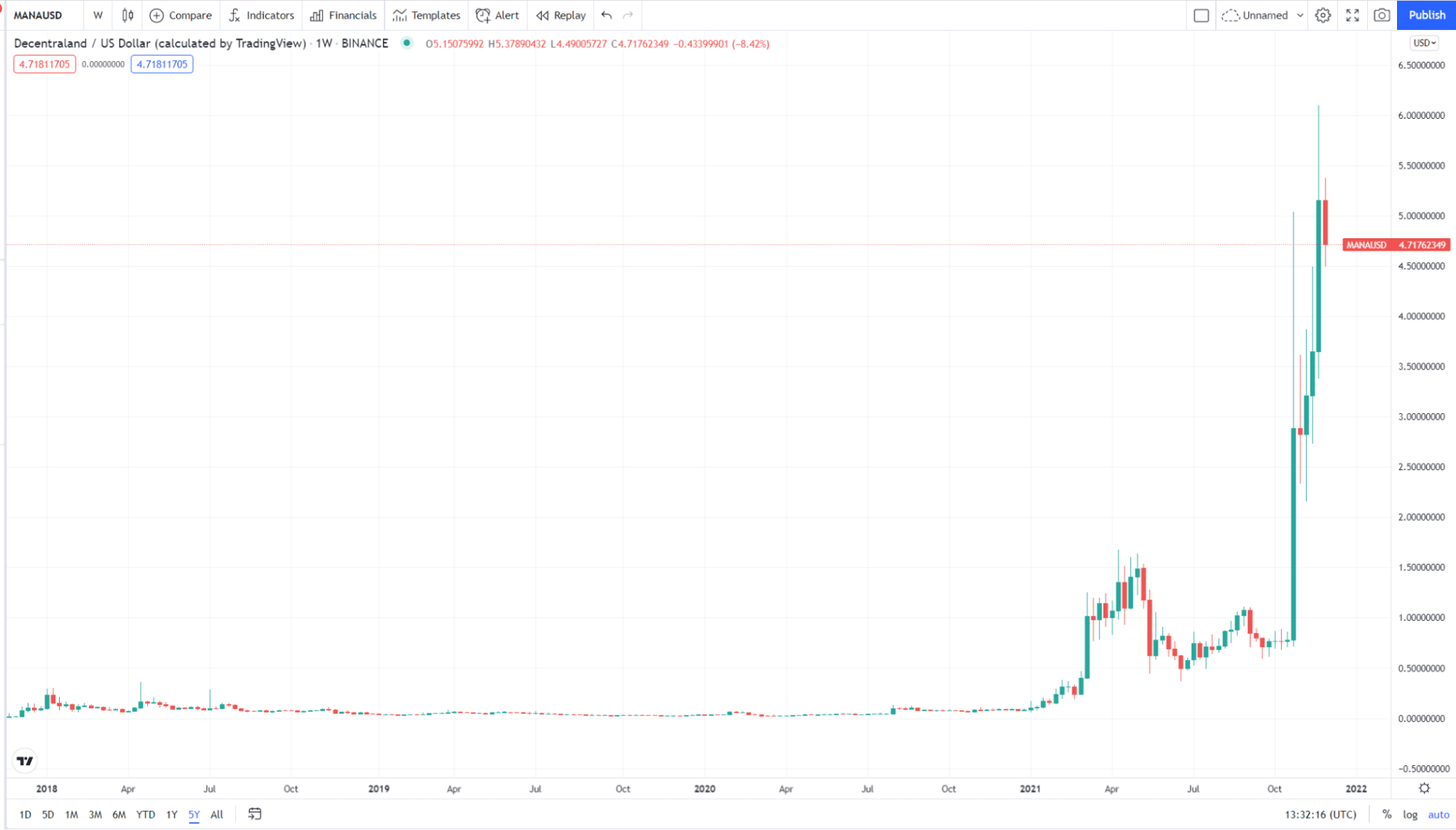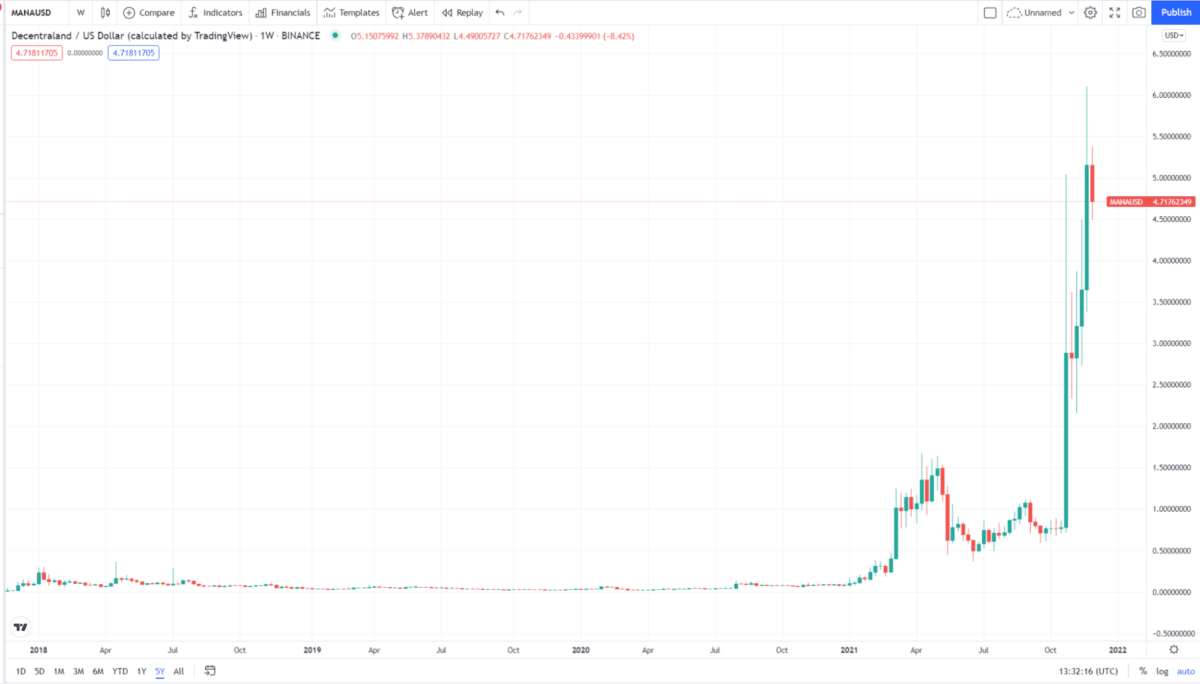 MANA coin price prediction 2022
Forecasts point to the promising prospects of the MANA coin, as it can cross the $13 mark by the end of 2022.
Pros and cons
Recently, Metaverse coins have become an investment of choice; however, several limitations exist with these unique tokens. Some of their pros and cons are as follows.
Worth to use
Worth to getaway
Enhancing value
These coins have enormous growth potential as this digital reality can assist in various fields of life.
Risk of shifting trend
Any sudden trend shift or loss of interest can result in the devaluation of Metaverse coins.
Decentralization
These coins are the tokens of decentralized platforms based on blockchain technology. Resultantly, they possess a bright future outlook.
Adverse cultural impact
Metaverse isolates individuals from the real world that can cause negative effects on regular social life.
Social interaction
Metaverse is becoming a platform for diverse social interaction from all parts of the globe.
Cyberattacks and propaganda
Like other digital systems, Metaverse platforms are prone to cyberattacks. In addition, malicious groups can use them for adverse practices or public brainwashing.
Final thoughts
Investors who keep track of the emerging trends and enter that flow at the right time emerge triumphant in the long run. The Metaverse coins are more than just thematic tokens, as they are likely to continue surging in value in the coming decades. Moreover, the Metaverse is fusing the real-world elements to a digital reality amid promising expectations. As a result, investors, gamers, and technology lovers have set their eyes on this booming industry.