Founded in late 2017 by Flori Marquez and Zac Prince, BlockFi is a US-based centralized crypto finance company. It allows you to gain access to cash without selling or trading your crypto holdings. Its products stretch across multiple categories – ranging from crypto-collateralized loans and interest-bearing accounts for your crypto deposits.
Thanks to the rising popularity of cryptocurrencies – we have seen many crypto lending providers emerge over the past few years. BlockFi is one such platform that allows you to make the most of your crypto holdings by expanding its use cases.
Let's look into the app to offer you an in-depth analysis of its different financial products. We also walk you through setting up an account with the platform to start making passive income on your crypto investments.
Three things to know about the app before starting:
BlockFi's interest account (BIA) allows users to lend out their crypto for up to 9.25% in annual percentage yield.
Another advantage of the platform is that you can borrow against your coins. Instead of selling them when you need funds, you can take out a loan.
Another great way that it is not necessary to use or stake native currencies to receive higher interest rates.
What is the BlockFi app?
We make building wealth through crypto approachable and straightforward. It is a trusted platform to build and manage your crypto portfolio easily. Over one million clients trust them in 80+ countries to create and manage their crypto portfolios.
The app is suitable for investors who want things easy and convenient. The bank-like savings account will be familiar territory. You won't be waiting for a loan to fund. You start earning interest right away. Investors who are new to crypto will like the idea of a stablecoin to maintain a consistent price while gaining 8.6% or 9.3% per year, respectively.
Fees and costs
BlockFi does not charge trading fees on its platform, but it does mark up crypto-assets with a spread of about 1%. The company says that figures can vary based on market conditions. It offers one free monthly withdrawal of stablecoins and one free crypto withdrawal.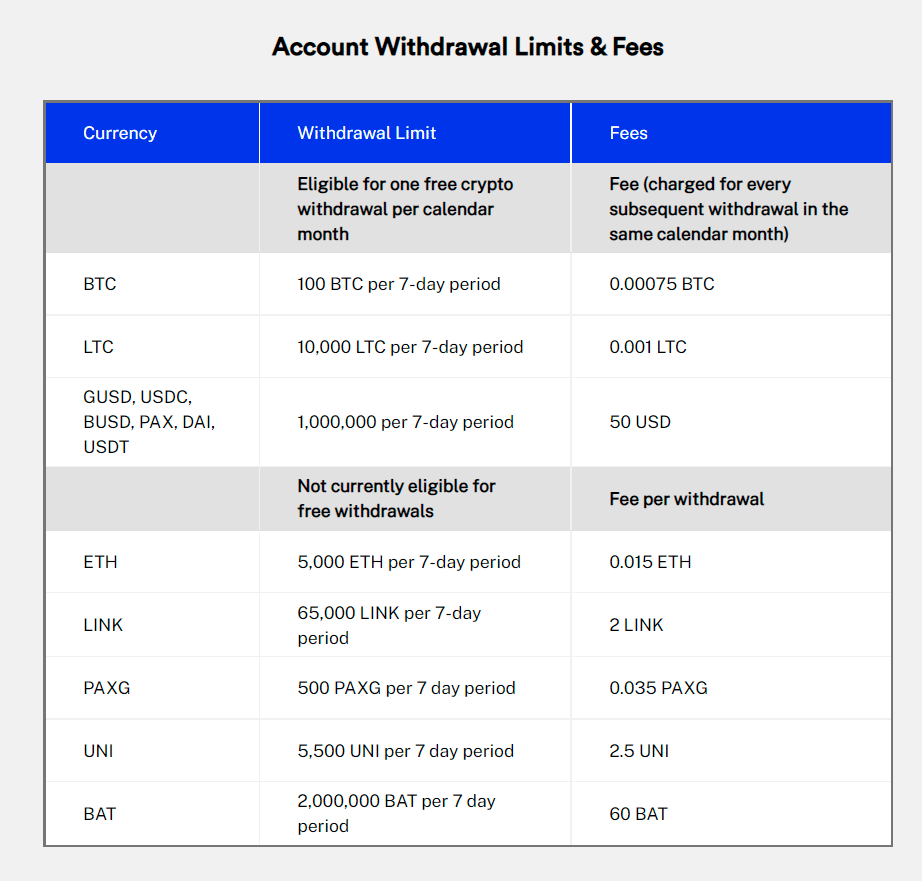 Features
| | |
| --- | --- |
| Ease of use | The platform's website provides popular exchange features with an improved redesign. It looks more professional, but the apps team has taken steps to fix past usability concerns. |
| Security | The platform is not FDIC-insured, but all user cryptos are held by the Gemini Trust Company, regulated by the New York Department of Financial Services. |
| App | For both Android and iPhone, the platform provides a native mobile app, which now includes face ID and is the preferred way to access accounts. |
| Interest account | The interest account helps users earn interest on several cryptos. Account holders may gain up to 8% APY interest. Interest is paid out on the last day of every month. |
| Crypto backed loans | This product helps users take out loans in USD, GUSD, USDC while using crypto assets as collateral. The LTV is 50%. A user may borrow as much as 50% of what is used as collateral. |
| Trading terminal | It allows users access to trade their funds and cryptos. |
| Institutional lending | The app uses cryptos deposited by retail investors to fund institutional loans. |
| Interest account | Earn up to 7.5% APY on certain cryptos. Interest accrues daily and is paid monthly. |
| Credit card | Earn an unlimited 1.5% back in BTC on every purchase with the BlockFi rewards Visa signature credit card. |
Pricing
The app allows you to borrow USD against your coins on deposit. The minimum loan amount is $10,000. The loan-to-value ratio is 50%. That means 50% of your coins will need to be collateral. The loan duration is 12 months, and the interest rate is 4.5%. Origination fees may also apply.
As cryptos are volatile, you can quickly fall outside the 50% LTV. When the LTV reaches 70%, the platform will send a notification that you must put up more collateral to bring the LTV back down to 50%.
How to start?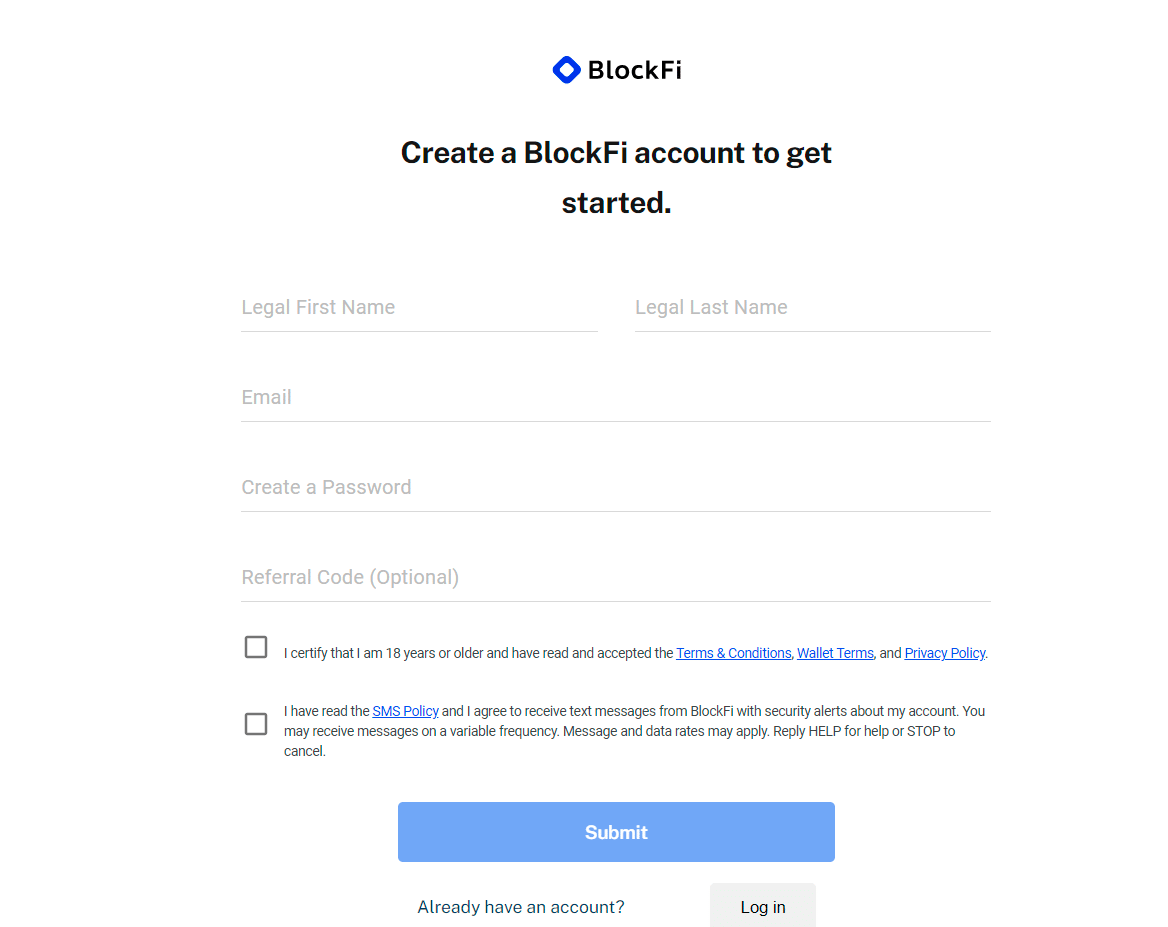 You can start by following some simple steps:
Sign up
Go to the homepage and complete the sign-up process by providing your personal information.
Verify
Provide your documents to verify your account.
Start
Deposit your crypto and start earning.
How much could I get for one month using the app?
Interest rates vary based on if you receive your interest payments in one of the five stablecoins USDC, USDT, GUSD, PAX, or PAXG, or one of the cryptos BTC, ETH, or LTC. Rates start at 0.5% for BTC and ETH and go up to 9.3% for the USDT stablecoin.
New clients to the app can receive up to a $250 BTC bonus when they make qualifying deposits within the first 30 days of opening. This offer has no expiration date.
How does the BlockFin app compare?
BlockFi's interest rates are competitive, but other platforms offer higher APYs for some coins. For example, Celsius is currently paying 10.02% on USDT, while BlockFi only pays up to 9.5%. Celsius also never charges withdrawal fees.
However, realize that BlockFi is currently not available for US-based persons. As a result, other companies may be a better choice.
Some top platforms in this category are Nexo, MobileXpression, Fundraise, Mainvest, Paribus, Acorns investment app, Truebill app, etc.
Pros and cons
| | |
| --- | --- |
| Worth to use | Worth to getaway |
| Loan approval without traditional credit checks. | No options for loan selection, borrower selection, or different interest rates. |
| Competitive interest rates with flexible and transparent terms. | No secondary market. |
| Trading offering. | The platform provides only one free withdrawal per month. After that,a it charges 0.0025 BTC for any additional withdrawals. |
Final thought
In closing, BlockFi creates an opportunity that other companies do not – the chance to earn interest on cryptocurrency while it is still in their digital wallet. Consumers can bring crypto and fiat currency together with different products for loans, trading, etc. While there is not yet a chance to sell off the crypto for cash, users are assured that this benefit will soon be offered. Plus, a credit card in the works is currently the only opportunity of its kind, and the app is headlining the opportunity.