Blockfolio is one of the most popular crypto portfolio tracking apps currently on the market, with millions of downloads.
As the crypto landscape matures, many users have investments in several or even dozens of different coins. This is where a good crypto tracker can come in handy to keep tabs on all your various holdings from various exchanges.
This Blockfolio review will give you everything you need to know about this app, including its main features, pricing, fees, and competition. We will also give you a step-by-step guide on setting yours up.
Three things to know about the app before starting:
It has continued to add more features and customization to its apps over the years, including its signal service and even the ability to buy/sell crypto directly within the app with 0 fees.
It is not only the oldest crypto portfolio tracker on the market, but it also has one of the most comprehensive feature sets of any of these types of apps.
The app makes it easier for investors that hold multiple digital assets to monitor the progress of each of their cryptos.
What is the Blockfolio app?

It is a crypto portfolio management app that allows users to track their market performance. It was created in 2014 by three brothers from Palo Alto, California, and offers tools for tracking price trends, alerts, and notifications for the most popular cryptos. It enables users to trade and track their portfolios across 500 exchanges in 200 countries with many in-app features.
Fees and costs
In comparison, Blockfolio markets itself as a zero-fee platform. It's free to deposit funds from your bank account up to three times per month, after which the platform charges $0.50 per deposit. If paying via Visa or Mastercard, you'll pay a fee to your credit card processor, typically 2.9% plus $0.30 per transaction.
| | |
| --- | --- |
| ACH deposit to account | Three free per month, and after that $0.50 |
| US Bank account | n/a |
| PayPal | n/a |
| Debit card | 2.9% + $0.30 |
Features
| | |
| --- | --- |
| Ease of use | The homepage is customizable to clients' choices. |
| Various assets | The clients can monitor over 10,000 cryptos and digital assets and choose from over 100 different fiat or crypto base pairs. Each asset includes detailed stats and easy-to-read price charts. |
| News section | The "news" section brings the clients breaking news from various publishers, and with RSS, market participants can add updates from all favorite crypto news sites. |
| Notifications alerts | Set notification alerts based on price levels you choose, either higher or lower. |
| Complete control | The clients can complete control of the customization of the tracking tool to make the app-specific for your needs. This is no one-size-fits-all solution; it's a full-featured make-it-your-own solution. |
| Signal service | The clients can take advantage of signal service to get real-time updates directly from their favorite coin's development team and management. |
| Data | The clients avoid scrolling through hundreds of coins and view data only on coins they are interested in. |
Pricing
The app is free to download and use on iOS, Android, Windows phones, and the web. The clients can also sign up for a pro account which costs $12 per month or $99 annually. There are in-app purchases, but they're all optional, and we found that a few of them were worth the extra cost. Furthermore, the app does not charge users a commission fee or take a cut of their capital gains as some apps do, nor does it require an annual subscription as with other trading platforms such as Robinhood.
How to start?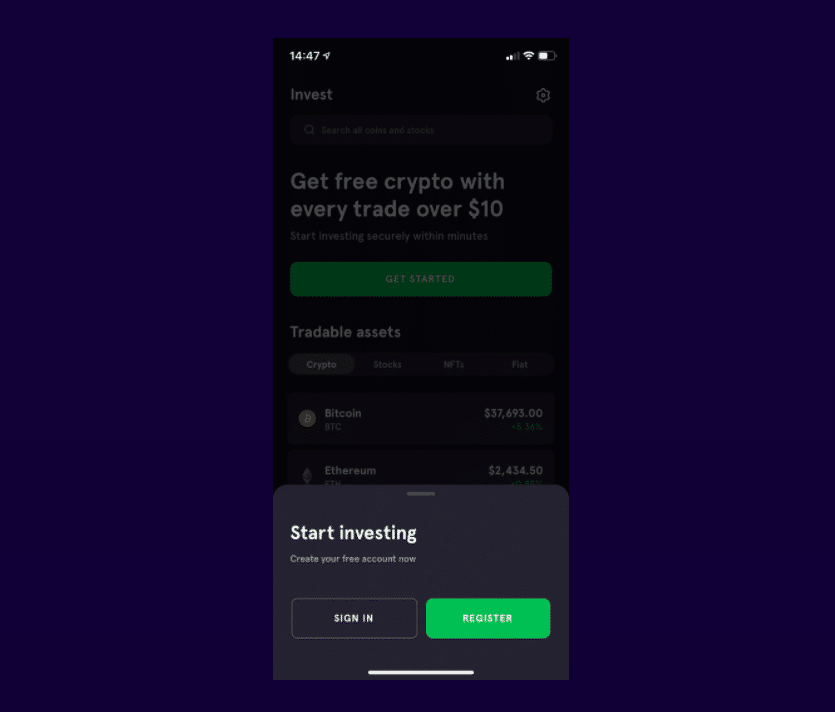 You can start by following some simple steps:
Download the app
Go to the Google Play store or the iTunes App store to download the app.
Personalize the app
Once you have launched the app, it will give you the default screen where you have Bitcoin and Ethereum on your watchlist. Assuming that you do not hold these coins and would prefer to have others on your watchlist, you can remove them.
Add to watchlist
To add new coins to your watchlist, you will hit the "+" button at the bottom of the app.
Add a portfolio
Now that you have your comprehensive watchlist, you can add the particulars of the portfolio. While you are on the main screen, you can tap the "Add" button next to the coin.
Monitor / update portfolio
Once you have added all the coins to your portfolio, you can easily monitor your entire portfolio value on the main screen.
How much could I get for one month using the app?
Even if you're not interested in trading directly within the Blockfolio app, there is no better option for gaining a complete view of your entire crypto portfolio. With support for more than 10,000 crypto assets and 500 crypto exchanges, you're guaranteed that you will be able to track every single little niche crypto token that you're holding in hopes that it goes to the moon shortly.
The integrations with exchanges are critical here because it helps you automate getting all of your crypto holdings tabulated in one central location. With some of the other crypto portfolio trackers, you would have to input every trade into your phone manually.
How does the Blockfolio app compare?
It turns out that the ultimate Blockfolio alternative isn't even one single alternative at all. Some top platforms in this category are Nexo, MobileXpression, Mainvest, Paribus, Acorns investment app, Truebill app, etc.
Pros and cons
| | |
| --- | --- |
| Worth to use | Worth to getaway |
| Buy and sell crypto with no fees. | Entering every transaction manually to the app can be very time-consuming if you have many cryptos or transactions over time. |
| Supports more than 10,000 crypto assets. | Coin prices and data can differ from the actual exchange price and data. |
| Ultimate customization. | Aggregated transaction data may be sold to third parties. |
Final thought
Blockfolio may be the best crypto portfolio app, but only if you aren't concerned with using it on a desktop computer. That is a significant glaring omission, especially for a company around for several years.
In essence, Blockfolio makes it possible for crypto hodlers to track their crypto holdings and know the value of their portfolio at any time. That aspect makes the app somewhat addicting, and you might find yourself checking it numerous times throughout the day when crypto markets are popping.
With the ability to track over 10,000 cryptos and digital assets, there's no other portfolio app that comes close to the breadth of the app. Many users have also commented on the customization available from the app that makes it far more potent as a portfolio tracker.