Investors are looking for long-term investment opportunities in online betting and gaming, a massively growing industry. However, identifying the best players in the industry and the inherent risks associated with uncertain growth can be daunting.
Whether you're into gaming or not, it would be foolish to ignore that it's a burgeoning multibillion-dollar industry, primed to continue accelerating with the advent of things like cloud computing, virtual reality, smartphones, and tablets.
Around 2.7 billion people around the world enjoy gaming. This number is expected to grow to 3 billion by 2023, with the market projected to exceed $200 billion.
If you're interested in getting a piece of the action, specifically in gaming with more holdings related to publishers, game developers, and equipment companies, but aren't sure which companies might come out ahead, here are a few more ETFs that might suit your portfolio.
How does it work?
The list of stocks eligible for investment through such gaming ETFs includes the companies involved in the business and related activities of casinos and casino hotels, sports betting, lottery services, gaming services & technology.
Taking the gaming ETF route offers some risk-mitigation in such investments as the funds spread the risk across multiple stocks and companies. ETFs might help lessen the risk of investing in that sector, and we are focused primarily on ETFs that have holdings in sportsbooks, online gambling platforms, and technology infrastructure.
Top three things to know before starting:
The broader video game industry is largely represented by companies in the communication services and information technology sectors.
Gaming funds tend to replicate the returns generated by gaming-specific market index, like the Market Vectors Global Gaming Index, or they actively pick and choose gaming-related stocks for investing the capital.
The average age range of a video game player is 35-44 years. In terms of the hours spent on gaming, the average gamer spends seven hours and seven minutes per week gaming.
Best gaming ETFs to buy in 2022
When choosing a gaming ETF, one should consider several other factors and the methodology of the underlying index and the performance of an ETF. For better comparison, you will find a list of funds with details on size, cost, age, income, expense ratio, dividend yield, returns, ESG rating, etc.
Let's take a look at the best ETFs to invest in.
1. VanEk Video Gaming and eSports ETF (ESPO)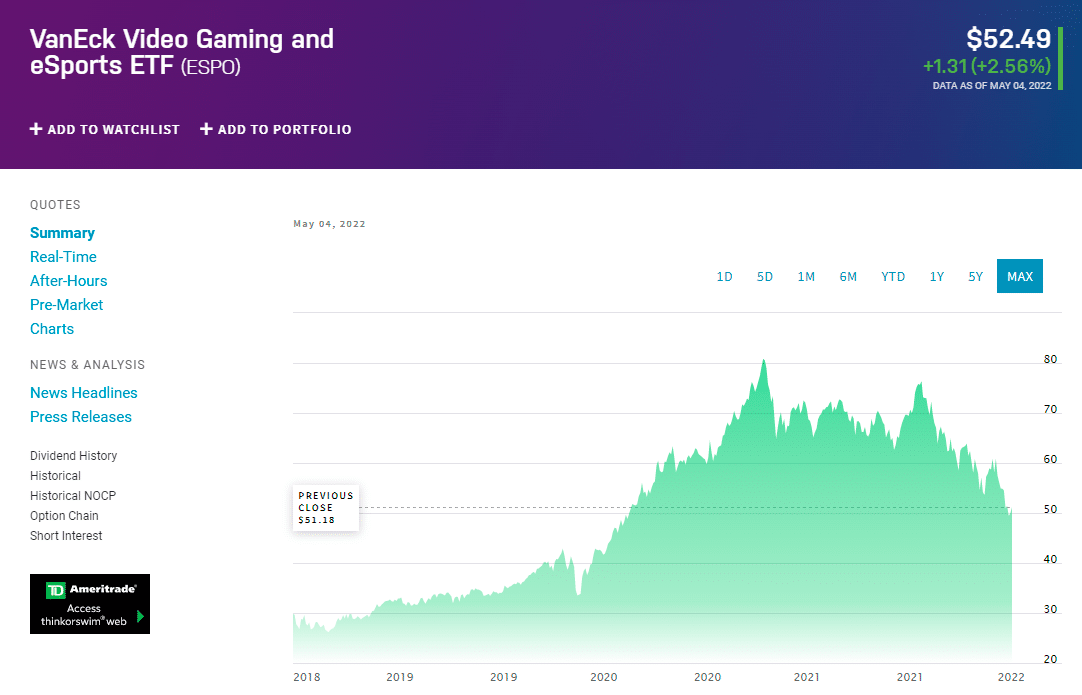 The ESPO seeks to replicate the performance of an index that tracks companies involved in video game development, esports, and related hardware and software. VanEck was the first to launch a gaming ETF and now enjoys the benefits of moving first. ESPO is the largest gaming ETF on the market.
VanEck pegs the competitive video gaming audience to be around 500 million people and expects eSports revenue to continue to grow considering the young and affluent customer base. VanEck's primary holdings are Nvidia and AMD, two of the premier gaming-related companies, thanks to their graphics and computing technologies. Also, their products enable data centers and cloud computing – two technologies that will be increasingly relied on in the rise of cloud gaming.
Dividend yield
The current dividend yield for ESPO is 4.46%.
Holdings
ESPO has healthy geographical diversity across its holdings, with 47% of net assets in US companies, 17% in Japan, 16% in China, and 10% in Taiwan.
Expense ratio
Its expense ratio is average compared to funds in the technology category. The fund has an expense ratio of 0.55%, which is 2% lower than its category.
Returns (annualized)
The fund has returned -26.7% over the past year and 16.6% annually over the past three years. Recently, in April 2022, it returned -14.0%. It has an R-squared of 38%, a beta of 0.69, and a standard deviation of 20.1%. It has an average total risk rating.
The fund does not have an ESG score.
2. Global X Video Games & Esports ETF (HERO)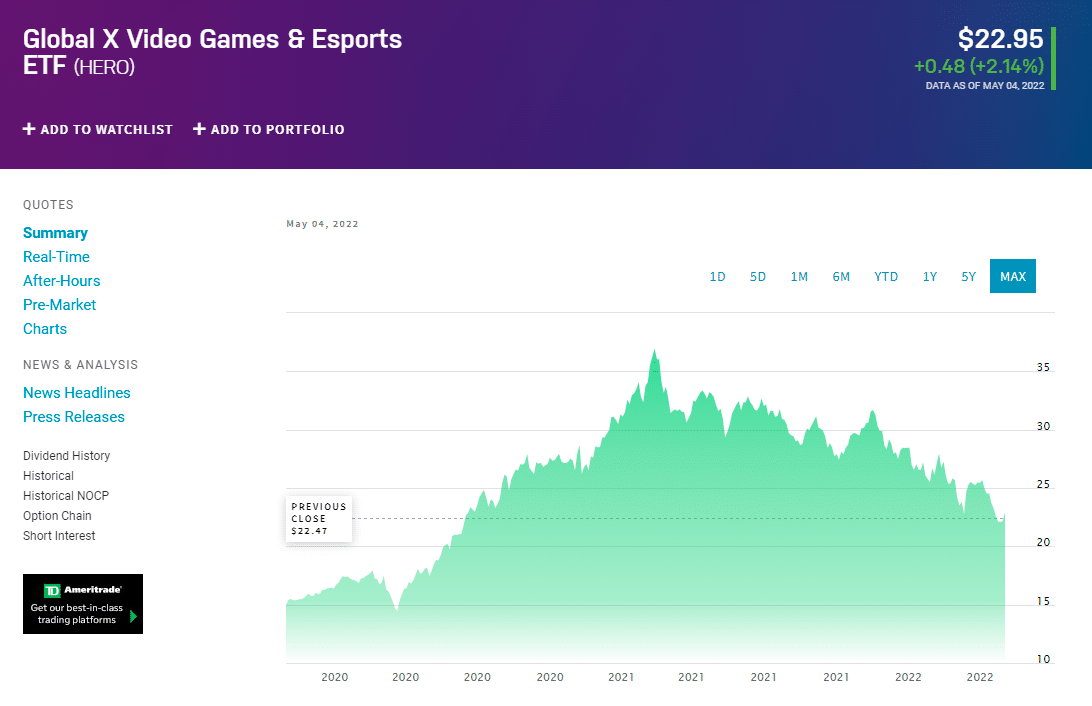 The fund seeks to invest in companies that develop or publish video games, facilitate the streaming and distribution of video gaming or esports content, own and operate within competitive esports leagues, or produce hardware used in video games and esports, including augmented and virtual reality. Global X launched this fund a year after VanEck to compete for investor capital in the gaming arena.
HERO does not invest in Tencent either, while it is the sixth-largest holding in ESPO. Global X notes that the global gaming market is larger than Hollywood or professional sports and forecasts the market to surpass $200 billion by 2023.
Dividend yield
The current dividend yield for the fund is 0.72%.
Holdings
Another stark difference is HERO's decision to exclude AMD from the fund, a company that is the second-largest holding in ESPO. HERO has similar primary holdings as ESPO, such as Electronic Arts and Activision Blizzard, but differs significantly from a geographic breakdown. HERO invests 30% in US-based companies, 27% in Japan, 12% in South Korea, and 10% in China.
Expense ratio
Its expense ratio is average compared to funds in the technology category. HERO has an expense ratio of 0.50%, which is 11% lower than its category. The fund has returned -30.8% over the past year.
Returns (annualized)
The underlying index is designed to provide exposure to exchange-listed companies that are positioned to benefit from increased consumption related to video games and esports. It is non-diversified. Recently, in April 2022, HERO returned -11.7%.
The fund does not have an ESG score.
3. The Roundhill BITKRAFT Esports & Digital Entertainment ETF (NERD)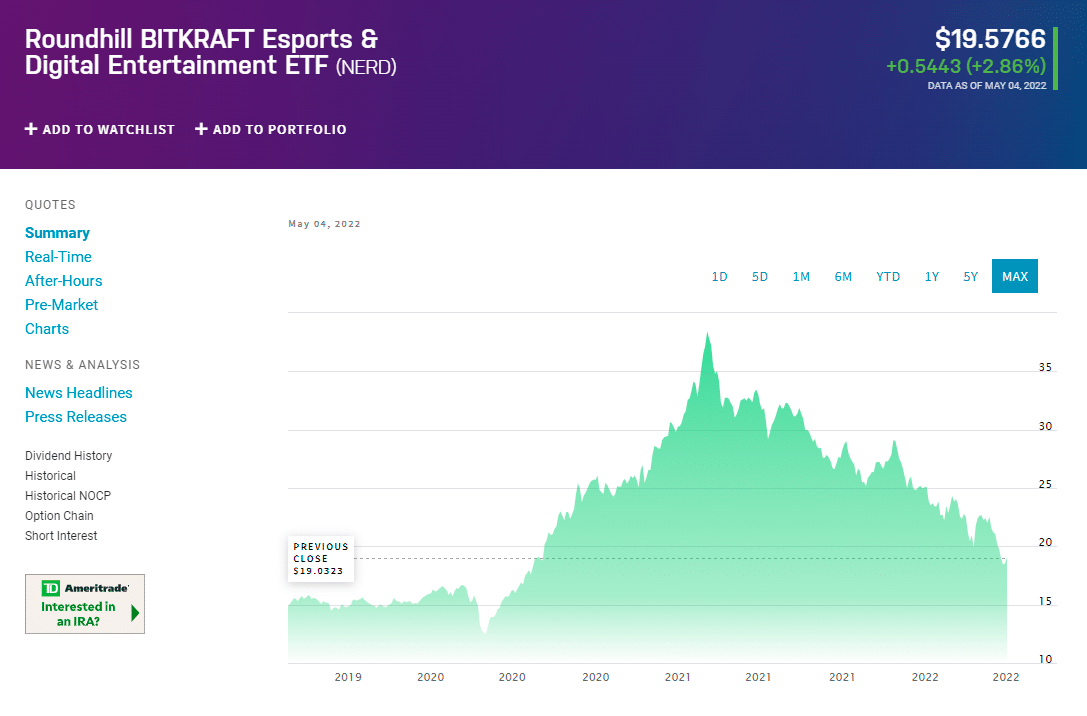 NERD is issued by Roundhill Financial LLC, focusing on the digital entertainment sector. It is relatively new on the scene for ETF investing. NERD is one of six targeted, pure-play exposure funds offered by Roundhill Investments. The firm also has ETFs for the Metaverse, pro sports, streaming, and sports betting.
The fund has been around since June 2019 and is designed to follow the performance of the Roundhill BITKRAFT Esports Index. The index focuses its portfolio on companies in competitive video gaming, including publishers, streaming network operators, league operators, and hardware companies.
Dividend yield
It has a dividend yield of 0.03% and paid $0.01 per share in the past year.
Holdings
Although it doesn't boast names like NVIDIA or Nintendo in its top ten holdings, it does have similarities to its counterpart ETFs.
Expense ratio
Its expense ratio is average compared to funds in the Consumer Cyclical category. It has an expense ratio of 0.50%, which is 6% lower than its category.
Returns (annualized)
It has been popular in its total returns, resulting in a 127% growth across the past year and 52% since inception. The fund has returned -42.0% over the past year. Recently, in April 2022, the fund returned -13.1%.
It has an MSCI ESG Fund Rating of A based on a score of 6.05 out of 10.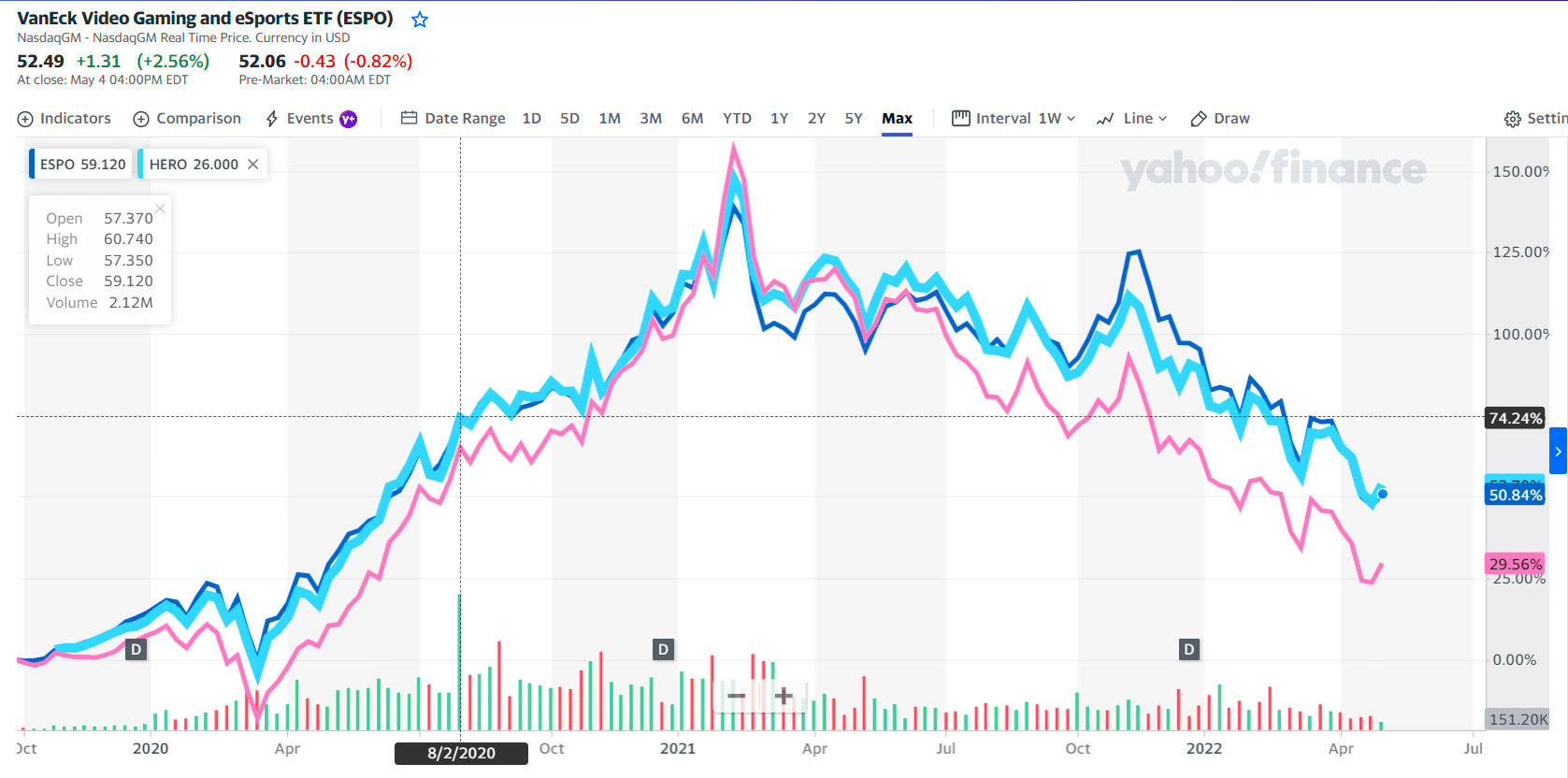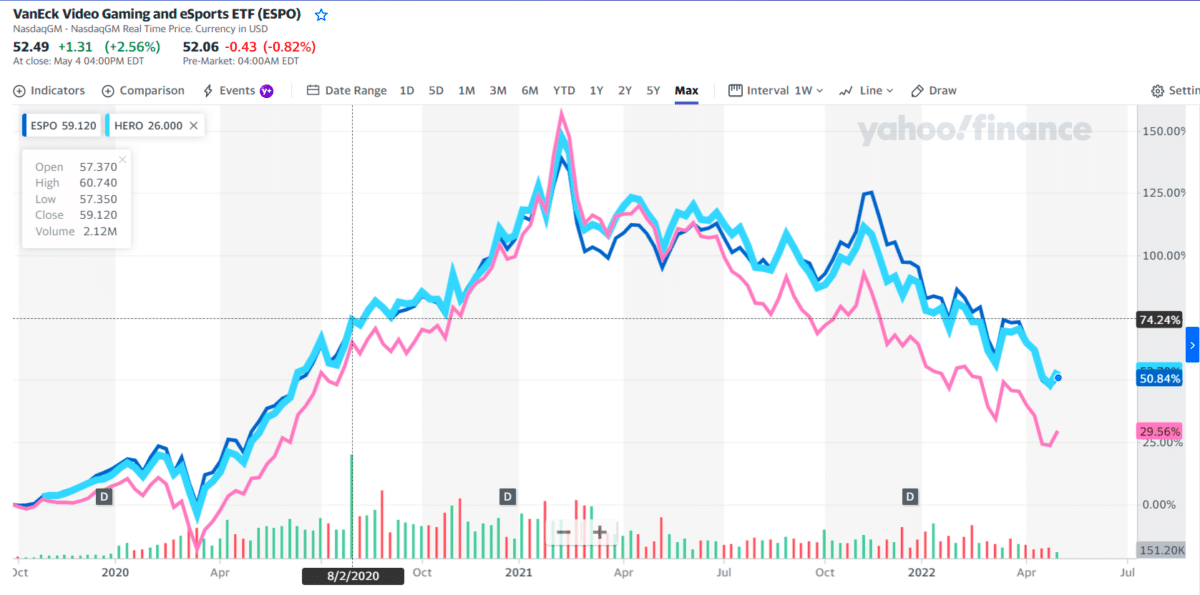 Pros and cons
| | |
| --- | --- |
| Worth to invest | Worth to getaway |
| Investors who want to benefit from e-sports development and invest in the megatrend can do so using ETFs. | The expense ratio on gaming ETFs is going to be significantly higher than your average broad market ETF. |
| For investors looking longer-term, three to five years out, grabbing a trial size of shares in one of these gaming funds could be the way to go for now. | Another risk to consider is the infancy of this market. |
| Buying a gaming ETF provides satisfactory exposure to this booming industry. | Any investment opportunity with potential will come with its fair share of risk, including gaming. |
Final thoughts
While video game companies have sailed through the Covid-19 pandemic, many firms are striking a cautious note for the future. Producing a blockbuster game involves large teams of developers, voice actors, motion-capture workshops, and sound studios. Coordinating these moving parts while adhering to social distancing policies and a work-from-home culture may prove challenging.
Other firms that offer cheap or free online games may find that their advertising revenue dries up as sponsors trim their budgets to help stabilize their struggling businesses.
Meanwhile, the market will continue to grow and is projected to exceed $200 billion at the end of 2023. According to an estimate, the global gaming market is expected to reach a value of $256.97 billion by 2025.