Small businesses or startups usually require funding to boost them initially. Obtaining the funds can be a challenge and most revert to bank loans. A small portion of them have excellent capability, but they require capital to re-invest and expand.
Mainvest offers a service to these businesses by obtaining funding from individual investors. There is a dual benefit in this case. Business owners receive the cash influx to grow their companies, and investors retain a revenue share.
It is a model that Mainvest implemented to allow individual investors and anyone interested in long-term gains to benefit from potentially great startup companies.
Three things to know before starting:
You can invest in small businesses for as little as $100.
The platform pays revenue quarterly.
There is no secondary market for reselling investments.
What is the Mainvest app?
Most startup businesses are not accessible to individual investors and are only accessible for recognized investors or large venture capital firms. However, the app aims to allow all investors access to purchase shares in small startups.
With the app, you can invest in small brick-and-mortar businesses, and anyone of legal age can start, even non-accredited investors. The company's inception was in 2018, and Nick Mathews as its CEO and co-founder.

Who should choose Mainvest passive income app?
This app platform is available to individual investors who are US citizens older than 18 years old and hold a US bank account. Therefore, it is not only suited for investors with millions of dollars.
The platform is ideal for investors looking to obtain returns from small business investments.


How Mainvest passive income app works?
This app doesn't just list any business for investment purposes. The platform performs a vetting process on each company. According to their website, only 5% of the companies that sign up for their platform pass their strict vetting process.
The app has over 400 investment opportunities listed and over $12 million in capital investors provide to fund these businesses.
Investors make returns from revenue sharing. The gross revenue of a business determines the rate of return to investors. The more you invest, the greater your return percentage.

How Mainvest passive income app invests your money?
Once you sign up as an investor for the Mainvest platform, you will be able to build your portfolio. For this, it will require your choice of industries to include in your portfolio.
The app has a diverse list of industries, ranging from breweries to cannabis, and real estate, to mention a few.
You will then receive a list of companies you would like to invest in, based on your preference. Once you have made your choice, you will select the amount you would want to invest.
Mainvest links your bank account for payment, and it also uses it to process your profits. Furthermore, investors can track their investment performance via the dashboard tool that the app offers.

Fees and costs
This app does not charge any fees for investors to join; it is therefore completely free. However, businesses that receive funding via the Mainvest platform have to pay a fee of 6%.
Features
Mainvest as a few features which we have listed here:
The platform's primary purpose is to allow individual investors to return investments in small startup businesses.
The app uses crowdfunding to raise capital for small businesses to help them grow and expand.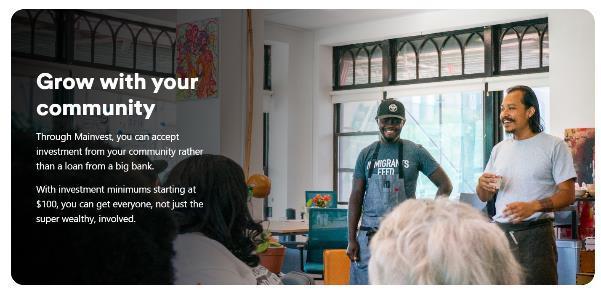 The platform pays a cash amount of $1,000 or $2,000 as investment credit if you refer a listed business.
The risks associated with investing.
The types of securities available.
Information around compensation.
They offer an in-depth document that explains their offerings in detail.
Pricing
The minimum amount to invest is $100.
How to start?
Starting with this app is easy, and you only need an email address and a strong password to sign up. Mainvest will perform account verification by following the KYC process. Once your verification is successful, you will be able to invest in the opportunities of your choice.
How much could you get for one month using the Mainvest passive income app?
The app aims to obtain 10-25% returns for investors. However, the returns are dependent on the amount of capital you invested.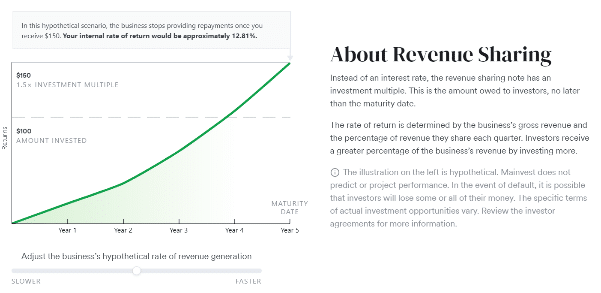 How does Mainvest compare?

Pros & cons
Worth to use
Worth to getaway
Low initial investment
The app make investment affordable by allowing a minimum of $100 only.
Short track record
It is a new platform, and therefore they don't have a long history of performance.
Open to anyone
The app allows any legal US citizen to invest on its platform, and you are not required to be a well-known, recognized investor.
No secondary market
The securities are not sellable on a secondary market, making them illiquid.
Strict vetting of businesses
The platform follows a strict vetting process and does not list just any company.
Small business investments are risky
Investing in small businesses comes with high risk since their success rate is much lower. Even with significant funding, there is no guarantee that the company will grow eventually.
Final thoughts
Mainvest is ideal for individuals keen to invest in companies but lacks significant capital for the stock market. Furthermore, your funding can be the key to expanding a new business for faster growth.
The app is still new. Therefore, they don't have a long history. Investors can start small and determine if the returns are sufficient in the long run. Mainvest has delivered its mission of creating an opportunity for both businesses and individual investors.