The Bitcoin sector is rapidly expanding. The world's most knowledgeable investors understand the value of portfolio diversity. Even though the crypto market has only been operational for a few years, it has attracted many new investors. There have been a lot of unresolved questions about this kind of asset in the past. It hasn't stopped people from investing in cryptocurrencies. It's critical, though, that you're ready for it. Before investing in the crypto asset class, do your research. Those interested in investing in cryptos have a variety of possibilities.
Several reasons may be contributing to the rising demand for tiny cryptocurrencies among investors. First, most of these penny cryptocurrencies are undervalued, and the price of penny crypto is expected to skyrocket as blockchain technology becomes more widely used. Many investors believe that the most acceptable dividend-paying assets start at $1, implying that you may earn money just by purchasing penny cryptos.
If you want to profit from penny crypto regularly, you'll need to diversify your portfolio. If one of the coins is lost, the other coins may make up the difference.
This article lists the top five best penny cryptocurrencies under a dollar for greater returns in 2022 and beyond.
What is Shiba Inu (SHIB)?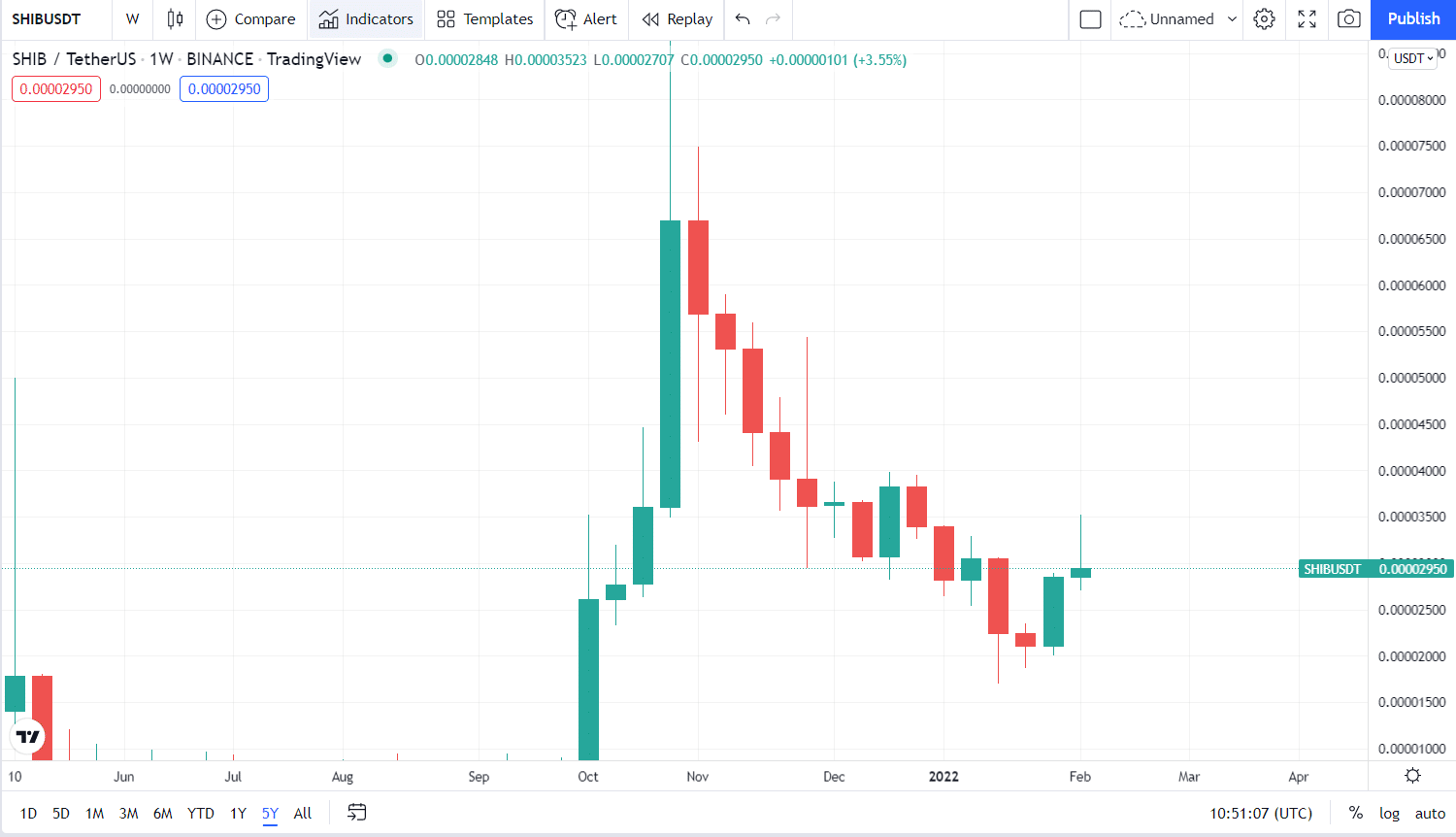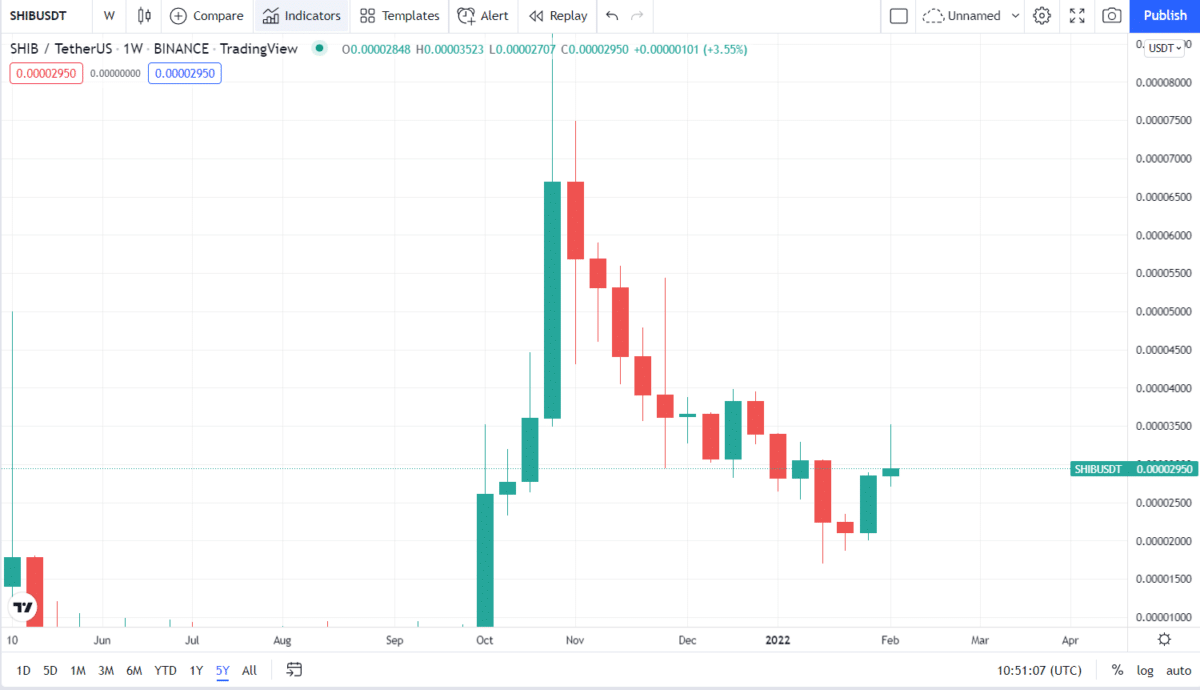 SHIB was first created as a meme token. It was established expressly to compete with Dogecoin, the most popular meme cryptocurrency of all time, which Elon Musk promotes. With its current price of $0.000020 per coin, the SHIB "Dogecoin Killer" is the 25th most valuable crypto globally.
Since its inception as a meme token, the SHIB community has grown to over 300,000 token holders, and this number continues to rise. We should expect SHIB tokens to continue to climb as "meme currencies" gain popularity, thanks to Mr. Musk's ability to prop up Dogecoin. In addition, the project intends to include NFT artwork, decentralized finance, and much more into its platform.
SHIB price history
SHIB reached an all-time high of 0.00008190$ on October 28, 2021, and it was at its all-time low of $0.000000000056 on November 28, 2020. So if we see its overall performance, then its value is dropping.
Where to buy SHIB?
Exchanges like Binance, OKEx, Huobi Global, and Upbit are good places to buy SHIB.
What are the perspectives of the SHIB project?
Breaking from old society institutions and attitudes is the goal of Shiba Inu's creator. In the spirit of "decentralized spontaneous community formation," Shiba Inu is an experiment in "ordinary people's authority."
What is Siacoin (SC)?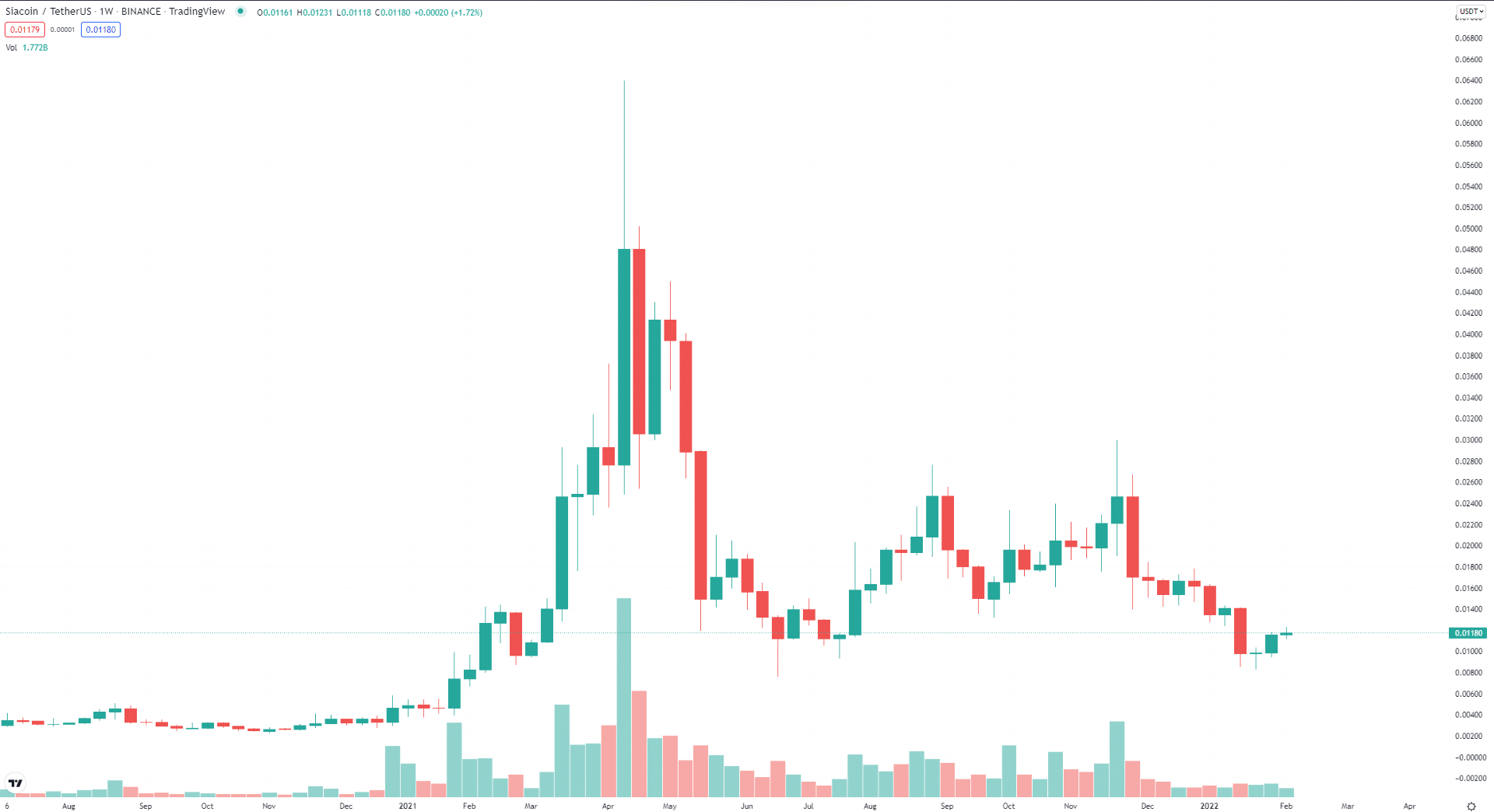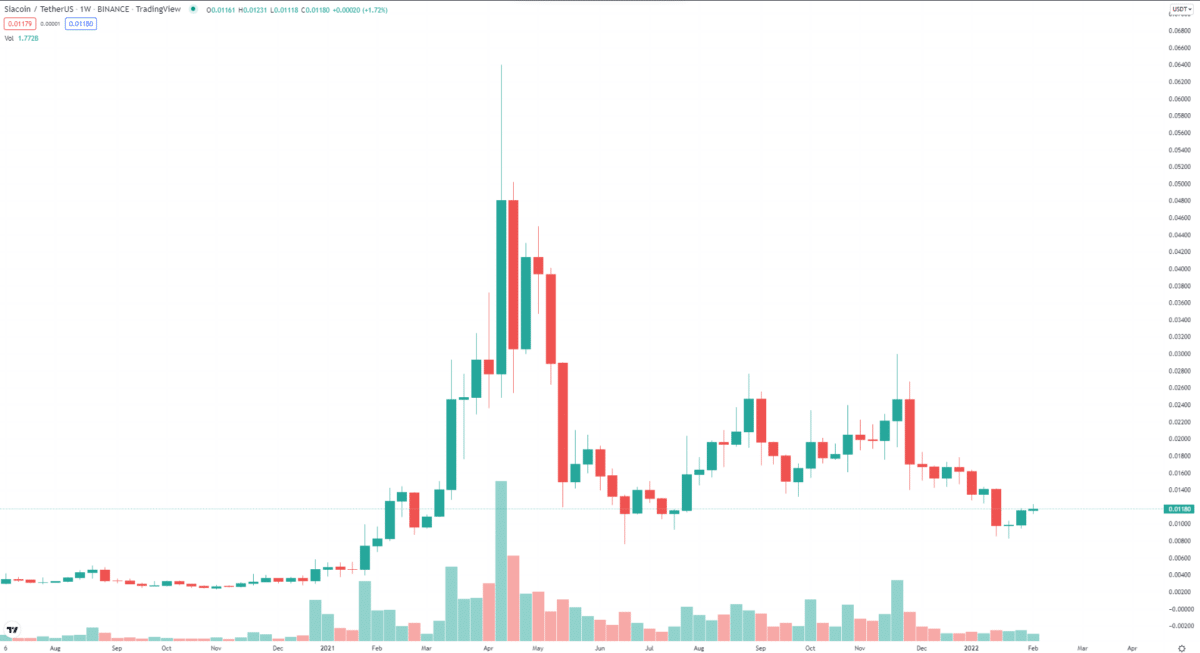 Our search for the best cryptocurrency under a cent has brought us back to BTT utilizing Siacoin SC tokens. Siacoin is working to solve the limitations and issues associated with data storage. Bitcoin-based crypto Siacoin leverages blockchain technology to decentralize cloud storage.
Unlike using centralized and expensive solutions like Dropbox, Siacoin will use the excess storage space on the hard drives of millions of people across the world. Consequently, anybody with extra storage space on their devices may join the Siacoin network and profit from it. At the same time, borrowers can keep their data at a fraction of the cost associated with centralized solutions.
SC price history
SC reached an all-time high of 0.0924$ on January 8, 2018, and an all-time low of $0.00001262 on December 28, 2015. In the coming years, Siacoin (SC) is expected to trade at an average price of $0.014 in 2023.
Where to buy SC?
Exchanges like Binance, OKEx, Huobi Global, and Upbit are good places to buy Siacoin.
What are the perspectives of the SC project?
Siacoin aspires to be one of the largest decentralized cloud storage networks, where users' data is safe and protected, and data ownership is confirmed by private key ownership.
What is VeThor Token (VTHO)?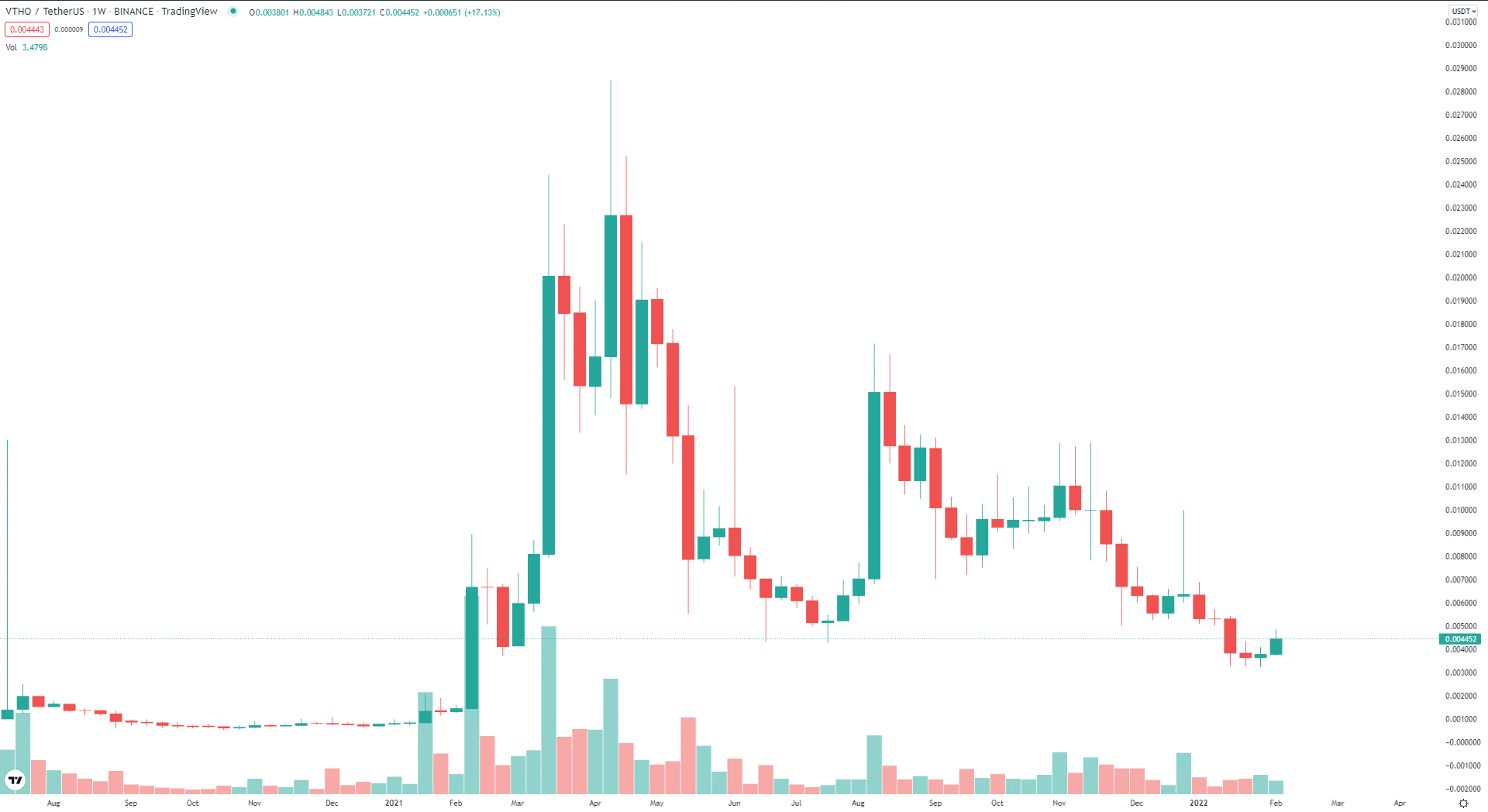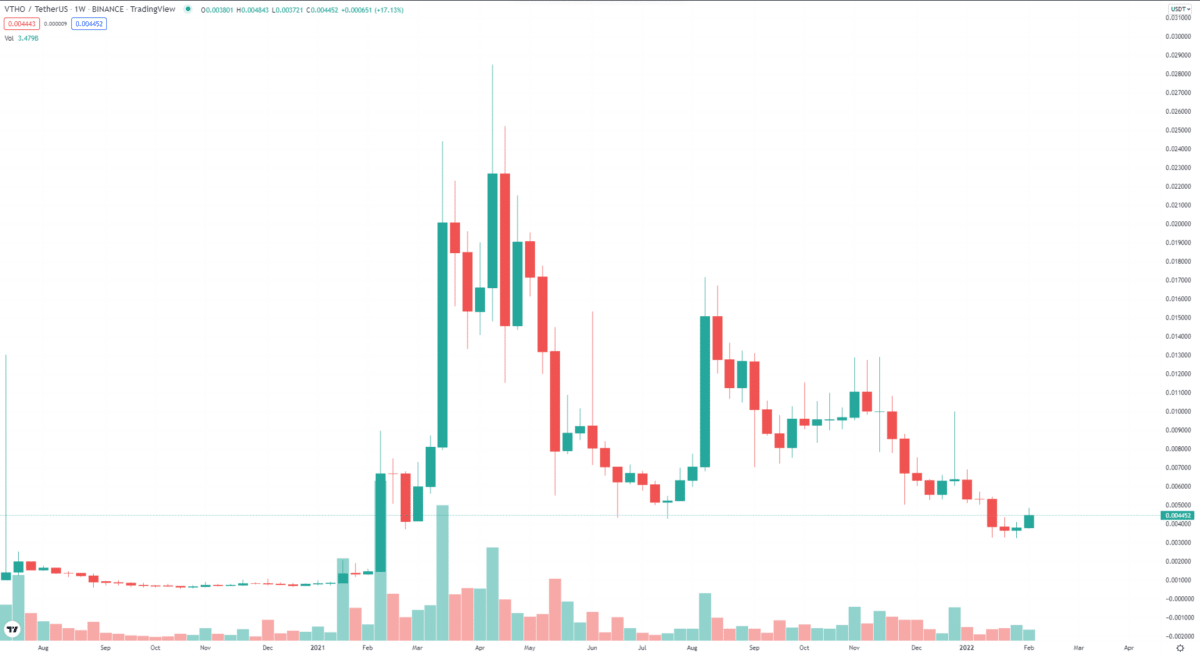 A blockchain-based solution seems the most excellent chance for any company striving to transition into the future digital era. VeChain Thor may be ideal for companies interested in adopting the blockchain. In addition, well-established companies may now use VeChain's Thor blockchain to build decentralized economies.
It's too costly to keep up a massive IT infrastructure. Furthermore, it becomes much more complicated when spread throughout an extensive corporate network. When it comes to IoT-connected sensors and devices, imagine being able to interact with them to trace supply chains for things while evaluating their quality and addressing any last-minute delivery difficulties.
VTHO price history
It reached an all-time high of $0.02488 on April 17, 2021, and an all-time low of $0.000152 on March 16, 2018. The VeThor token has promising long-term profit potential. Price, market capitalization, and trading volume are expected to rise significantly over the long run.
Where to buy VTHO?
Exchanges like Binance, Gate.io, and Crypto.com are good places to buy VTHO.
What are the perspectives of the VTHO project?
The VTHO crypto is also known as VeThor Energy and stands for VeChainThor Energy. It is used to fuel VeChain transactions and is the same as the cost of completing transactions on the VeChain network.
What is BitTorrent (BTT)?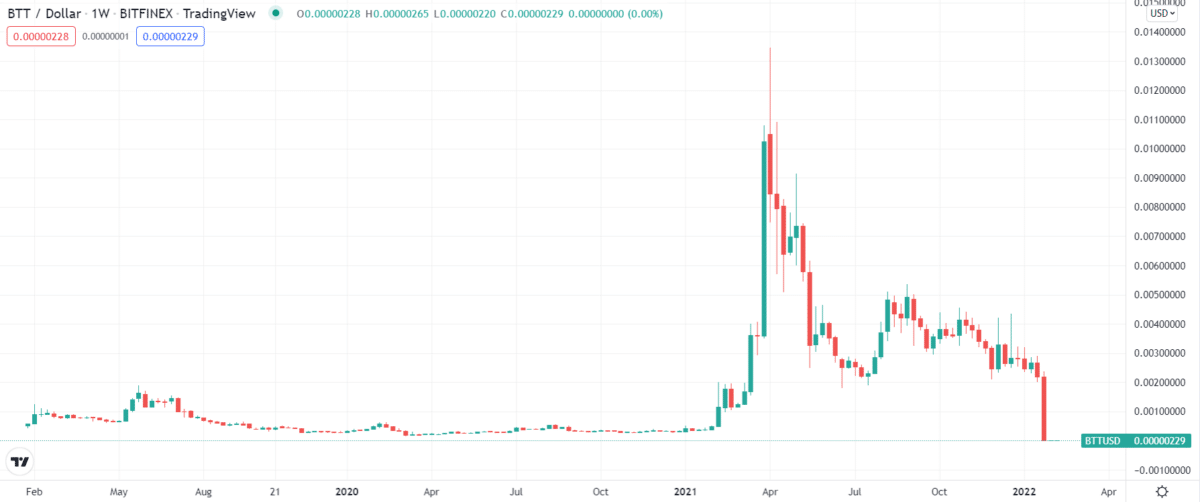 More than two billion people worldwide use BitTorrent, and its decentralized network of servers has moved trillions of bytes of data. As of right now, the BTT coin has a market capitalization of 0.00000230$ and is ranked 62nd overall. Because of this, BTT tokens are a better candidate for the title of best crypto under a cent.
BTT coins are the building blocks of the BitTorrent ecosystem. BitTorrent Speed and BitTorrent File System may be used by users who have BTT tokens to increase download speeds and earn tokens by sharing their hard drives.
BTT price history
According to the BitTorrent website, BTT struck an all-time high of $0.000003431340 on January 21, 2022, and an all-time low of $0.00000178 on January 25, 2022. While historical data shows that BTT had a strong start in 2019 and continued to exhibit a good trend afterward, BTT dropped to $0.0002 at the year's conclusion in 2020.
Where to buy BTT?
Exchanges like Binance, Kucoin, and Bittrex are good places to buy BTT.
What are the perspectives of the BTT project?
The initial purpose of the BTT initiative is to give its users market-driven incentives to promote collaboration. The common goal is to make BitTorrent swarms better and last longer.
What is Holo (HOT)?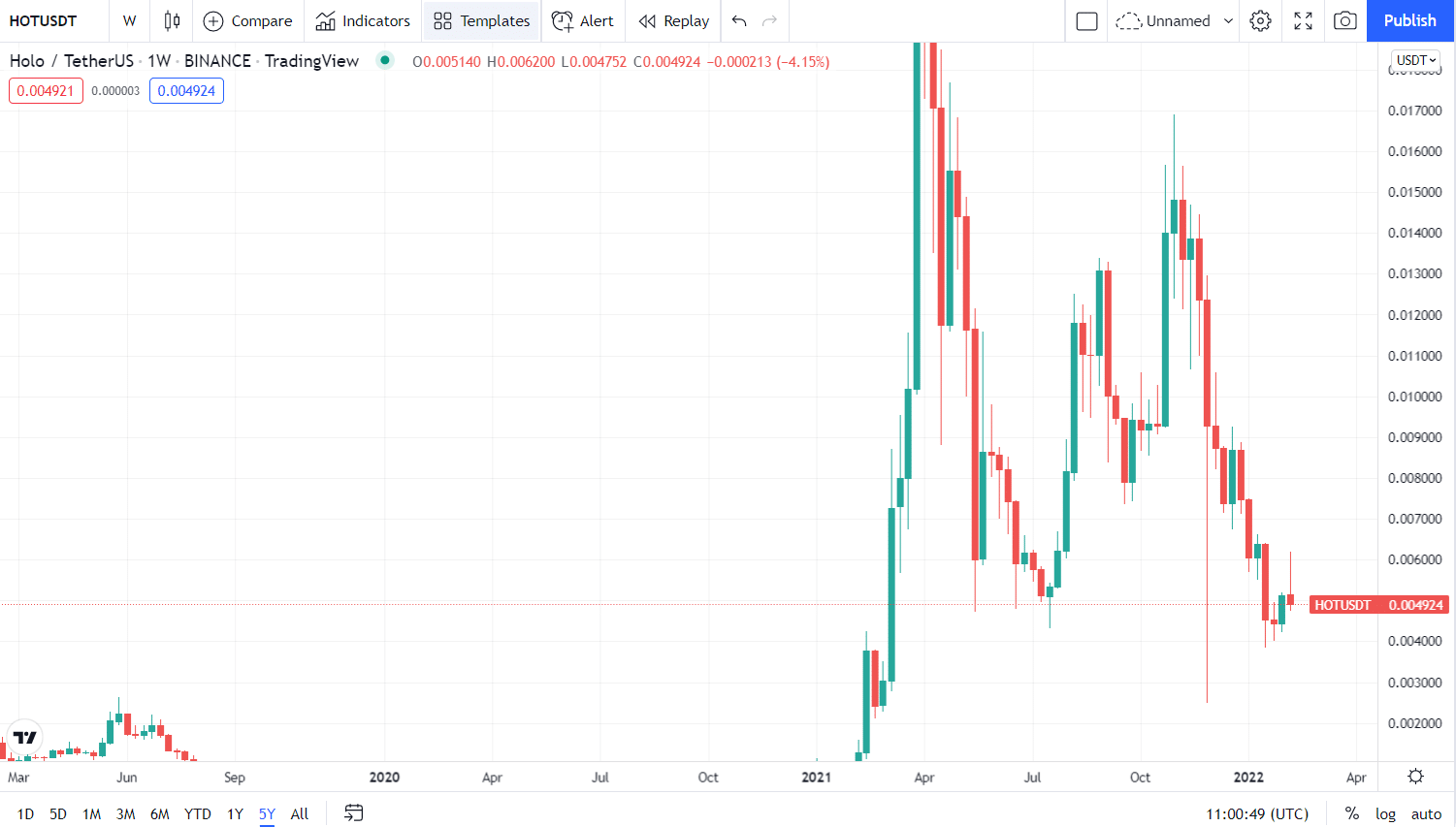 As a decentralized P2P network, Holo distributes and provides hosting for decentralized apps (dApps). It was designed to bridge two digital-native components incompatible — blockchain and the ordinary web. A full-featured blockchain where developers may create complex decentralized apps is Holochain (dApps).
We may utilize our accustomed online and application-based user interfaces as an alternative. As a distributed platform, Holo does not have a blockchain but rather enables users on the Holo network to publish blockchain-based information to the entire public.
HOT price history
When Holo reached its all-time high on April 5, 2021, it was worth $0.031266822612, and it was at its all-time low of $0.0022 on March 13, 2020. In five years, analysts predicted that HOT would be trading for $0.1.
Where to buy HOT?
Exchanges like Binance, Biture, Probit, and MXC.com are good places to buy HOT.
What are the perspectives of the HOT project?
Hot Tokens may be stored in any ERC-20 wallet (MetaMask, MyEtherWallet), as well as hardware wallets. In addition, ERC-20 tokens will one day be able to be traded for Holofuel, which is a cryptocurrency. Switching is available when the Holo mainnet is online.
Pros and cons
Let's take a look at its pros and cons.
| | |
| --- | --- |
| Worth to buy | Worth to getaway |
| You can earn a lot of money even with a little investment. | The low market price equates to a low market capitalization. |
| They have become one of the most popular investment alternatives because of their potential for rapid development. | It's tough for holders to get their money out because of a lack of liquidity. |
| Cryptos under one cent, despite their tremendous volatility, yield good rewards. | It is difficult for the investor to make a judgment because of its lack of expertise in offering penny cryptocurrencies. |
Final thoughts
Investing in cryptos is a smart move right now, given how widely accepted they are in emerging economies. Top cryptocurrencies are attracting investors who want to diversify their portfolios. Investing in cryptocurrencies is best done when you can benefit from it. Penny digital currencies are a practical first point of reference. Cryptos with a value of less than one cent are listed above. We hope you find it helpful.