Online sales have skyrocketed in the last two years, especially with the restrictions placed on households due to the Covid-19 pandemic, resulting in people having to buy stuff online.
Who does not want to get their pieces of stuff at a discounted price and, in turn, save money? Coupons, better prices, and rewards are on a constant check.
Paribus is one such app that checks your shopping activity and tries to save you money.
Look into the full review of the app and get to know if it suits your needs, as we have tried our best to help you with a productive and straightforward Paribus app review.
Three things to know before starting:
The app checks your email account for online purchases to determine if you received the best price for the item.
If you sign up with this app, you have to give the app permission to access your email account and, therefore, your personal information.
The app and service are completely free to use.
What is the Paribus app?
It is an app that checks your online purchases to find the best possible price. The app does this by scanning your emails and if it finds a better offer on an item.
Capital One is an American financial institution, and it acquired Paribus in 2016.
Who should choose the Paribus passive income app?
Since the app aims to scan for savings from your online purchases, the individuals who benefit from this service are those who actively buy items online.
Furthermore, if you are constantly looking for the best prices, the Paribus app is suited for you. Paribus is also ideal if you do not object to giving the app permissions to send emails from your account on your behalf. Some individuals will not be comfortable with granting the app this access.
In addition, if your email links to your purchases, then you will find the app helpful.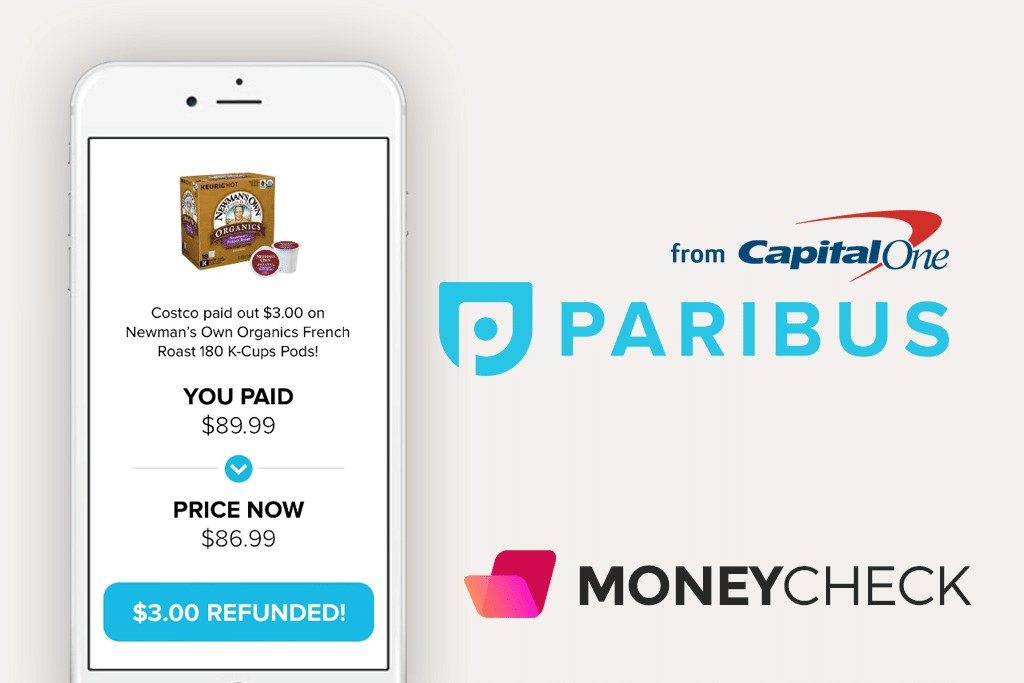 How does the Paribus app work?
When you sign up with Paribus, the app will request access to your email and permission to send automated emails from your account.
Once you purchase an item online, the receipts go to your email account. Paribus will detect these purchases and check if you could have gotten a better price on the item. If the current price you paid is the best, the app will continue to monitor the price and will notify you if the price decreases.
If the Paribus app finds a better price, it can send an email to the merchant requesting a discount on your behalf or notify you to request a refund from the merchants.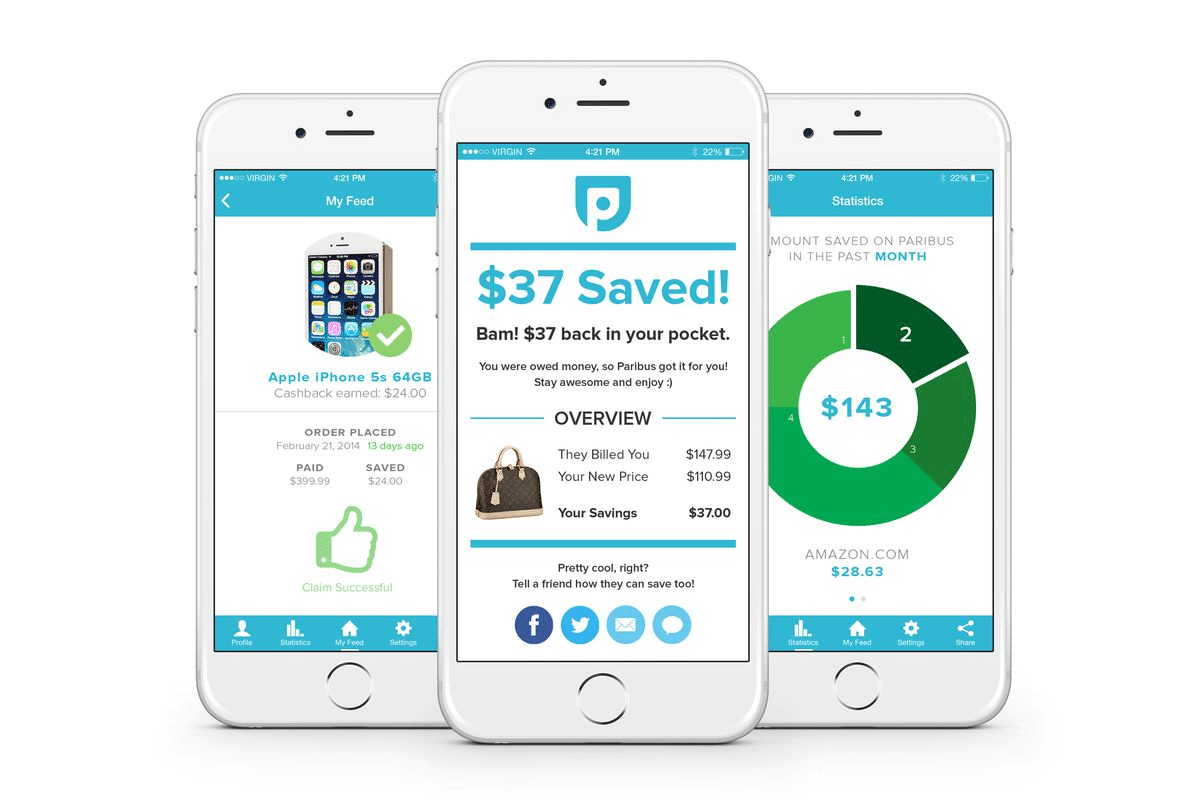 How does Paribus passive income app invest your money?
The Paribus app does not offer investment opportunities but rather savings on purchases. This is, however, if the merchant refunds you for the discounted price. For this reason, Paribus aligned with 25 online vendors to find possible savings. Among them are Amazon, Banana Republic, Best Buy, Bloomingdales, and many more. However, users should note that the rules for refunds are different for each vendor.
Fees and costs
Features
The main feature that Paribus offers is saving you money for online purchases and requesting refunds for some but not all the retailers. Users of Paribus should note that you will have to request refunds in certain instances.
Pricing
Paribus does not charge any fees for joining or using their service.
How to start?
Individuals looking to save money from their purchases can register an account with Paribus via the CapitalOne shopping website.
You can sign up with Google, Yahoo, or Microsoft by providing the relevant email account. Paribus will request permission to scan your emails as well as send emails to vendors from your account. Therefore, users should be comfortable with this function.
Once you sign up, the app will take approximately 48 hours to scan your emails to determine if you might have any possible savings. However, users should not expect an instant saving just by registering with Paribus.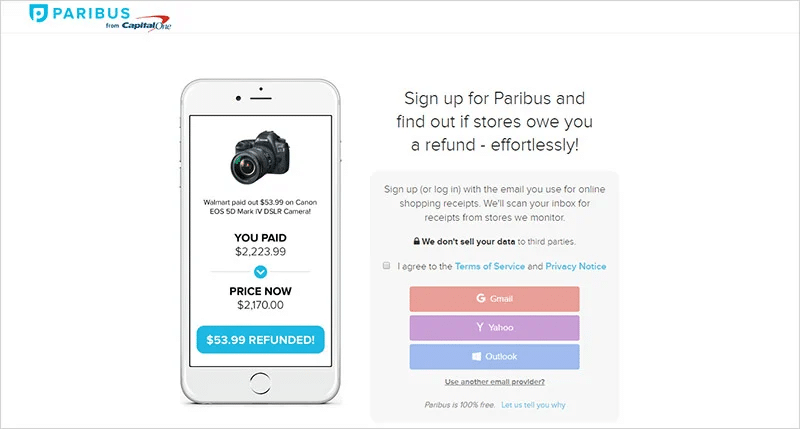 How much could I get for one month using Paribus passive income?
Earning savings with Paribus is mainly dependent on how many online purchases you make, the frequency of purchases, and whether the vendor grants you the refunds.
Since you will have to request certain refunds yourself, there is no guarantee to obtain them from the retailer.
How does Paribus passive income compare?

Pros & cons
Worth to use
Worth to getaway
Save on purchases 
Paribus helps you to save on purchases by scanning for better deals and requesting refunds on your behalf.
Access to personal information 
Since Paribus works only by accessing your email account, it can be a red flag to users uncomfortable with this functionality.
Zero fees 
The Paribus service is free to use, and no additional charges are required even after receiving the refunds.
A limited number of retailers 
Paribus only tracks 25 online retailers, which is a small quantity considering the many online merchants available. 
Automated notifications 
The app sends notifications when it detects a discount and automated emails to retails to request refunds, which gives you ultimate convenience. 
Retailer policy changes 
Retailers frequently change and update their pricing algorithms and refund policies, making it a challenge for the app to keep up.
Final thoughts
Paribus is completely free to use, and it delivers a service that many will find valuable. It provides a dual benefit of monitoring retailers for savings and requesting refunds for their customers.
However, some users are not comfortable with the access Paribus requires to perform its services, which can be a drawdown for Paribus. Therefore, users should consider when signing up with Paribus by weighing the benefit they can receive versus the access to your personal information.