You, or anyone for that matter, constantly look for various ways to save money and make passive income, and yes, it's not wrong as your hard-earned money must work for you.
Before anything, first, you must start with saving, and to do that, you need a good financial adviser that can cut off a few of your monthly expenses. One such expert to best fit for the role is the Truebill application. It states that 80% of people save money by finding and canceling their undesired subscriptions by using it.
One of those great financial managers on the internet can help you review your bills to manage them better. If you are on this page, then you must be willing to know more. Let's get to know the main points!
Three things to know before starting:
The app provides users with many attractive features to have better control over their money.
It offers a concierge service that negotiates better rates on bills. However, the service is only available to premium members.
It scans your budget to identify savings opportunities and automatically manages your savings account.
What is the Truebill passive income app?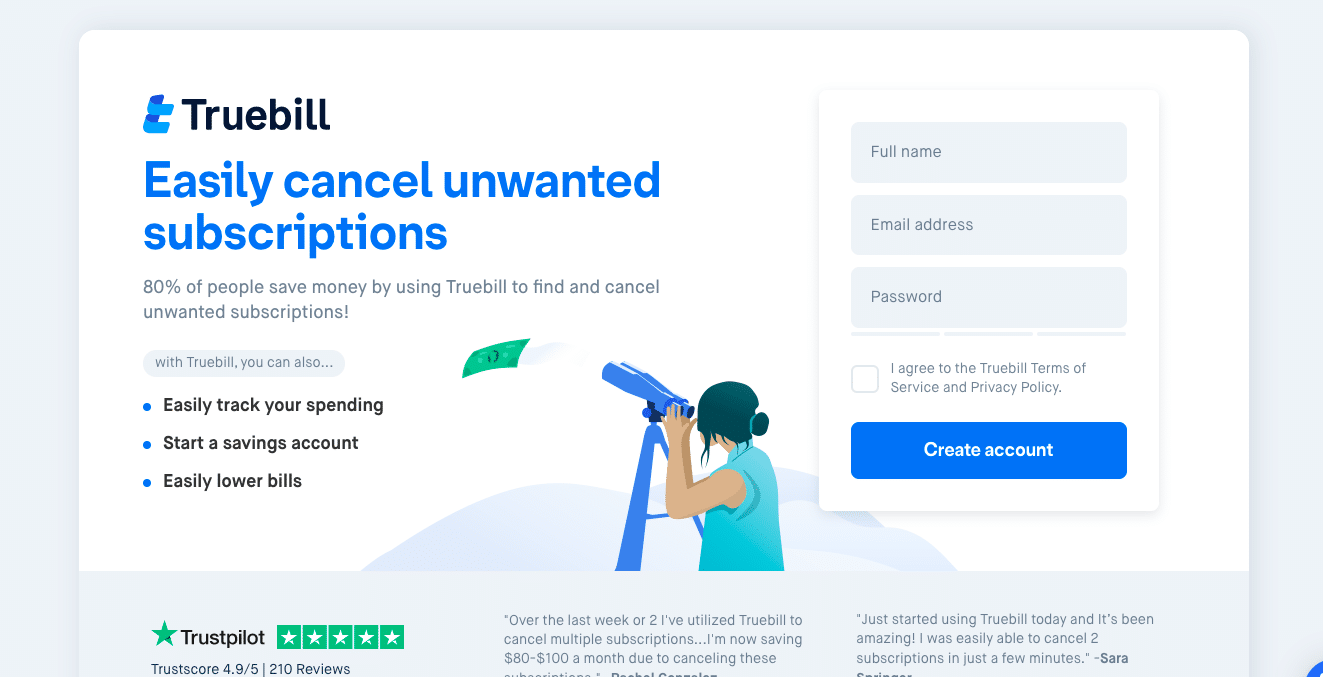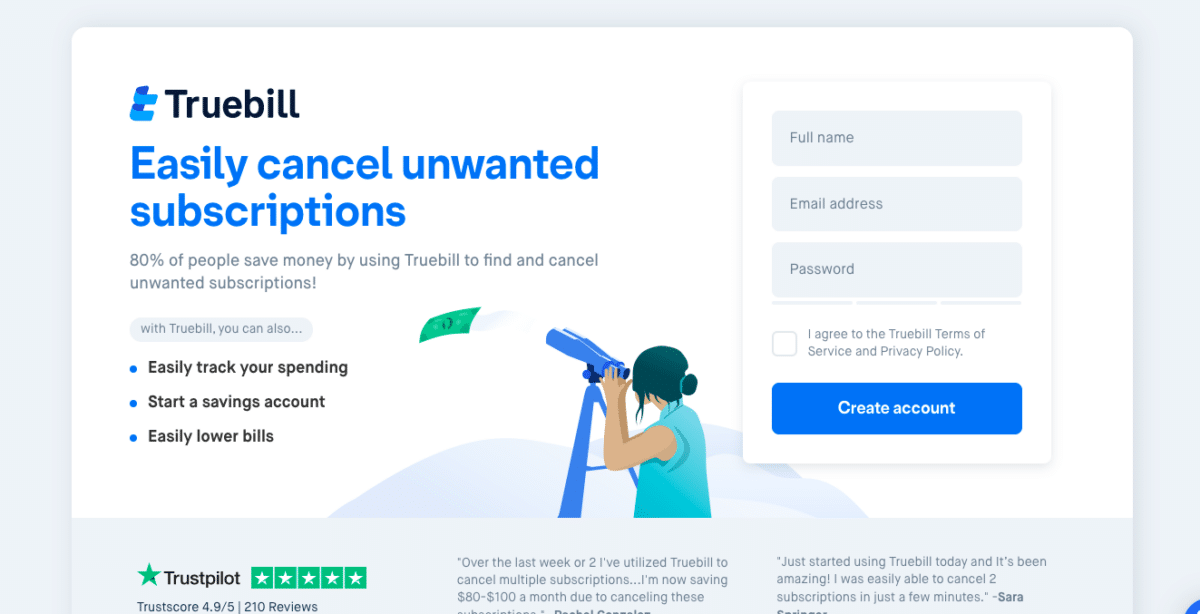 It is an entirely passive income app that helps users manage money to control their finances better. App's features include managing subscriptions, bill negotiation, autopilot savings, and many more.
The team consists of a diverse group of individuals who are passionate about improving the lives of everyday people. Their mission is to collaborate with Truebill members to enhance their financial wellbeing.
It has saved over $100 million for its users; they have over two million customers and one million canceled subscriptions.
Who should choose this app?
It is ideal for individuals who need better control of their finances but are looking for an application that can do it efficiently.
Individuals looking to save more money but without having to do it themselves will appreciate Truebill since it automatically scans bills and budgets to find saving opportunities.
How does the Truebill passive income app work?
The app has multiple automated features to track spending and save users money — the app links to your bank accounts that their linking provider, Plaid, supports.
Once users sign up, they can access the linking function under the dashboard. It can perform the following specialties automatically by following your linked transactions on the app.
We will review some of their top features.
The app looks for recurring subscriptions and identifies which you no longer need. The app provides a concierge to cancel subscriptions on your behalf, thereby saving you time.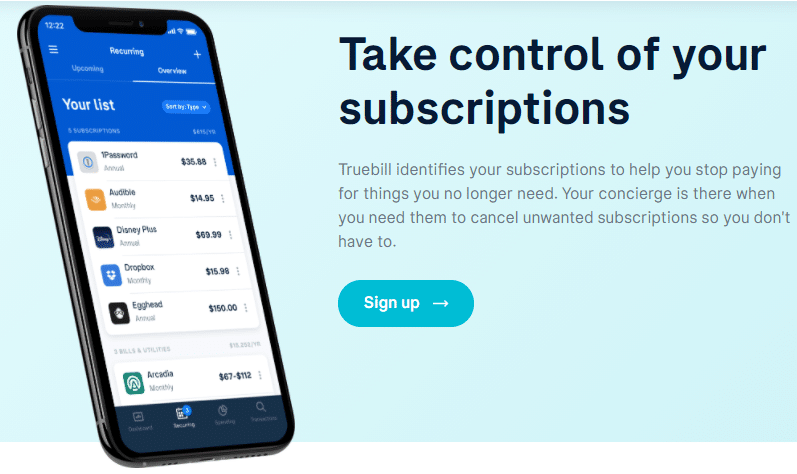 The app breaks down your transactions to enable users to have a breakdown of their spending. By linking to your bank accounts, the app categorizes your main spending categories. The app identifies spending categories that you can decrease to save more money.
Furthermore, Truebill warns users of upcoming payments or when their balance is low to prevent penalties on late payments.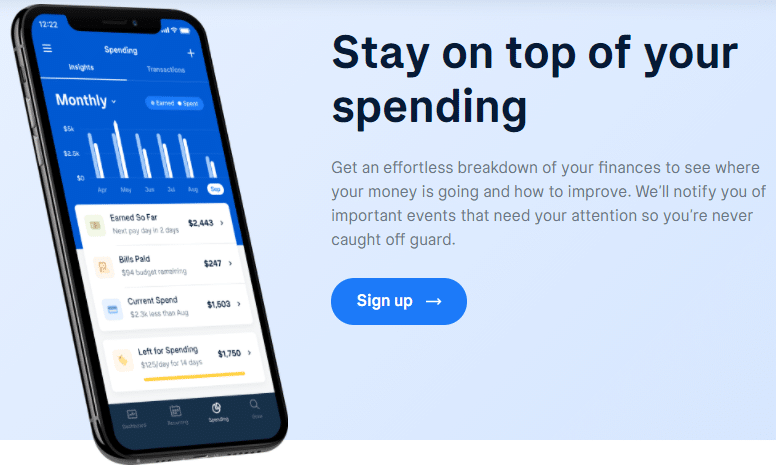 Truebill tracks scan your transactions to calculate how much available spending money you have left. By categorizing your spending history, the app allows you to create better goals to start saving. Furthermore, the app will update them on their goals and notify users when they are reaching their spending goals.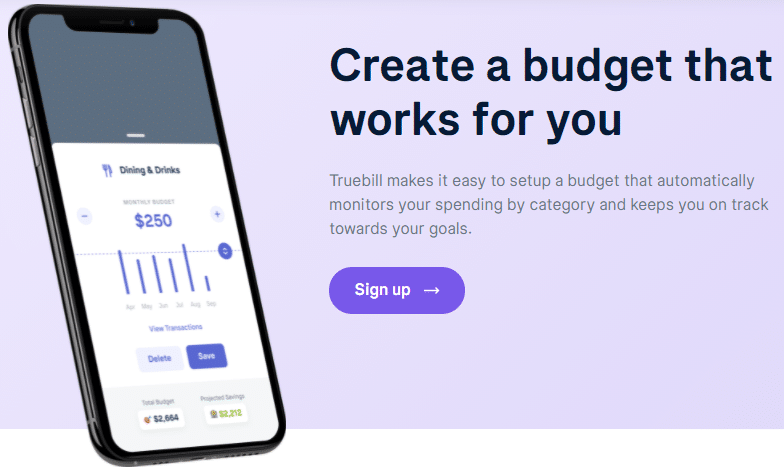 It offers a service to monitor your credit score. Users will be able to access their credit reports to understand their payment history.
Besides tracking your credit score, the app will notify users of any changes impacting their credit score. It also provides a protection feature against identity theft. The feature monitors users' accounts for malicious or fraudulent activity, and the Truebill concierge service offers 24/7 support to guide you on steps to follow.
Last but not least is the Pay advance feature. It is normal to find yourself in a situation where you need access to cash immediately. It offers a $100 pay advance without any credit check, and the app charges zero interest.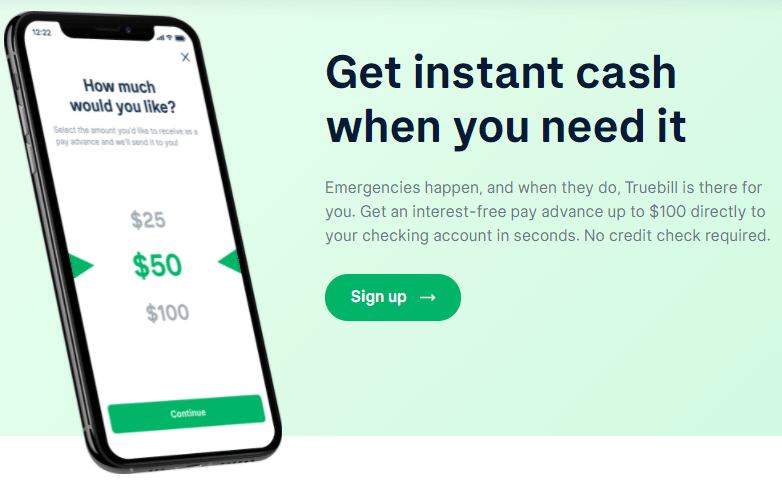 How does Truebill passive income app save you money?
It has helped its members save over $100 million. This was mainly due to the bill negotiation and autopilot savings features that the app provides.
Truebill can reduce unnecessary bills on your behalf by assigning a team to negotiate better rates on your accounts. In addition, they also assist users in applying for refunds on overdrafts and late fees. For users looking to reduce their car insurance, Truebill does it automatically by connecting your current insurance to find the best options.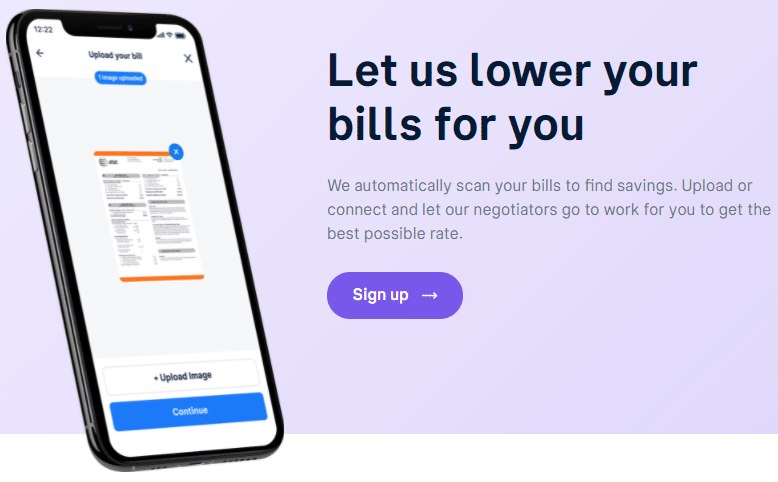 It checks your account for saving opportunities. You can set up the savings goal quickly via the app, and Truebill will start deducting the savings automatically as per your frequency. The money stays in the user's account; in addition, Truebill partnered with an FDIC-insured bank. Users can access their savings to withdraw, edit goals, or close the account at any time.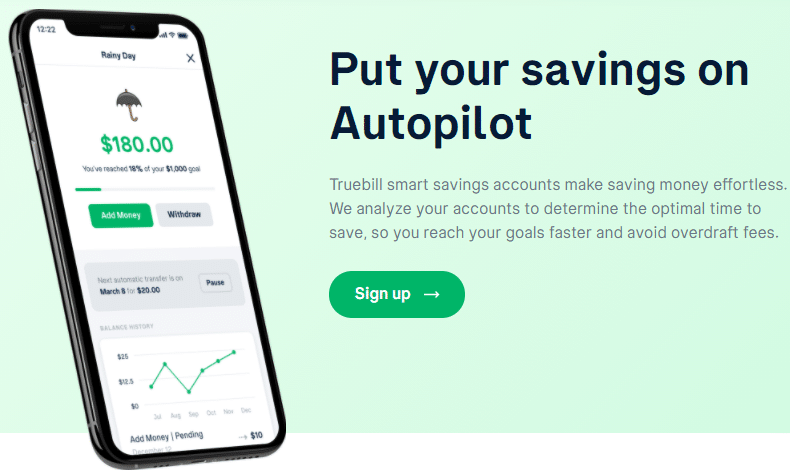 Fees and costs
Features
It is a free app to download and use. However, it offers optional services for premium members.
Premium chat, cancellations concierge, custom categories, smart savings, unlimited budgets, and syncing your balance are available to premium members.
Pricing
Premium members can choose their price for the services; however, it must fall within the $3 to $12 per month range.
If members opt to pay $3 or $4 per month, they will pay the annual subscription.
Premium memberships renew automatically, and members can opt to cancel at any time.
How to start?
To start using this app is a very straightforward process. You will need to download the app, which is iOS and Android compatible. Upon installing, you can register an account by providing your name, email address, and a strong password.
Truebill uses Plaid to link to users bank accounts; therefore, once you have signed up, the app will connect to your bank and credit accounts using the Plaid linking service.
How much could I get for one month using this passive income app?
The amount of money you can save or earn from using this app varies from customer to customer. Various factors determine how much an individual can save, and these are your spending habits, bill payments, and saving goals.
Customers have reported an average saving of $720 per annum, which equates to about $60 per month. However, these are average numbers and are not guaranteed savings.
If we consider a telecom bill as an example, Truebill has saved customers up to 20% by negotiating lower rates. Customers should note that the app retains 40% of the annual savings as a fee for their services.
How does the Truebill passive income app compare?
| | | | | | |
| --- | --- | --- | --- | --- | --- |
| | | | | | |
| | | Truebill | Acorns | Fundrise | Paribus |
| Min. investment | | $0 | $0 | $0 | $0 |
| Advice options | | Auto | Auto | Auto-human | Auto |
Pros & cons
Worth to use
Worth to getaway
•Concierge service
Its concierge service negotiates better rates on bill payments, and cancellation of subscriptions is valuable for customers.
•High fee charge for concierge savings
It charges up to 40% on savings obtained through its concierge service.
•Autopilot savings
The app's autopilot savings help you reach your savings goals faster, and the app also identifies opportunities to save by scanning your bill and subscription payments.
•Free members have limited features
Free members cannot access features like smart savings, cancellations concierge, to name a few.
•Pay advance
The pay advance of up to $100 comes in useful during emergencies, and the funds are available within seconds.
•The linking of banks are dependent on plaid
The Plaid service supports the linking of limited bank accounts. Therefore, it might be an inconvenience to users who want to use the app.
Final thoughts
What's not better than having such an app that can cancel your unwanted subscription? In the busy world, we do not always have time to look into everything.
The app, by far, is a great financial manager that everyone should have as small savings can make a significant impact later on. Using it, you can quickly review your expenses, start saving and lower your bills.