Investors are looking for long-term investment opportunities in online betting and gaming, a massively growing industry. However, identifying the best players in the industry and the inherent risks associated with uncertain growth can be daunting.
The gambling industry is thriving. In 2021, combined revenue from traditional casino gaming, sports betting, and iGaming in the US reached $48.3 billion in the first 11 months, the latest numbers available.
That shattered the industry's full-year record in 2019, before the start of the Covid-19 pandemic. Sports gambling, in particular, has grown at a tremendous pace, with monthly bet totals increasing more than 20-fold to $7 billion between June 2018 and Oct. 2021.
ETFs are desirable to less experienced investors as it is less costly than the traditional stock market. Casino, gaming, gambling, and leisure exchange-traded funds among entertainment funds are the best options.
Here's what to know about casino ETFs before investing.
How does it work?
An ETF is an exchange-traded fund available to buy on a stock exchange. Each fund is designed to track the performance of a particular index or industry. The casino industry has been around for years, and companies in this sector have produced growth for investors in most economic conditions. Investing in casino funds is an easy way to get exposure to the best stocks in the industry. Our guide picks three top casino ETFs for 2022.
Top three things to know before starting:
Such funds are formed from casino businesses, but it is often difficult to identify them. In entertainment ETFs, gaming, leisure, gambling, and casinos are grouped as a sub-sector of consumer discretion.
Market players are doubling down on the online gambling and sports betting arena in 2021.
For investors looking longer-term, three to five years out, grabbing a trial size of shares in one of these gaming funds could be the way to go for now.
Best casino ETFs to buy in 2022
We have prepared the following list of the best three casino funds to trade because of their excellent liquidity, historical performance, and the strong team behind them.
1. VanEck Gaming ETF (BJK)
BJK is a multi-cap fund that targets the MVIS Global Gaming Index. The index comprises companies involved in casinos and casino hotels, sports betting, lottery services, gaming services, gaming technology, and gaming equipment. Companies included in the fund's portfolio must derive at least 50% of revenues from the global gaming industry.
The price of this fund crashed during the Covid-19 pandemic, but it successfully recovered in 2021. Therefore, you may include it in the top three best casinos funds for 2022.
The expense ratio of this fund is 0.66%, with a market value of $94.6 million. The makeup is similar at 40 stocks again. At the same time, the weightings toward the top of the list are a bit more pronounced, with Sweden-based casino equipment manufacturer Evolution AB and Irish sports betting operator Flutter Entertainment representing more than 15% of the entire portfolio at present.
This overemphasis on a few names didn't pay off in 2021, as it has only put up about 14% gains year to date versus about 17% for BETZ, the third fund in our list. The fund's performance slightly outpaces the roughly 13% gains for the S&P 500 over the same period.
Top three holdings of this fund:
Evolution AB — 8.11%
Aristocrat Leisure — 7.37%
MGM Resorts — 7.27%
2. The Roundhill BITKRAFT Esports & Digital Entertainment ETF (NERD)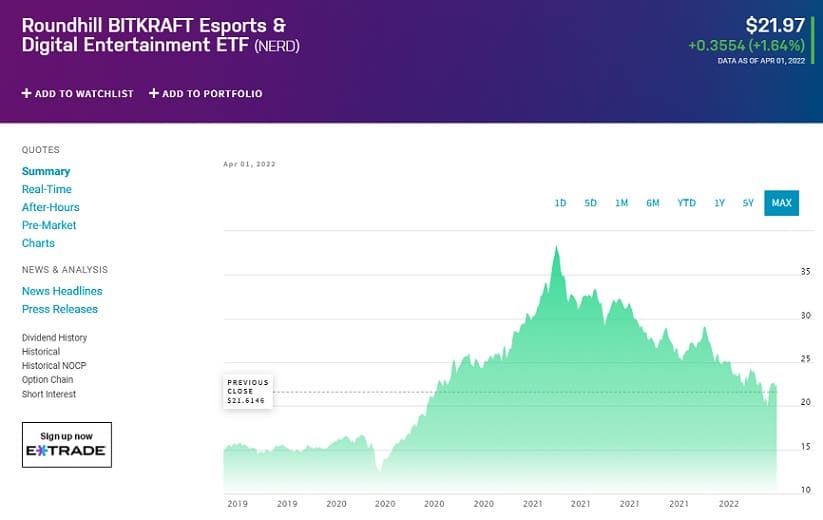 NERD is issued by Roundhill Financial LLC, focusing on the digital entertainment sector. It is relatively new on the scene for ETF investing. The fund has been around since June 2019 and is designed to follow the performance of the Roundhill BITKRAFT Esports Index. The index focuses its portfolio on companies in competitive video gaming, including publishers, streaming network operators, league operators, and hardware companies.
The expense ratio of this fund is 0.5%, with 2.7 million issued shares. However, its dividend payout ratio is slower than others at 0.96% but based on price stability is a substantial investment opportunity in 2021.
It has been popular in its total returns, resulting in a 127% growth across the past year and 52% since inception. Although it doesn't boast names like NVIDIA or Nintendo in its top ten holdings, it does have similarities to its counterpart ETFs.
Top three holdings of this fund:
Modern Times Group — 7.23%
Activision Blizzard — 6.53%
Corsair Gaming — 4.88%
3. Roundhill Sports Betting & iGaming ETF (BETZ)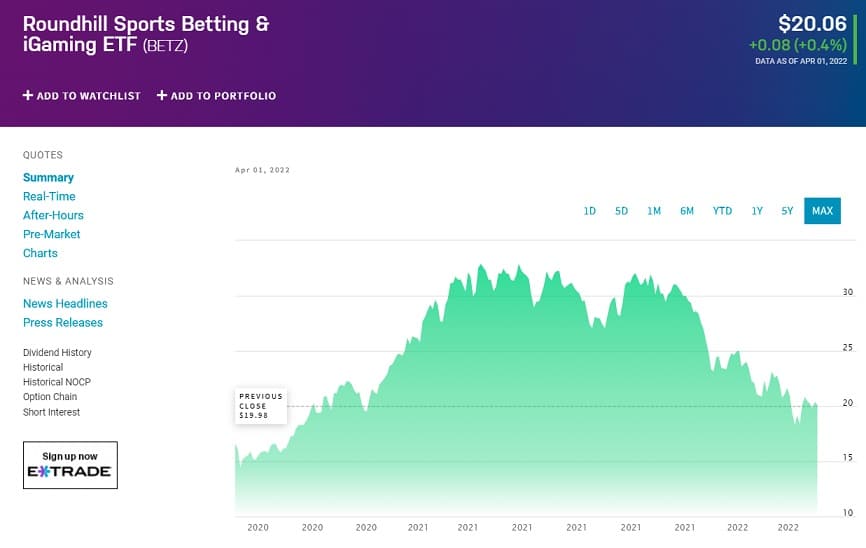 BETZ is designed to offer investors exposure to sports betting and iGaming industries. It's one of the largest funds dedicated to gambling, with just under half a billion dollars in assets. BETZ includes companies actively involved in the sports betting and iGaming industries.
It contains 40 holdings and uses a tiered weighting system which means it allocates more of the fund to what it believes are more vital companies. Although its focus is on sports and gaming, it holds several well-known casino stocks. Companies including MGM Resorts and Caesars Entertainment are two of its largest casino companies.
This multi-cap fund has a $315.9 million market value, with an expense ratio of 0.75%. Since its inception, this fund has shown a decent movement and potential for further growth in 2022. It could be a good investment for anyone wanting exposure to online betting and casinos.
Top three holdings of this fund:
Penn National Gaming — 5.42%
Kambi Group — 4.90%
DraftKings — 4.71%
Pros and cons
| | |
| --- | --- |
| Worth to invest | Worth to getaway |
| The casino industry has performed well in recent years, and like many companies in the sector moving to online gambling, it's only set to grow. | Physical casinos were hit hard during the pandemic and have yet to recover, so could prove to be riskier investments. |
| Casino funds are directly linked to retail investors. Therefore, these funds will be an excellent investment option if the economic condition is strong. | The expense ratio on gaming funds is going to be significantly higher than your average broad market ETF. It's up to you to decide if the convenience is worth the fees. |
| Such assets might be a good start if you're looking for a good mix of holdings, recent returns, dividend consistency, and age. | Another risk to consider is the infancy of this market. While we believe that's where the opportunity exists, legitimate risks are considered. |
Final thoughts
People invest in entertainment sectors, like casino ETFs when the country's economic condition is vital. Therefore, traders should perform a solid fundamental analysis besides following trading strategies.