Facebook's October 2021 "Meta Platforms" relaunch has sparked a renewed interest in the "Metaverse" concept. It was self-evident when we witnessed a surge in online search trends for the word "Metaverse." Massive virtual land purchases (over $100 million) in dapps such as Decentraland and Sandbox stoked early enthusiasm. A virtual property was purchased for $123,000 by singer JJ Lin.
Right now, you're not the only one whose thoughts are running around in circles. The good news is that you don't need to know anything about the Metaverse to gain from its investing idea. Investors may now select from a range of Metaverse ETFs. The purpose is to acquire exposure to a basket of stocks participating in the Metaverse's development.
We'll look at the top three Metaverse funds in this article, as well as their goals, holdings, and fees, to help you pick the best for your portfolio.
How does it work?
A Metaverse ETF is the easiest way to invest right now. It is an online community where people can meet up, collaborate, and have fun. An actively managed portfolio of companies creating the Metaverse is available to investors via this ETF. Because funds are diversified, they help limit volatility, minimizing risk exposure in the market.
Top three things to know before starting:
When the fund's 52-week price range is towards the lower end, it's an excellent time to purchase.
Look at the ETF's yearly dividend yield history. Consider investing if the yield shows signs of rising.
The ETF is a good option if the result is constant. Conservative investors, on the other hand, may want to consider it.
Now, let's have a look at the top three Metaverses ETFs that you should consider buying in 2022.
1. Roundhill Ball Metaverse ETF (METV)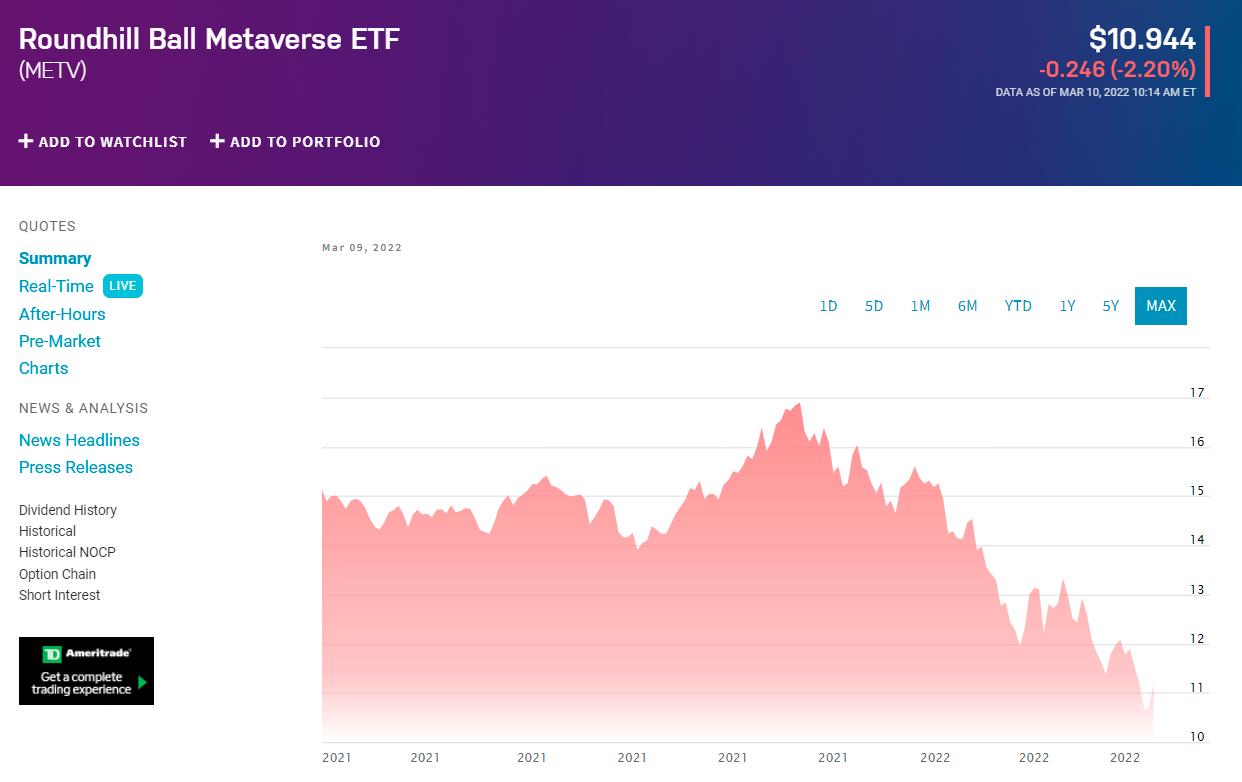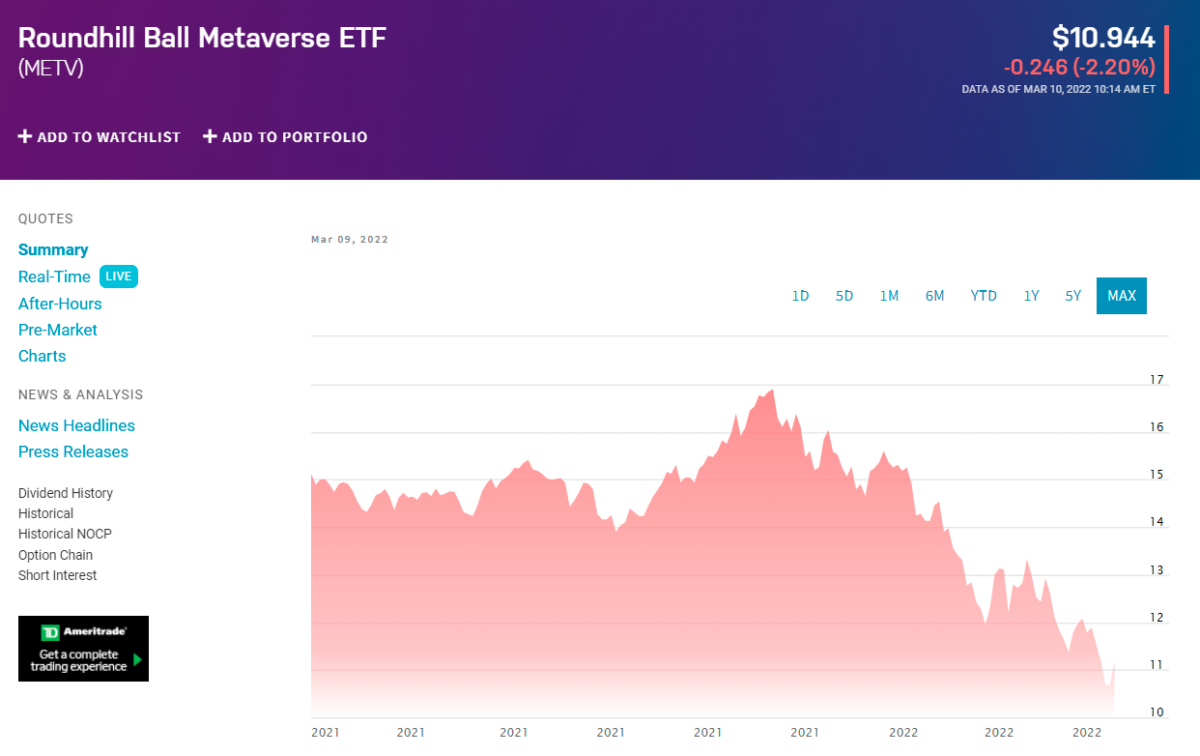 It is the world's first Metaverse exchange-traded index, and it seeks to mirror the performance of the Ball Metaverse Index. A portfolio of 40 firms in the Metaverse is available to investors via this fund. Around 80 percent of its holdings are in the United States, with 20 percent in Asia.
In companies like Microsoft and Apple, META is a venture capital entity that makes investments in cutting-edge technology companies. Nvidia and Roblox, nevertheless, are its two most significant holdings, accounting for 20 percent of its whole portfolio. Nvidia is a semiconductor corporation leading the charge in developing Metaverse infrastructure, while Roblox is a gaming company responsible for the creation of 'virtual worlds.'
It's a brand-new ETF that launched in June 2021; hence there's no historical performance against it. However, the stock price of Facebook increased by more than 20% when it announced a rebranding as a Meta platform. So buying shares in META can be an excellent strategy to ride the impending Metaverse trend. Because it has huge and reliable enterprises.
2. Evolve Metaverse ETF (MESH)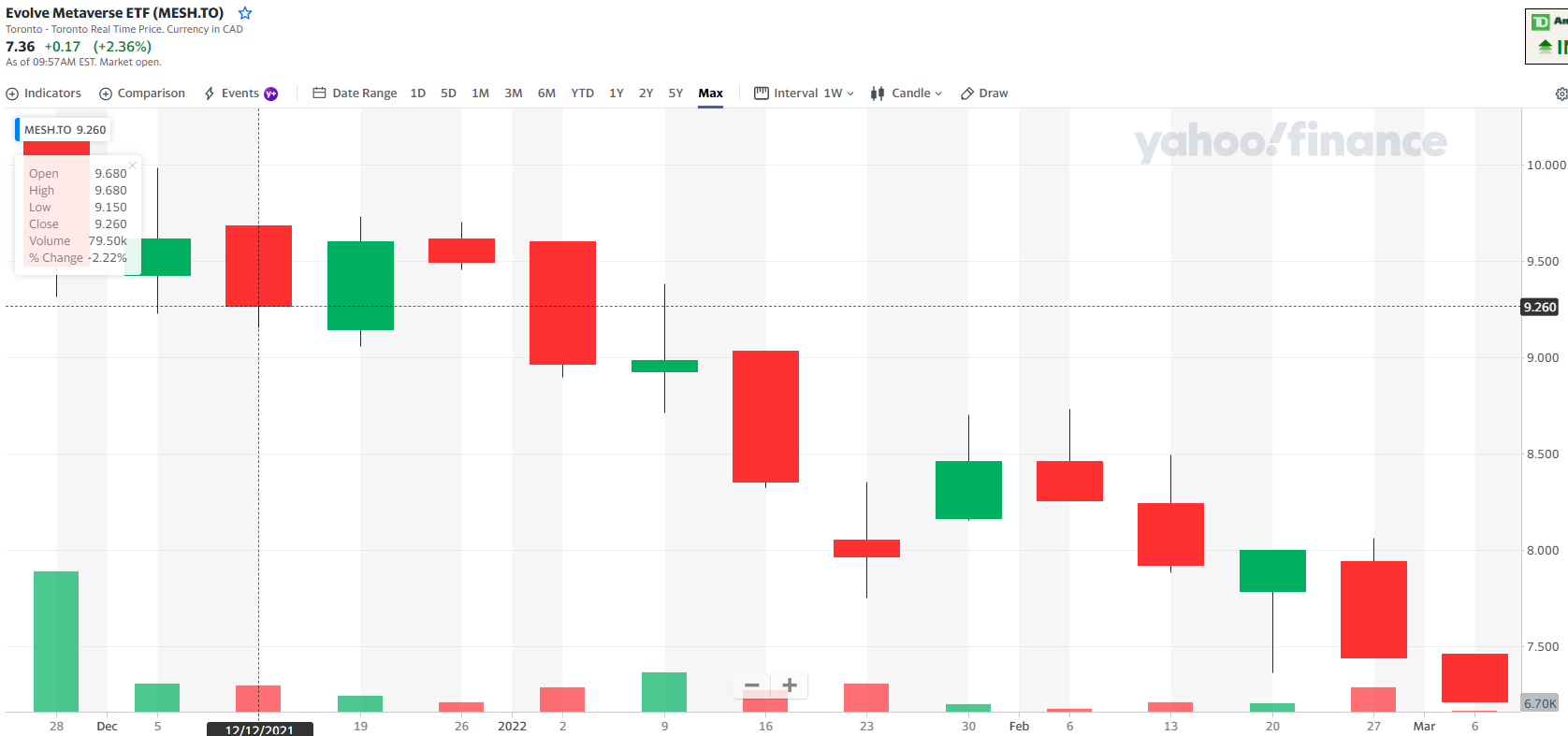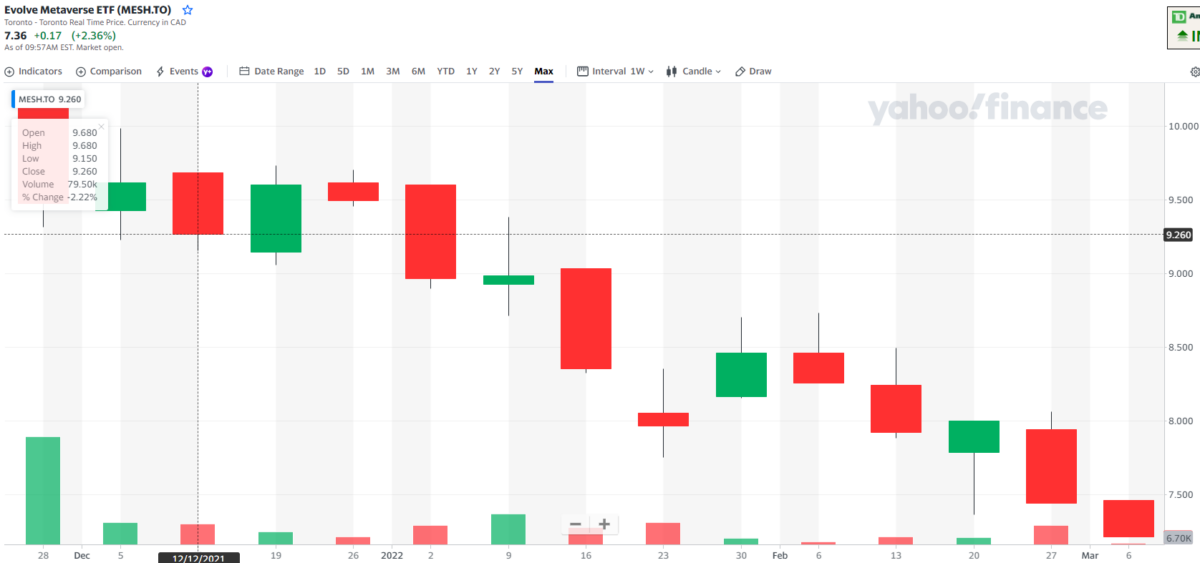 It is Canada's first Metaverse exchange-traded fund. It exposes investors to a diversified group of companies actively involved in Metaverse's expansion. Even though it has 25 stocks, it is now skewed toward companies from the United States and Asia.
Around three-quarters of the fund comprises American firms, with the rest coming from Chinese, Japanese, and Singaporean firms. It invests predominantly in the technology sector and includes some of the most well-known big-cap stocks, such as Meta, Autodesk, and Walt Disney, comparable to Roundhill.
Because it's a new ETF, there is minimal data on its previous performance; however, it does have over $8 million in assets under management. As a result, MESH's equal weighting is one of its most enticing aspects. It splits its whole money among all of the stocks it invests in, ensuring that no one business has a significant effect on its total performance.
3. Horizons Global Metaverse Index ETF (MTAV)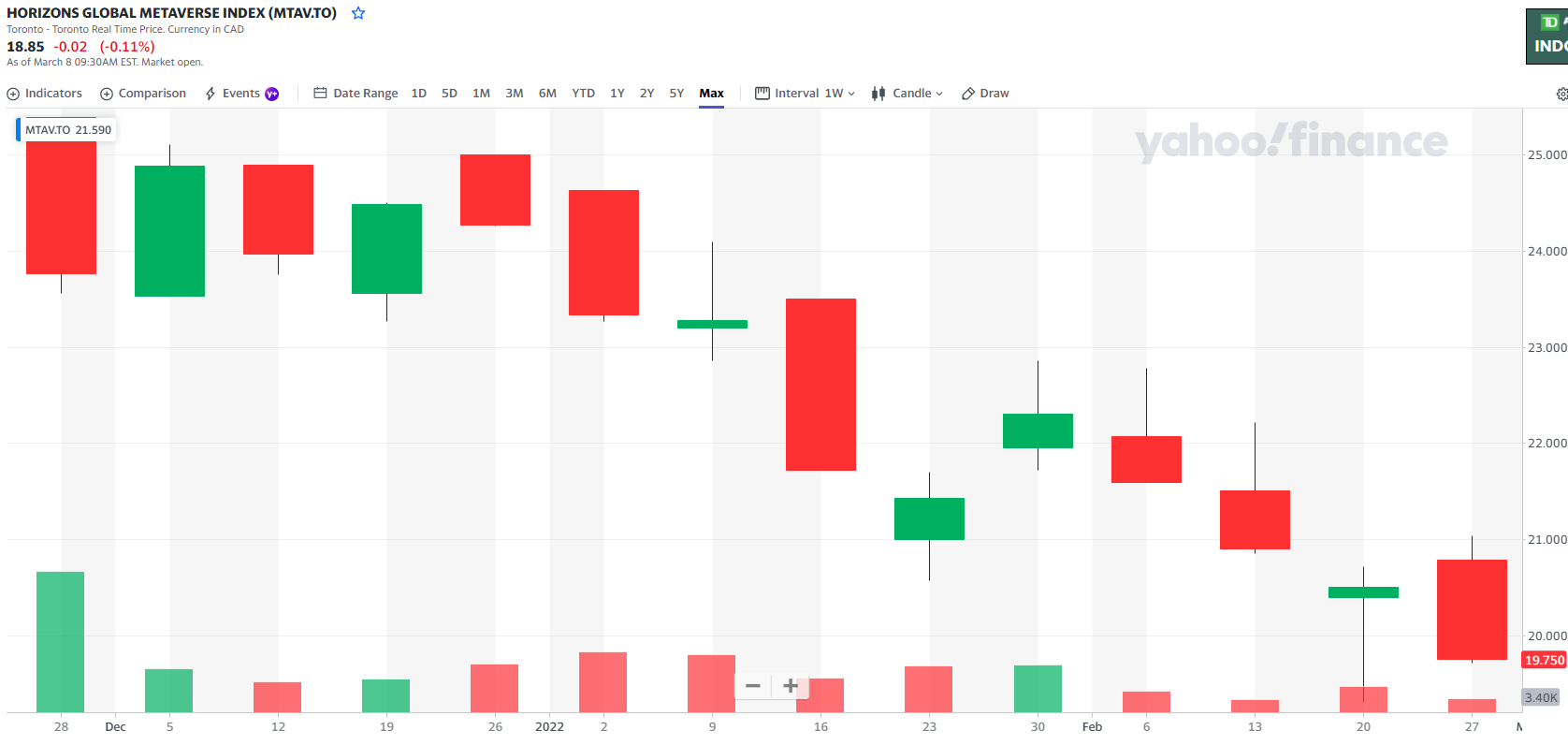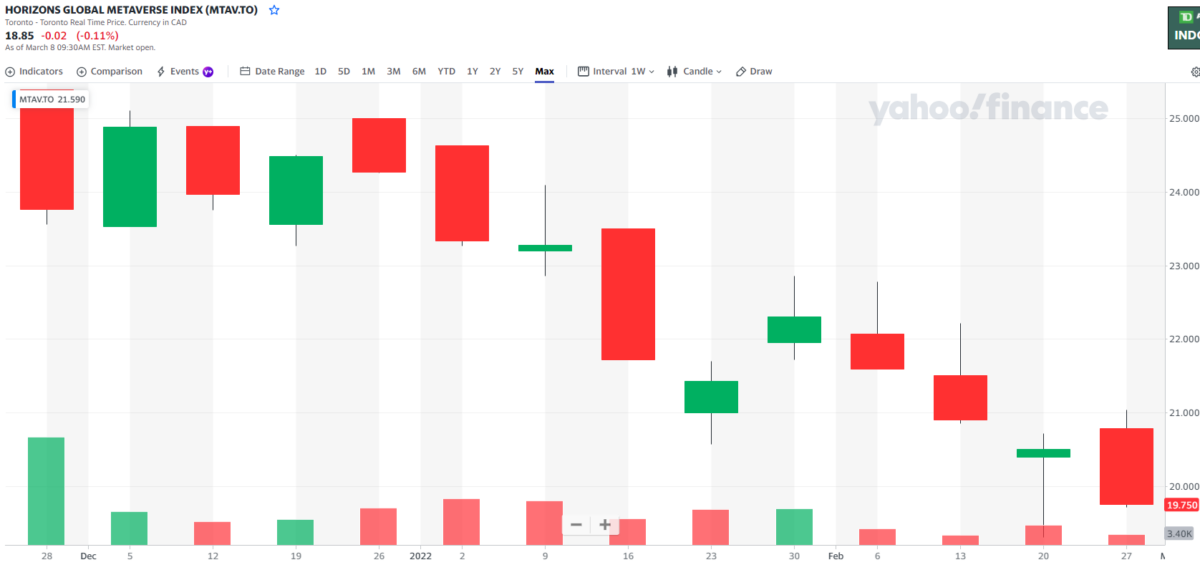 Like Evolve, MTAV is a Canadian ETF listed on the Toronto Stock Exchange. It's simply another new ETF in this market, with little historical price data to depend on.
Horizons stand out for its broad sector allocation compared to the other ETFs on our list. While the technology sector receives around a quarter of the total investment, the rest is spread over a wide range of other businesses. The topics covered are gaming stocks, digital payments, and augmented/virtual reality.
MTAV includes stocks from all over the world. Among its most valued holdings are Google, Visa, and Amazon. In addition, it provides each of its holdings a roughly equal weighting. This, along with the fact that it invests in various sectors, makes it a less hazardous option to Metaverse ETFs. However, it gives a slight advantage to those with their headquarters in the US.
Pros and cons
| | |
| --- | --- |
| Worth to invest | Worth to getaway |
| Virtual reality, a digital environment that may be used for various personal and corporate purposes, is expected to be the dominant manifestation of the Metaverse in the next several years. | The Metaverse concept is still very new, and no one is sure where it will go from here. |
| Numerous industry experts believe that Meta will make a significant game purchase in 2022, after the $68.7 billion acquisition of Activision Blizzard by Microsoft and the $3.6 billion acquisition of Bungie by Sony. | There is a lack of prior research to draw from. Moreover, the Metaverse projects were all created in 2021. All Metaverse ETFs have only been trading for about a year. |
| The Metaverse may expand in several ways, all dependent on a system of research, innovation, investment, and regulation to function well. | Short-term volatility is an issue because of how quickly the Metaverse changes; these ETFs may not perform as well in the short term. The underlying stocks may be affected by macroeconomic variables as well. |
Final thoughts
Metaverse ETFs are very new; therefore, there may be some fluctuation in the price. However, a growing body of evidence suggests that being exposed to the Metaverse now will be helpful in the future. They're a great way to keep tabs on some of the world's most innovative companies, so it's possible.