There is a global misconception that you must be in tune with moral ambiguity to make a ton of money. This belief is a fallacy. There are investment instruments available in the markets that ensure investment with a conscience.
What is an ESG exchange-traded fund?
In the recent past, consumers are more aware of the impact of organizational activities on the other facets of their life. As such, there has been phenomenal growth in socially responsible investing.
Exchange-traded funds provide an excellent avenue for theme-based investing. Therefore, it comes as no surprise that the rise of socially responsible investing has introduced funds tracking virtuously sound organizations.
Ethics measurement in investing is through an ESG score, Environmental Social and Governance impact score. ESG funds are a group of equities that operate within the ethical boundaries that ensure the enhancement of social, environmental, and governance in the global community.
What are the benefits of an ESG ETF?
By investing in ESG ETFs, investors stand to:
Make a ton of money while reclaiming the planet for future generations.
Build an investment portfolio in line with human values, social, environmental, and governance sustainability.
Get exposure to relatively less volatile investment instruments, approximately 29% less volatility.
How to be part of the ESG ETF market?
Access for investing with a conscience through the ESG markets lies through traditional call brokers or online brokerage firms. An investor can either invest directly in the ESG markets via owning shares or through CFDs, contract for differences.
Once you choose a broker, being part of the ESG ETF market is a simple three-step process:
Step 1: find a broker providing ESG ETFs as part of their investment instruments portfolio.
Step 2: screen the ESG ETFs to ensure portfolio risk and return requirements align.
Step 3: invest or trade in the ESG ETF of choice.
The top 3 ESG ETFs
Previously, the world was not big on conscience investing. However, the recent global catastrophes have brought to the forefront the immediate tackling of ESG-based issues to not only reverse adverse environmental effects but impact the social and governance space.
The pandemic drove the investor masses into ESG-based funds, given their superior positive performance compared to other segments. The better performance is attributable to changing consumer behavior and increased sustainable investing awareness.
As the global community becomes more insistent on sustainability in every facet of our lives, the top three ESG exchange-traded funds that will ensure a look at the mirror comfortably are below.
№ 1. Vanguard ESG US Stock ETF (ESGV)
Price: $80.92
Expense Ratio: 0.12%
The Vanguard ESG US Stock ETF, commonly known as the Vanguard Global Fund, is a collection of over 1400 equity stocks. It tracks the FTSE US All Cap Choice Index and invests at least 95% in the underlying assets of this index with a view of replicating its performance.
Therefore, it is a diversified thematic ETF in terms of capitalization that excludes firms non-compliant with the UN global impact standards and acceptable international diversification criteria.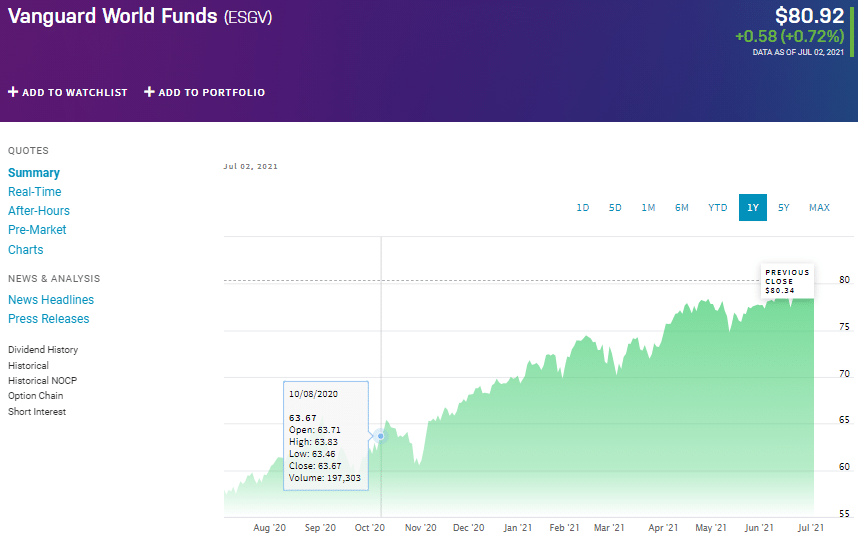 ESGV exchange-traded fund in a year marred by the pandemic still managed 1-year returns of 43.42%. Out of 223 large blend companies, this ESG ETF is ranked 24th by USnews analysts as a long-term investment instrument. It boasts $4.86 billion in assets under management and a relatively low expense ratio of 0.12%. Since its inception in 2018, the average quarterly dividends stand at $0.18.
№ 2. Invesco Solar ETF (TAN)
Price: $387.97
Expense Ratio: 0.03%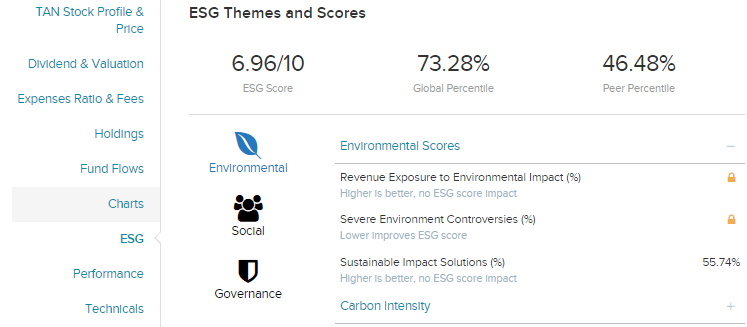 The Invesco Solar ETF is a non-diversified exchange-traded fund in the solar energy sector and semiconductor equipment technology sector. It tracks the MAC Global Solar Energy index with a view of replicating its performance.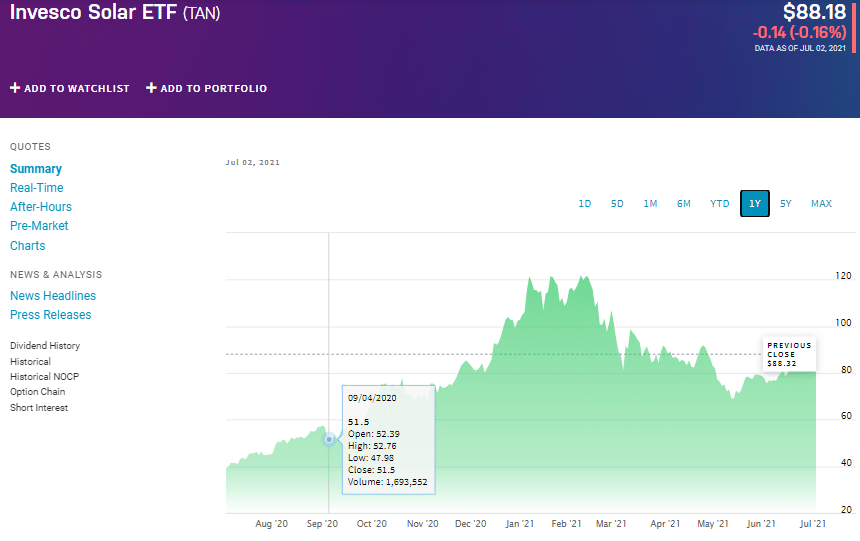 In a list of 33 Miscellaneous Sector ETFs, prepared by USnews analysts', the TAN rank is #10 among passively managed funds for long-term investment. The TAN selection universe comprises solar technology, solar energy value chain organizations, and solar equipment companies. This universe is then divided into pure-play companies and medium play companies:
Pure play: generate more than two-thirds of revenue from solar energy
Medium play: generate at least a third of the total revenues from solar energy.
The TAN ETF boasts $3.64 billion in assets under management, with an expense ratio of 0.69%. Since inception, this ETF average annualized returns stand at 5.36%, with an explosion during the pandemic year, 147.68%. Investors in the TAN are currently enjoying average quarterly dividends of $0.09.
№ 3. 1919 Socially Responsive Balanced Fund (SSIAX)
Price: $26.89
Expense Ratio: 0.2%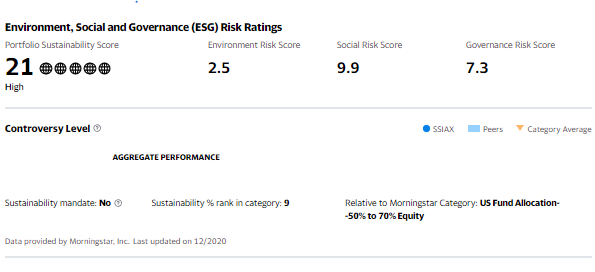 The 1919 Socially Responsible Balanced Funds is one of the oldest ESG-based exchange-traded funds; its inception date is November 6, 1992.
It comprises US common stock and other equity securities of any maturity but has to be investment grade. Its objective is to provide high total returns by screening for long-term undervalued securities with strong sustainability characteristics.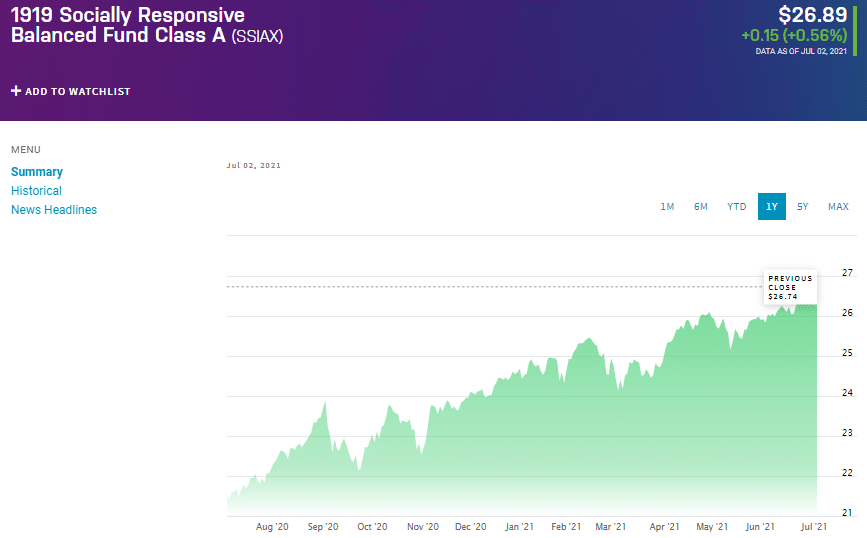 Approximately 10% cash reserves. It screens its holdings and excludes any organization involved with the fossil fuel industry, unfair employment practices, and human and animal rights violations.
Since its inception, the SSIAX average annual returns stand at 8.13%, with the 1-year returns during the pandemic standing at 24.8%. It boasts $685.53 in assets under management, with an expense ratio of 1.6%. So the SSIAX is an excellent investment instrument for beginner investors, exposing one to both stocks and bonds.