There are over 2,500 cryptocurrencies to invest in, which gives you a lot of choices. In addition, there are quite a few tokens valued under one dollar.
This coin review will explore five of the best cryptocurrencies valued at less than $1 in 2022. The projects are not listed in any particular order, as each has its own merits and potential for success. Investment decisions are ultimately up to you, as the investor. So let's explore under $1 projects that interest you and decide if they are worth investing in.
Three things to know about crypto before starting:
Resist the 'fear of missing out when investing more than you can afford to lose.
Buy these cheap coins using a dollar-cost-average.
Try not to obsess over the price while buying the cryptos under $1.
Stellar (XLM)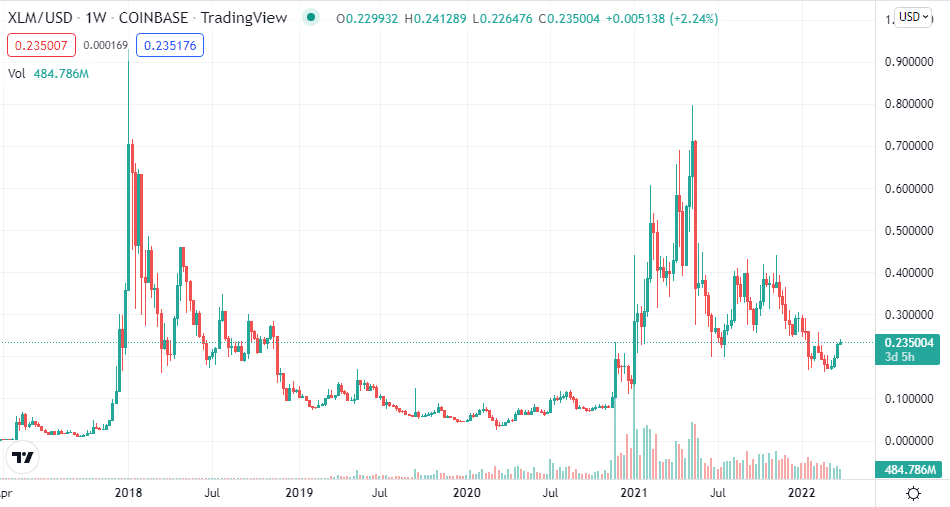 As the name implies, Stellar has its backend payment platform on Lumens (XLM) tokens.
Price history
Over the past seven days, Stellar Lumen's price rose by 14.99% on 31st March 2022. The current price of XLM stands at $0.182945. Stellar Lumens currently trades 74.43% below its all-time high of $0.715472.
Where to buy it?
The XLM currency can be bought, sold, sent, and received using a Coinbase or other financial technology account. XLM can also be stored, transmitted, and received using coin wallets.
What are the perspectives of the Stellar project?
Known for its excellent transaction speed and low fee structure, it has gained popularity in the cryptocurrency community. With its low transaction fees, Stellar is a great candidate for micropayments. Stellar is currently worth $20 billion by market capitalization, so there is considerable room for growth.
Crypto.com Coin (CRO)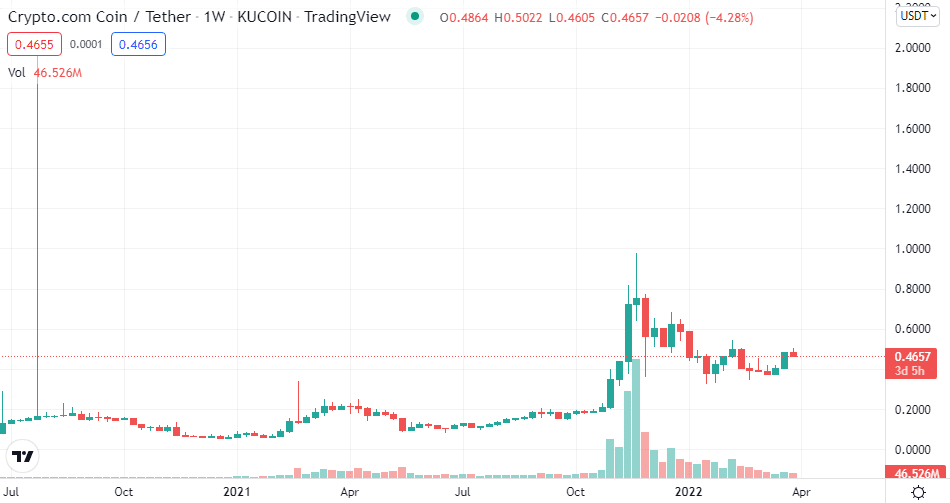 The Crypto.com Coin (CRO) is a fantastic cryptocurrency with a price of under $1 that is the native token of the Crypto.com Exchange. Ranking 16th in terms of market capitalization, CRO offers many benefits to investors.
Price history
The price of Crypto.com Coin rose by 12.78% in the past seven days as of 31st March 2022. As of right now, the price for CRO is $0.368631. There are 50.15% fewer Crypto.com Coins in circulation today than there were at all-time highs of $0.739499.
Where to buy it?
With Coinbase, you can easily purchase Crypto.com Coin everywhere Coinbase is available. The process is quick, secure, and accessible. In addition, the Coinbase application allows you to buy this coin.
What are the perspectives of the Crypto.com Coin project?
Among other features, Crypto.com offers a prepaid Visa card that offers up to 5% back in native MCO tokens and other benefits to speed up cryptocurrency adoption. Crypto.com also offers virtual wallets and software systems to store users' credit card and password information. In addition, Crypto.com enables cryptocurrency buyers and sellers to buy and sell cryptocurrencies. An NFT marketplace was also recently launched on the site.
VeChain (VET)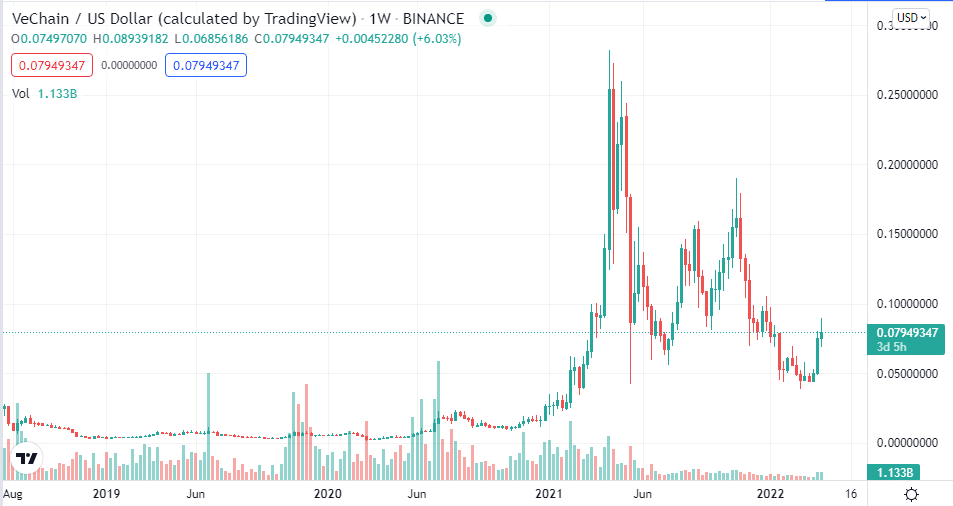 The VeChain (VET) protocol allows tracking of physical items at each stage of the supply chain.
Price history
There has been a 47.47% rise in the price of VeChain in the last seven days. Currently, the price of a VET is $0.063817. As a result, there is 70.11% less VeChain's hype in circulation now than at their all-time high of $0.213478.
Where to buy it?
Using your credit or debit card, you can buy Vechain on cryptocurrency exchanges such as Coinbase or Coinmama. Vechain wallets must be created (an account) and approved before purchasing.
What are the perspectives of the VeChain project?
Ethereum technology augmented reality, virtual reality, artificial intelligence, the internet of things, 5G, and more are the foundation of the next generation of information technology, according to VeChain.
With its immutable and tamper-proof qualities, blockchain has the potential to enable unprecedented value and data transfer between users in a trust-less manner, boosting information exchange efficiency and authenticity.
Hedera (HBAR)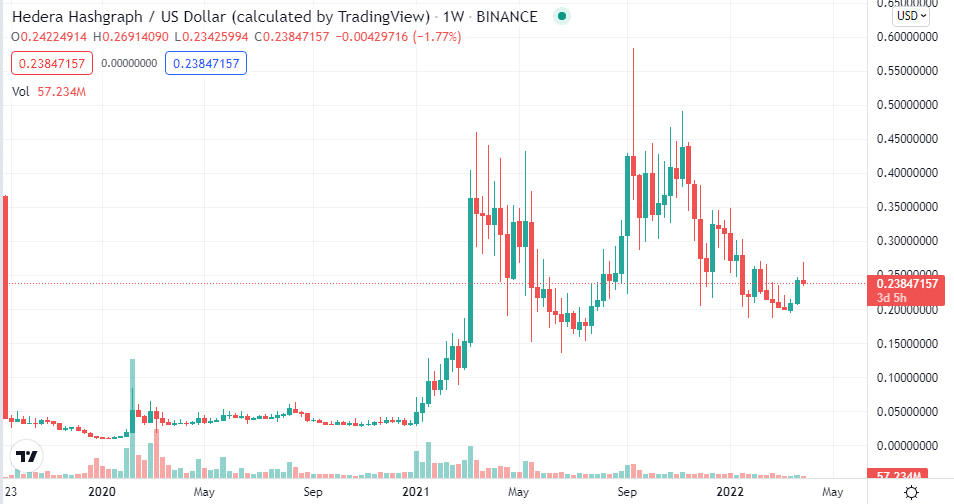 Hashgraph, the technology behind Hedera (HBAR), is a distributed ledger technology (DLT) that uses a new distributed ledger protocol. A blockchain works like a hash instead of a block, but the data remains in hashes.
Price history
The price of Hedera has increased by 17.41% over the past seven days as of 31st March 2022. At the moment, the price is $0.195057 per HBAR. There is a 3.15% discount to the all-time high of $0.201401 for Hedera.
Where to buy it?
The most reliable exchange to purchase HBAR is Binance at the moment. Its Secure Asset Fund for Users ensures its platform, the world's largest cryptocurrency exchange based on trading volume. In addition, it hosts a variety of cryptocurrencies and trading options because of its popularity.
What are the perspectives of the Hedera project?
Hedera Hashgraph's network relies on HBAR cryptocurrency, so users must purchase it for transactions and operations.
Shiba Inu (SHIB)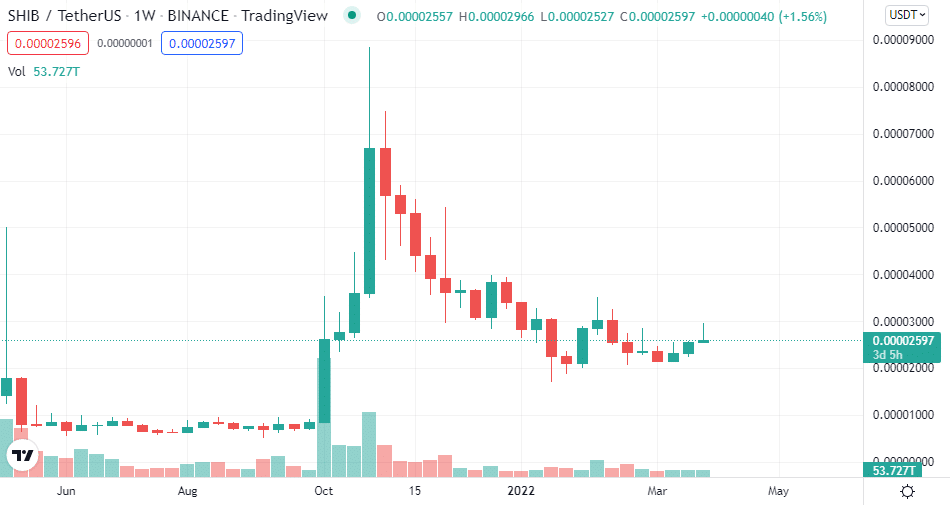 This is an ERC-20 token that aims to be a direct competitor of Dogecoin (DOGE) and establish itself as the number one meme coin globally.
Price history
SHIBA INU's price grew by 15.85% in the past seven days on 31st March 2022. The price per SHIB is now $0.000021 at the moment. The price of Shiba INU is 15.04% below its all-time high of $0.000025.
Where to buy it?
There are a few different crypto exchanges where you can send, receive, and buy SHIB. Additionally, SHIB's issue as an Ethereum token means the token will be compatible with the Ethereum ecosystem.
The benefits of SHIB include compatibility with Ethereum wallets like Coinbase Wallet, availability on decentralized exchanges (or DEXs) like UniSwap, and the addition of lending and savings products and NFT marketplaces to ETH-based DeFi applications.
What are the perspectives of the SHIBA INU project?
Shib is a token that replaces Dogecoin (DOGE) as an Ethereum-compatible alternative. The circulating supply of SHIB is one quadrillion coins, just as DOGE is intentionally abundant.
Furthermore, Shibaswap, a decentralized exchange powered by Shiba Inu, supports NFT art incubators.
Pros and cons
| | |
| --- | --- |
| Worth to buy | Worth to getaway |
| Coins priced under one dollar are better because they address crypto's weaknesses. | Much of the money has been wasted on several "dead under $1" projects. |
| A few cheap coins have gained traction among mainstream institutions, such as Dogecoin, Ether, and Steller. | In the cheaper project market and with little liquidity, there are no regulations and no criteria for investment. |
| Different types of cheap coins are available in the crypto economy. | Investments in projects with less than 1 cent in value are more scarce. |
Final thoughts
It is impossible to overstate the importance of research while buying these under $1 projects. First, analyze what each project aims to achieve, find similar assets, and then compare the merits of each project. Doing this can identify undervalued projects that aren't well known and critical factors to achieving significant gains.