Due to the increasing popularity of Metaverse coins, many platforms enable projects to build the next-generation virtual universe of their own. Several options for Metaverse coins, including Polygon, Ethereum, and Solana. Binance is no different than these platforms to having Metaverse projects as it includes several Metaverse/GameFi coins built on this Binance Smart Chain.
However, it is not wise to involve with any product or platform without having a certain level of understanding. Additionally, this Metaverse concept and coins are comparatively new financial products.
Let's check the top five Binance Smart Chain Metaverse coins.
Is it worth it to HODL BSC?
The term "HODL" came from a misspelling of the Bitcoin forum's user (Game Kyuubi). He wrote a post on that forum that says "I AM HODLING" on Dec 18, 2013, where he misspells "HOLDING" as "HODLING." 2013 was a historical year for Bitcoin as it made a peak near $1100 by December, while it was only worth $15 in January of that year. That was a sharp rise of 7,2,30%, although it fell nearly $390 by mid-Dec and ended up that year near $948.
That "I AM HODLING" post of the author was a response to the price plunge. The author assures that he is holding the asset. The term becomes popular, and crypto investors start using that term to declare that they are following the buy-and-hold strategy on any asset for longer-term rather than frequent trading.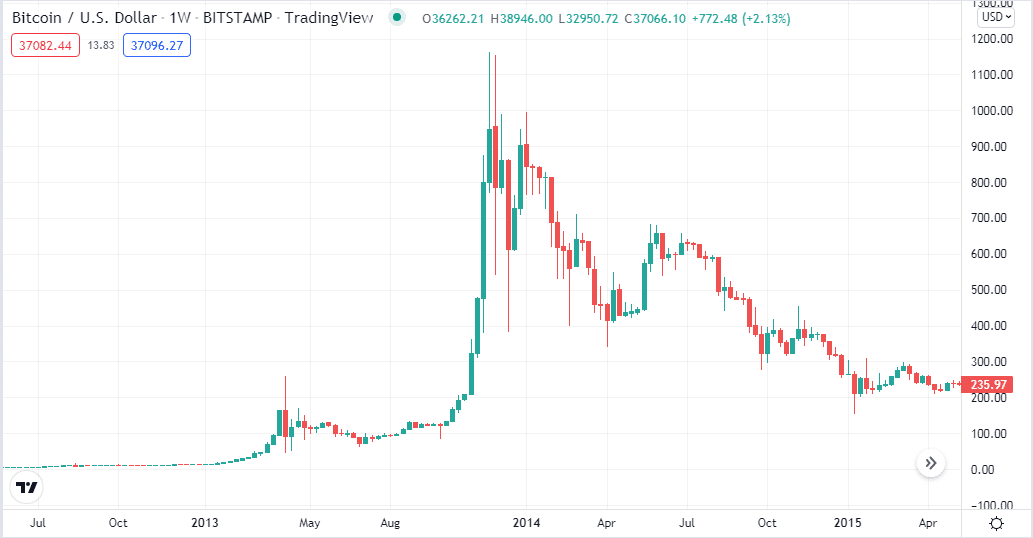 There are many positive features of the Binance Smart Chain (BSC) when it comes to BSC. The Binance platform is one of the leading crypto exchanging platforms with an enormous volume and millions of users worldwide. HODL is the community-driven Defi project on the BSC network.
This innovative mechanism of the BSC ecosystem allows users to earn BNB coins by simply holding HODL tokens. For instance, if you own 1% of HODL you can receive 1% of the BNB reward pool. The total supply of HODL tokens is 1000 trillion.
The following section will introduce the best five Metaverse coins of BSC.
Bomb Crypto (BCOIN) – 354k
The Bomb Crypto is a play-to-earn NFT game where users can manage their bomber heroes, defeat bosses and monsters to earn rewards, and explore their Metaverse. You can consider it as the most popular dApp on the BSC.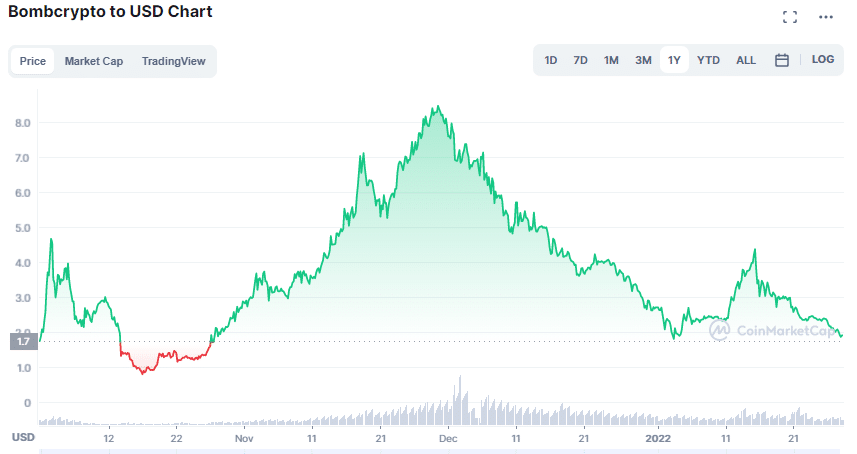 The token of this platform BCOIN price is floating near $1.7 today after making a peak near $8.5 in Nov 2021.
Where to buy BCOIN?
You can purchase Bomb Crypto from many top cryptocurrency exchanges such as Hoo, MEXC, PancakeSwap (V2), LBank, and BKEX.
What are the perspectives of the Bomb Crypto project?
To start playing the game, players need to purchase at least one bomb hero, which costs about 10 BCOIN. It has three modes containing treasure hunt mode.
Story mode
PVP mode
Buy house
CryptoMines (ETERNAL) – 306k
The CryptoMines is a platform of play to earn a SciFi game, where players travel the virtual universe searching for ETERNAL. The term 'minaral' allows users to live another day and make profits.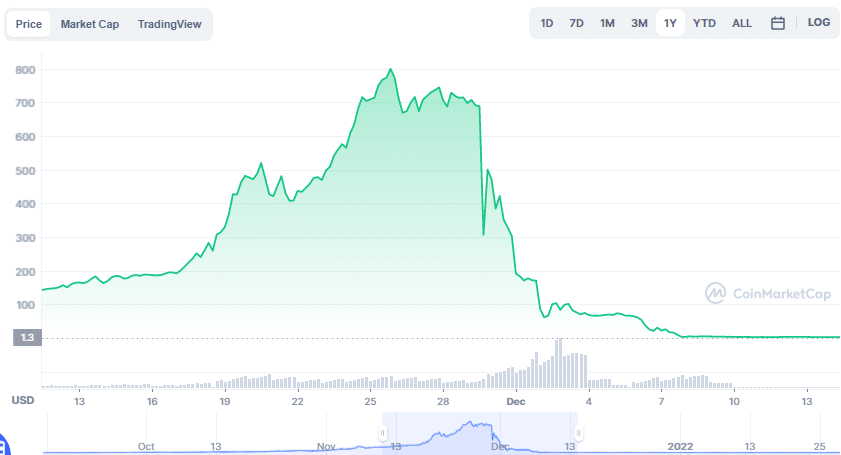 The native token ETERNAL price is floating near $0.65 after making a peak near $718 in Q4 2021.
Where to buy ETERNAL?
Many major exchanges such as PancakeSwap (V2), Bitget, LBank, MEXC, and Gate.io have ETERNAL coin stocks to purchase.
What are the perspectives of the CryptoMines project?
The game deployed BSC, which is also compatible with W3 wallets like MetaMask, this feature makes it easier for any individual to start with this platform.
MOBOX: NFT Farmer (MBOX) – 172k
MOBOX is a cross-platform Metaverse that you can enjoy using any device. This revolutionary free-to-play and play-to-earn platform is with over 150k players while writing.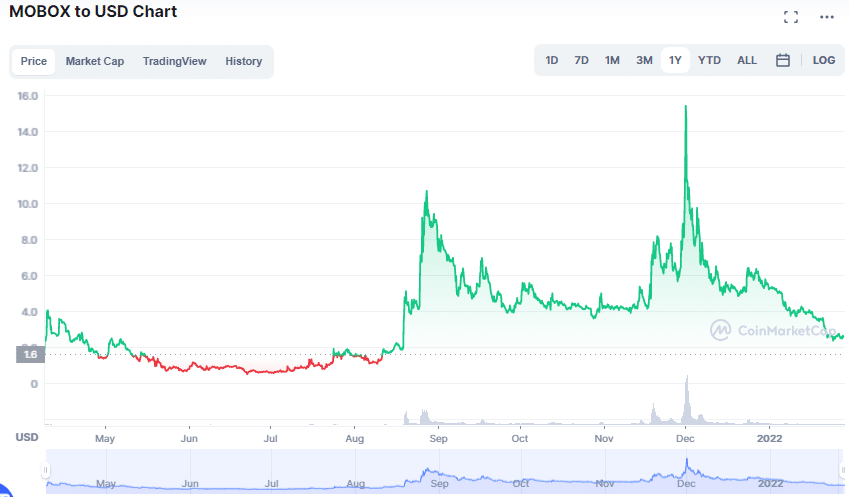 MBOX price is floating near $2.56 after making a peak near $6.42 in the first half of this month.
Where to buy MBOX?
MBOX is available on major exchanges such as BingX, Binance, Bitget, Gate.io, and Mandala Exchange.
What are the perspectives of the MOBOX project?
This platform offers a variety of features to users such as a moversity, block browler, an NFT marketplace, farm NFTs and a system to stake MBOX coins.
X World Games (XWG) – 104k
The X World Games is a decentralized gaming blockchain platform that provides decentralized ownership of the gaming world through DAO.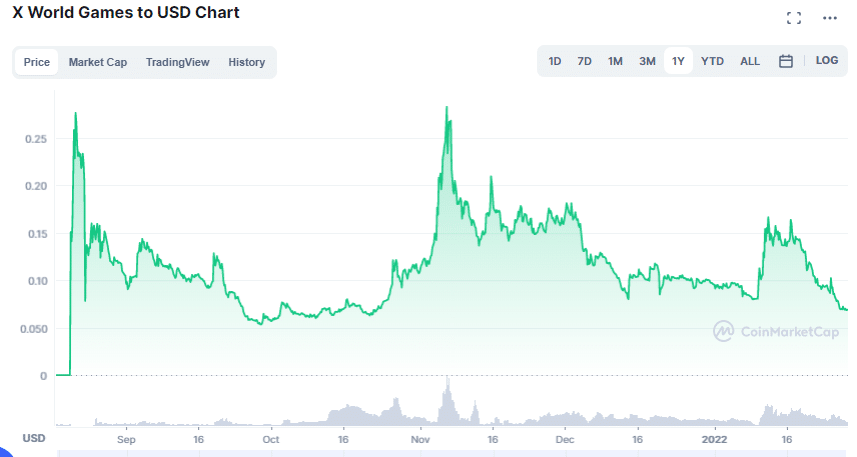 The price of XWG is floating near $0.06 after reaching a top near $0.16 in Nov 2021.
Where to buy XWG?
You can purchase XWG tokens on Hotbit, Gate.io, LBank, PancakeSwap (V2), and MEXC.
What are the perspectives of the XWG project?
X World Games is a decentralized blockchain gaming platform with gaming space that provides users many opportunities to trade and create NFT tokens while participating in multiplayer games. It is a play-to-earn platform.
BinaryX (BNX) – 96k
BinaryX is a play-to-earn gaming platform on BSC blockchain, the team behind CyberDragon.
The price of BNX is floating near $20 after reaching a peak near $215 in Nov 2021.
Where to buy BNX?
You can purchase BNX tokens currently on Mandala Exchange, Binance, DigiFinex, BingX, and Gate.io.
What are the perspectives of the BNX project?
The CyberDragon combines the aspects of Defi, NFTs, marketplace, and gaming. This platform allows players to receive dragon treasures as rewards, create characters, and collect rare equipment.
Pros and cons of BSC
| | |
| --- | --- |
| Worth to use | Worth to getaway |
| It involves low transaction fees. | It stores users' private keys. |
| Binance platform allows debit/credit card deposits. | It has a previous hacking history that is alarming. |
| It enables several ways to earn real cash. | The withdrawal fee on this platform is comparatively high. |
Final thought
Metaverse cryptos may be a booming frontier for crypto investors in the next few years. According to the volume info, Binance is the largest crypto exchange platform that contains many Metaverse coins. The platform offers many opportunities to individual users around the world.