Metaverse is the latest term that is gaining popularity. The Metaverse is termed as the 'future internet' and also web 3.0. It is a 3D world where people can play games, talk to other players, become whatever they want, and be where they want.
Metaverse has been getting more eyes on it since the time Facebook changed its name to Meta, stating that it is working on a new project called the Metaverse — a place where everyone can come together, a more advanced medium. Since then, cryptos like Mana, Sandbox, and other Metaverse coins have gained a massive price rise close to 300%.
Do you want to learn about a few of Solana's latest Metaverse projects and their coins that could give you insane profits in 2021/2022? Let's go!
Three things to know before starting:
Solana Metaverse projects are set in the virtual reality gaming sphere.
Solana is the fastest-growing blockchain network globally.
Players who participate in the Metaverse gaming platforms can exchange their tokens for real currencies.
How do Solana Metaverse projects work?
Solana is currently the fastest blockchain globally and the fastest-growing ecosystem in crypto, with over 400 projects spanning Defi, NFTs, Web3, and more. On the other hand, the Metaverse is a 3D world or a virtual reality environment that combines both augmented and virtual reality.
Few of the Metaverse projects are built on Solana, use its ecosystem for work processes, transactions, etc. It is also used in games in which players can participate in the Metaverse virtual reality sphere.
Reason to use for investors
Metaverse projects can be a preferred choice for avid gaming crypto investors. Some of the reasons why investors might opt for these coins are.
Market cap
The Solana coins, used in the Metaverse projects, already garnered a market cap of over $100,000,000. It means there are a significant number of coins in supply.
Profitability
The prices of the coins have increased over 100% since inception, making them profitable investments. For example, if you invested $1,000 in Star Atlas at inception when the price was $0.0183, you would have made 996% in profit. Therefore your $1,000 investment would have grown to $9,960, making a profit of $8,960.
Blockchain
Solana's blockchains are considered one of the strongest in the crypto sphere; furthermore, it is the only multi-threaded blockchain.
1. Star Atlas
Price: $0.1824
Market cap: $394,646,931
Start Atlas coin price prediction 2022: $0.27 to $0.32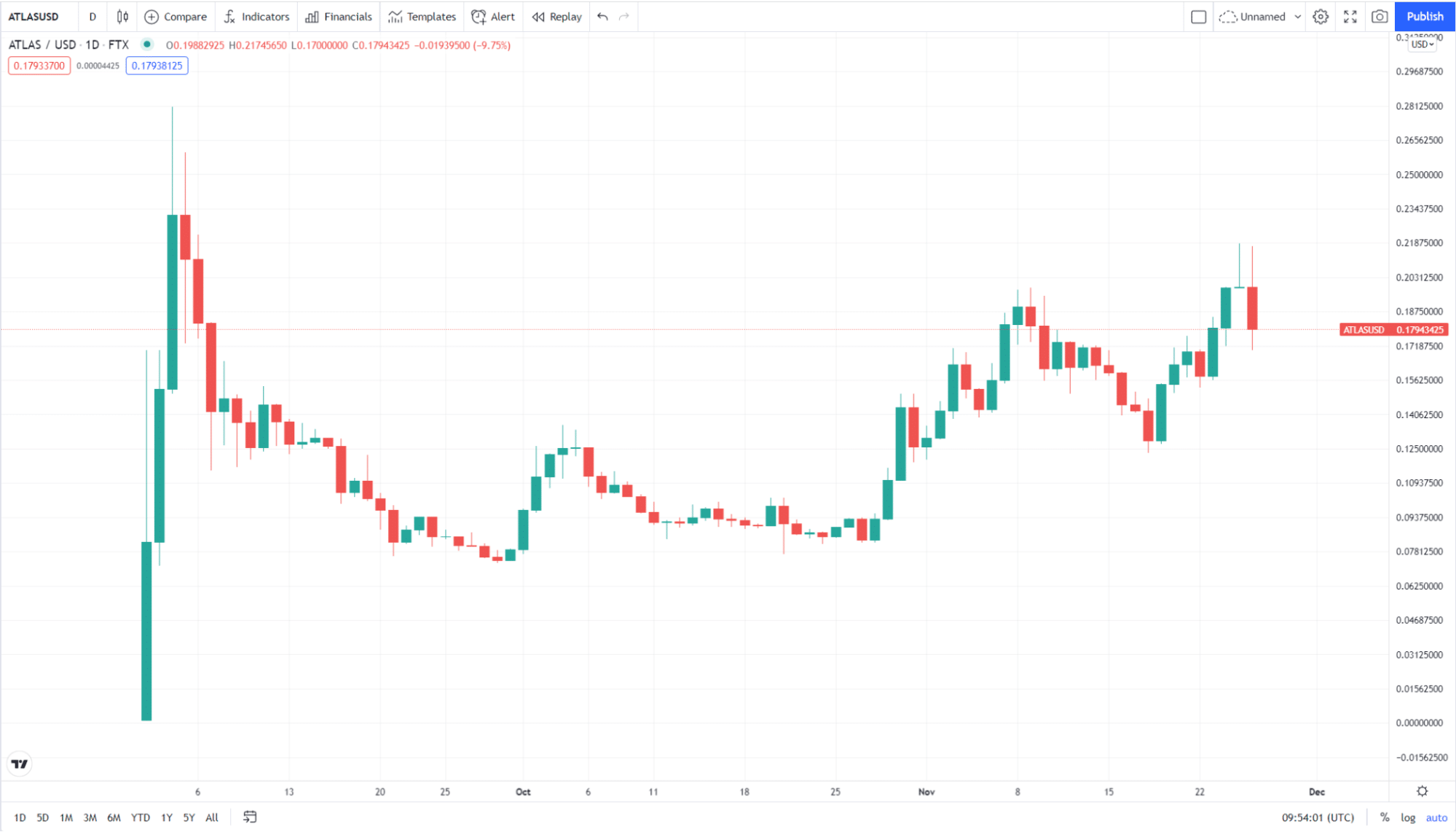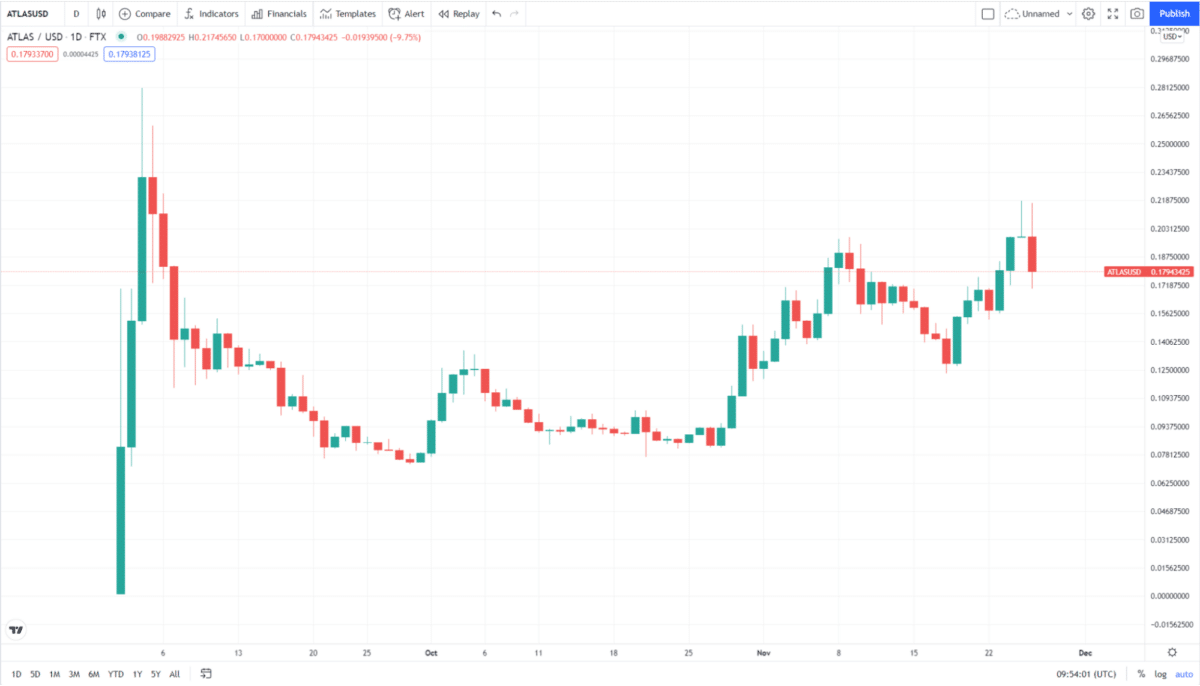 Michael Wagner, COO of Pablo Quiroga, is the founder of Star Atlas. Star Atlas is an online game that operates in the virtual gaming Metaverse. The game has cinema-quality features because it is built on Unreal Engine 5.
The game's setting is around three groups that exist in the year 2620. They are competing for resources and the control of humankind and other androids.
Players can gain revenue from mining resources, and the assets obtained in the game can be exchanged for real currency.
Atlas tokens can be used as in-game currency and to purchase NFTs on the NFT marketplace.
2. Raydium
Price: $10.14
Market cap: $776,571,578.19
Raydium coin price prediction 2022: $15.45 to $18.60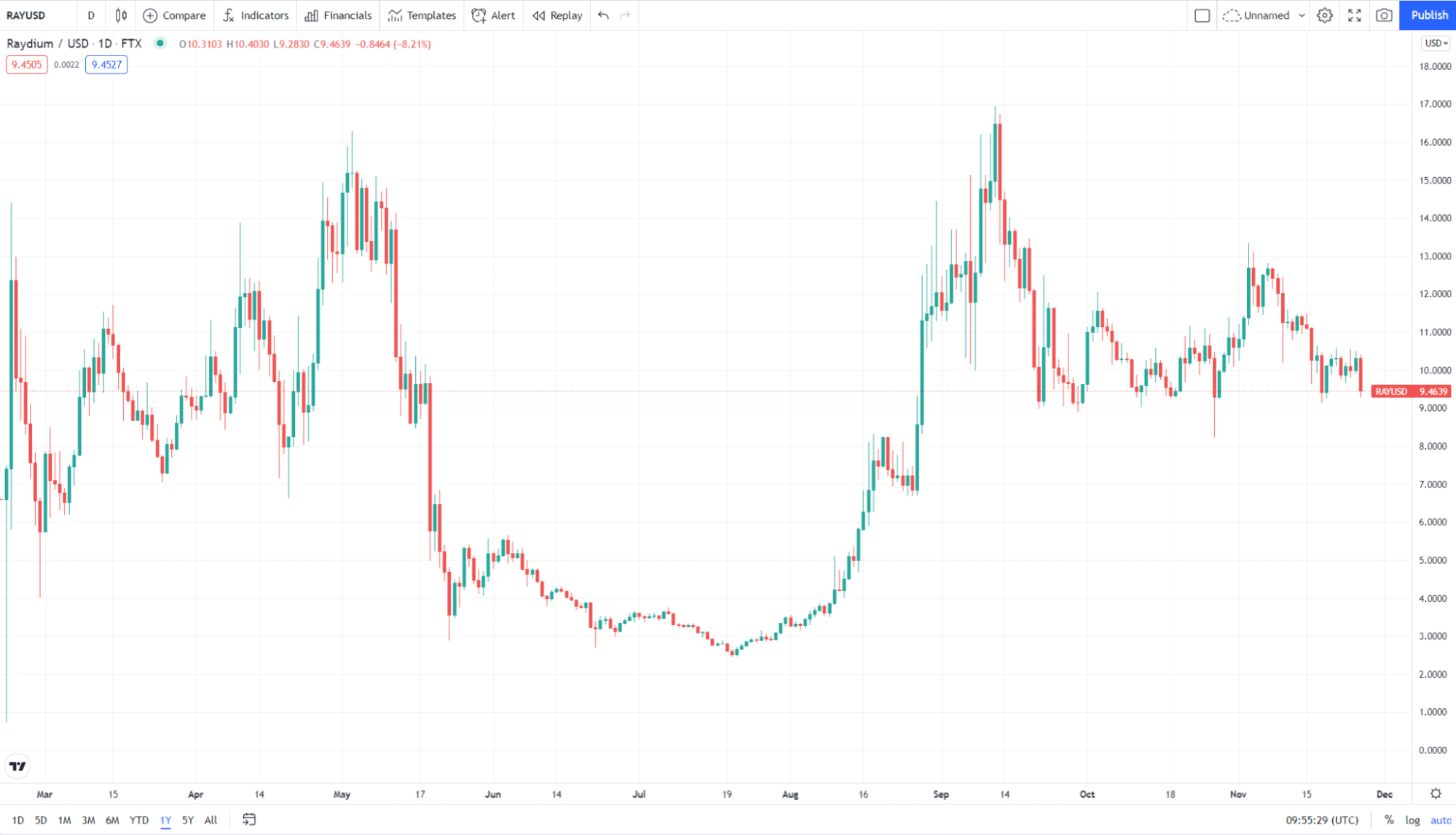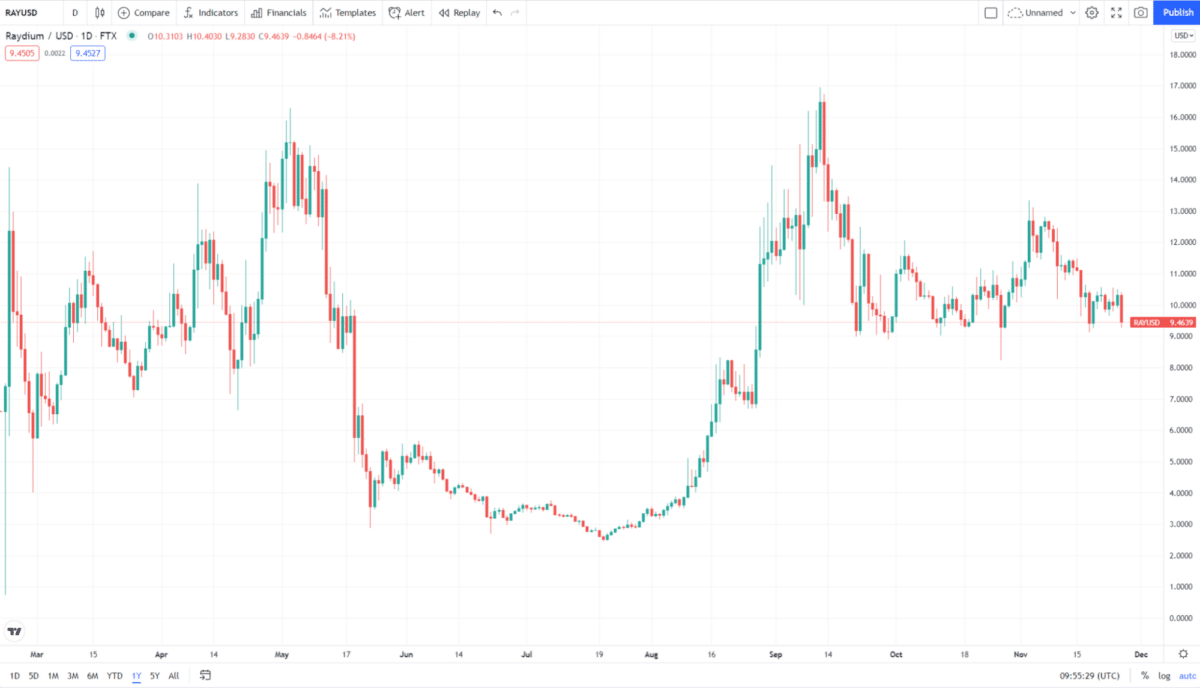 Raydium is built on the Solana blockchain for the Serum decentralized exchange. It is an automated market maker (AMM). Most AMMs have a challenge with liquidity, but Raydium incorporates Serum on the network, which provides liquidity.
RAY is the token used for Raydium, and it can be used for staking and governance votes on protocol decisions. The Raydium token launched February 21st with 555,000,000 tokens created.
3. Oxygen

Price: $2.01
Market cap: $127,351,365.01
Oxygen coin price prediction 2022: $3.10 to $3.59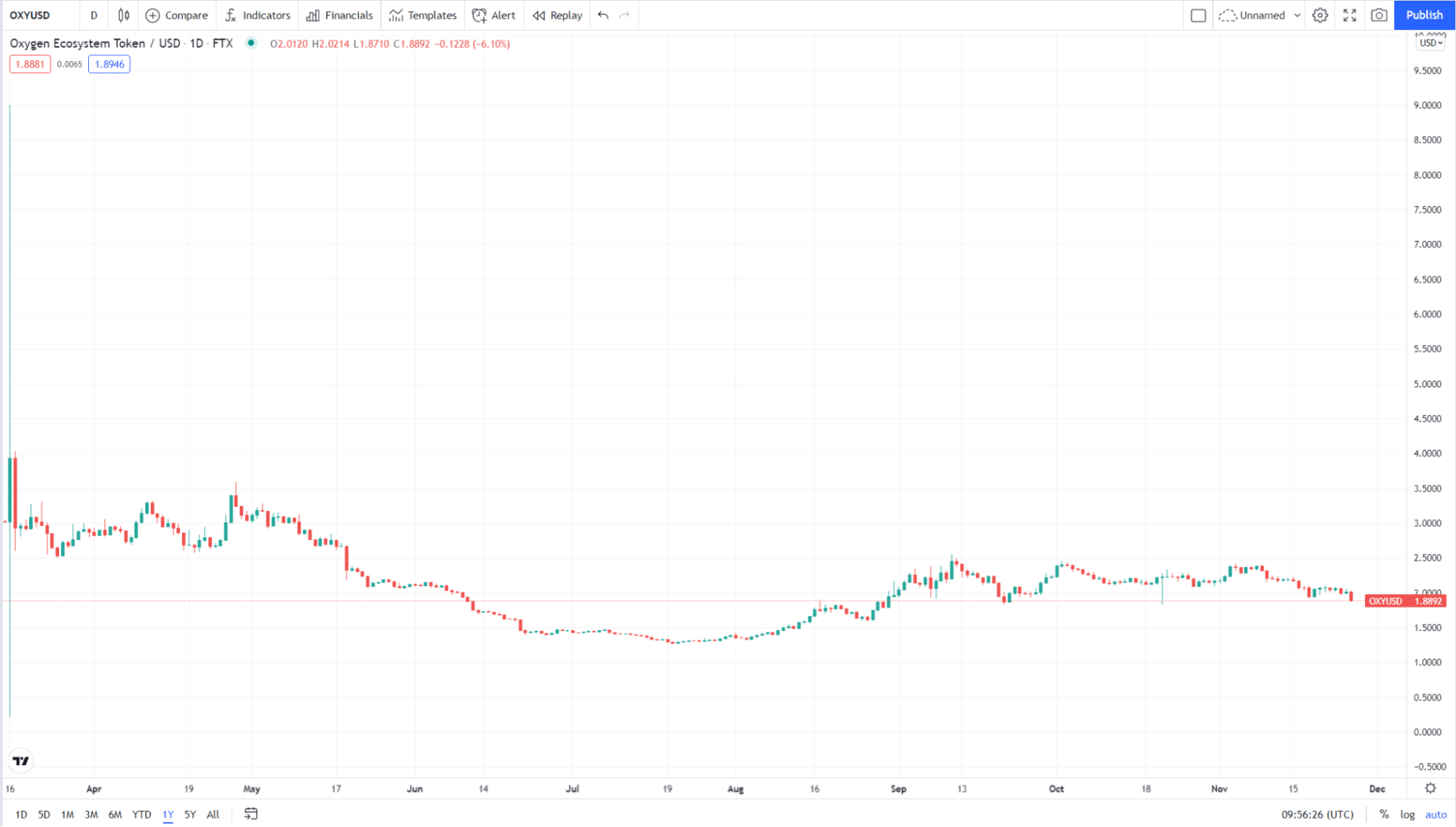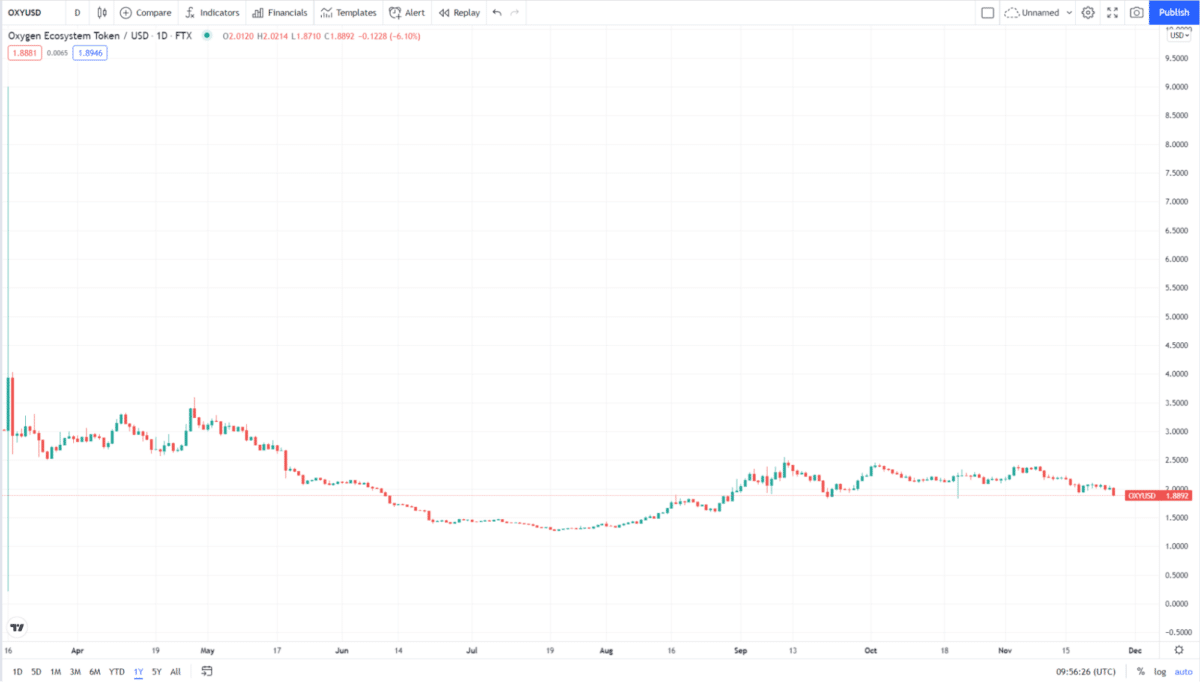 The Oxygen project was launched in 2020 and is based in Switzerland. It consists of a team that is focused on the future financial infrastructure. Oxygen is built on Solana and powered by Serum's on-chain infrastructure. The decentralized ecosystem works by allowing users to earn from leverage against their portfolios.
Users create a pool by depositing their assets and allowing lending against it. They determine the lending criteria, which includes maturity and yield either as market or limit orders.
Because it is built on the Solana blockchain, Oxygen transactions costs are as little as $0.00001 and block times as little as 400ms.
Pros and cons
Solana is good in many aspects, but it also lags in a few areas that you must know. Below are the few pros and cons.
Worth to use
Worth to getaway
•Fast transaction speeds
Solana has some of the fastest transaction speeds, up to 50,000 transactions per second. 
•Costly hardware
The hardware used for the setup of Solana hardware is more expensive.
•Strong blockchain
Its blockchains are considered one of the strongest in the crypto sphere; furthermore, it is the only multi-threaded blockchain.
•Not 100% decentralized
With less than 200 validators, the its network is not completely decentralized.
•Scalability
It has achieved high levels of scalability by leveraging the proof of history and several other breakthrough innovations.
•Late launch
Many implementations still await their launch on the Mainnet Beta version.
Final thoughts
Metaverse on Solana is getting popular nowadays. Solana is a public blockchain that relies on a unique combination of proof-of-history (PoH) and proof-of-stake (PoS) consensus mechanisms which make Solana highly secure. Also, it has a speedy transaction.
Metaverse is a new concept and is still in making as it needs advanced technology and infrastructure to be built on. Being very new and still unknown to many people, it can be prone to scams, so investors are notified not to get into projects without prior research.