The decentralized exchange has become a core part of the crypto world as many users adopt this facility to control their assets better. On the other hand, the Metaverse introduces a world where people interact through the virtual platform. Both of these sectors are future where any industry surge would open room for getting benefits as investors.
Timing is the core function of any investment where it is wise to invest in any sector as early as possible. Therefore, if you want to remain at the top, you should know the details of the top DEX Metaverse tokens right now.
What is Uniswap V3 (UNI)?
Uniswap V3 is a decentralized exchange where people can buy, sell and exchange cryptocurrencies. It initiated the business operation in 2018 and has become a leading exchange by providing more than 450 coins and 900 trading pairs.
UNI price history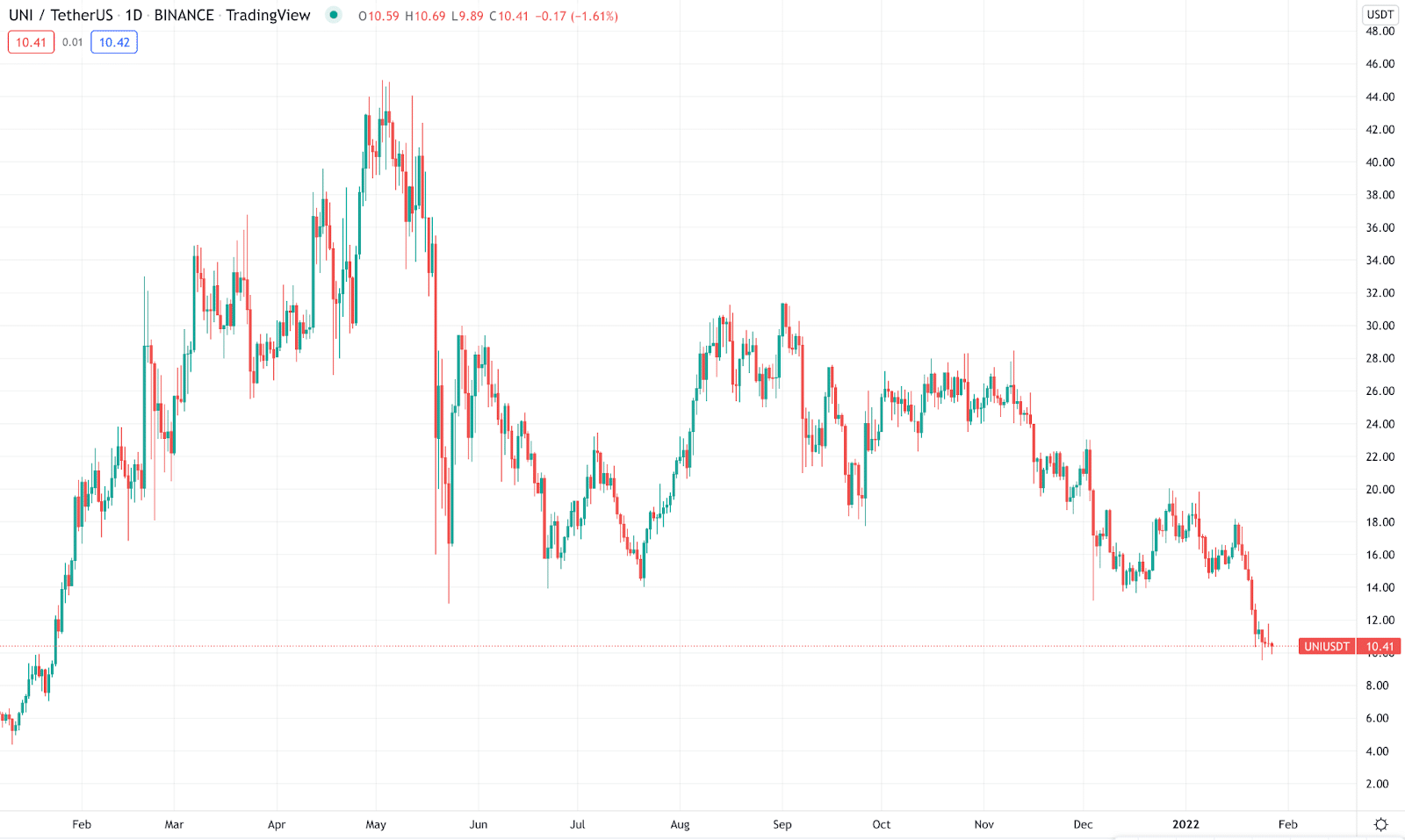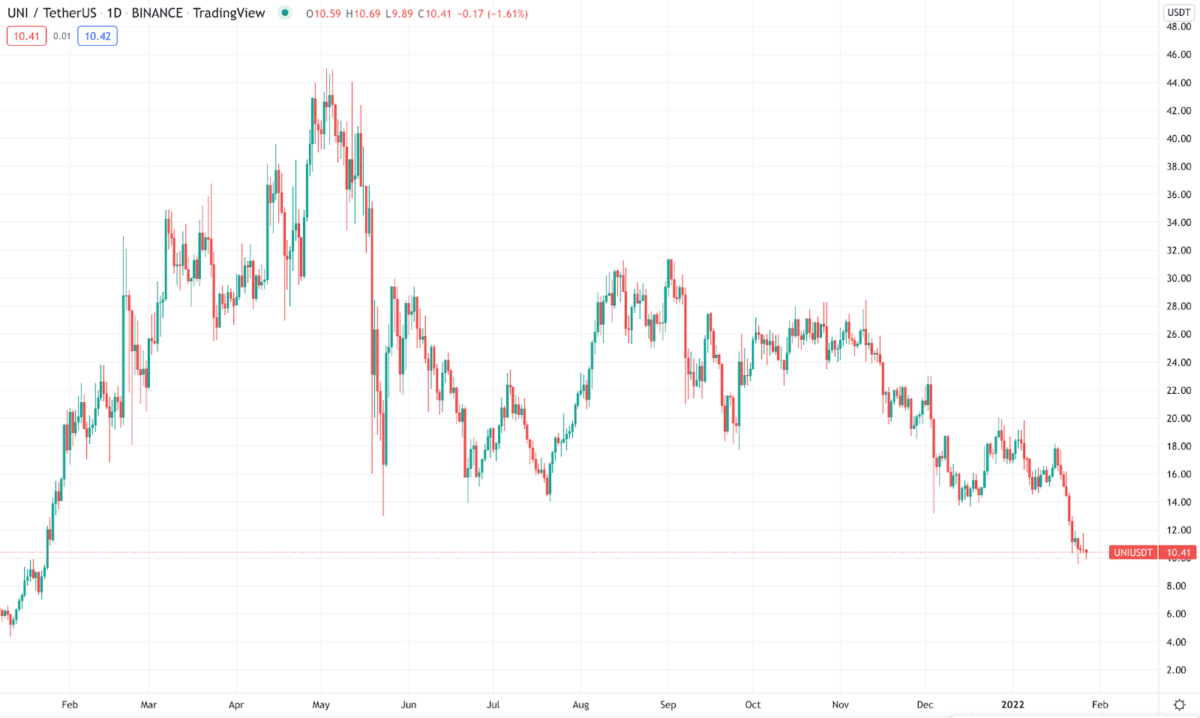 UNI showed a nice price movement since its inception and reached the all-time high at the $45.00 level with more than 900% gain in 2021. Later on, the price starts the correction and awaits strong reasons in 2022 for surging higher.
Where to buy UNI?
UNI is available for buy in world-leading exchanges like Binance, Coinbase, Polygon, or Avalanche networks. It is an effective instrument to find decentralized buying and selling of cryptos through the Unswap V3 platform that may soar higher if the price recovers the $14.00 level.
What are the perspectives of the Uniswap V3 project?
The primary aim of the Uniswap project is to allow exchanging cryptocurrencies through a decentralized exchange where the holding authority will be under the token holder. The recent surge in the Metaverse and NFT increases the
What is dYdX (DYDX)?
dYdX offers a non-custodial decentralized cryptocurrency exchange platform where investors can experience open and secure financial products. This platform runs through Ethereum smart contracts, where there is no need to rely on any centralized exchange.
DYDX price history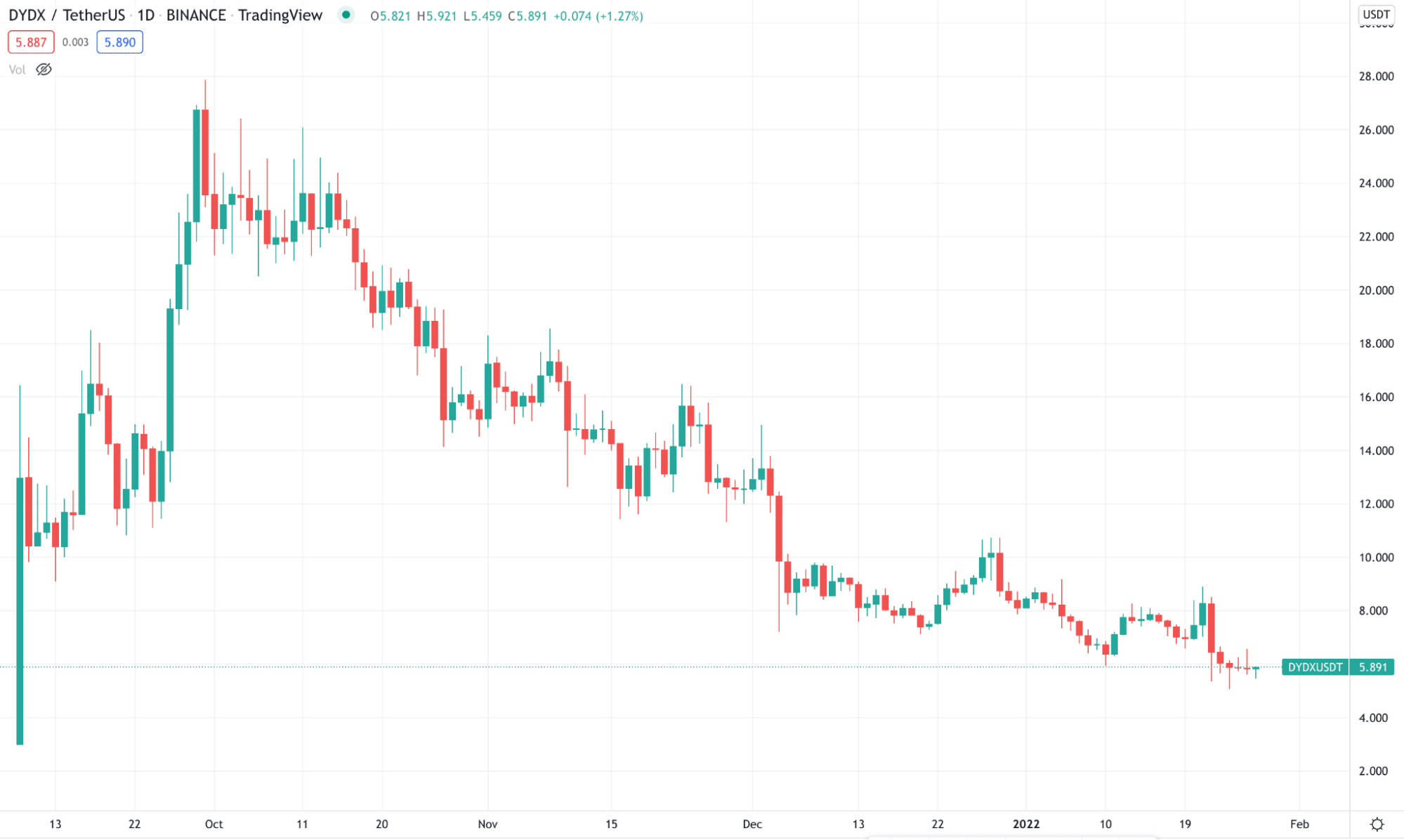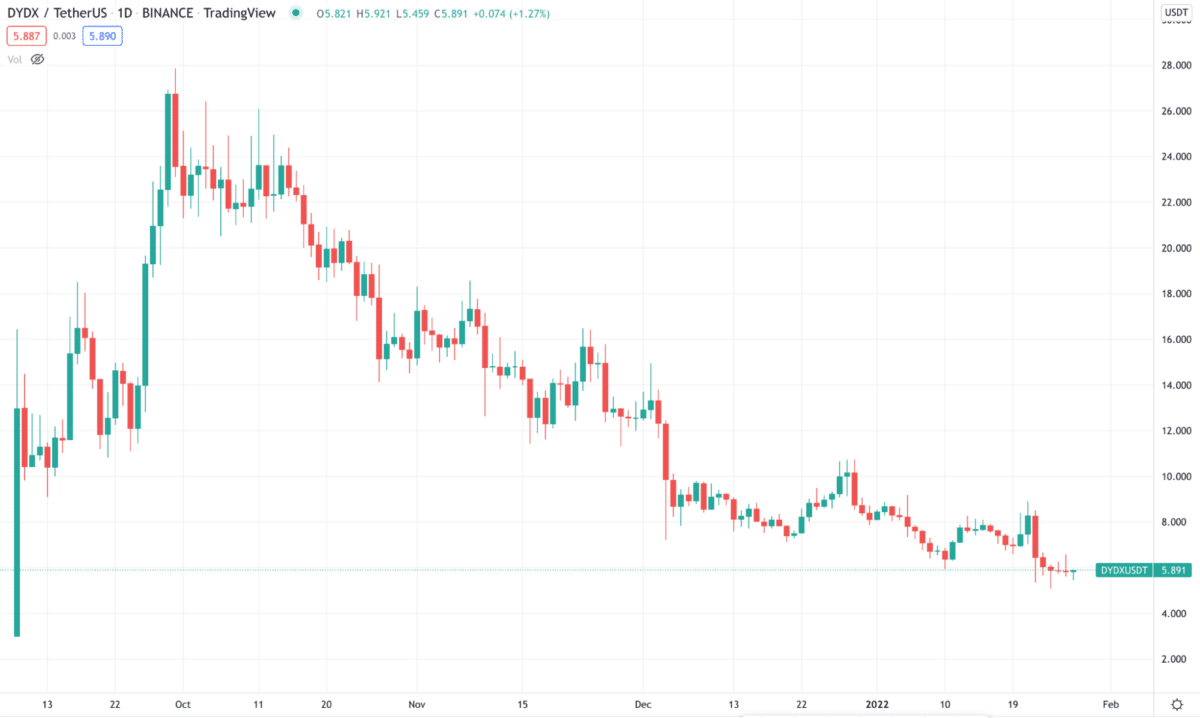 DYDX showed a strong price surge after launching, but it failed to show impressive price action in 2021. As last year's price action was corrective bearish, any structure break would be a buying opportunity.
Where to buy DYDX?
DYDX is available on most of the top-tiered trading platforms and decentralized exchanges. However, investors should check the platform's rating before buying any crypto.
What are the perspectives of the DYDX project?
The main aim of the dYdX is to provide decentralized exchange opportunities where people can buy/sell or trade cryptocurrencies with a maximum of 1:50 leverage. All of these facilities are available under a decentralized nature.
What is PancakeSwap (CAKE)?
PancakeSwap is another decentralized exchange where people can swap BEP20 tokens under the BSC. It follows the AMM or automated market maker model to trade against the liquidity pool. Investors should put their money in the liquidity pool and receive the LP token as a return.
CAKE price history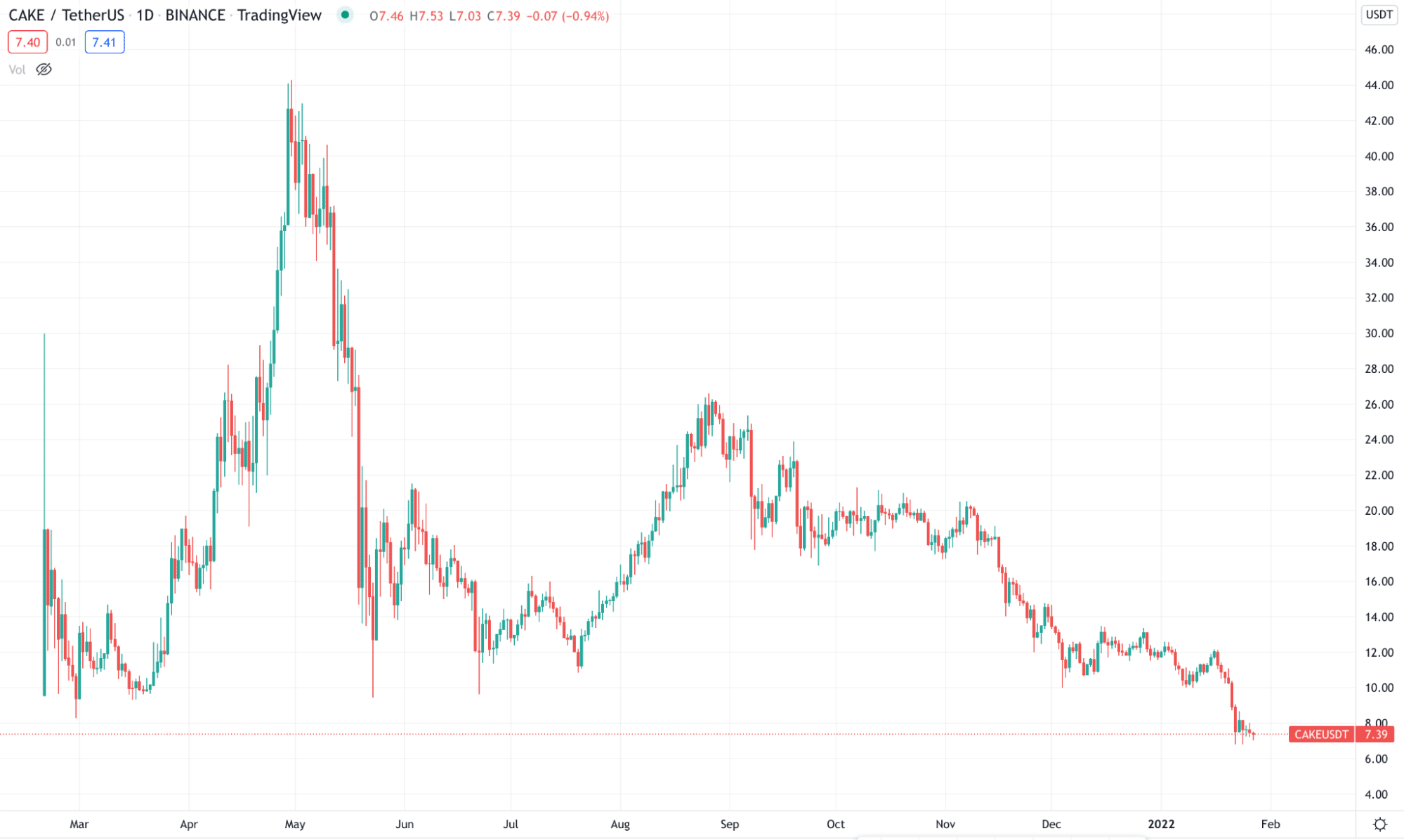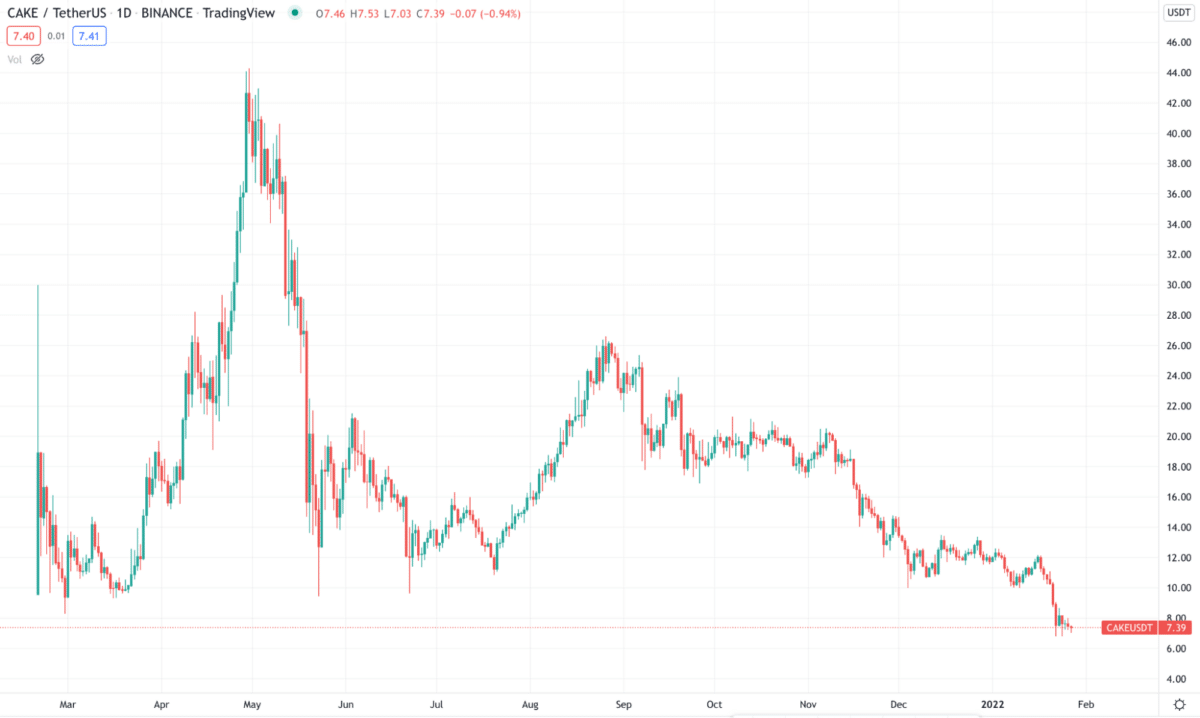 CAKE showed a decent profit after its launch but rebounded immediately with the broader crypto market crash in the first half of 2021. Later on, bulls tried to take the wheel but failed to overcome the previous high.
Where to buy CAKE?
CAKE is available to buy in most of the top-tiered exchanges where people can easily swap this token or use it as a native token for the PancakeSwap exchange.
What are the perspectives of the PancakeSwap project?
PancakeSwap works like other decentralized exchanges where the LP token works as a FLIP token. Users in the PancakeSwap firm tokens- CAKE and SYRUP or deposit LP token, lock it, and earn CAKE as a reward.
What is Serum DEX (SRM)?
Serum DEX is a well-known decentralized exchange and it is famous for its low cost and high speed in DeFi. It runs under the Solana ecosystem, and there is no need for permission in this system. Metaverse tokens like UNI, DFL, BTC, ETH, SOL, and other 70+ cryptocurrency pairs are available to trade here.
SRM price history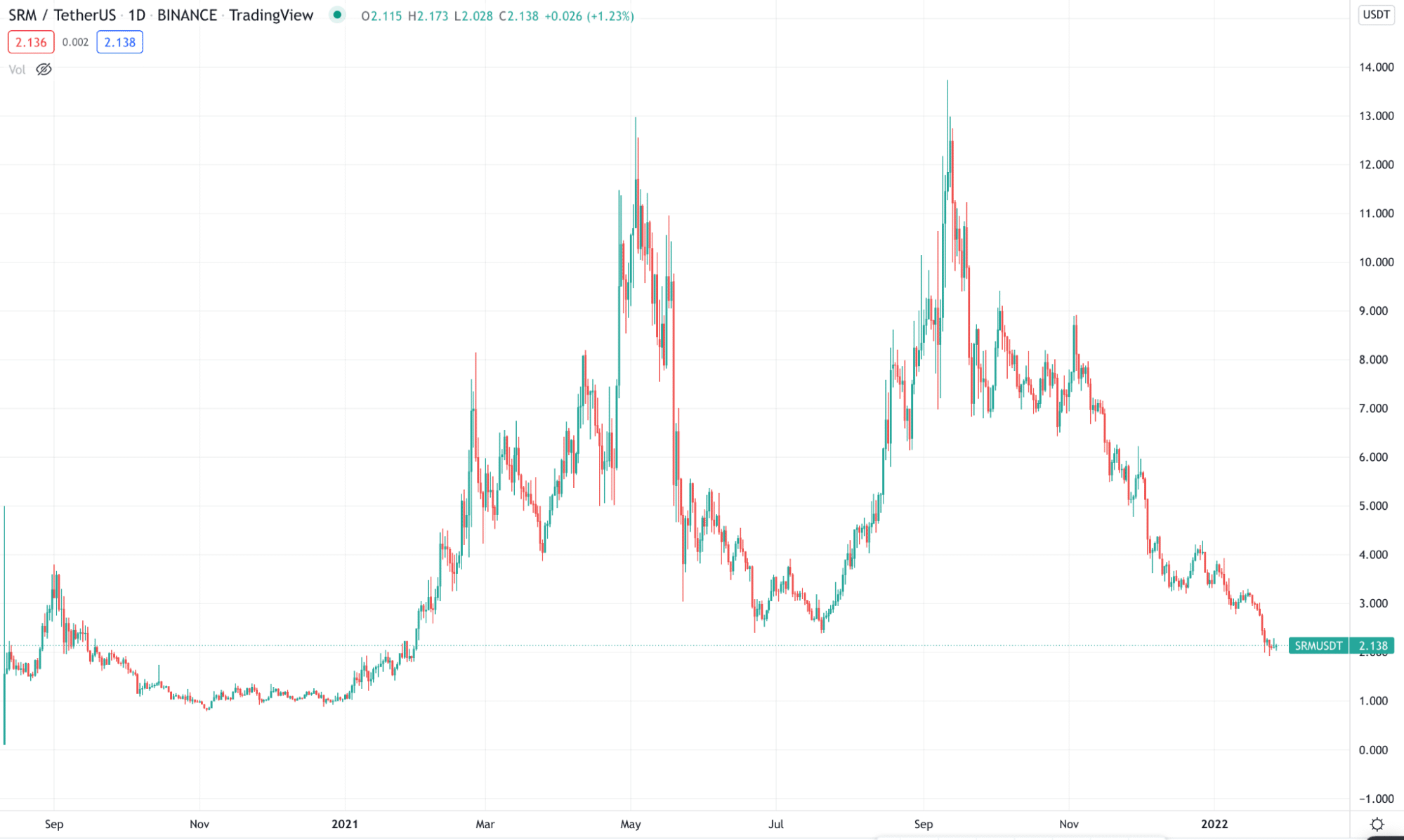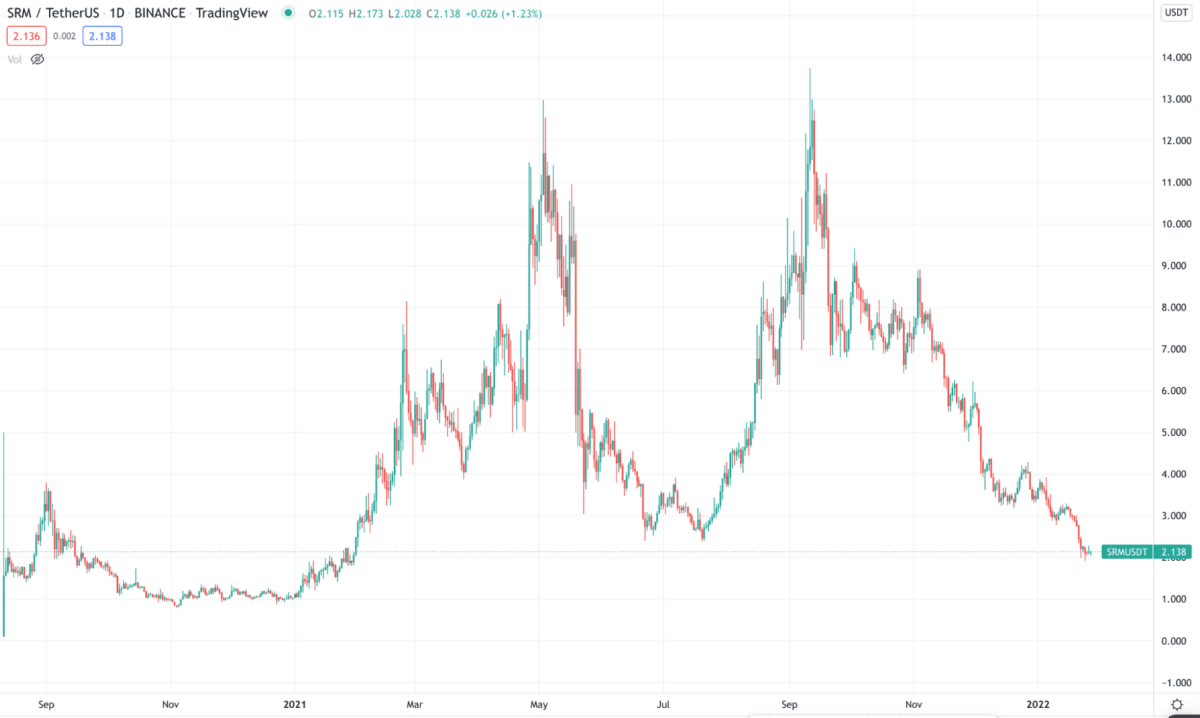 SRM/USDT remained calm after the launch but soared higher with a new structure break in 2021. At the beginning of the new year, the price moved low and remained at a discounted price for investors.
Where to buy SRM?
SRM is available to buy at major centralized and decentralized exchanges and investors can easily swap this token with others.
What are the perspectives of the Serum DEX project?
The serum is a decentralized crypto exchange where trading in numerous pairs is possible with a light fee and higher speed. It provides an on-chain limit order book to share liquidity to power market-based features to retail and institutional investors.
What is Curve Finance (CRV)?
Curve finance provides an opportunity to create on-chain liquidity based on its bonding curves. People can buy, sell, swap or invest several crypto tokens through this platform.
CRV price history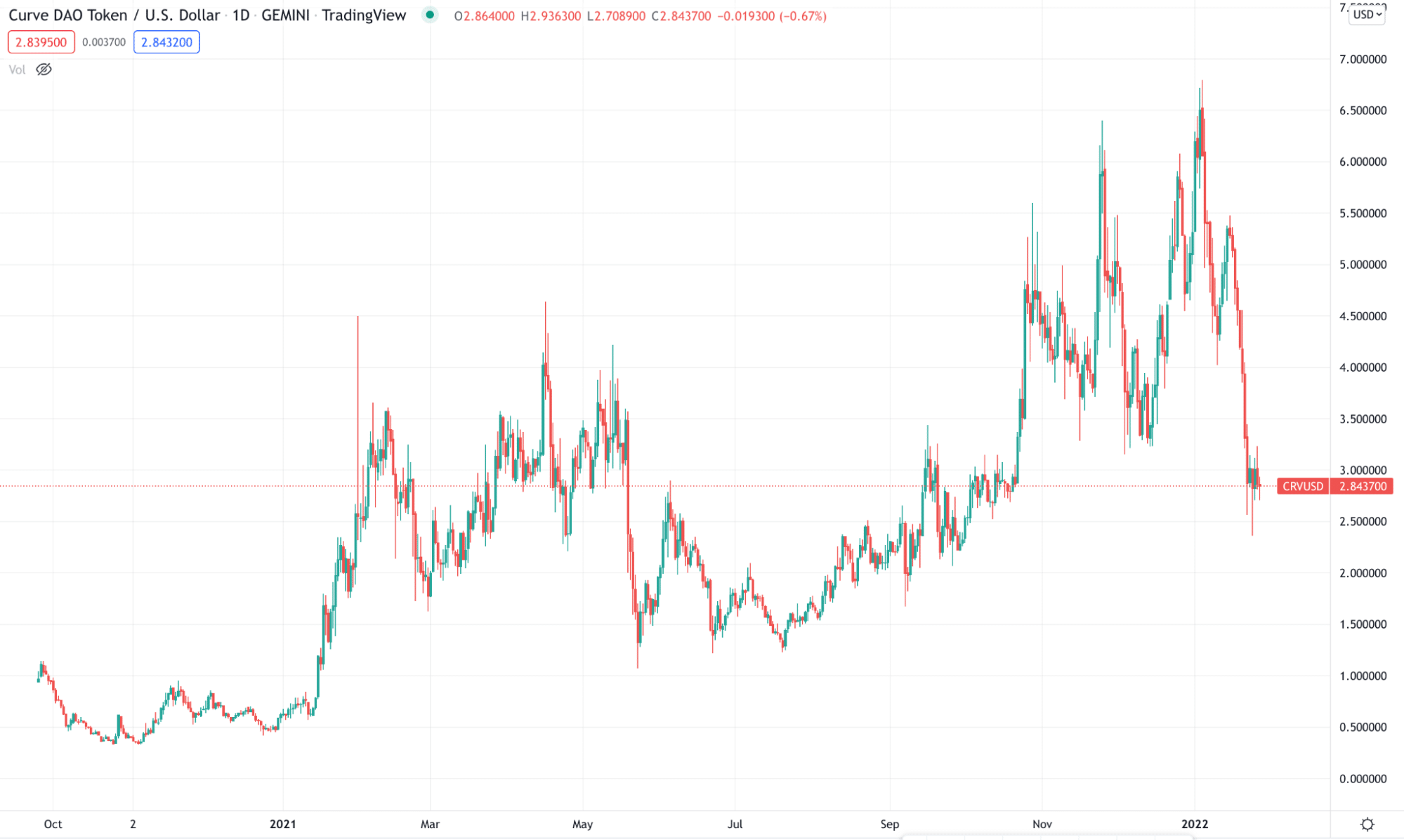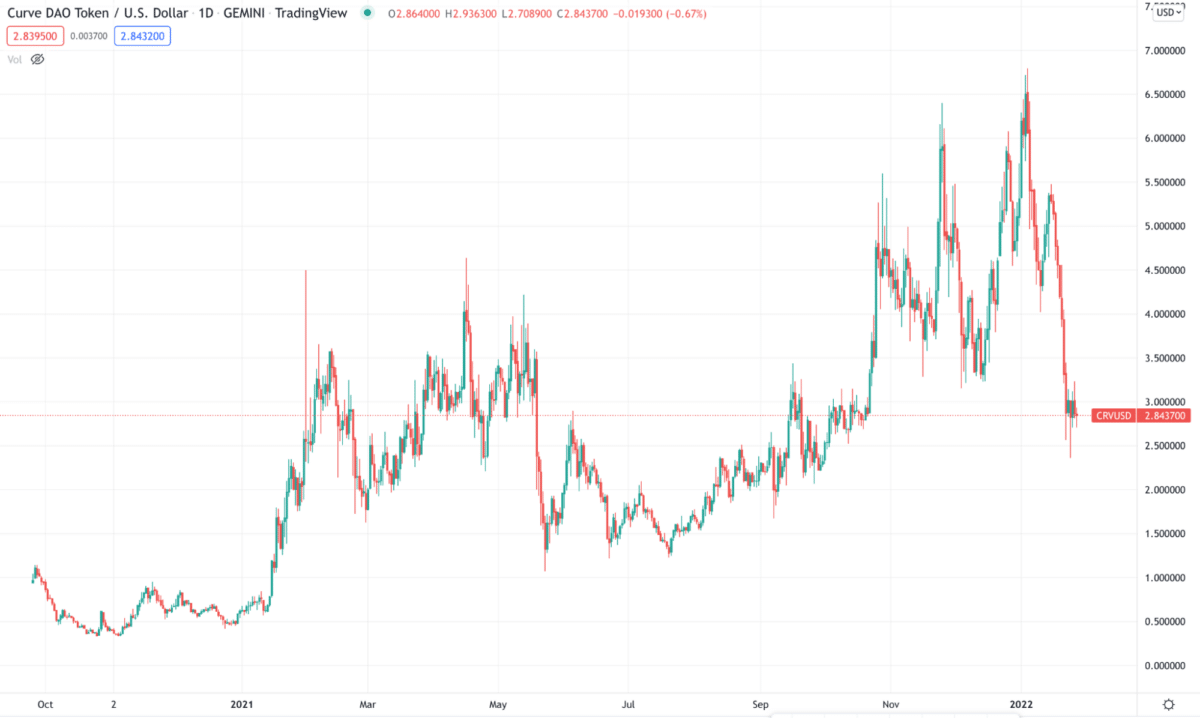 CRV corrected after the launch in 2020 but soared higher at the beginning of 2021. While other cryptocurrencies struggled in 2021, this instrument maintained a stable position.
Where to buy CRV?
CRV is not available in most of the top-tiered trading platforms but it is available to buy on the platforms like Coinbase or Kraken.
What are the perspectives of the Curve Finance project?
Curve Finance provides traders with a wide range of facilities like creating or joining liquidity pools in seven blockchain networks. Currently, more than 100 trading pairs are available for investing and trading.
Pros and cons
| | |
| --- | --- |
| Worth to buy | Worth to getaway |
| Decentralized exchange provides real control over the investment. | There is no way to restore the asset in case of wrong input. |
| It is easy to use as there are lower steps and higher safety. | There is no authority to control the transactions. |
| Some DEX's provide earnings opportunities from Metaverse tokens. | Sustainability depends on the existence of Metaverse. |
Final thoughts
Metaverse tokens are new technology innovations that allow people to build their lands and homes in the virtual world. In that case, buying and selling Metaverse tokens have no alternative that is possible through decentralized exchanges.