Three things worth knowing before starting:
The Ethereum blockchain powers the virtual reality platform Decentraland.
Users may create and monetize content and apps using the platform's API.
NFTs in the platform's Metaverse are purchased using MANA, an Ethereum-based coin. Avatars, wearables, names, and other items may all be purchased using them.
"Decentraland" refers to a distributed virtual reality environment accessible only over the internet. Decentraland, a platform for building, developing, hosting, and selling virtual properties, is powered by the Ethereum blockchain.
Tokens like Estate, LAND, and MANA reflect the platform's native tokens, which are ERC-721 tokens that represent digital land parcels, and LAND, and ERC-721 non-fungible tokens representing digital land parcels. The MANA cryptocurrency will be a big success if Decentraland becomes a reality.
The focus of this article is MANA, so keep reading to discover more.
What is Decentraland (MANA)?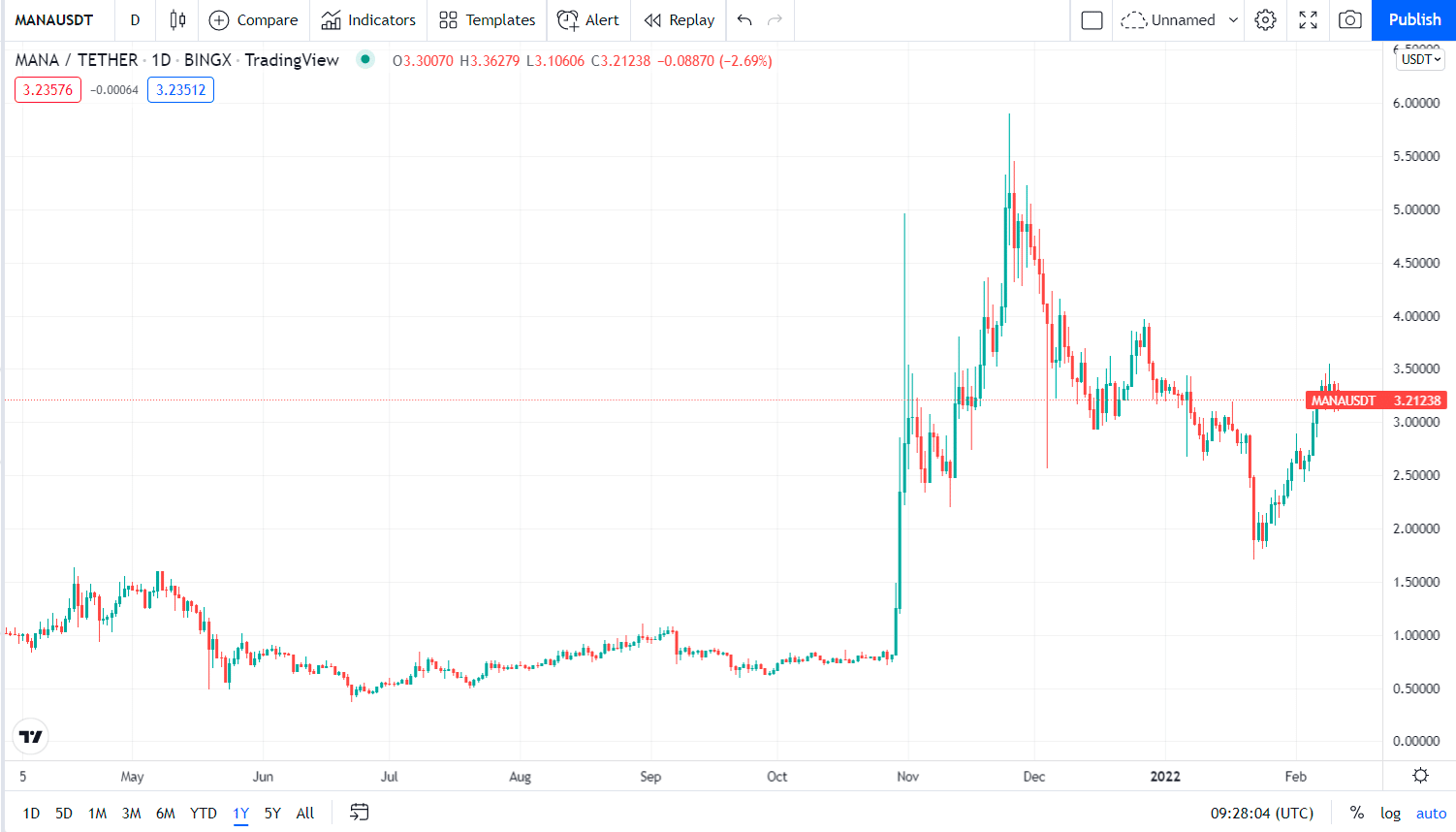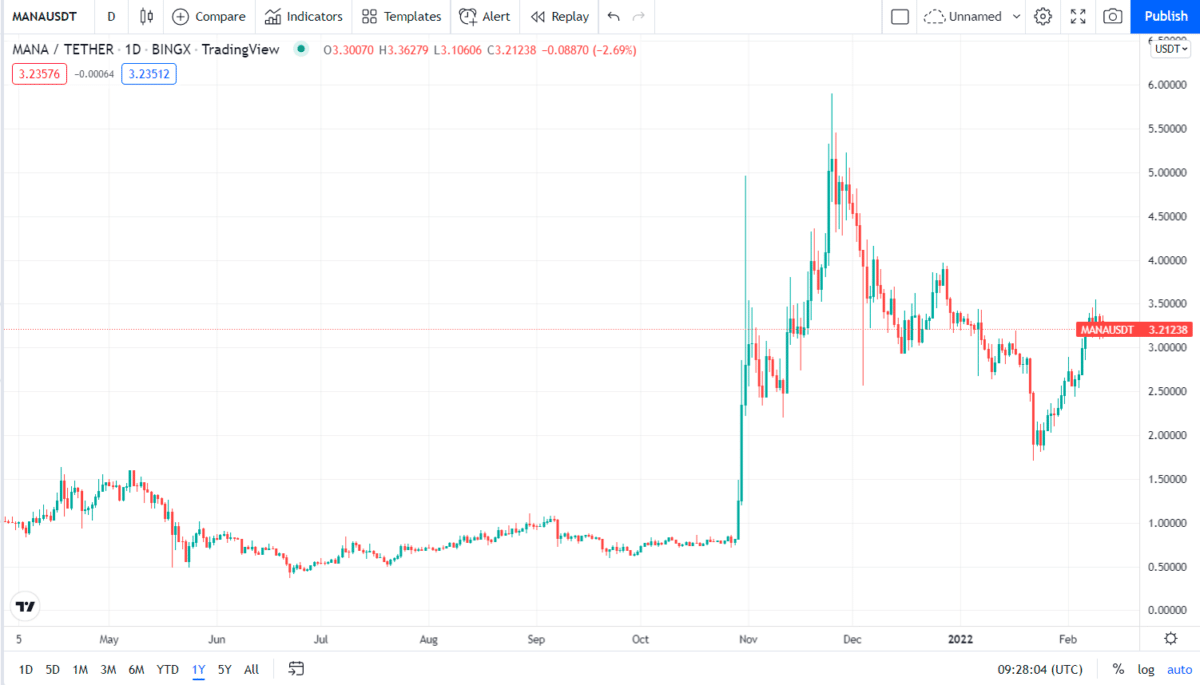 It was launched in 2017 by Ari Meilich and Esteban Ordano as Decentraland. Ethereum-based blockchain-based 3D virtual world platform provides a variety of bespoke activities, art, and land. To encourage people from all over the globe to participate in a shared virtual environment, this platform blends virtual reality and blockchain technology.
While playing games and interacting with other users, players may buy and sell real estate in Decentraland's virtual world. On the platform, non-fungible tokens (NFTs) represent Decentraland's 90,000 land plots and are utilized to describe NFTs on the blockchain.
There are two types of NFT tokens on the platform:
MANA, which can be used to buy virtual goods
LAND, which symbolizes ownership of digital real estate
It is necessary to burn the ERC-20 token MANA to purchase ERC-721 LAND NFTs. Tokens of MANA may be used in the Decentraland marketplace to pay for a wide range of products, including avatars and wearables, as well as names and other monikers.
Forty percent of the MANA offerings were sold at the 2017 Initial Coin Offering (ICO). An additional 20 percent was put aside for the community reward, 20 percent was handed to the development team and other early donors, and Decentraland itself held the remaining 20 percent. Unfortunately, there is currently no way to transfer project-leading tokens at this time.
Price history
The MANA price remained relatively consistent until the late-December/early-January 2021-2022 market rise. It has since done well in contrast to other altcoins, keeping more than 75% of its Bitcoin value throughout the subsequent collapse of the altcoin market. After hitting an all-time high of $5.85 on 25th November 2021, it is now being traded at $3.20. It was at its all-time low at $0.00923681 four years ago on 31st October 2017.


Because MANA can only be used to purchase LAND at the moment, it's impossible to make predictions about how its value will change. When there is a greater need for LAND, the MANA value may only rise due to greater demand for LAND. As more things are purchased using MANA, the price will climb.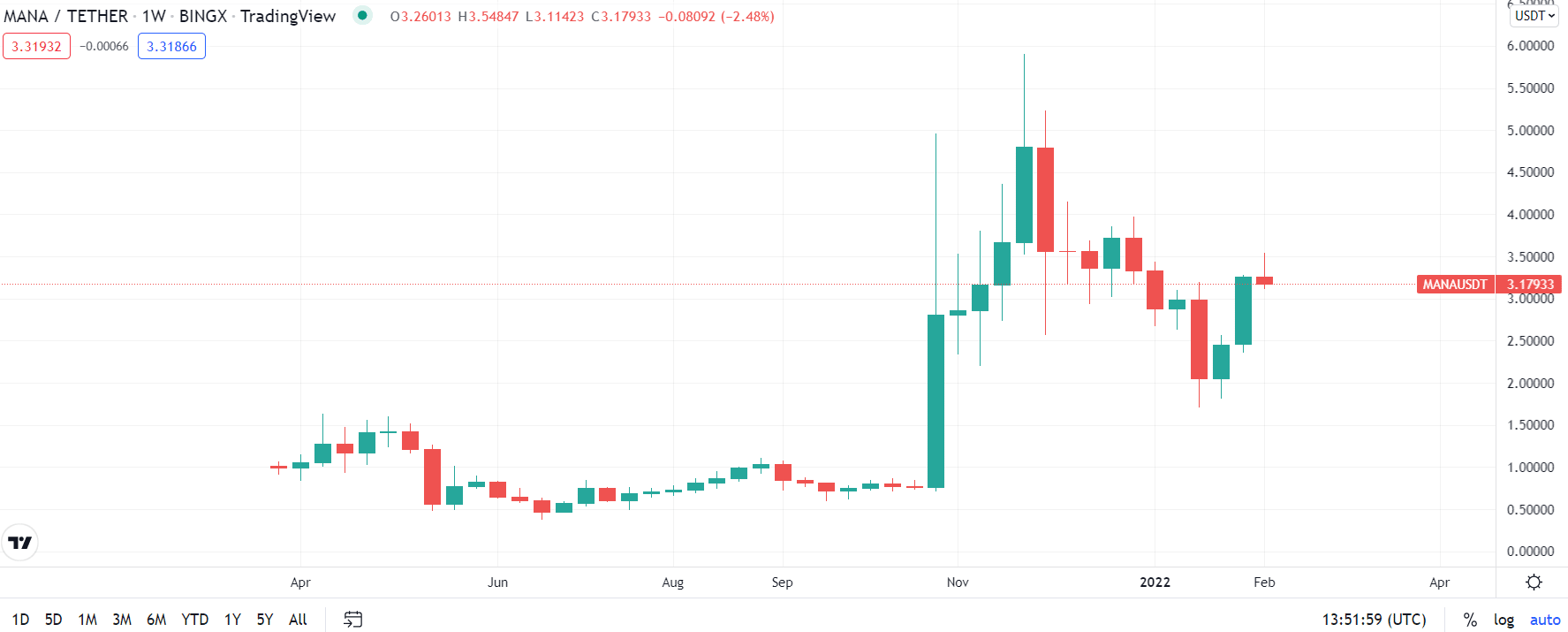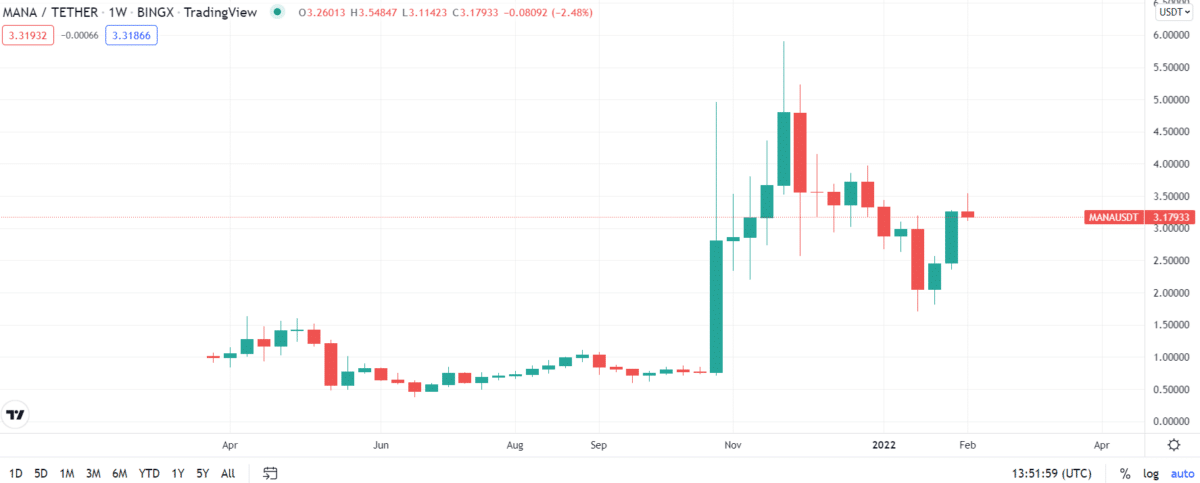 Where to buy MANA?
Most significant exchanges accept Bitcoin and Ethereum for MANA purchases. Binance and OKEx have the most significant trading volume.
Where to Store MANA? Because MANA is an ERC20 token, there is a wide range of wallets available for your usage. Hardware wallets like Trezor or Ledger Nano S should be used to store your cryptocurrency. These safeguard your money by keeping it off the internet and reducing the risk of malicious software. MyEtherWallet is another popular option if you don't want to spend the money on a hardware wallet.
What are the perspectives of the Decentraland (MANA) project?
Decentraland is a blockchain-powered virtual reality platform that allows users to create, utilize, and monetize content and applications in virtual reality. There are a few snags along the way, though.
Decentraland is an early effort to build a decentralized internet, a new kind of cosmos. People's digital assets in Decentraland will own them rather than companies like Facebook or Twitter. As with any other VR platform, you may interact with people from all around the world and take part in social VR activities. That's not to mention the project's usage of blockchain technology to facilitate everything from property acquisitions to platform transactions.
For Decentraland, the goal is to create an open-source virtual environment where anyone can build whatever they want, from virtual stores to online casinos to social networking systems and anything else they can imagine.
Pros and cons
Now, let's look at the pros and cons of investing in Decentraland.
| | |
| --- | --- |
| Worth to buy | Worth to getaway |
| According to market value, MANA is the third most valuable crypto trading asset in the non-fungible tokens category. | The project is still in its infancy and may not stand on its own two feet long term. |
| It is supported by the world's most prominent digital asset management organization, Decentraland, and has shown promising outcomes in 2021. | NFTs are a concept that many people are unfamiliar with. |
| It takes advantage of the DeFi boom and will continue to do so. | In the NFT space, there is infinite competition. |
Final thoughts
Decentraland is a virtual reality platform that enables you to purchase land in a virtual environment. When you acquire land, you have complete freedom to do with it anything you want, which allows you to tap into the creative energy of local gamers and business people. It's a high-risk business in an unproven marketplace.
However, because of the increasing popularity of "alternative life" video games, it is hard to predict whether this trend will spread to 3D and blockchain technology. The creation of a whole new ecosystem of enterprises and experiences might take place right before our own eyes if Decentraland is welcomed as broadly as its proponents hope it will be.