Gold Scalper Pro is a Forex expert advisor that claims to use advanced trading principles. According to the developer, this trading pattern has shown excellent results in different trading systems for 15 years. It is not a curve-fitted robot with several parameters, rather it uses a trading logic that uses fewer parameters.
After downloading the EA, you can install it within 2 minutes. After that, you can start trading immediately. It runs on the MT4 and MT5 platforms and is compatible with Windows and MAC OS. It claims not to use any risky strategy and works on the basis of a solid entry and exit logic. Gold Scalper Pro is a fully-automated system that automatically analyzes the market and manages the orders.
Gold Scalper Pro trading strategy
This EA does not use strategies like martingale or grid. It is a scalping bot that has a high-frequency trading style. In this strategy, the system typically looks to make quick and small profits.
Gold Scalper Pro backtesting report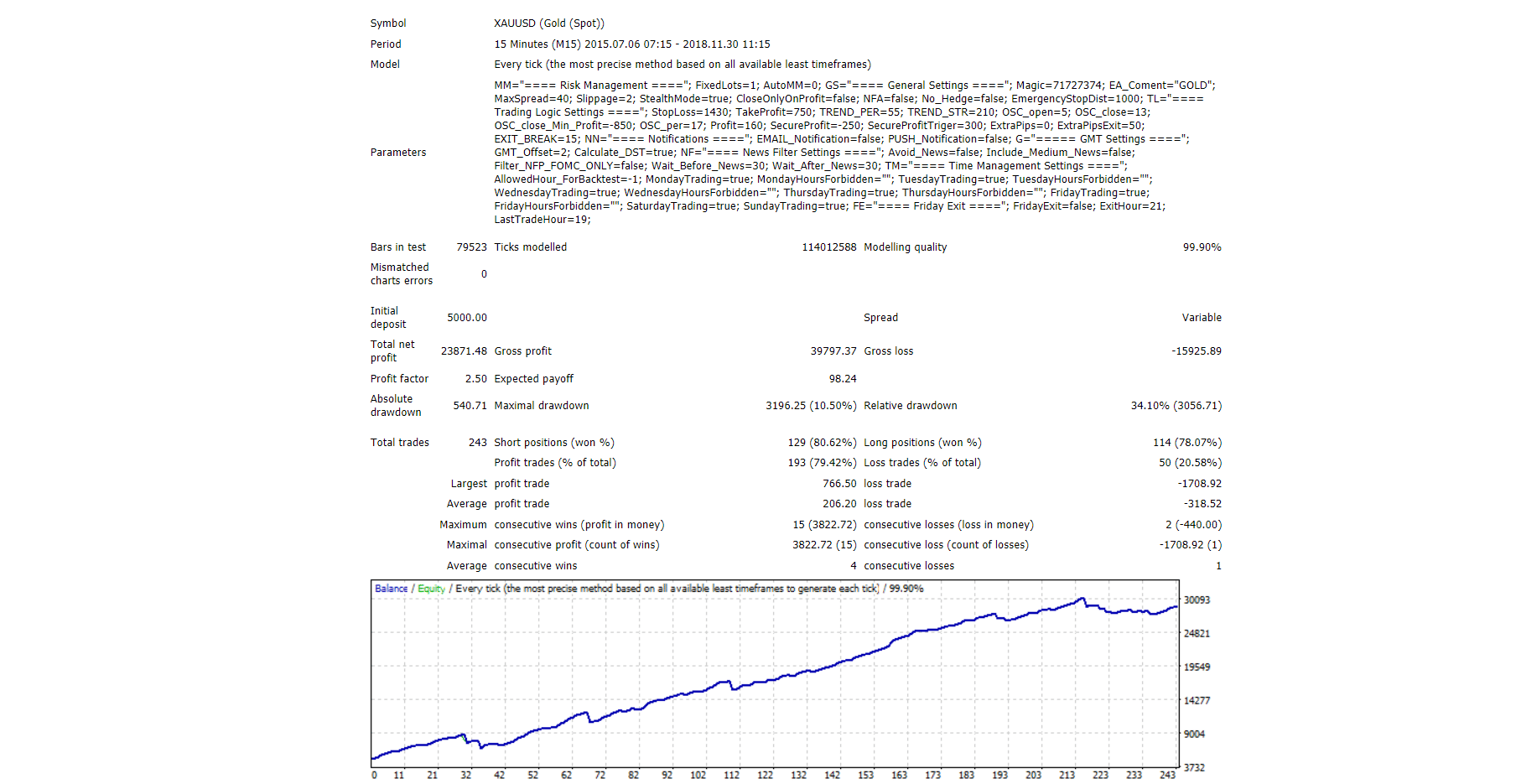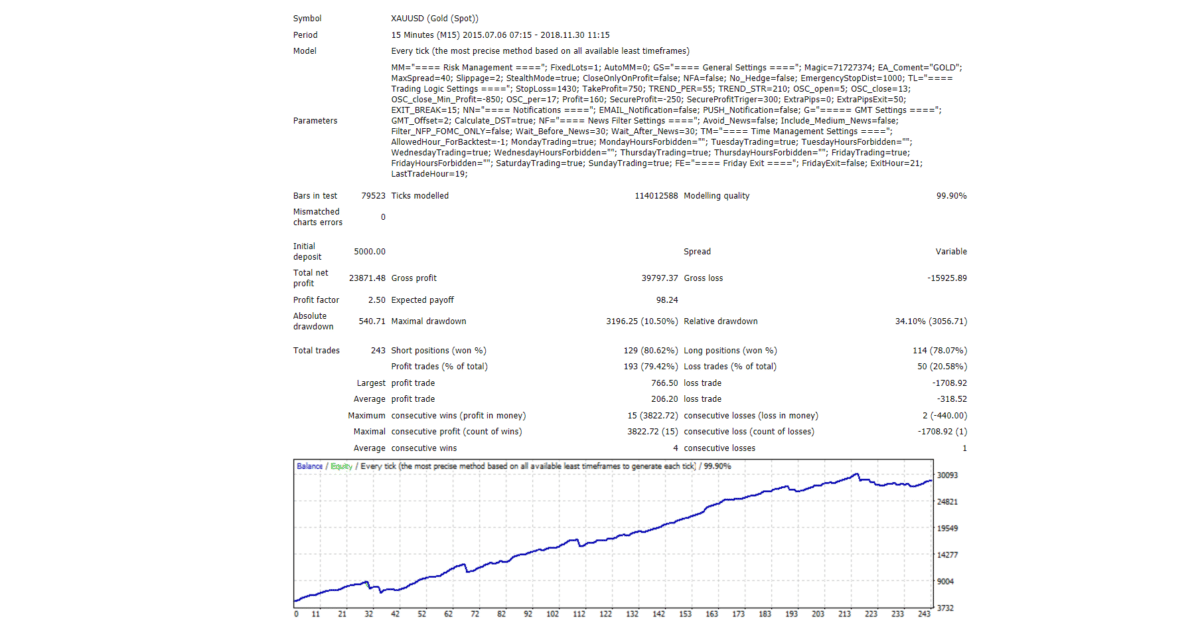 This backtest was conducted from 2015 to 2018 using an every tick model. The EA conducted 243 trades, winning 79.42% of them and generating a total profit of $23871.48. It managed to achieve this feat using an initial deposit of $5000.
The relative drawdown for this backtest was quite high at 34.10%. There were 15 maximum consecutive wins and 2 maximum consecutive losses, and the profit factor was 2.50.
Gold Scalper Pro live results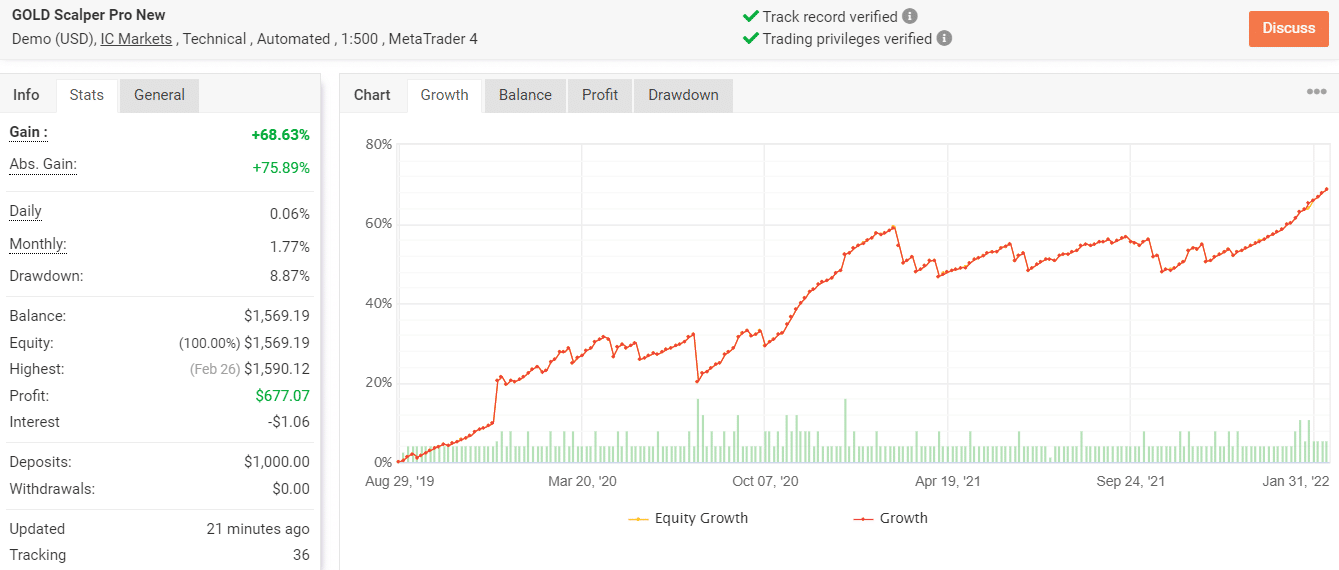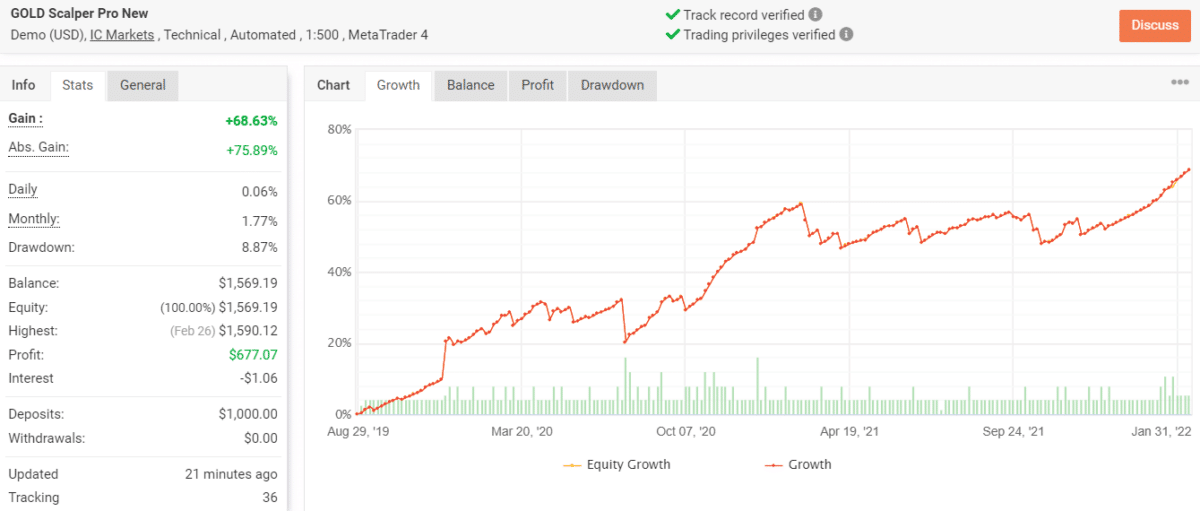 Since August 29, 2019, the EA has conducted 262 trades through this demo account, winning 85% of them and generating a total profit of $677.07. Considering the fact that the account has been active for a long time, the profit is quite small.
The daily and monthly gains for this account are 0.06% and 1.77%, respectively. It has a low drawdown of 8.87, which is much lower than what we saw in the backtest. The profit factor is 1.79, which can be considered satisfactory.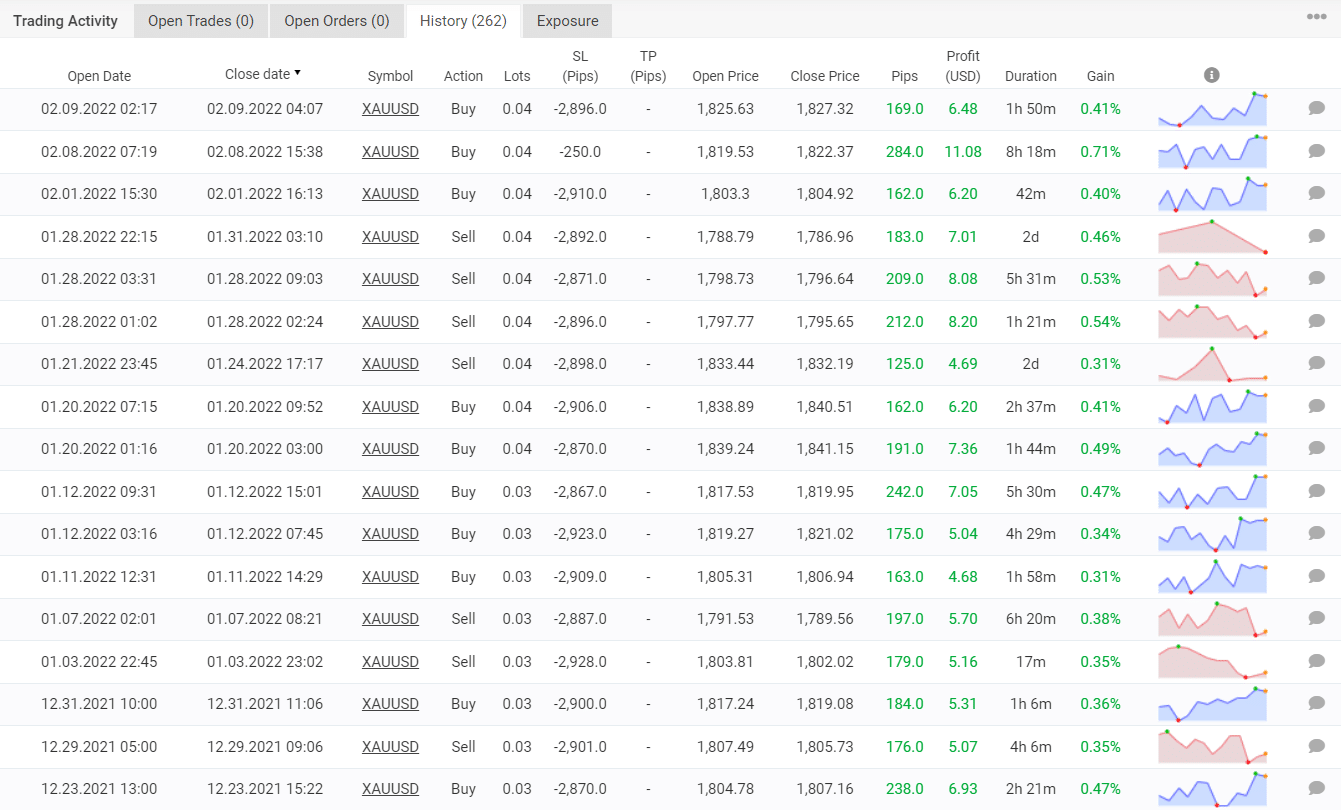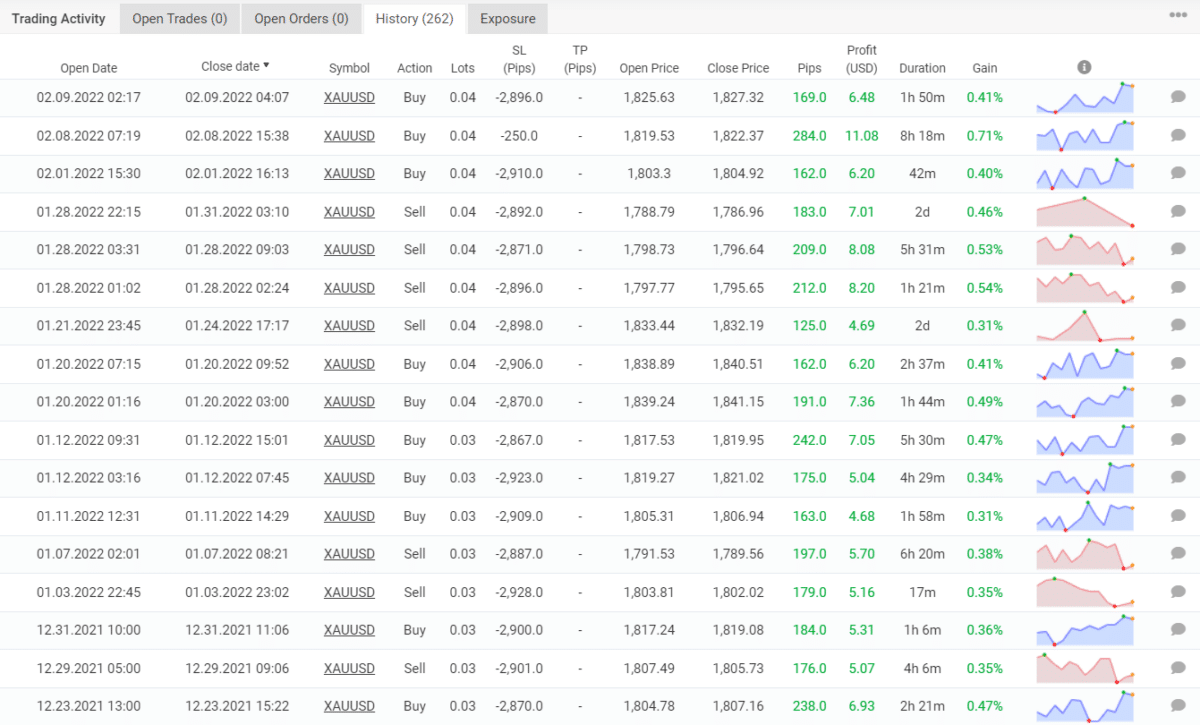 Here we have the recent trades conducted through this account. We can see that the EA generates steady profits while trading with a lot size of 0.03-0.04. It typically holds its orders for several hours. The average win and average loss for this account are 218.93 pips/$6.87 and -749.42 pips/-$22.69, respectively.
Some features of Gold Scalper Pro
This is an EA that only trades in gold or XAU/USD. The vendor recommends running the robot on M1 and M15 timeframes. It has a money management system that can automatically calculate the size of the trading lot. Thanks to the advanced news filter, you can avoid trading the most impactful news releases. It also has an advanced time management system that allows you to program the system to trade only during certain hours.
| | |
| --- | --- |
| Total return | 68.63% |
| Maximal drawdown | 8.87% |
| Average monthly gain | 1.77% |
| Developer | FxAutomater |
| Created, year | 2019 |
| Price | $159 |
| Type | Scalper |
| Timeframe | M1, M15 |
| Lot size | 0.03-0.04 |
| Leverage | 1:500 |
| Min. deposit | $1000 |
| Recommended deposit | $1000 |
| Recommended brokers | N/A |
| Currency pairs | XAU/USD |
| ECN | No |
Main things to consider if you invest with Gold Scalper Pro
Here are some of the things you need to keep in mind:
Lack of vendor transparency
We don't know much about FXautomater, the parent company. The vendor has not shared any official contact address. Also, we don't know the identities of the developers.
Low-risk strategy
The live performance of this robot has been quite satisfactory to date. It has won most of its trades. Also, the drawdown is very low.
Low-profit strategy
This robot has been live trading for quite some time. However, the total profit generated is quite small. This is because the strategy, while low-risk, fails to generate large profits.
Pricing details
This EA is available for just $159 and is cheaper than most robots on the market. The vendor offers a 60-day money-back guarantee.
Customer reviews
At this moment, there are no user reviews for this EA on third-party websites.