You can buy and sell cryptocurrencies at the best price with the help of crypto trading bots, which are computer programs. The main goal of this program is to increase profits while decreasing losses and dangers. You can keep track of all of your Bitcoin exchange accounts with the help of these applications. Several programs make buying and selling cryptos easy, like Ethereum, Litecoin, and Bitcoin.
Whereas arbitrage purchases digital currencies on one exchange and then sells them on another. The goal of arbitrage is to profit from the difference in exchange rates between the two coins. This is a simple strategy compared to others that need a great deal of technical knowledge.
Cryptocurrency markets benefit greatly from this strategy because of its ability to handle volatile markets. First, let's look at the top five best crypto arbitrage bots and platforms for trading BTC.
Three things to know before starting:
The goals of automating trading operations and reducing the associated anxiety and unpredictability have long been trading bots' goals. As a result, they carry out their assigned duties according to their design specifications.
Trend-following bots take action in response to changes in the market as they happen. Bots that purchase and sell large amounts of cryptocurrency profit from the high volume.
Arbitrage bots exploit price disparities between currencies on various crypto exchanges worldwide. For example, such bots buy Bitcoin at a discount from exchanges and then sell it at a higher price on another exchange.
Pionex
Free arbitrage trading bots are incorporated into Pionex, a cryptocurrency exchange. Pionex, on the other hand, charges just 0.05 percent for their whole arbitrage package. You may not have heard that the bot is free to use.
Trade spot futures between Huobi and Binance using the arbitrage bot from Pionex. The Binance broker is the driving force behind this kind of trade.
When it comes to spot-futures trading, it's a method in which you hold short a perpetual futures cryptocurrency position while simultaneously performing arbitrage transactions in the spot market with market-neutral positioning. This is how arbitrage in spot futures is defined.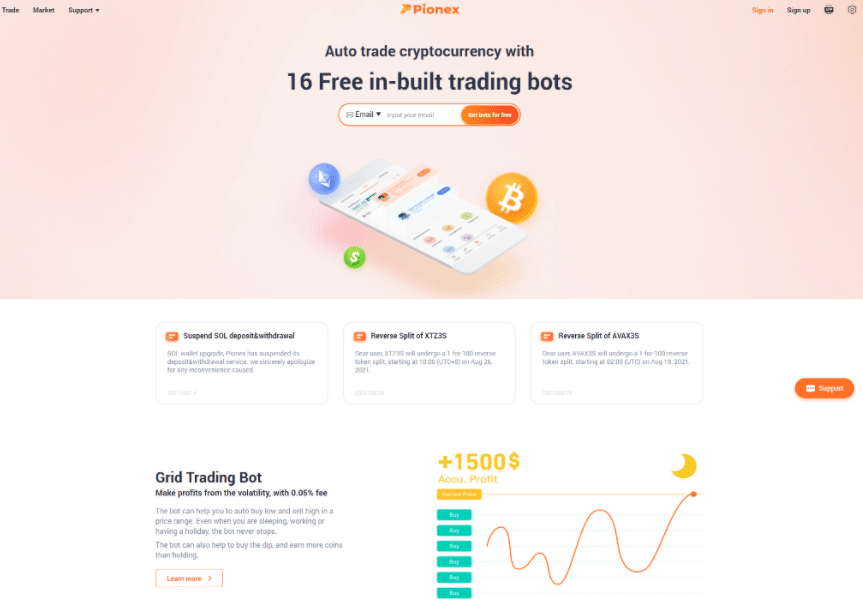 Why is it useful?
To keep track of your arbitrage bots and trading methods, Pionex provides a free mobile app. In addition, this trade pays out every eight hours. As a low-cost arbitrage bot that provides a high rate of return, Pionex might be a great choice.
Coinrule
Coinrule's partnership with the top ten cryptocurrency exchanges and military-grade encryption and security have made it a leading player in the industry. Most users find it easy to set up and operate despite the system's complexity.
This crypto arbitrage bot doesn't need you to know how to code. No coding skills are required for the creation of your method. You may trade on various exchanges, including Binance, Coinbase Pro, Kraken, Poloniex, and BitMEX.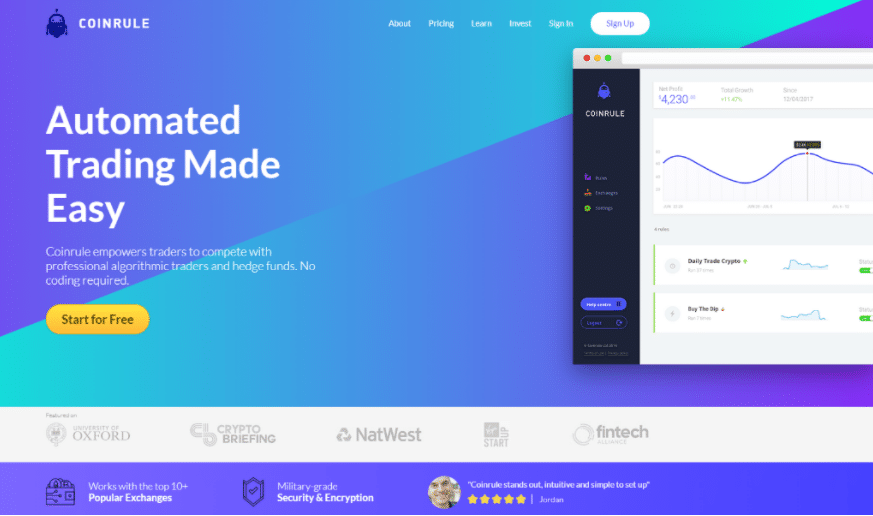 Why is it useful?
Arbitrage is one of many pre-programmed trading strategies available on Coinrule. There are no fees associated with using this bot, and it offers a slew of useful tools, including 24/7 trading, market indicators, customizable rule settings, and live customer support. Also, you may choose from a selection of premium plans.
Remember that this organization always adds new content to its website, such as Bitcoin tutorials. In addition, there are a lot of one-on-one trading lessons and courses available for beginners in crypto arbitrage trading.
Bitsgap
For Bitcoin arbitrage trading bots, Bitsgap is, without a doubt, the most popular. This is a cloud-based trading platform with an easy-to-use interface and a wide range of options for arbitrage. In addition, there are more than 25 cryptocurrency exchanges that OKEX supports.
Additionally, Bitsgap offers various cryptocurrencies and fiat currencies to exchange. You must first deposit fiat money on one exchange and crypto-assets on the other to conduct an arbitrage trade. Thousands of currency pairs may be traded, such as ETH/USD and EOS/EUR.
Arbitrage deals on Bitsgap are based on your account balance, so keep this in mind. A charge will be removed from your profits based on your Bitcoin exchangers' fees. One click is all it takes to make an arbitrage trade using AI-powered technology.
As a result, the money is yours to keep and may be accessed using a unique API key that only you have.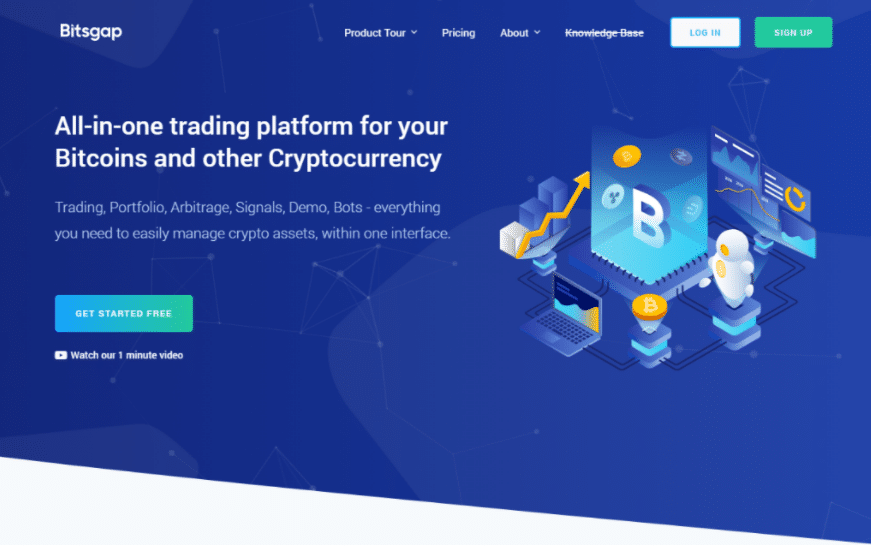 Why is it useful?
Bitsgap's pricing structure is quite affordable and can be used by traders of all skill levels.
Cryptohopper
This is a complex triangular strategy for Bitcoin arbitrage. It seems to be at the cutting edge of arbitrage trading. Many trade pairings may be profitably exploited with this bot.
You may also take advantage of exchange arbitrage on this platform when a bot looks for opportunities without transferring an asset across many exchanges.
One of the most appealing choices for beginner crypto traders is joining the market and learning from the pros who share their successful trading tactics for the benefit of others. The only drawback to using this bot is the associated expense. You do, however, get what you pay for in terms of quality and service.
Why is it useful?
Known as one of the most efficient and user-friendly trading bots in the industry, Cryptohopper is based in the Netherlands. Because of its user-friendly interface, you'll have access to trading indicators used by some of the most experienced traders in the industry.
HaasBot
Since its inception in 2014, the HaasBot bot platform has amassed a substantial amount of experience. Traders may use this automated tool to swap many digital currencies at once. In addition, as our focus is on crypto arbitrage trading, you may use this platform to set your purchasing and selling constraints and other components of your strategy.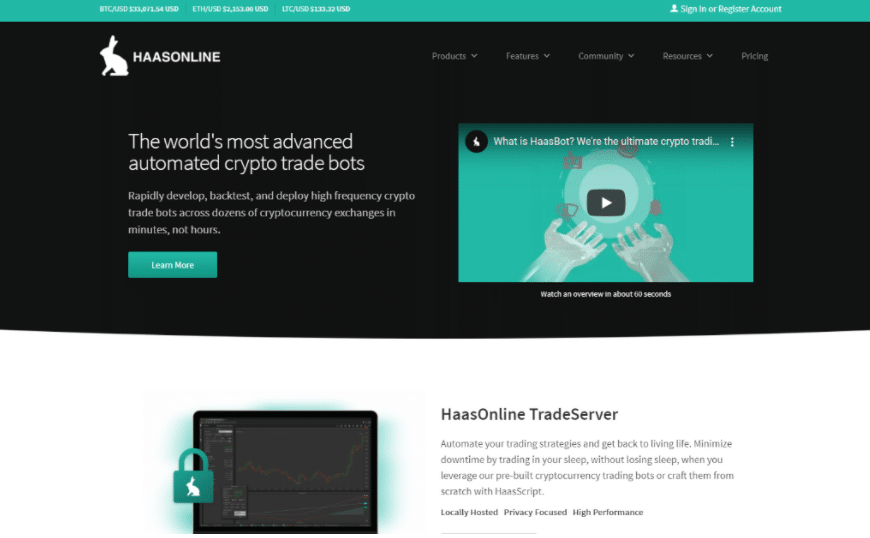 Why is it useful?
Inter-Exchange arbitrage bot from HaasBot lets you take advantage of price swings on many exchanges. Inter-market price spread ticker is also included, allowing you to monitor price movements across many exchanges.
Even though the HaasBot software does have a learning curve, video tutorials are available to assist you in achieving success with Bitcoin arbitrage trading.
Pros and cons
| | |
| --- | --- |
| Worth to use | Worth to getaway |
| As they spend more time negotiating transactions and grasping price points, users realize the full importance of precision. While nobody can predict a cryptocurrency's high and low points, a few predictions can come close to doing so. | Slippage occurs between the moment you begin trading and the time you finish it. It's a measure of how much the value of a digital item has changed since you first purchased it. |
| Automated systems, such as bots, can perform computations and transactions in real-time according to predefined rules. The bot is ready to go as soon as you give it the correct orders. | However, arbitrage can empty your digital assets in minutes, making it a risky investment. |
| It's important to know that you're not confined to one strategy when using bots. Many portfolio strategies may be used at different times, under other circumstances, etc. | You must factor in transaction costs to maximize your profits using the crypto arbitrage trading strategy. |
Final thoughts
In addition to the information in this article, you should be aware that Bitcoin arbitrage bots are legal to use. Trading digital things in this manner are entirely legal. Almost every financial trading market has some variation of this kind of trading. There is nothing new about the principle of buying low and selling high.
The use of bots in the trading markets is also prevalent since they are used to decrease risk and boost profit. Arbitrage trading may be quite profitable if done correctly. The market's volatility and shifting pricing cause this. The bot you use for Bitcoin trading should be very fast because of the small time frames involved in this kind of trading. You have just a few seconds to profit from arbitrage.