In the past, Polygon was known as MATIC, and now the application improves the scalability of blockchain networks. This system will decrease gas and other costs, and transactions between networks will be streamlined and more manageable. A platform built on Ethereum that brings together numerous decentralized applications. Applications offering trading, gaming, and financial services are available. In this ecosystem, NFTs are a crucial component.
This is a layer two network that uses Ethereum as a primary layer. Polygon, or MATIC, is a piece of add-on software for Ethereum that simplifies and streamlines different solutions. It is possible to build complex ecosystems by combining multiple platforms. Polygon tries to make Ethereum even more scalable, secure, and efficient by enhancing its stability, security, and scalability.
Three things to know about before starting:
Despite the recent slump in the market and the fall in prices of MATIC, the Polygon MATIC Ethereum L2 ecosystem is still growing.
The Ethereum-based top five NFT projects have not shied away from migrating to a leading L2 solution because of high fees and slow settlement time.
Projects based on non-fungible tokens are an exciting and burgeoning asset class in which Polygon is likely to gain traction.
Decentraland (MANA)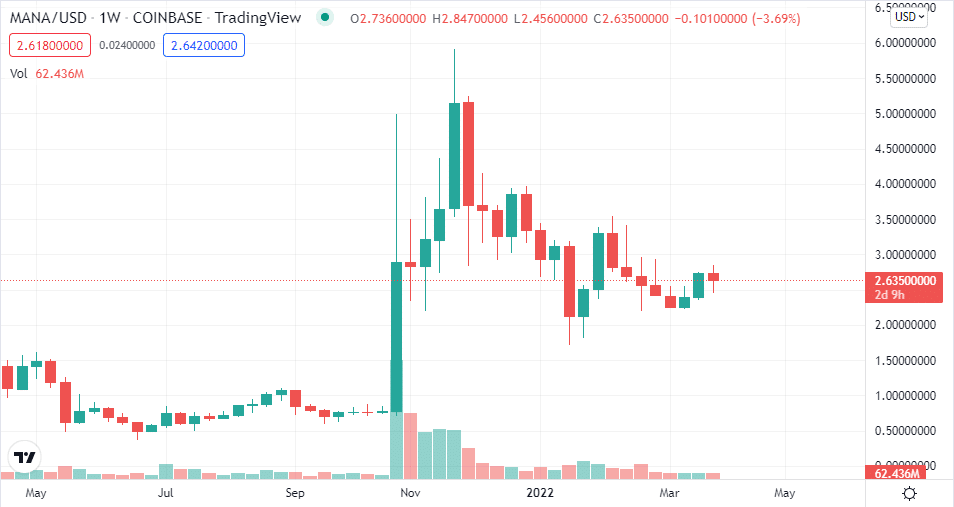 In Decentraland, you can create and experience your reality through virtual reality and digital sims. It is possible to purchase buildable plots of land. The plots of land have specific locations, owners, descriptions, and controls regarding access.
No content isn't traded and monetized. Tokens for the project are MANA – an ERC-20 token for the land record, and LAND – an ERC-721 token for the land record, acquired by burning MANA.
Price history
It has surged by more than 1,375% from its lowest level since June 2021. The current price is $2.013372 per MANA. Decentraland is 55.25% below the all-time high of $4.499386.
Optimistic forecast 2022
By 2022, the MANA token will reach an average value of $5.1, according to price predictions. NFT's famous project is now available on Polygon MATIC, allowing users with a need for scalability to enjoy it.
Skeptic forecast 2022
MANA's biggest problem is that other Metaverse coins have taken off in the last 30 days. As a result, according to analysts, skeptics estimate the Mana price at $3.97 by 2022.
Aavegotchi (GHST)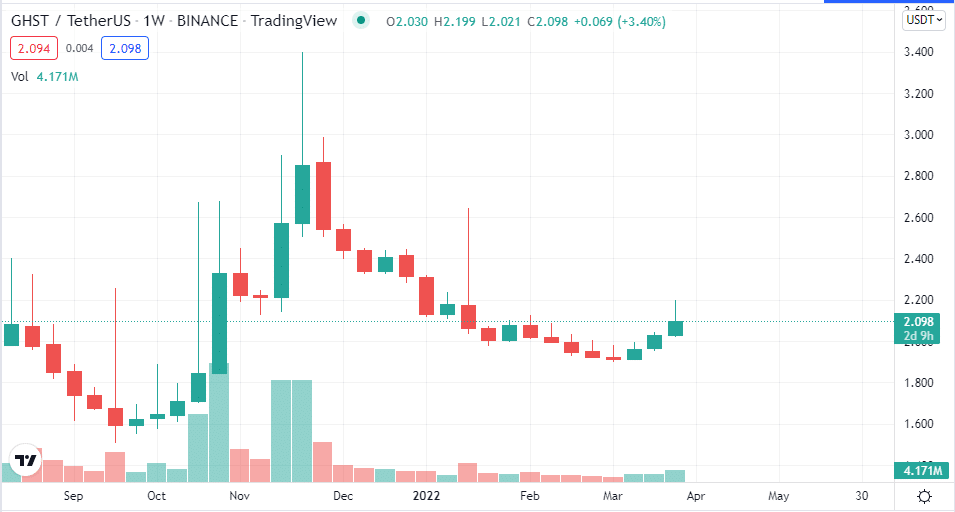 Aavegotchi is an Ethereum based NFT/DeFi project where users can stake GHST tokens for rare collectibles. Each crypto-collectible exists based on many different characteristics, including personality, ethereality, body, and color, and it uses the ERC-721 standard, which other renowned collectible projects have followed. With Polygon MATIC, you can now download this popular NFT+gaming project.
Price history
Aavegotchi had an all-time low of $0.486933 on December 01, 2020. The current price of Aavegotchi is $2.105953 per GHST/USD. Aavegotchi is 35.20% below the all-time high of $3.25 on November 25, 2021.
Optimistic forecast 2022
What makes a company stand out in the market is its work. Considering that this is a gaming community, we should expect the coin to be worth around $4 US by the end of the year.
Skeptic forecast 2022
This coin seems to be the least volatile when the whole market is down, as there seems to be no change. For a real trader, this is not important. Because of its skeptical forecast, the coin will be worth $1.8.
Murall (PAINWETH)
The name Murall derives from a painting on the wall. It is an initiative for collaboratively drawing on the blockchain-based on NFT. The token is required for drawing. This also implies openness and freedom from censorship.
Price history
The current price of MurAll is $0.000158 per PAINT/USD. MurAll is 98.42% below the all-time high of $0.01 on March 14, 2021. The MurAll faced its all-time low on January 24, 2022 at $0.00009446. From then, its price increased by 61.59%.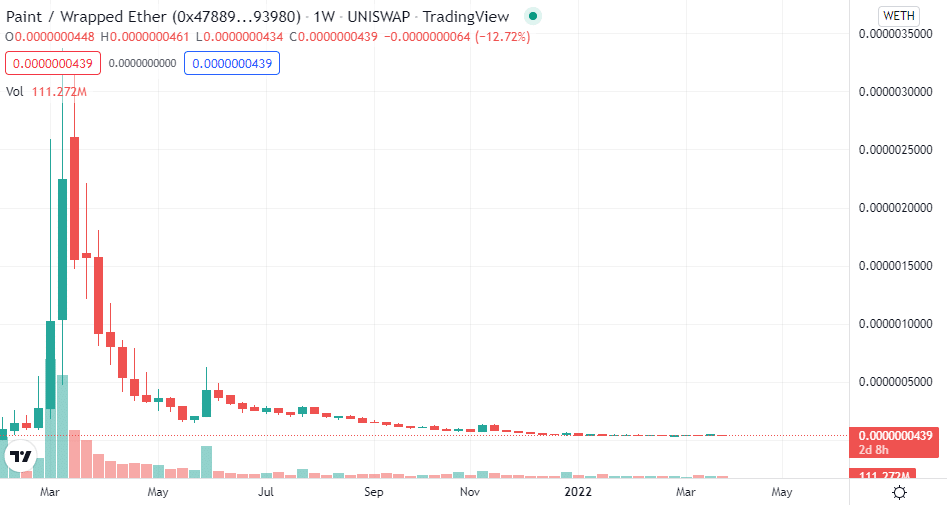 NFT paintings are rendered permanent and immortalized on the blockchain. The process is by burning PAINT tokens and creating a deflationary supply shock.
There is a limit of 21,000 times you can draw over it before the paint runs out. MurAll is now available on Polygon and is the third most popular NFT project.
Optimistic forecast 2022
A minimum level of $0.00015572 is anticipated for MurAll by 2022. On the average trading day, PAINT's price reaches $0.00016139, a maximum of $0.00018174. Now that MurAll is available on Polygon, it receives interest from traders and is ranked third among the top five NFT projects.
Skeptic forecast 2022
This coin appears to have the least volatility when the whole market declines since there is no change to the currency. Therefore, it seems unimportant to real traders. Hence, if the skeptic forecast comes into account, the coin could reach 0.000137 USD.
Cargox (CargoX)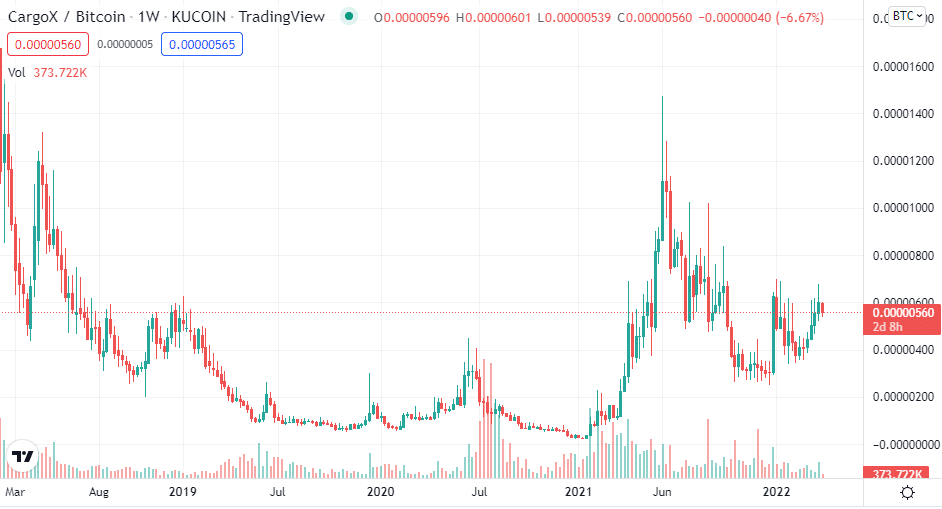 The Cargo build service is an NFT creation and marketplace service that operates on multiple blockchains, including Polygon MATIC.
In addition to minting NFTs, gaming objects, event tickets, and other access tokens, this platform allows for the minting of various items using easy steps.
Price history
The CargoX had its all-time high on June 14, 2021, which was $0.5078, and the price has declined by 49.66% since then. CargoX's price today is $0.19.
Optimistic forecast 2022
As Ethereum fees climbed, many participants couldn't afford them, so Cargo joined Polygon L2. Divergent views exist regarding CargoX price predictions for the remainder of 2022.
As a result of NFT's easy minting, TradingBeast anticipates a rise to $0.30985, and WalletInvestor forecasts an increase to $0.424375 by the end of the year.
For example, skeptic forecast 2022 Experts from PricePrediction.net are less optimistic about CargoX's future prices, citing figures as low as $0.195865 in December because of CargoX's insufficient recognition.
OpenOcean (OOE)
The OpenOcean trading platform offers a comprehensive collection and feature set of NFTs. It is the industry's most prominent platform. It also allows the minting and trading of NFTs like Cargo. Due to its high trading volumes, it receives a lot of rare/limited availability NFTs.
Price history
The current price of OpenOcean is $0.105416 per OOE/USD. OpenOcean is 89.77% below the all-time high of $1.03. It has been declined 50.61% since December 2021. It has a circulating supply of $149.90M.
Optimistic forecast 2022
The token recently migrated to Polygon MATIC L2 due to many crypto users' high importance and adoption. As a result, this project ranks no. 1 in our top five list of NFT projects on Polygon.
During a good bull market in 2022, OpenOcean's price might cross $0.14. However, as long-term investors expect to hold it, its price will be around $0.13 on average in 2022.
Skeptic forecast 2022
The crypto bans and new regulations are still causing concern among consumers. As a result, its price could fall from 0.126 USD to 0.00412 USD shortly. This would be a -96.733% drop.
Pros and cons
| | |
| --- | --- |
| Worth to buy | Worth to getaway |
| These projects have low transaction fees. | The market cap/ total value locked ratio is high. |
| You can get extremely fast transactions per second. | These assets may be overvalued when the market cap increases. |
| You can scale, and they offer staking rewards. | Competition from other scaling solutions will arise. |
Final thoughts
In light of several factors, Polygon is considered an excellent option for minting NFTs. Using Polygon with OpenSea, you can issue NFTs cheaply and even free of charge. An NFT may be traded or auctioned on Polygon entirely for free during a specified period. There is no gas fee compared to Ethereum.