Millions of NFTs are available for purchase, and hundreds of new projects pop up every day. The popularity of NFTs with an extra added feature, such as a utility that takes them beyond a piece of digital artwork and turns the purchase into an experience, is one NFT element we've seen on the rise. How do you sort through all the noise to find the most promising NFT startups to follow and possibly invest in?
This guide will talk about the top five blockchain miners NFTs that could soar in 2022.
What is Bored Yacht Club? (BAYC)
It is one of the most sought-after NFT drops, which investors ensured was on the NFT schedule. This collection has 10,000 one-of-a-kind NFTs that depict 'Bored Apes.'
As the name implies, these Apes are pieces of digital art that appear bored yet have attracted much attention from high-net-worth investors worldwide.
BAYC price history
The Bored Ape Yacht Club opened its doors in April, selling 10,000 NFTs for 0.08 ether apiece (about $190 at the time).
Since then, the price has risen dramatically. The price slowly increased from April through July before rocketing upward in August, as shown in the pricing chart below. The most recent recorded BAYC price is $218,920, the highest.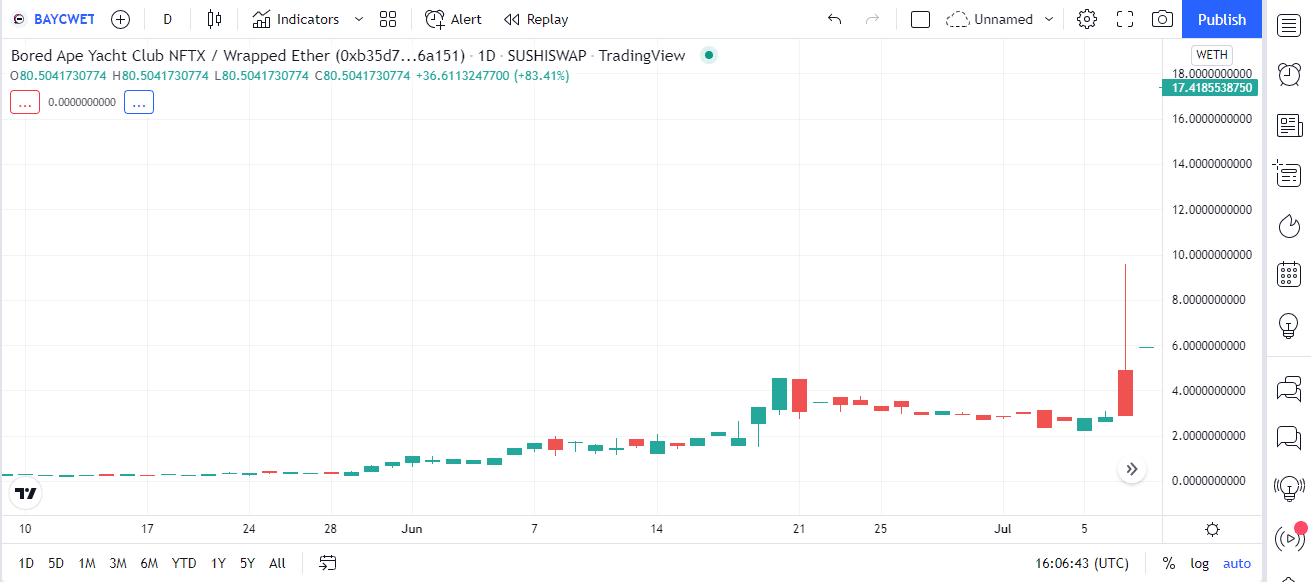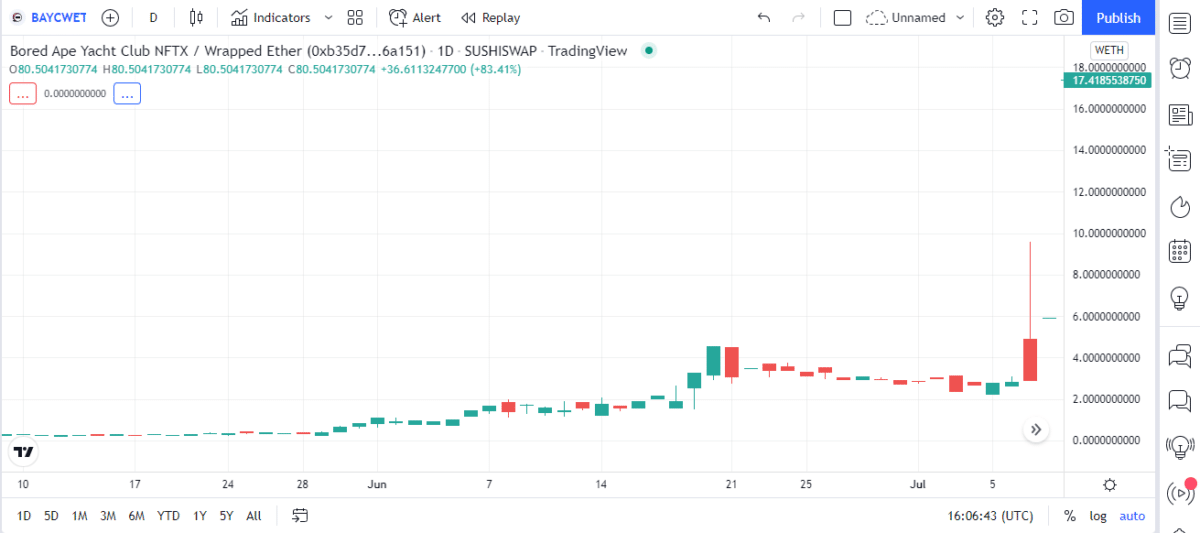 Where to buy BAYC?
OpenSea sells Bored Apes, albeit these NFTs are more expensive than usual. To purchase a Bored Ape NFT, go to OpenSea and sign up with your MetaMask wallet.
What are the perspectives of the BAYC project?
Although a big portion of the project's roadmap has already been achieved, the continual team effort to find new pathways is one of the reasons BAYC has become so popular. The play-to-earn phenomena developed in 2021 as an extremely popular trend that grabbed the industry by storm.
To develop a play-to-earn blockchain-based game, the Bored Ape Yacht Club has linked up with Animoca Brands, one of the top corporations in the field of P2E.
Overall, the project appears to be evolving steadily as the community grows. Ape owners retain the commercial rights to their NFTs, so it's in their best interests to keep moving forward.
What is CryptoPunks? (UNICLY)
CryptoPunks is right behind Bored Ape Yacht Club in terms of mass appeal. However, if you're looking for information on how to acquire an NFT, you've probably heard of CryptoPunks, which was founded in 2017 and is one of the oldest NFT projects available.
Although CryptoPunks were not first prized, their value skyrocketed in 2021 as the NFT market grew.
UNICLY price history
Even though the NFT art collection was nearly four years old, CryptoPunks' prices were particularly high in August 2021. The price of CryptoPunks is $170,526 at the time of writing, down 2% in the last 24 hours. 4 months ago, CryptoPunks hit an all-time high of $445,834.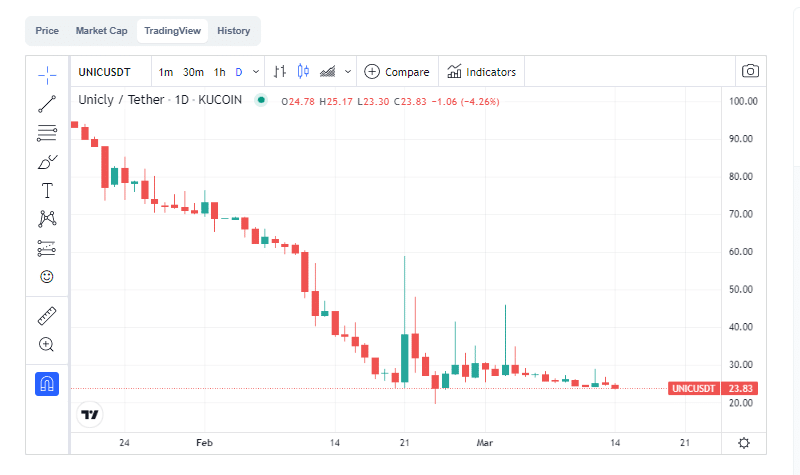 Where to buy UNICLY?
On Ethereum's blockchain, all 10,000 CryptoPunks have been created. This indicates that if you want to purchase a CryptoPunk, you'll have to buy it from someone who already possesses one. To do so, browse Larva Lab's website and look at the CryptoPunks for sale.
What are the perspectives of the UNICLY project?
Since some CryptoPunks have been auctioned at Christie's and Sotheby's, they may become a niche collector's item to mainstream art. It may attract new bids for the popular NFTs.
What are Pudgy Penguins (PUDGY)?
Pudgy Penguins is another option for the best NFT to buy. Each of the 8,888 NFTs in this collection depicts a charming cartoon penguin with various traits.
These features distinguish each Penguin, with some being considered rarer than others.
PUDGY price history
Pudgy Penguins now have a floor price of just over $4,000, making them significantly more affordable to investors than the other stocks on our list. Seven months ago, PUDGY hit an all-time high of $13,305.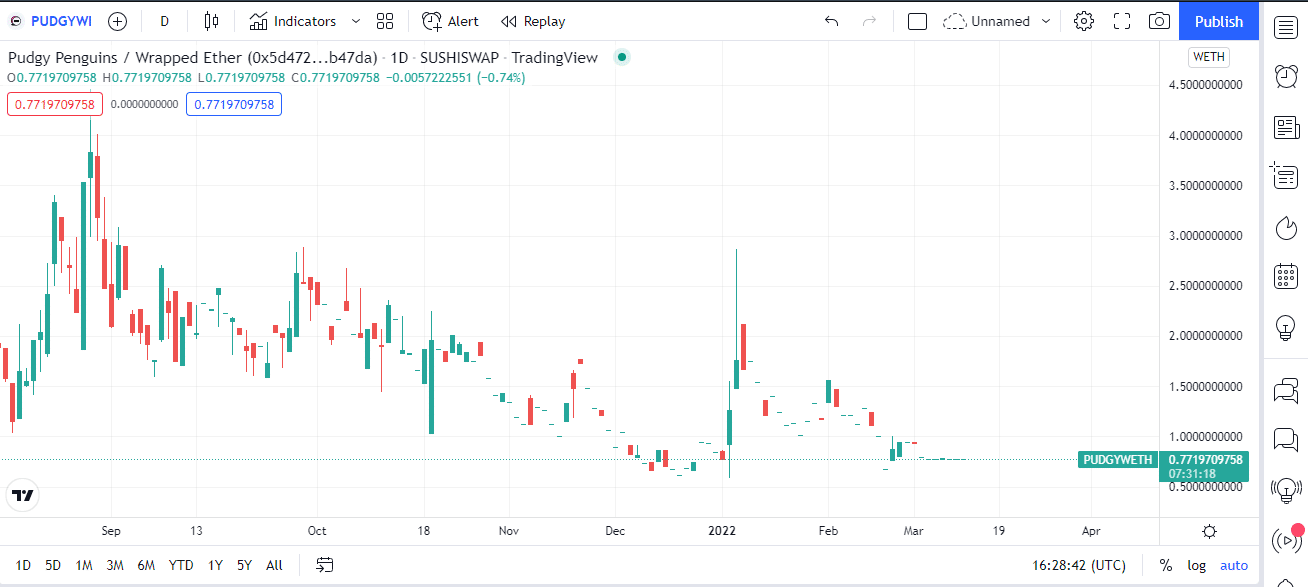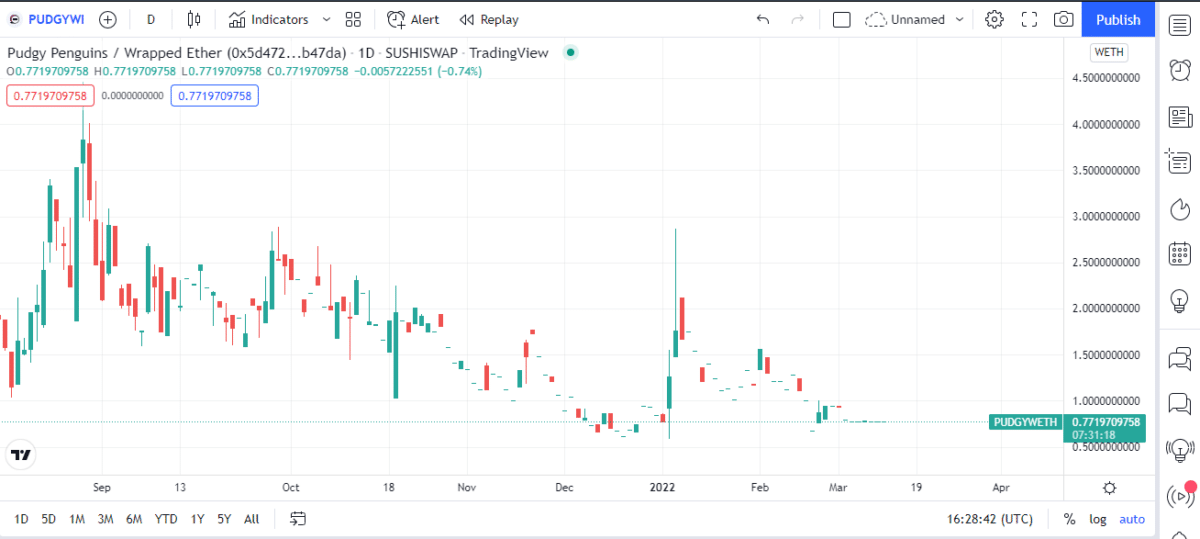 Where to buy PUDGY?
Users can buy PUDGY on the Opensea marketplace.
What are the perspectives of the PUDGY project?
In January 2022, there was a stir when founders were voted out for failing to accomplish their objectives. The founders promised the NFTs a game and a native token, but neither has materialized.
As the fight over custody of the collection continues, the minimum price of PUDGY has risen, indicating that the media attention may be beneficial.
What is Decentraland (MANA)?
Decentraland is a good option if you're seeking the greatest NFT to buy in the Metaverse.' Simply put, Decentraland is a blockchain-based open-world play-to-earn crypto game in which players may create in-game personas and purchase land.
MANA price history
At the time of writing, the price of MANA against USD is 2.28. The price has been on the decline since December 2021, when it hit the highest high of 5.91.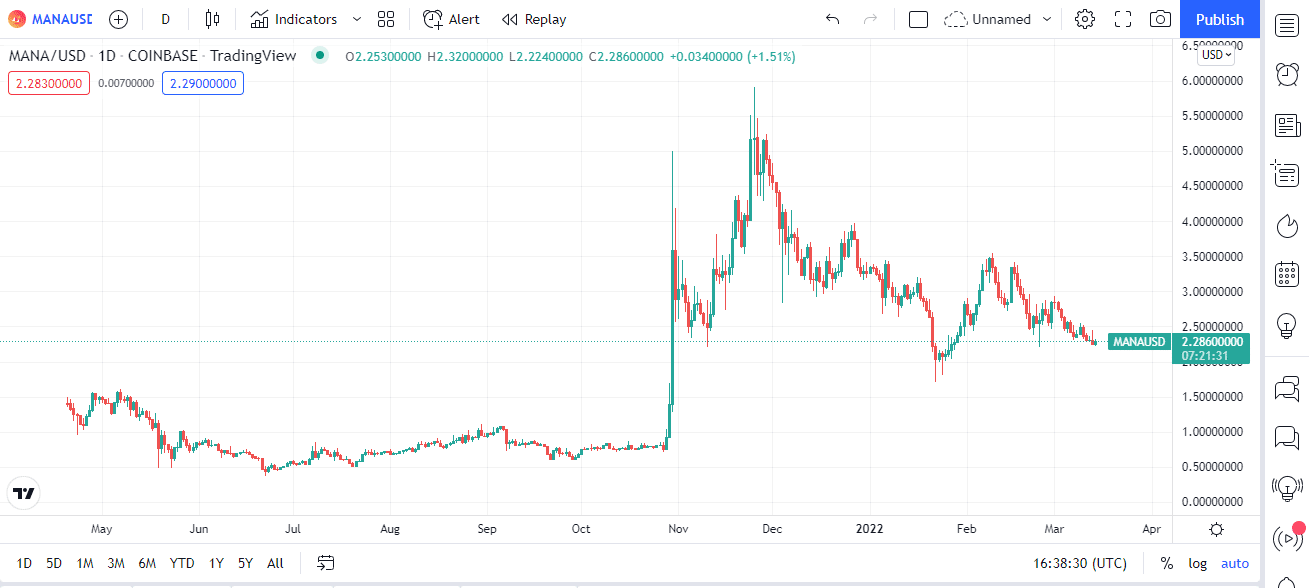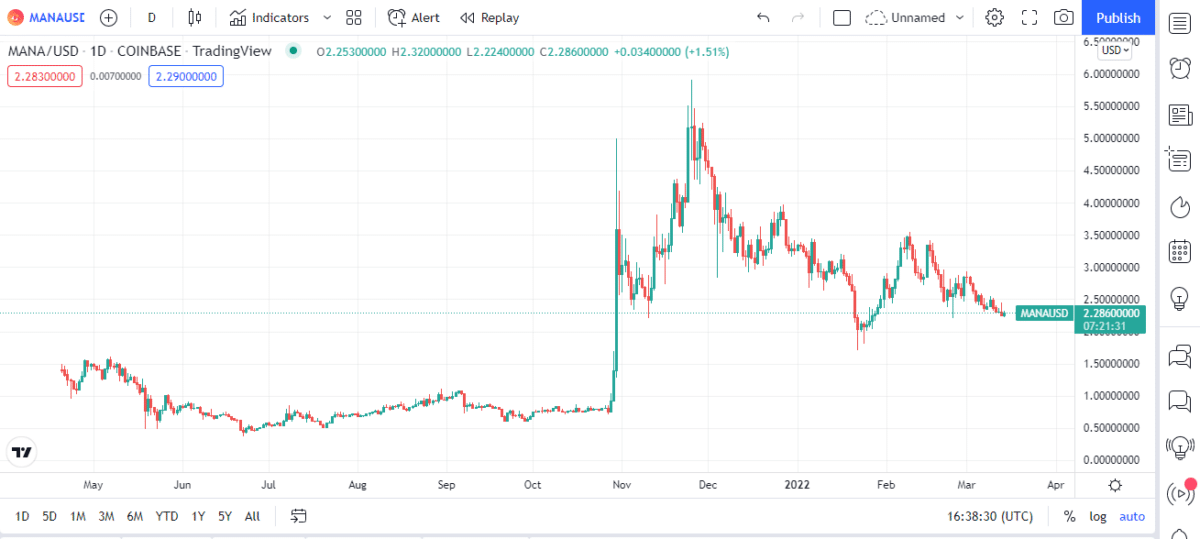 Where to buy MANA?
Users can buy MANA on several exchanges like Coinbase, Binance, Kraken, Gate.io, BitYard, and KuCoin.
What are the perspectives of the MANA project?
The Decentraland universe is built on the Ethereum blockchain, but its native currency is MANA rather than ETH.
These NFTs may improve in value as Decentraland's universe develops and gains popularity, making them some of the best NFTs to buy in 2022.
What is Autograph.io?
Tom Brady, the great NFL quarterback, co-founded Autograph.io, which strives to provide the best NFT to buy for sports lovers.
Autograph.io describes itself as an "NFT Agency" that aims to help celebrities, athletes, and other high-profile figures start their collections.
Autograph.io price history
Over 100,000 NFTs had already been sold by Autograph, with some selling for as little as $12, making them more accessible to regular investors.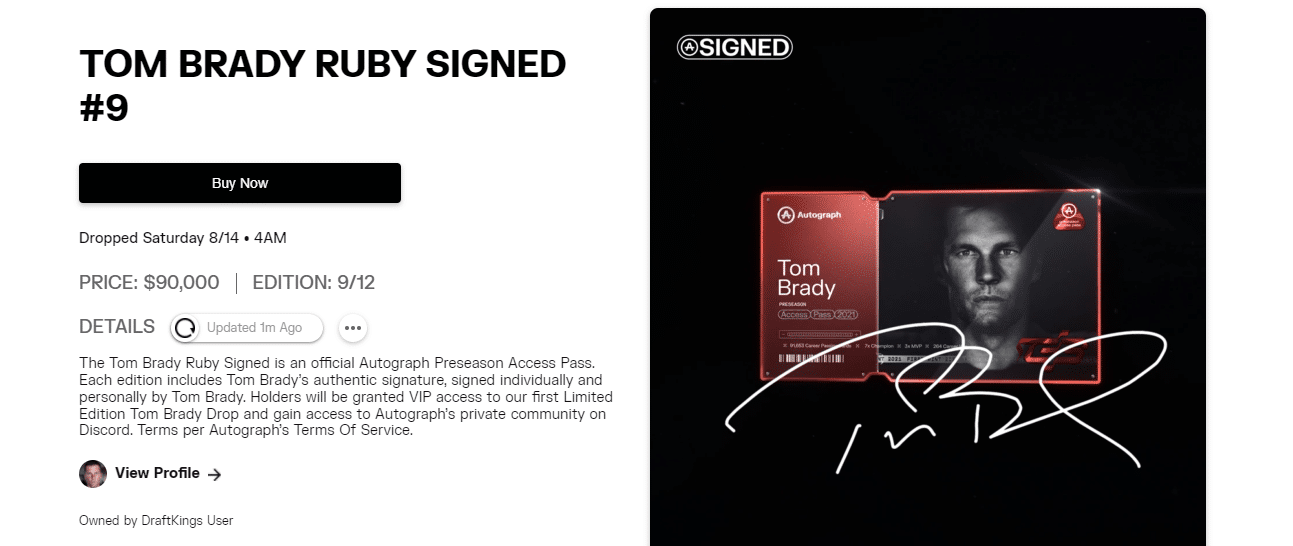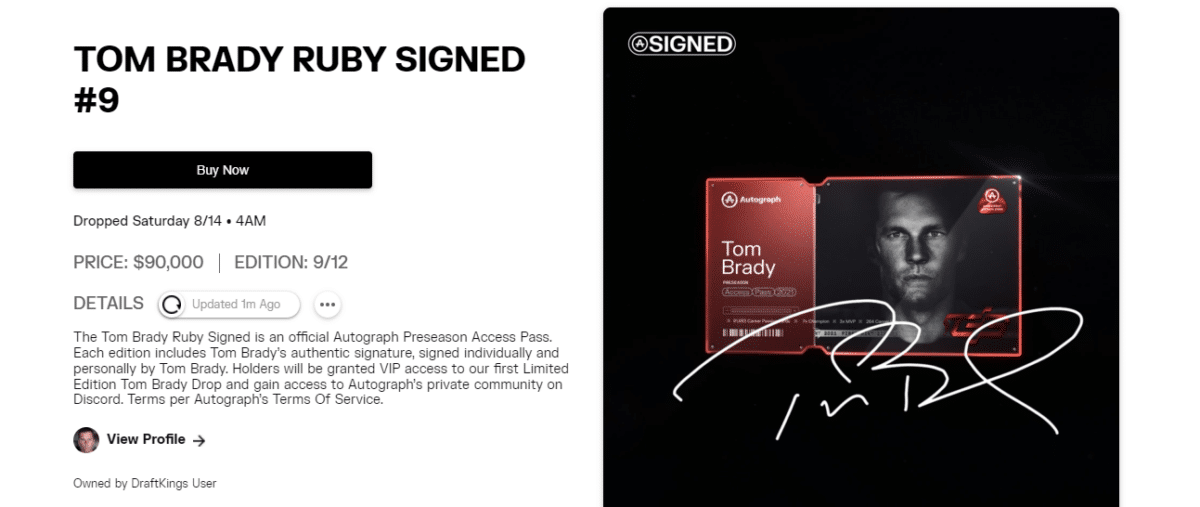 Where to buy Autogrpah.io?
To buy or sell Autograph.io NFTs, you must first register on autograph.io and create a DraftKings Marketplace account. It's worth noting that the marketplace is presently only available to residents of the United States and Canada.
What are the perspectives of the project?
Since its inception, over 100,000 NFTs have been sold, with costs ranging from $12 to $88,000. Tom Brady's autographed NFC was just auctioned for $4 million.
Most Autograph NFTs are hosted on Polygon, an Ethereum scaling solution. As a result, there's a potential that costs will skyrocket in 2022.
Pros and cons
Now that you know, what are the top five miners' NFTs that can soar in 2022? Let's reflect on some of the pros and cons of investing in them?
| | |
| --- | --- |
| Worth to buy | Worth to getaway |
| They've fashioned a new market to build wealth, with great development potential, by providing a record of authenticity and ownership held and provable on the blockchain. | NFTs are speculative and illiquid investments. There aren't much historical data to research because it's a new asset and market. As a result, it's an extremely risky investment. |
| Depending on who the developers are, some NFTs provide real-world benefits such as the availability of high events, groups, or affiliations. | The worth of any piece of art, digital or physical, is relative and depends on what someone is prepared to pay for it. |
| You can earn exponential profits on NFTs if you bet on the right projects. | NFTs are prone to high risk, and sometimes price hikes result in a quick slump, leaving no room for the investors. |
Final thoughts
The blockchain mentioned above NFTs can soar in 2022. However, it's important to remember the pros and cons of investing before jumping into the NFT pool.