Crypto gaming coins use a partial or complete verified ledger infrastructure or blockchain technology. This technology enables gamers or users to purchase in-game items or make real cash.
People's interest in the cryptocurrency market is sky-rocketing this year, where the interest in gaming coins has become a potential investment opportunity.
Crypto gaming coins are a comparatively new concept in the PC and mobile gaming industries, and there are several gaming coins or tokens available. You need to have a certain level of knowledge to choose the best gaming coins and platforms to make money.
Let's check helpful information about the top five best crypto gaming coins and their volume, price, market cap, etc.
Why are crypto gaming coins so popular?
The increasing availability of technology comes with advantages in both:
The crypto market
The gaming sectors
Mobile and PC gaming industries have faced a noticeable increasing interest in crypto items. Crypto gaming platforms allow gamers, developers, or users to create, distribute, receive and store gaming coins. You can use these coins for purchasing in-game items, several other available goods and services on platforms, or even exchange them with fiat currencies or real money.
So there is no doubt that the crypto games market is starting to disrupt the traditional games market by allowing gamers to earn beside entertainment for their time and afford. According to a survey report of Worldwide Asset exchange, most of the online gamers approx. 75% want to exchange their virtual assets using multiple platforms.
The recent Covid-19 pandemic is the reason for declining prices for various financial assets. The gaming industry is one of the few that experienced booming during the pandemic. Several gaming industries, such as Epic Games, Electronic Arts, and Activision Blizzard, made massive revenue from the users during the pandemic.
So it is a fact that crypto gaming has many potential reasons for having that noticeable rapid growth over several recent years.
Top five gaming coins market info
This part includes all the primary information that you need to know about the top five crypto gaming coins. Let's check it out.
Enjin (ENJ)
Enjin platform is a social gaming platform of approx. 19 million gamers. Enjin coin is a native gaming coin of this platform. This Enjin platform enables developers to generate, manage, and distribute Enjin coins.
Meanwhile, they can purchase in-game items such as costumes, gear, etc., with this coin and exchange it with currencies if they want.
Enjin has a market cap of $1,041,861,390, and the daily volume is $64,303,811. The total supply is 1,000,000,000 ENJ, and the circulating supply is 834,340,660 ENJ.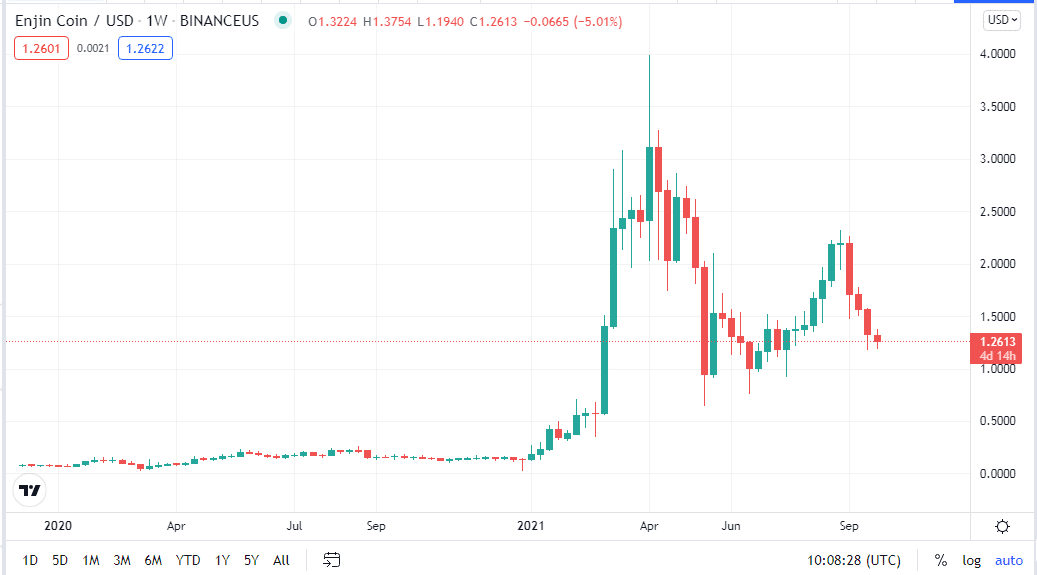 The announcing date of ENJ is 24 July 2017, and this coin price is floating near $1.26 at the time of writing, which has a peak near $4 in the first week of April this year. This crypto gaming coin uses the Ethereum blockchain network. ENJ follows the ERC-20 framework that has laws of Ethereum blockchain network.
GameCredits (GAME)
This platform involves a virtual currency, which is a platform that includes wallets for 2.6 billion gamers around the globe. This crypto gaming coin operates using the Ethereum blockchain network. This GameCredits platform offers an all-in-one solution that delivers several features such as GAME Rewards, GAME Exchange, GAME Foundry, and GAME Tournament to every online game in the world.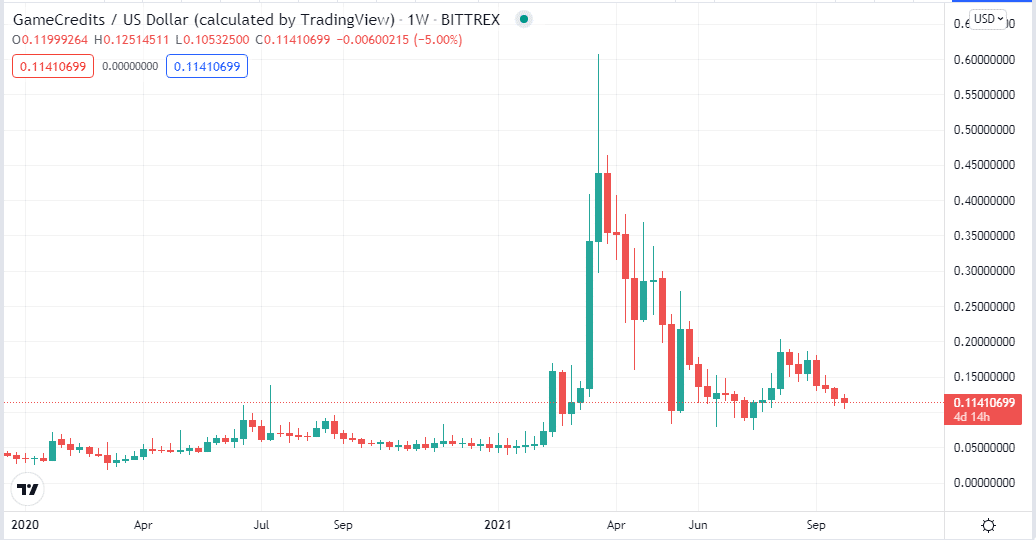 When writing, this crypto gaming coin is floating near $0.11, the highest peak is near 0.60 in Mar 2021. The announcement date of GAME is 27 Nov 2015. Market cap is $17,581,318 and 24 hours volume is $46,769. The total supply is 200,000,000 GAME, and the circulating supply is 153,046,247 GAME.
TRON (TRX)
TRX is the token of one of the largest blockchain-based operating systems, the TRON blockchain network. This blockchain handles approx. Two thousand transactions in every second that involve low costs. TRX has a 24-hours volume of $1,202,945,630 and the market cap is $6,260,300,692.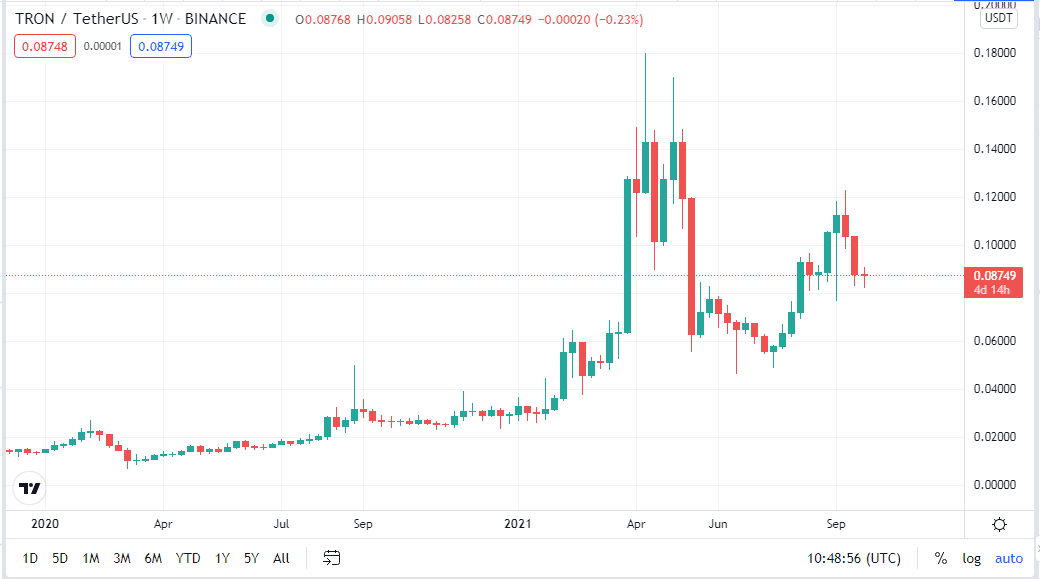 At the time of writing, the price of TRX is floating near $0.087, which has a peak near 0.18 in Mar 2021. The announcement date is 1 July 2017. Total supply is 100,850,743,812 TRX: meanwhile the circulating supply is 71,659,657,369 TRX.
MobileGo (MGO)
MobileGo or MGO is the first Crypto-centric gaming platform and an in-game purchase store. It provides numerous benefits for various participants. It gives speed processing on payment requests, game publishers accept MGo, and you can also exchange this gaming coin with fiat currencies. It is a potential investment of over $50 billion in mobile markets, and likely 1k games registered daily in platforms like Apple and Google Play store.
MGO has a 24-hours volume of $47,171 and market cap is $1,274,515. Meanwhile, the total supply is 99,996,877 MGO, and the circulating supply is 99,996,877 MGO. The announcement date of MGO is 16 Feb 2017. At the time of writing, the price of MGO is floating near $0.012.
The Sandbox (SAND)
SAND is the sandbox token, a virtual platform that allows generating, transferring, monetizing, and purchasing in-game items. You can create and own digital tokens using this platform in the form of NTF or non-fungible tokens. Then you can upload your NFT to the marketplace and sell it in exchange for SAND.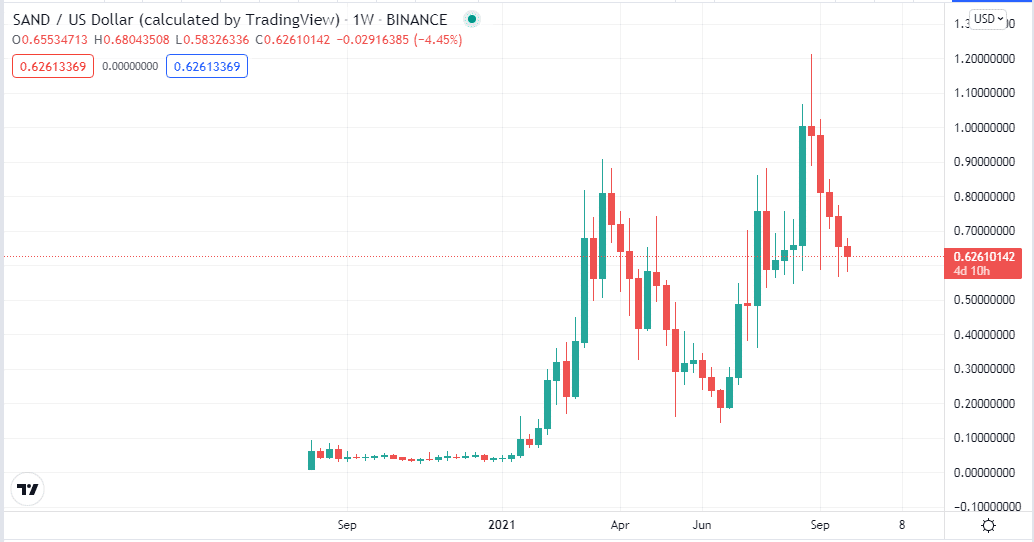 The current price of SAND is floating near $0.062. The recent peak price of SAND is near $1.20 in the last week of Aug 2021. The market cap of SAND is $558,374,013, and 24-hours volume is $104,567,308. Meanwhile, the total supply of this gaming coin is 3,000,000,000 SAND, and the circulating supply is 892,246,119 SAND.
Final thought
Finally, these are the top five potential crypto gaming coins. Now you know the market condition of these assets to choose to invest your money in such coins. These assets enable options to make money by investing or creating gaming coins by using platforms.