The Forex Scalping EA team has posted several past and current trading results on their sales page to illustrate the supposed high profitability of the system. Nonetheless, our review has disclosed that this rosy picture cannot be replicated in real life.
Forex Scalping EA trading strategy
As the name implies, Forex Scalping EA implements fast trades from small movements in the market. It particularly utilizes reversal trades for scalping.
Forex Scalping EA backtesting report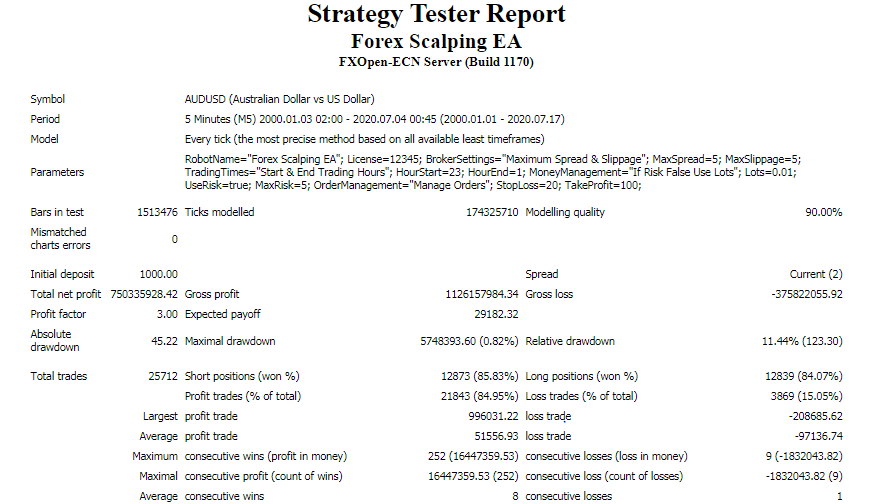 This backtest data reveals that the EA was backtested from January 2000 to July 2020 using the AUDUSD currency pair on the 5 minute timeframe. Throughout the 20 year period, it implemented 25,712 trades, generating a total net profit of $750,335,928.42, a very unrealistic figure indeed.
The success rates for short and long positions were 85.83% and 84.07% respectively. We also realized that the EA has made more losses than wins since the average loss trade of -$97136.74 surpassed the average profit trade of $51, 556.93 by about $45,000. The drawdown was not high, – 11.44%.
Forex Scalping EA live results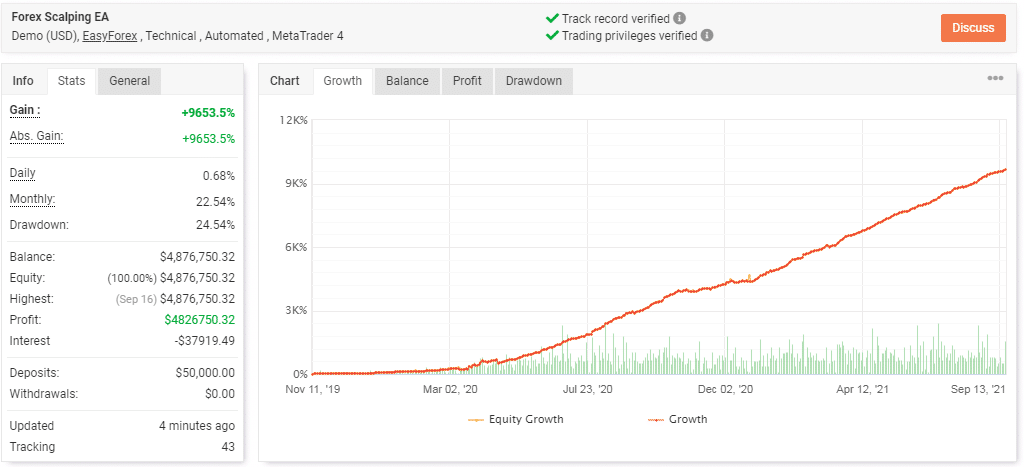 When the account was opened on November 11, 2019. A trader deposited $50,000. Through the EA's trading activities, the deposit has grown by 9653.5%. From the looks of it, the system has supposedly made millions in profits, i.e., $4,826,750.32. But then again, you have to remember that this is a demo account. Such an amount is hard to attain in real market situations. The peak drawdown was 24.54%, which is mostly equal to an average monthly gain. So, in case of the same drawdown, a trader will need one month of profitable trading activity to recover.

Being a scalper, the system trades often as exhibited by the numerous deals (4601) accomplished. The EA doesn't take short positions. Out of the long positions it took, it won 87% of them. This outcome is not bad. However, the pips results do not paint a good picture about the bot's performance. An average loss of -8.53 pips against an average win of 4.63 pips is a sign that the system engages in bad trades often.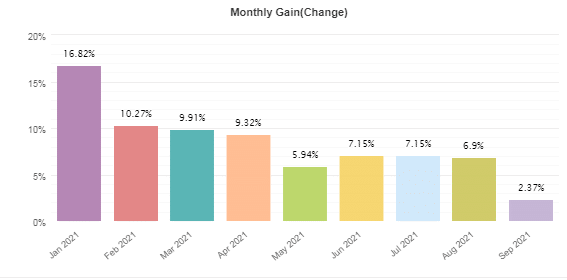 January was the most profitable month with 16.82%. However, since then, the gains made have not been much.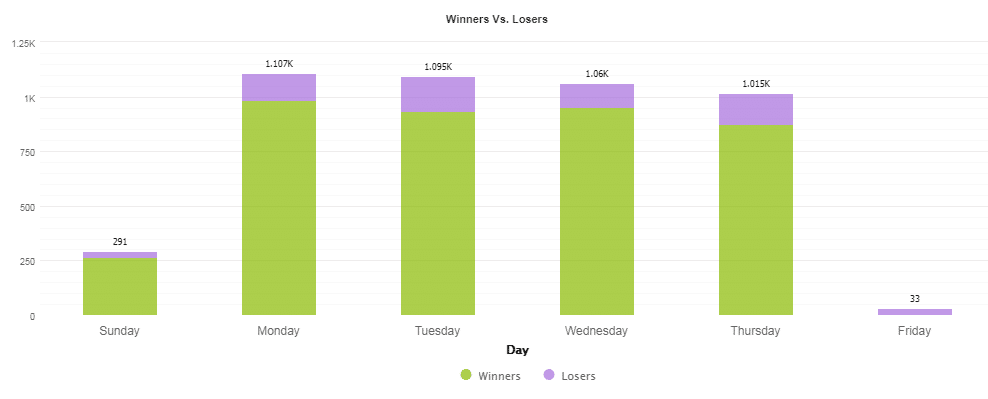 The EA hardly trades on Friday.

Trades are mostly done at night.
Some features of Forex Scalping EA
| | |
| --- | --- |
| Total return | 9653.5% |
| Maximal drawdown | 24.54% |
| Average monthly gain | 22.54% |
| Developer | N/A |
| Created, year | N/A |
| Price | $100, $150, $200 & $250 |
| Type | Scalping |
| Timeframe | 5 minutes |
| Lot size | 0.01 |
| Leverage | Any |
| Min. deposit | Any |
| Recommended deposit | Any |
| Recommended brokers | Any MT4 Forex broker |
| Currency pairs | EURUSD, EURCHF, GBPUSD, and EURGBP |
| ECN | Yes |
Main things that make Forex Scalping EA unreliable
High drawdown
We have seen from the trading results that the system loses more than it wins. This has, in turn, caused the drawdown to reach risky levels. If this trend continues, then the capital will be eroded in the long run.
Zero vendor transparency
The developers do not care to introduce themselves to the Forex community. Their names, qualifications and experiences are a mystery. Therefore, it would be risky to entrust your money on a vendor whose reputation is hard to determine.
Negative customer feedback
Customers have revealed that the system's presentation is misleading. Even though the trading results on the demo account look promising, the same outcomes cannot be replicated in the real market. The low profitability rate of the system can easily be exhibited in the live market.
Pricing details
There are 4 packages for this system. The cheapest is the basic plan, which goes for $100. It includes 1 real license. Then we have the standard one that costs $150, and features 2 real licenses. The gold plan is $200 and comes with 3 licenses. The most expensive pack, which is, $250 incorporates unlimited real licenses. We discovered that a money-back guarantee is absent.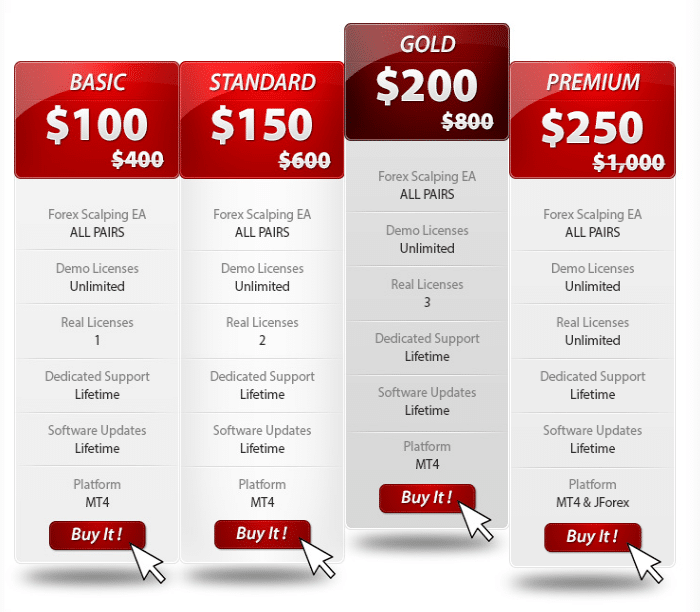 Other notes
There are a handful of customer reviews on FPA for this product. From these reviews, it is apparent that the EA is not what the vendor is purporting it to be. For instance, it is not as profitable as portrayed. In fact you can make many losses with it.