Shell Forex EA claims to be an effortless and secure way to make gains in the Forex market. It is a fully-automated trading system supported by a verified real-money trading account. It works on the MT4 trading platform and is compatible with multiple currency pairs.
Shell Forex EA trading strategy
The vendor has mentioned that this EA does not use risky trading strategies like arbitrage, grid, and martingale. That being said, they haven't explained or even mentioned the actual strategy used to buy this system. We don't know how this robot identifies profitable trades or whether it uses any specific indicators for this purpose.
Shell Forex EA backtesting report
Backtesting reports reveal the historical performance of automated trading systems. EA vendors perform these tests to determine whether it is worth launching the system on the live market. Unfortunately, we don't have the historical test results for Shell Forex EA.
Shell Forex EA live results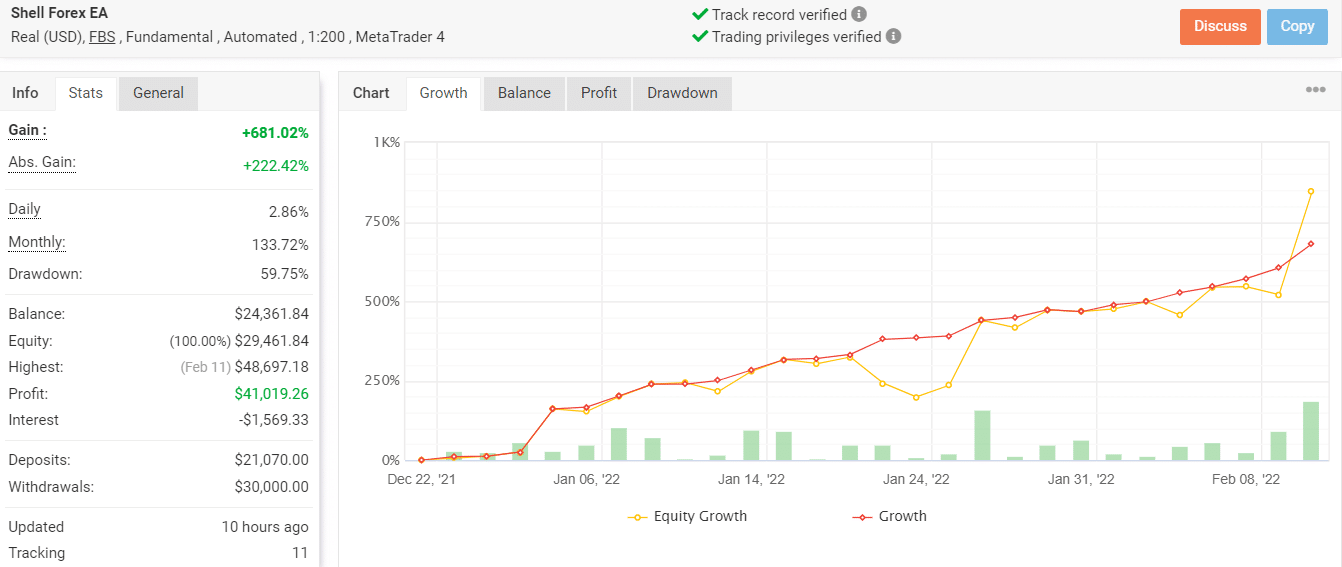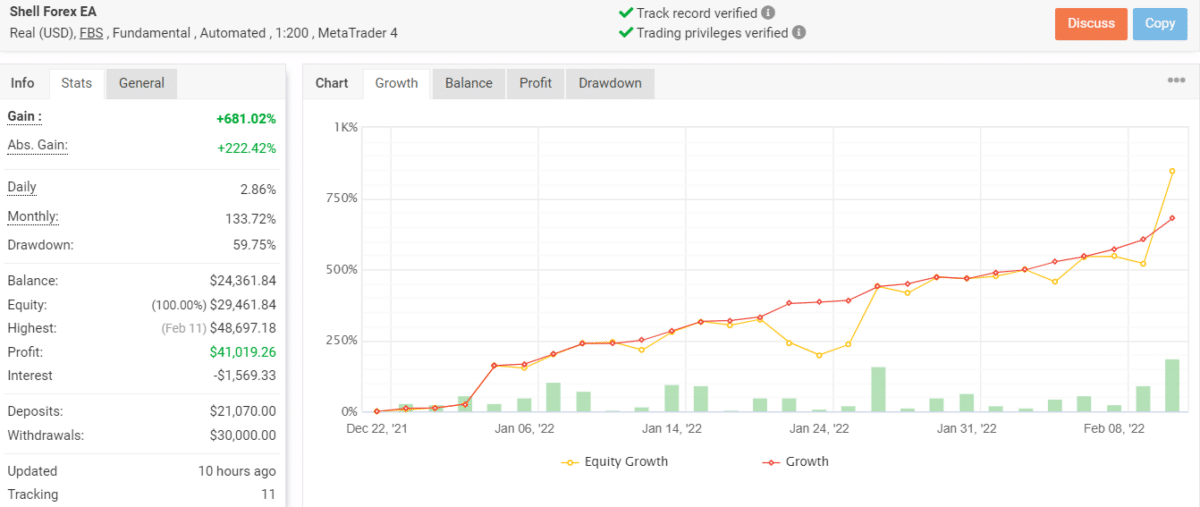 This live trading account has been active since December 01, 2021. Thus, it has a very short trading history which means it hasn't been exposed to different market conditions. To date, the EA has placed 317 trades through this account. It currently has a high win rate of 75% and a total profit of $41,019.26.
The time-weighted return for this account is 681.02%. Currently, the daily and monthly gains are 2.86% and 133.72%, respectively. The drawdown is quite high at 59.75%, and this is indicative of a high risk of ruin. This account has a profit factor of 2.67, which can be considered satisfactory.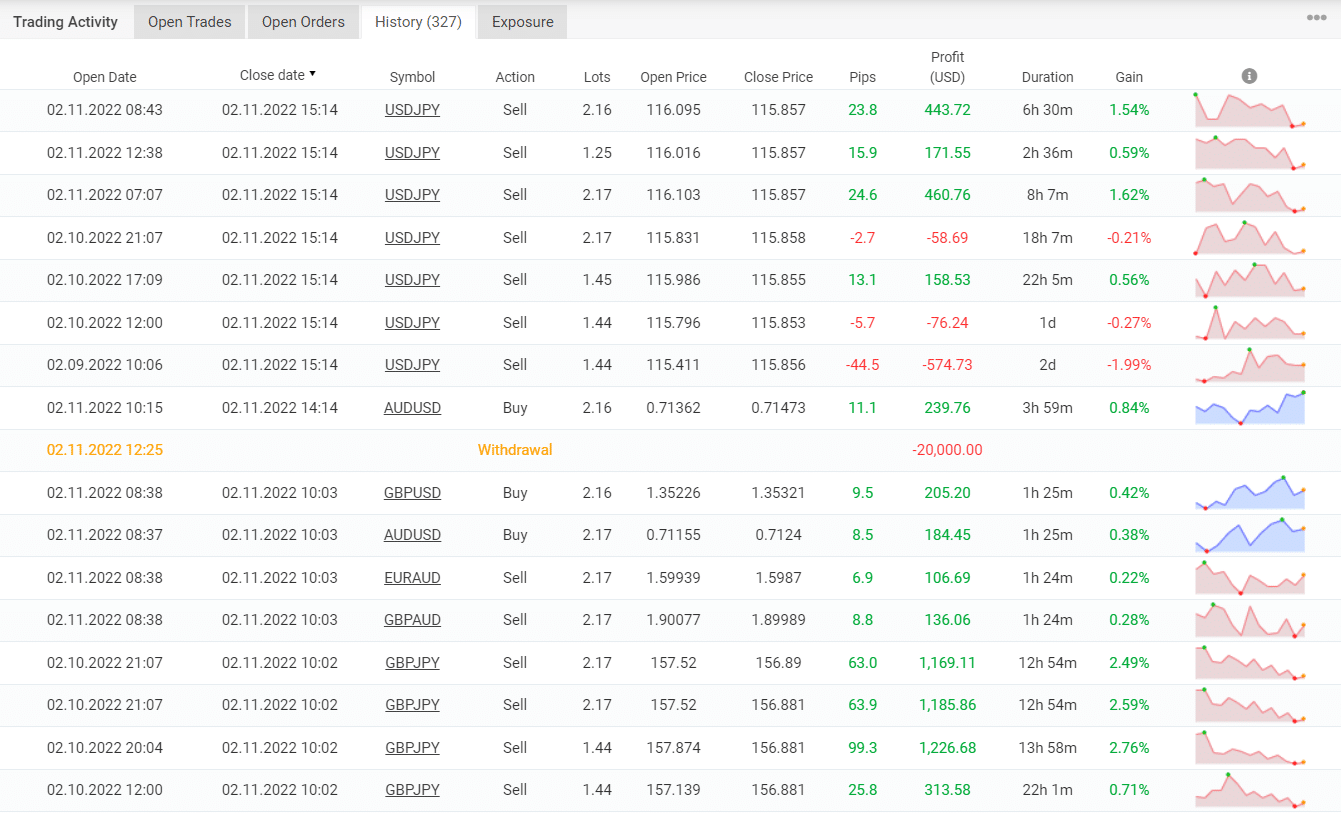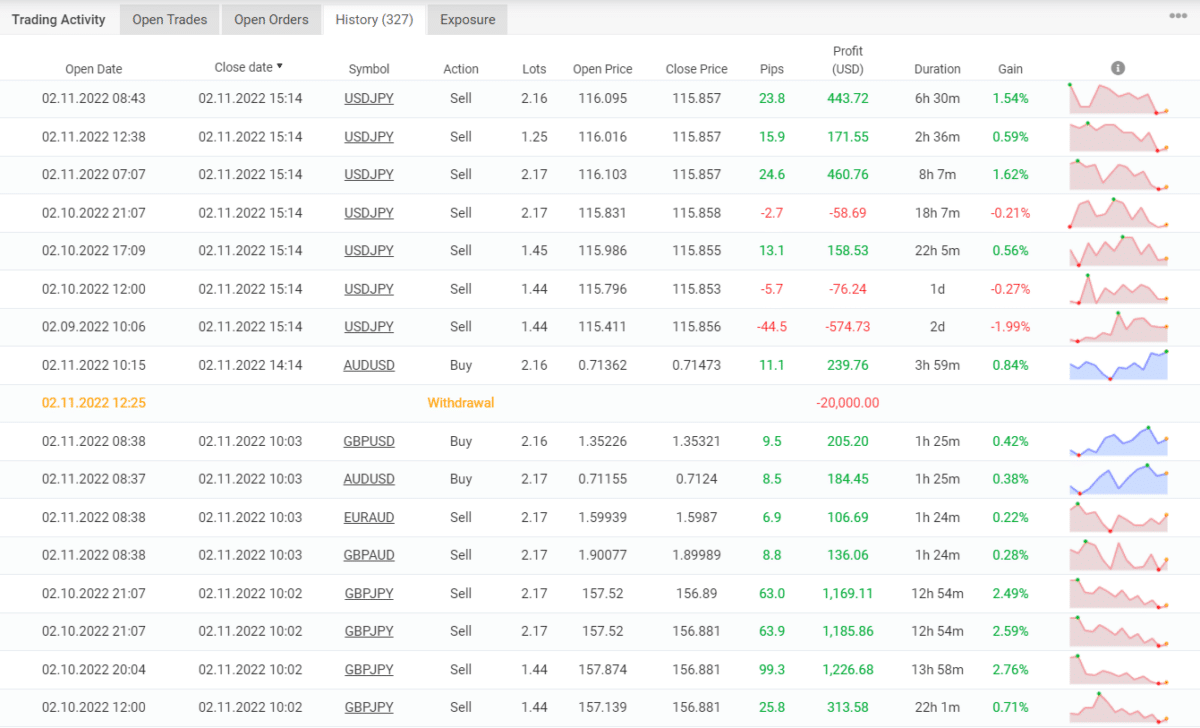 From the recent trading history, we can see that the robot trades with a lot size of 1.25-2.17. It holds each order for several hours and sometimes for 1-2 days. We can see that the EA is capable of suffering the occasional heavy loss. The average profit and loss for this account are 27.39 pips/$256.65 and -30.11 pips/-$294.21, respectively.
Some features of Shell Forex EA
Shell Forex EA supports six currency pairs, namely AUD/USD, EUR/AUD, GBP/AUD, GBP/JPY, GBP/USD, and USD/JPY. The vendor has not explicitly mentioned the leverage, but the live trading account uses 1:200 leverage. This robot is not dependent on broker conditions, so you can use any broker of your choice.
The vendor offers free updates for this system. It is an auto-adaptive EA that is easy to use and comes with tested and proven set files. You can use low, medium, and high return strategies with this robot and it takes only five minutes to install it.
| | |
| --- | --- |
| Total return | 681.02% |
| Maximal drawdown | 59.75% |
| Average monthly gain | 133.72% |
| Developer | N/A |
| Created, year | N/A |
| Price | 49 Euros |
| Type | N/A |
| Timeframe | N/A |
| Lot size | N/A |
| Leverage | 1:200 |
| Min. deposit | N/A |
| Recommended deposit | N/A |
| Recommended brokers | N/A |
| Currency pairs | AUD/USD, EUR/AUD, GBP/AUD, GBP/JPY, GBP/USD, USD/JPY |
| ECN | No |
Main things to consider if you invest with Shell Forex EA
Here are the things you should keep in mind before investing in this EA:
Lack of vendor transparency
We know nothing about the parent company behind this EA. The vendor has not shared the details of the developers and we don't know where this company is based. Also, it is unknown whether this team has any prior experience in developing expert advisors.
High drawdown
We can see that the live trading account exhibits a high drawdown. This represents how much the account falls from the peak before it recovers. The high drawdown tells us that the EA follows a risky trading strategy.
High win rate
Shell Forex EA wins most of its trades. The win rate is 75%, which is higher than most systems. Thus, in spite of the high drawdown, the robot can be profitable in the long run.
Pricing details
At 49 Euros, this EA is cheaper than others. However, there is no refund policy.
Customer reviews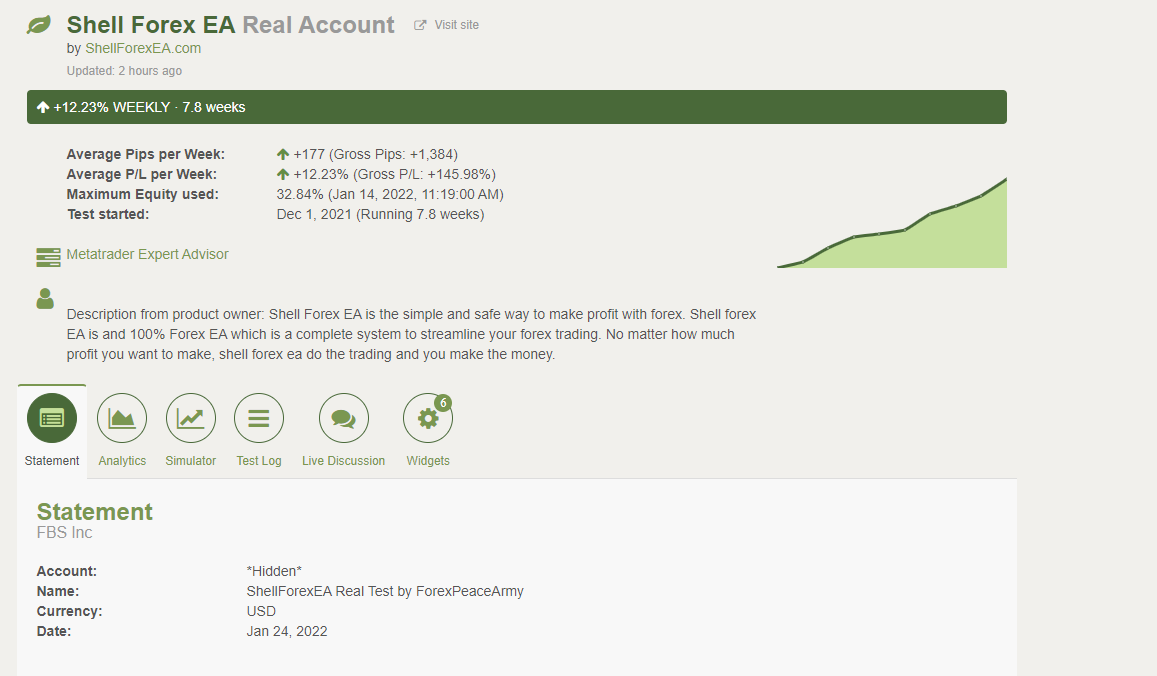 There are no reviews for this EA on the web. On Forex Peace Army, there is a real account with an average weekly profit/loss of 12.23%.