CFD trading or contract for difference trading is a system for individuals and small firms to trade any financial instrument. Traders can utilize the leverage and make money by trading CFDs on the precious metal market.
However, CFD trading involves risk due to the leverage. Nearly 70-89% lose their capital in CFD trading due to the misuse of leverage and trading without any plan.
This article includes everything you should know about CFD trading in precious metals. Additionally, we will list the top fundamental indicators for the metal market, so you can make profitable trading positions by following them.
Basics of CFDs trading
Contact for difference or CFD trading is a contact that occurs between two participants. Specifically that two parties are between buyers and sellers. In most cases, this contact is between brokers and the clients. The buyers pay the amount to the sellers. This type of trading involves trading assets without owning the actual asset instead of making money from the asset's price movement. Some features such as leverage, long-short position, hedging, margin make CFD trading different from traditional trading.
Leverage
In CFD trading, brokers allow individual traders to take more prominent positions with little capital. For example, suppose you take 1:100 leverage with an investment of $100. Now you can take positions worth $10.000. Anyway, misusing leverage can cause you to lose your capital.
Long-short position
CFD trading allows traders to take buy or sell at the same asset. Unlikely the stock market traders can only make money when the price goes upward; in CFD trading, you can make money from both directions, upward or downward.
Hedging
CFD trading allows investors to hedge on the assets. You can buy and sell the same asset at a time or build a trading system or robot based on buying and selling orders together.
Margin
It requires funds to open and maintain trades at CFD trading or traditional trading. You get a margin call if the price movement continues to move against your order. For insufficient funds, the broker will close your trading position, and you will lose your capital.
CFD trading involves over-the-counter (OTC) and major exchanges as NYSE doesn't allow CFD trading.
Trade CFDs in the precious metal market
Precious metals such as platinum, gold, silver, etc., are commodities. Investing in commodities like precious metals in traditional ways requires vast resources and capital. Moreover, the exchange and preservation of precious physical metals involve hassle.
CFD trading allows you to make money from metals' price changes. You don't have to own the asset, so there is no hassle involved in exchange or preservation. It's effortless to trade precious metals through CFD trading as you can enter or exit from trades with only some click on your device. With the leverage feature, you can take more significant positions than your capital.
For the hedging and buy-sell feature, you can make money from both types of directions either the asset price goes up or down. So you can make more enormous profits, and the loss amount will be more massive. In this part, we show you the step-by-step procedure to trade CFD in precious metals.
Find broker
It is the first step to start trading precious metals through CFD trading. At this initial step, you must find a reliable broker in which your capital will be secure. Check the reviews and offering service by your target broker. Check out the regulations of your broker's license. Looking at these factors about the broker is essential as we should know where we will invest our fund and our fund is safe.
Moreover, ensuring services from a broker such as spread, trading platform, trade management, leverage, educational support, client service, response, etc., will help you avoid future hassles and uncertainty during trading.
Identify trading instruments
Once you identify your target broker, it's time to find out the trading instruments. In this step, you should check on the trading instruments at your trading platform. If you use the MT4 platform, it contains symbols of trading assets on the left side of the symbol window.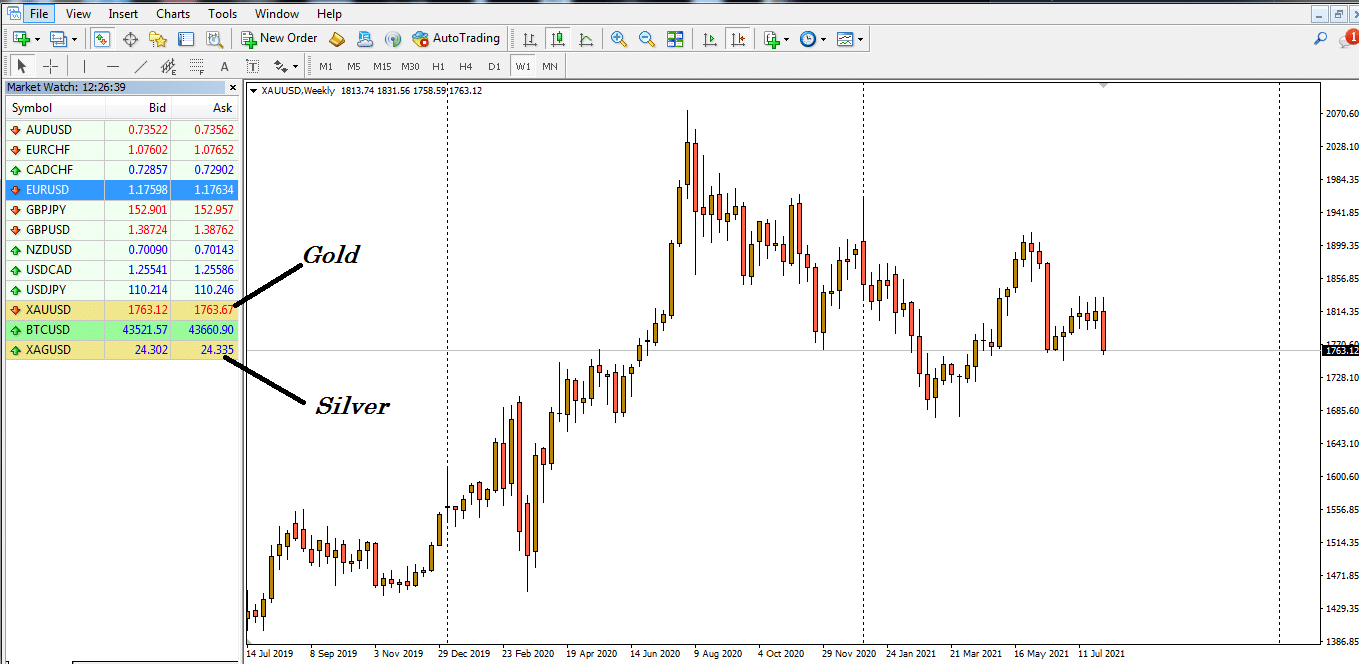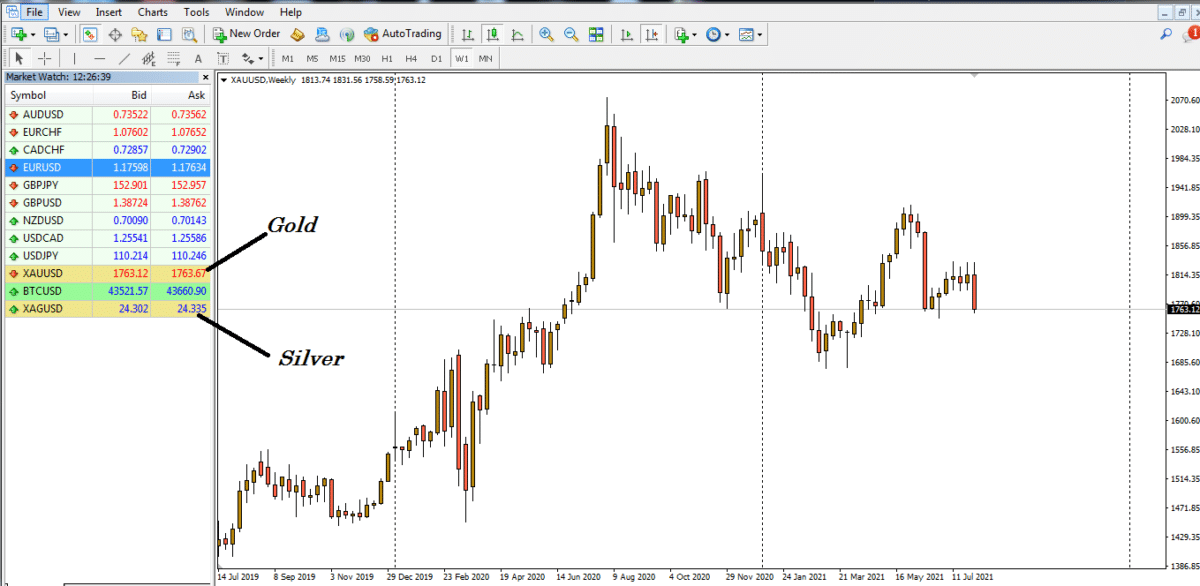 The figure shows trading assets on an MT4. Check your target assets here. After opening an account on your target broker, you can check this from the platform that your broker provides.
Understand contracts
Now check on the contact type of your target precious metals in your broker. In some cases, the broker offers CFD for a specific period. For example, a standard energy commodity, crude oil, has a timeline to open and close the market. Check all these types of data related to your target commodity.
Build your strategy
It is the last step before starting trading precious metals through CFD trading. It would be best to have proper strategy, trade, and money management ideas before trading CFDs in the metal market. Most novice traders lose their capital without a lack of appropriate trading strategy. We suggest building and checking the result of the strategy before applying it.
Top fundamental indicators for metal market
This part lists some crucial factors or fundamental indicators that the participants of the precious metal markets care about and follow.
Supply-demand
It is the universal indicator for any trading asset. So for precious metals, it is also an effective indicator. Check on the mining-related data of your target assets and also the demand.
Geopolitical uncertainty or crisis
Commonly, geopolitical uncertainty or war pushes the precious metals price higher. For example, bombing in the middle east can cause the oil price to move higher. Not just geopolitical uncertainty, any global crisis can push the precious metals price higher.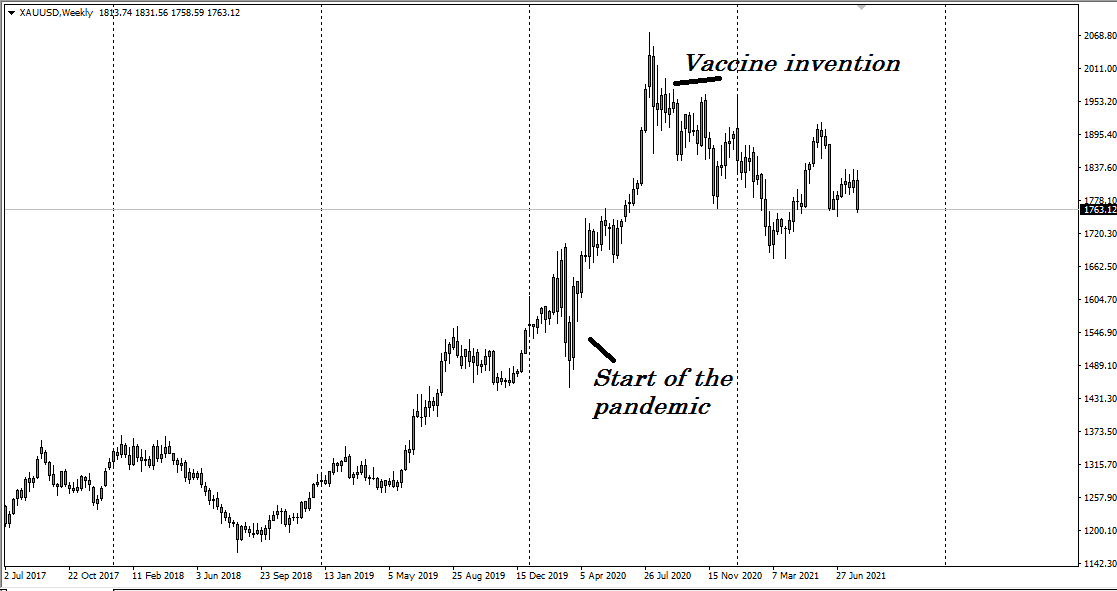 The figure above shows the price movement of gold during the recent Covid-2019 pandemic. The health crisis pushes the precious metal price higher.
USD price
The dollar or USD index is another affecting factor for the prices of precious metals. When the USD is boosting, the precious metals price may fall. Meanwhile, the falling USD or unstable global economy leads investors to buy more precious metals as safe-haven assets.
Final thoughts
You know all the basics about CFD and the step-by-step procedure to start trade CFD in the precious metal market. Additionally, we list the top fundamental indicators that will help you to get the price prediction of your target precious metal.
We suggest doing more research, practicing, and gathering knowledge about the precious metal market before starting trading CFDs in precious metals. CFD trading involves risk, so check these factors carefully, avoid misusing leverages and trading without proper strategy.