People may have a job for living or wealth to expand but can't find a proper way to make money. There have always been opportunities to get profit from the financial market. To earn from the market, individuals always have different ways, such as trading and investing.
However, there may be some confusion between these two, investing and trading for an inexperienced participant in the financial market. To choose between them, you need a clear concept about both, because there are always some requirements. If you don't have a clear idea about what you are doing, you can lose your capital.
Let's discuss both trading and investing. We also show the pros and cons of these two ways of participating in the financial market so you can easily choose what suits you.
What is trading
It is a way of participating in the financial market in which traders observe and seek profitable trading positions at the asset price through technical and fundamental analysis. When their strategy meets with the market condition, they take stakes in the target asset and hold it for a certain period in expectation of gaining profit. They beat the market and make money from it.
This type of participation involves frequent transactions and managing the trading capital more often. You can define traders by four different types in comparison to trading style and duration such as:
Position traders
This type of trader takes stakes in assets and holds them for months or years.
Swing traders
This type of trader involves holding securities for days or weeks.
Day trader
A day trader or an intraday trader holds security, maybe for a day, but they generally don't allow holding it overnight.
Scalpers
This type of trader involves holding securities just for seconds or minutes.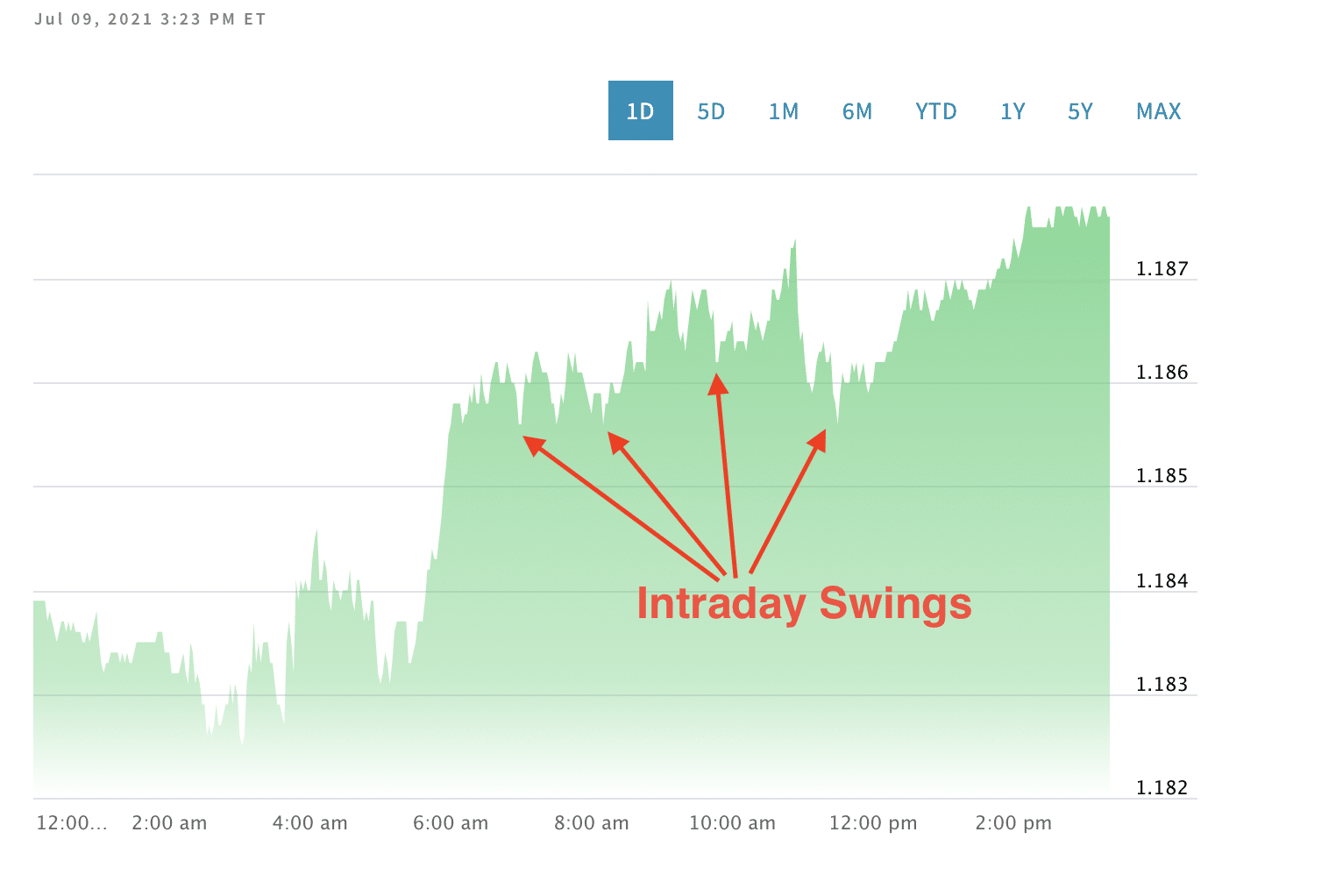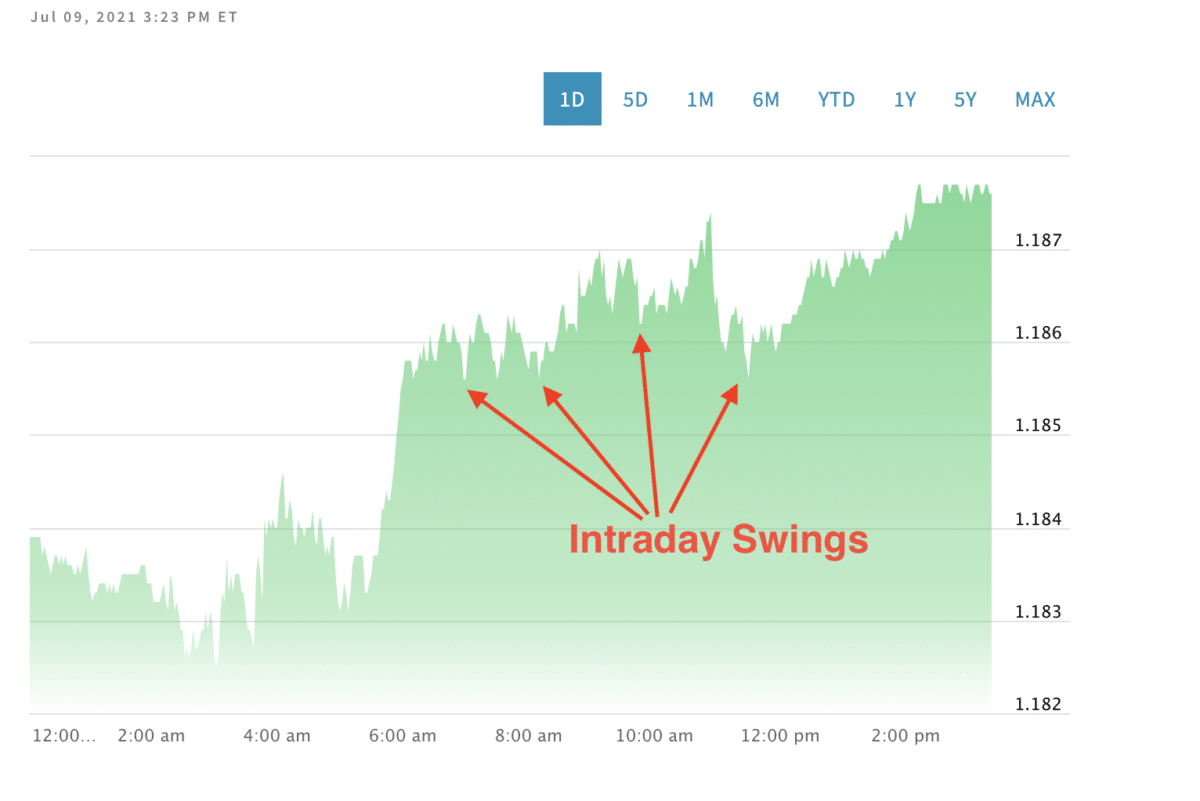 However, it requires skills to be a successful trader. The above image shows how traders can buy or sell an instrument from intraday swings.
Pros of trading
The return rate is good at trading in the financial market. By investing in a retirement fund, the investor may have a return of 6-7% annually; meanwhile, a trader can make a 5% return in a week.
In the financial market, you always get liquidity. Liquidity always tends to reduce risk and make opportunities for individuals to perform.
Nowadays, with technology availability, trading becomes so easy that you can make your trades or close them with only one click on any device. There are too many assets and securities there available to trade and also the participants. You don't have to worry about bargaining about your asset or buyers-sellers.
Trading at the financial market involves low cost, as you don't hold it for a longer period. Brokers execute trader's orders on assets and charge a little bit of it.
Cons of trading
You may think trading is easy, and you can make an enormous amount of money from it. Reality is far different as you can make money from it, can make a fortune, it also can take away your capital. Most of the newcomers end up losing their capital in the financial market.
It's not impossible to make continuous profitable trading positions in the financial market. It requires skill and dedication to do so. Years of practice, experience, research, and training make an individual trader successful.
Traders seek profits from the slight price movement of the assets for a short period. So trading assets are volatile, and you have to make a proper strategy and management skills to deal with that market volatility.
It would help if you spent time doing fundamental and technical analysis to be a trader. Besides, you have to keep updated about the fundamental data of certain assets. Requires time to do that.
The market is not always easy to read as many affecting factors affect the asset price.
What is investing
Investing is an art of making money that involves low risk and low return in comparison to trading. Investing involves holding or contributing to an asset for years, maybe even decades. An investment always concerns expenditure in an asset today, which can be time, money, or effort to expect a greater return in the future.
Investing is putting money into assets such as bonds, stocks, mutual funds, retirement funds for a longer period in expectation of rising value over time. Investors may check their accounts or assets such as retirement funds or real states and make contributions, but investing doesn't allow frequent transactions.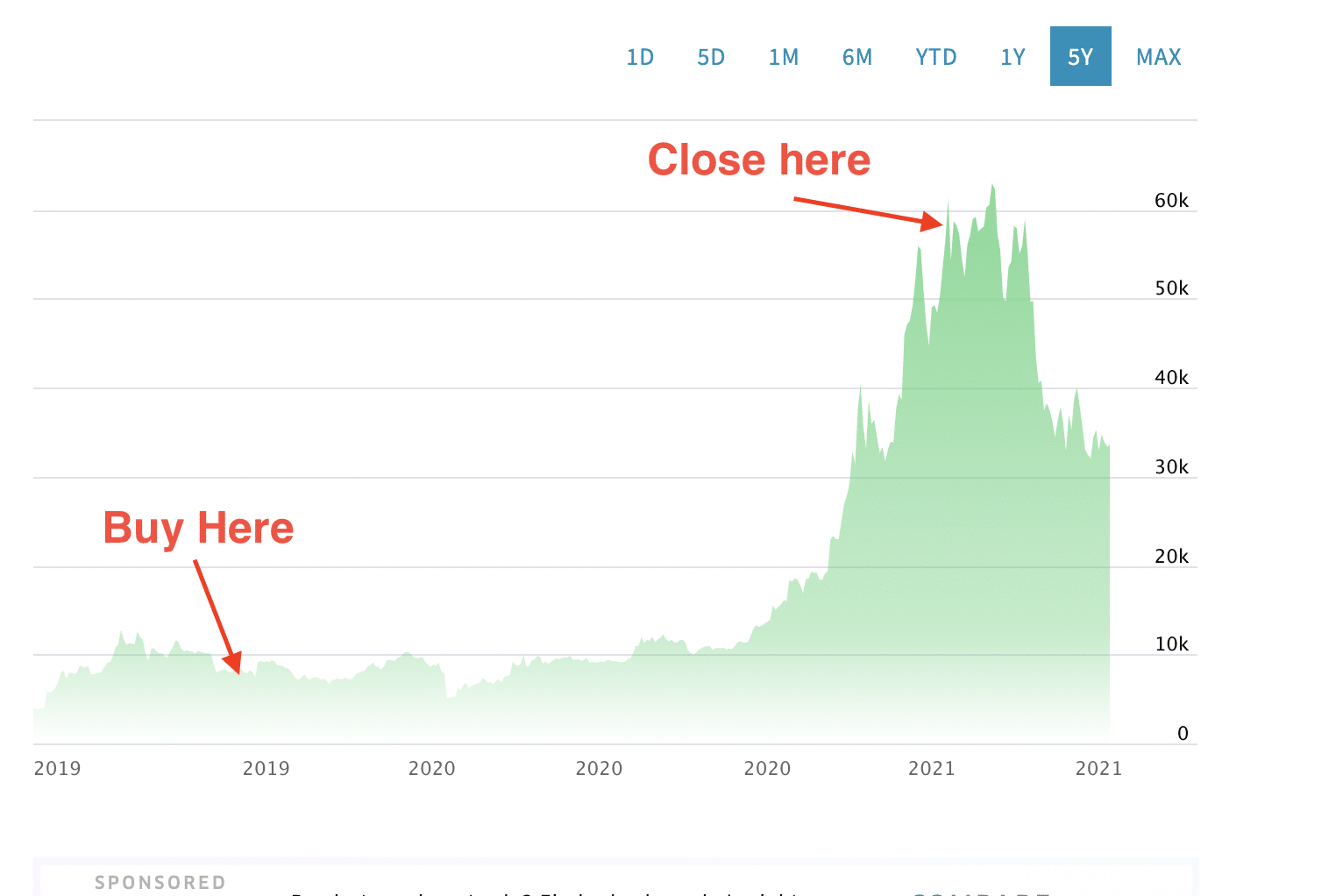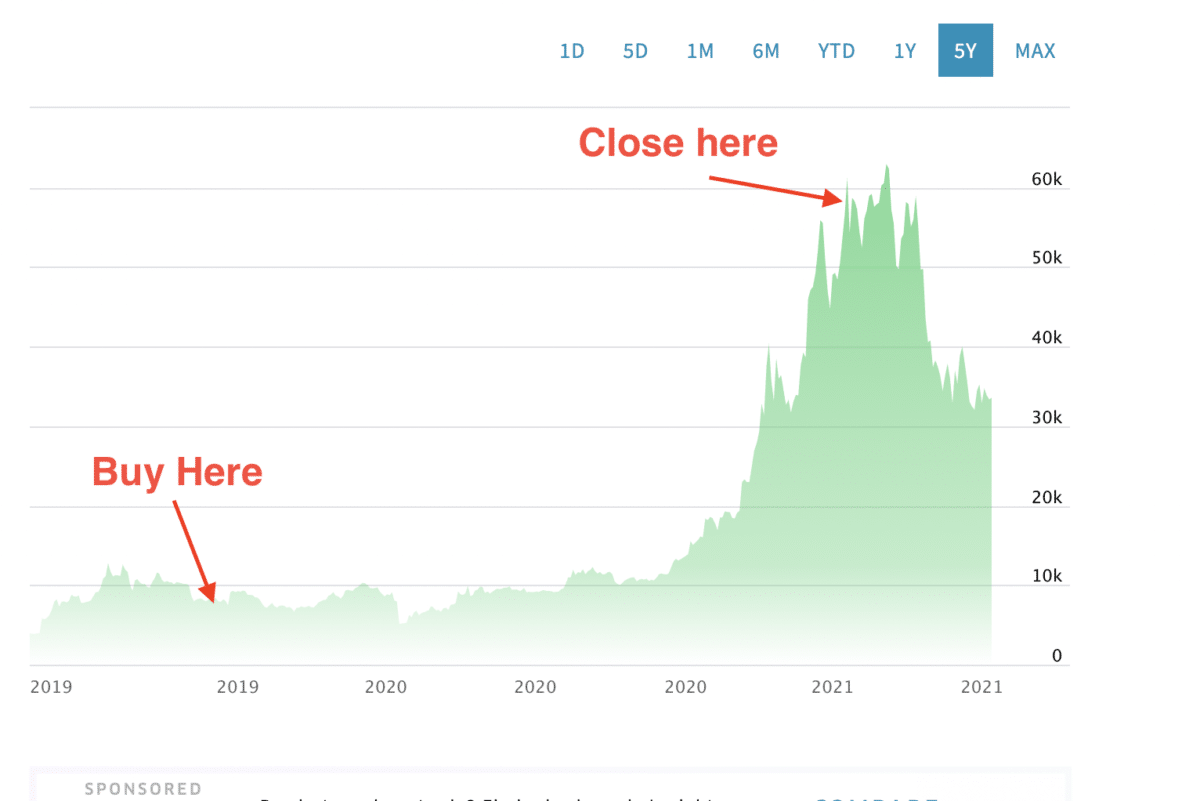 The above image is Bitcoin that shows how it is impressive to earn money from investing. However, investing requires deep knowledge, patience. You will get a smaller return, and also the risk is lower at investing in comparison to trading.
For example, an investor may expect an annual 7-8% return from their investment; meanwhile, a trader may expect a 5% monthly return from their trading capital.
Pros of investing
You don't need to monitor the market all the time as the traders.
You don't need to study charts, platforms, or various strategies as you won't be an active trader.
You don't need to spend too much time managing or monitoring or updating all fundamental news or events as traders do. So it is time-saving in comparison to trading.
An investor may pay 5-10% tax, while a trader may pay 20-30% tax as traders have frequent transactions.
In investing, you can also receive dividends that the company pays alongside the stocks' rising value.
Cons of investing
Investing requires long-term participation. So it requires affordability to block capital or contribute to some asset for that more extended period.
Investing always requires patience as the time duration is extended.
It requires deep knowledge about the asset before investing. You can't rely on charts or technical terms for investing. You can't change decisions as you want anytime related to any news, event, or rumor. So you need to have deep knowledge about the target asset, individual company, and the global economy.
To use profits from investing, have some age restrictions. Simply, if you are 60 years old, then it may be a little late for investing.
Final thoughts
Finally, we now know both terms trading and investing involve advantages and disadvantages. Both investors and traders seek to profit from the financial market, but they achieve the goal differently or in different methods. Now you can choose easily which type of participation suits your expectation and quality.