Forex Pulse Detector works on the M15 chart and comes with 24/7 support from the developer. Traders can purchase the product license for one live and two demo accounts with a 60-day money-back guarantee. The algorithm can be used on the MT4 platform and at least $1000 in the account balance.
Forex Pulse Detector trading strategy
The developer states that the robot trades on market impulse and uses several indicators that determine the important reversal points. It can only trade GBPUSD and EURGBP on the M15 time frame and supports a hybrid system that allows traders to place trades manually. From the live records on Myfxbook, we can observe the use of grid and martingale. The algorithm can generally hold trades for 21 hours and 23 minutes.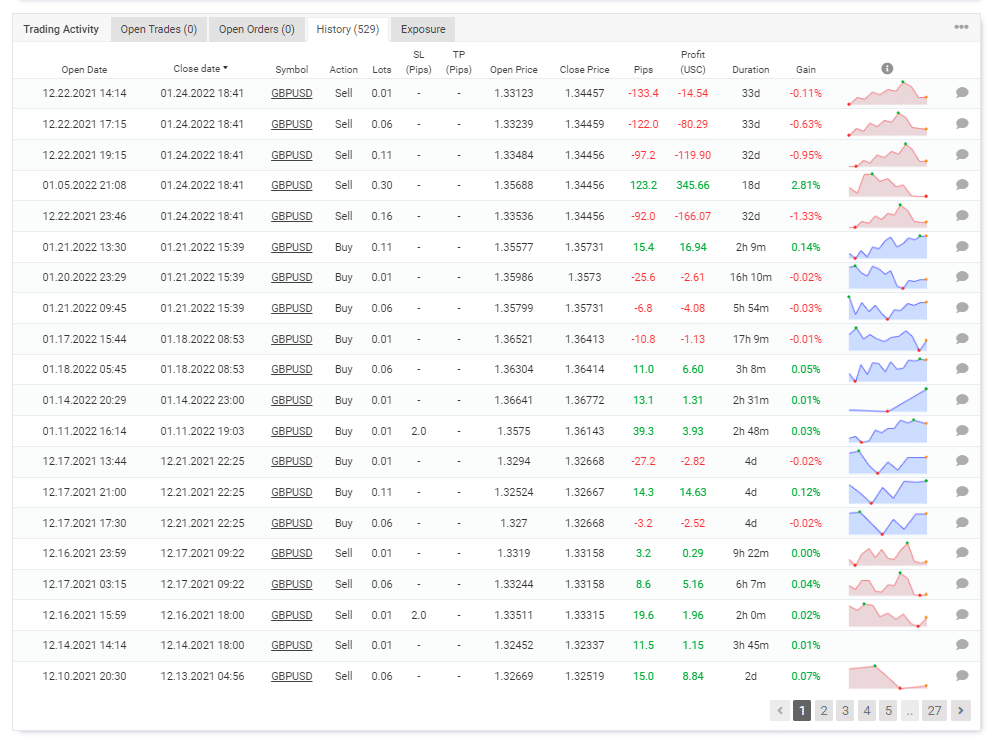 Forex Pulse Detector backtesting report
Backtesting results are available for EURGBP, where the relative drawdown was around 8.03%. The winning rate was 77.57%, with a profit factor of about 4.97. All the tests were done on the 15 minutes chart with a starting balance of $10000. The robot tanked an average profit of $13994.38 during this period. There were 1413 trades in total in which the best trade was $170.38, while the worst one was -$77.01.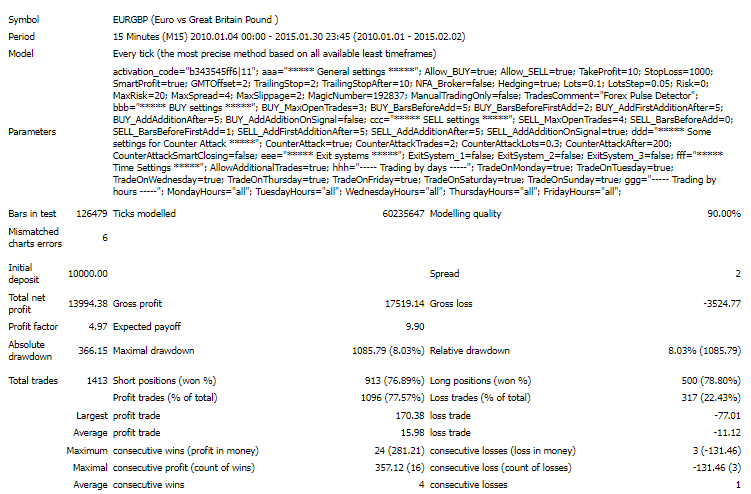 Forex Pulse Detector live results
We witness the live records available on Myfxbook, which shows us the performance from April 14, 2020, till the current date. The algorithm has a total drawdown of 15.52% for the duration, with a total monthly gain of 0.77%. This drawdown value is high when we contrast it with the monthly gains. The total output from the system as of now is at 18.3%.
The winning rate stood at 66%, with a profit factor of 2.06. The best trade was $345.66, while the worst was -$166.07 in a total of 528 executions. There were $10523.47 in deposits and $0 in cashouts. The developer uses a cent account to trade to mitigate the risk.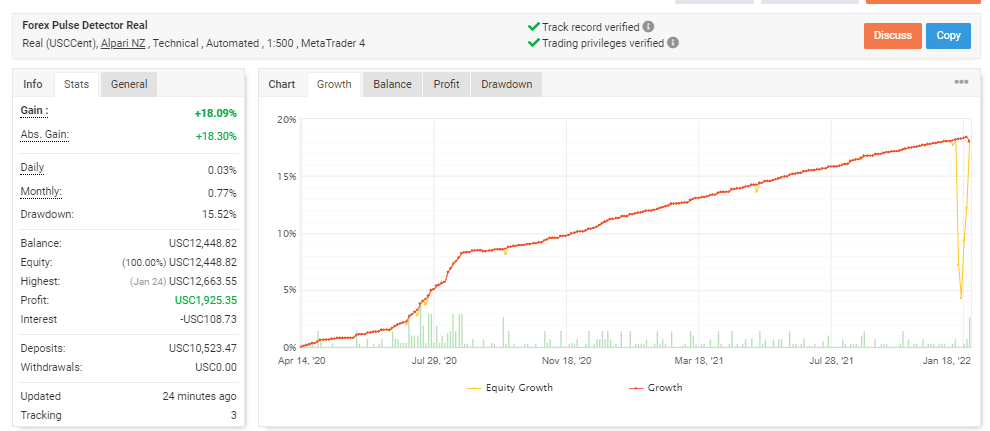 Some features of Forex Pulse Detector
Forex Pulse Detector has the following features:
There is a high spread protection
The robot has a built-in recovery system
Traders can enable high slippage protection
Money management can be enabled to manage risk
| | |
| --- | --- |
| Total return | 18.09% |
| Maximal drawdown | 15.52% |
| Average monthly gain | 0.77% |
| Developer | Automated Forex Tools |
| Created, year | N/A |
| Price | $129 |
| Type | Grid and Martingale |
| Timeframe | M15 |
| Lot size | N/A |
| Leverage | N/A |
| Min.deposit | N/A |
| Recommended deposit | N/A |
| Recommended brokers | Supports all brokers |
| Currency pairs | EURGBP and GBPUSD |
| ECN | Yes |
Main things to consider if you invest with Forex Pulse Detector
Let us go over several things that you need to consider before investing.
Grid and martingale
The robot uses averaging and martingale strategies that can cause a high drawdown if the market trends in one direction. There is also a chance to receive a margin call on the account due to risky methodology.
Developer transparency
The developer states that they have a total trading experience of 12 years but do not provide any certificates or records that could prove it. Lack of transparency is not better for the outlook of the EA.
Pricing details
Forex Pulse detector is available for $129. This will give you a license for 1 real and 2 demo accounts. A 60-day money-back guarantee is included.
Other notes
Automated Forex Tools only has two customer reviews present on Forex Peace Army. There are no comments related to Forex Pulse Detector that we could use to understand the general viewpoint of traders.