Volatility Factor 2.0 is an automated trading tool, which features new improvements that are said to enhance its profitability to a whole new level. As per the vendor, this EA stands out from the competition since it utilizes market psychology to exploit the current market conditions. It is thus able to complete about 1,000 trades annually since it thrives on market volatility. We assess the robot to determine if it is the right investment option for you.
Volatility Factor 2.0 trading strategy
This EA depends on market volatility and the trend to deliver profits. So, the main idea is to capitalize on the prevailing market direction to optimize profit opportunities and decrease risk. The devs tell us that the strategy regularly delivers earnings because many of the trades occur in the direction of the main market impulse. Points of entry and exit are computed in mathematical relation to market volatility borders.
Volatility Factor 2.0 backtesting report
We commend the vendor for furnishing us with the EA's backtest report. Let's see what it says about the system's performance during the testing period.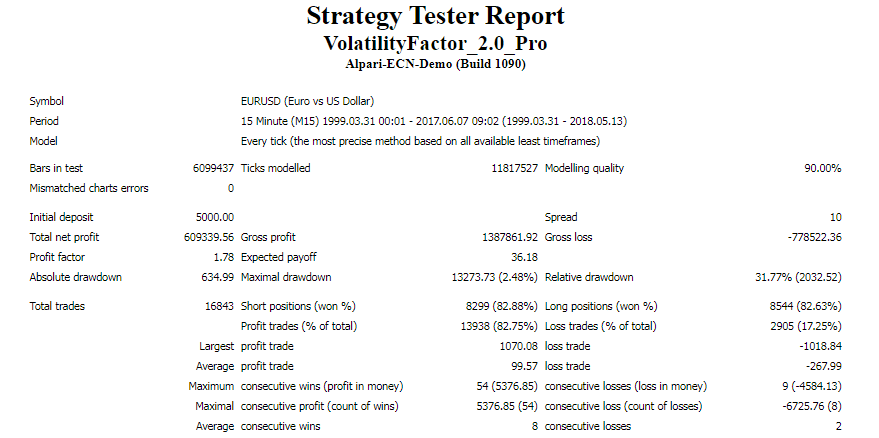 From 1999 to 2017, the system carried out 16843 trades and won 82.75% of them. As a result, a profit of $609339.56 was attained. We can also see that the robot traded with minimal risk because by the end of the test, it had made a drawdown of 2.48%. There was a substantial difference between the average profit trade ($99.57) and the average loss trade (-$267.99). This means that the robot made losses quite often.
Volatility Factor 2.0 live results
The devs have also done a good job by showcasing the robot's live trading data. However, the results are for a demo account.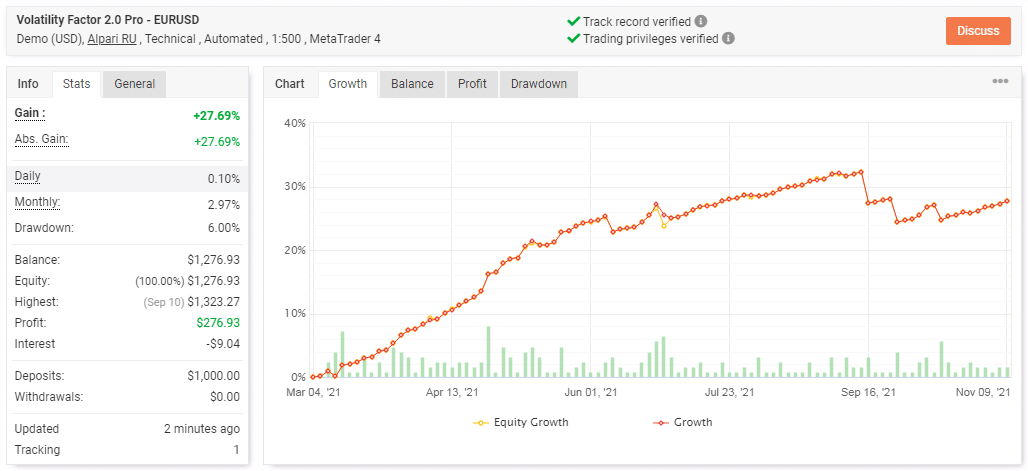 This demo account was just opened a few months ago. According to the data, the robot makes a profit of 0.10% daily and 2.97% monthly. Cumulatively, the gain made so far is 27.69%. This means that a profit of $276.93 has been produced from a $1000 deposit. The peak drawdown was 6%.

The robot has implemented 258 trades with 829.7 pips. We have an unpleasant situation at hand where the average loss (-12.22 pips) is more than the average win (7.02 pips). Apparently, the EA is not bringing enough winnings. The trading algorithm has led to success rates of 78% for long positions and 81% for short ones, as well as a profit factor of 2.07.

The EA is mainly very active between 6 a.m. and 10 a.m. and at 11p.m.

The pips made from short positions (469.3 pips) were higher compared to long positions (360.4 pips).
Some features of Volatility Factor 2.0
| | |
| --- | --- |
| Total return | 27.69% |
| Maximal drawdown | 6% |
| Average monthly gain | 2.97% |
| Developer | FXAutomater |
| Created, year | 2012 |
| Price | $237 |
| Type | Volatility-based market algorithm |
| Timeframe | M15 |
| Lot size | N/A |
| Leverage | N/A |
| Min. deposit | $100-$500 |
| Recommended deposit | $1000-$5000 |
| Recommended brokers | Any MT4 broker |
| Currency pairs | GBPUSD, EURUSD, USDJPY, and USDCHF |
| ECN | Yes |
Main things that make Volatility Factor 2.0 unreliable
Low return on investment
As you have seen from the trading results, the EA has taken about 8 months to make $276. So, if you purchase the robot at $237, you can expect to break even after almost a year. This may be frustrating, especially if you joined Forex with the hope of earning huge sums of money within a short time period.
High losing streak
A comparison between the average win and average loss illustrates an unfavorable trend where the robot loses more than it wins. The situation could worsen and reduce your capital significantly.
Pricing details
The current cost of Volatility Factor 2.0 is $237. At this price, you will get 1 real account, unlimited demo accounts, and a 60-day money-back guarantee, plus other more features.
Other notes
The robot only has 3 reviews on FPA. The first review was written in 2012, while the latest one was posted in 2017. It could be that customers are not using this product anymore.
Two of the three testimonials are negative. As you can see in the screenshots below, one of the traders is complaining about being asked to pay extra for the new updates. The other client talks of how the EA turned a $10000 demo account into a $53 account within 3-4 weeks.