Trality is a platform that unites under one roof various trading solutions. We can trade with trading bots like a professional. So, it's the right time to take a closer look at it.
Trality: first impression
We have various bots that require us to have coding skills to custmoize them.
What's Trality?
It's a platform and bots that can be used on the crypto market.
Using Trality
We have various details and aspects of the system's performance explained.
We can expect that the system manages our orders automatically.
The robot collects data from various exchanges to understand where the market goes.
The system has various advanced tools applied.
It allows us to code bots if we have trading experience.
You can work with various indicators, receiving data from them.
There's a drag-and-drop feature applied for our comfort.
It requires us to know the Python language.
There will be a marketplace for bots created.
Traders are allowed to use over 100 technical indicators.
We can enjoy watching videos of algorithmic trading, getting something new.
The system works on the market all the time.
How to install Trality software?
First, we have to finish registration.
Second, we should pick a package and subscribe for it.
Then, we have to generate API keys and attach the robot to any exchange.
What does Trality have to offer?
Over 100 indicators
The system can receive data from many indicators.
API keys
The robot can work on our account safely.
Automatic trading
All orders will be performed for us automatically.
Trading strategies offered by Trality
There are no details mentioned about trading strategies applied to the bots.
How much does Trality cost?
We have different packages implemented. If we want to use a free package we have to be prepared for a limit of €5000. The smallest tick interval is 60 minutes. There's a single bot and virtual bot. The Knight package i;s available for €9.99. There are features: €25,000 limits, 2 live bots, 2 virtual bots. The Rook pack can be subscribed for €39.99 and it includes €250,000 volumes, 5m smallest tick interval, 5 bots, and 5 virtual bots. The Queen costs €59.99. It's featured by unlimited trading volumes, 1m smallest tick interval, 10 bots, and 10 virtual bots.
Fees & commissions
There are no hidden fees implemented.
Available exchanges
We can work on the different top exchanges: Binance​, ​Bitpanda​, ​Coinbase Pro, Kraken, Binance​.US, and FTX.
Trality company overview
The developers provide only general information about themself Moritz Putzhammer, Co-Founder & CEO. Christopher Helf, Co-Founder & CTO. Andrea Salcedo, Sr. Software Engineer. Ovidiu Popescu, Head of Growth Marketing. Constantin Dißelkamp, ML Engineer. Tamas Hodobay, Sr. Backend Engineer. The company was deployed three years ago in 2019 by Moritz Putzhammer and Christopher Helf.
Trality time in business
They have been working for three years in a row. It's a solid period for a crypto solution.
Customer support and user experience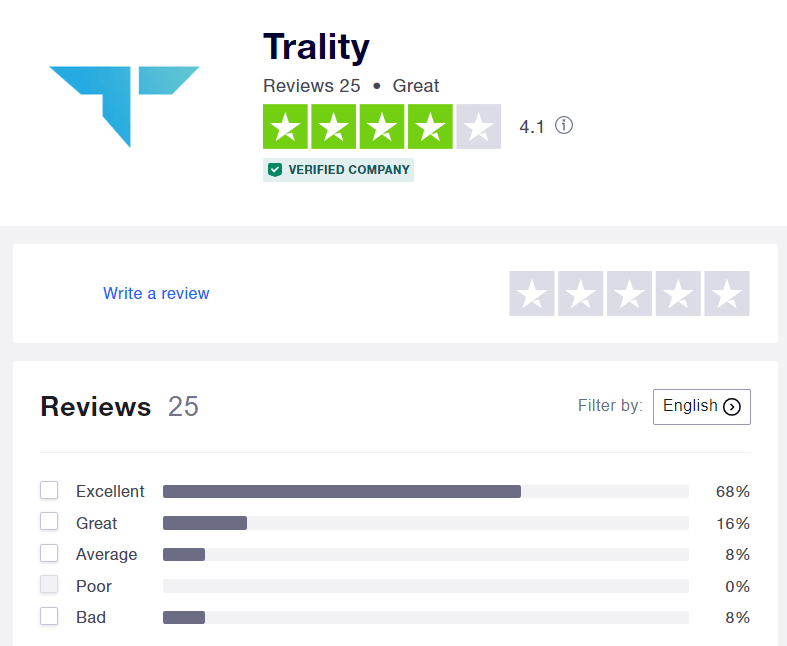 There's a profile of Trality created on Trustpilot. We have only 25 testimonials published.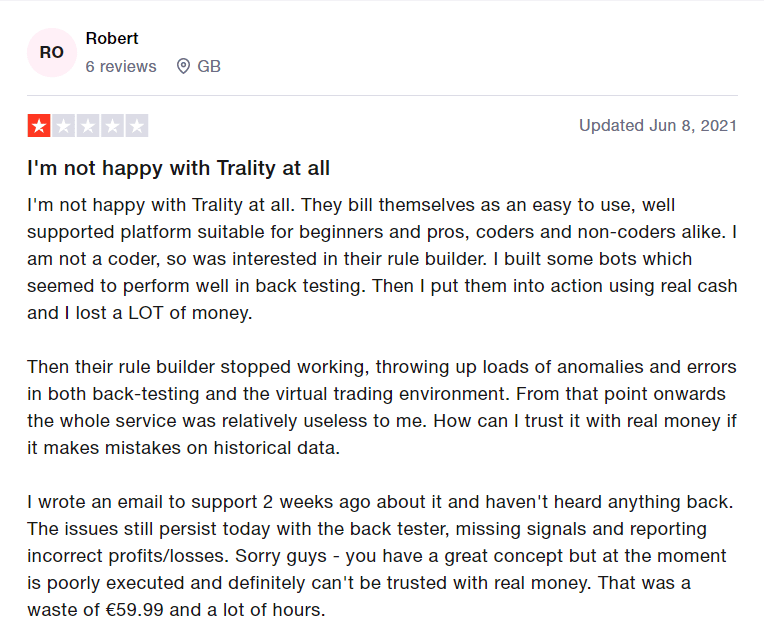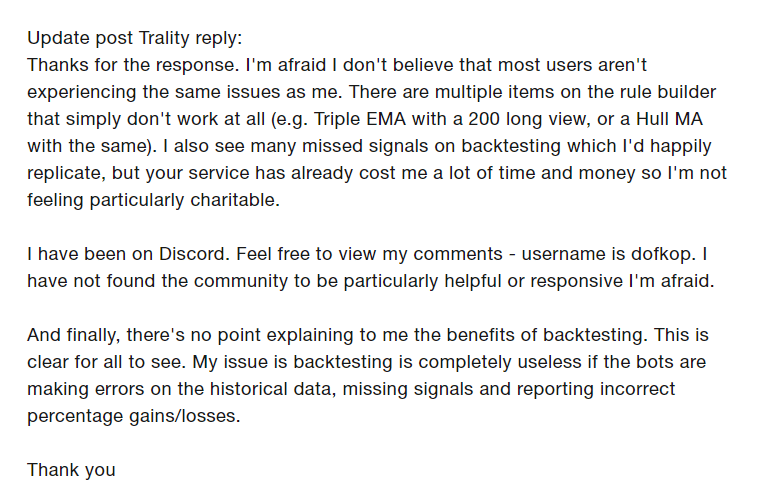 Various former clients couldn't manage to be profitable with this solution on the market.
Is it safe and legal to use Trality?
The system looks safe. It's legal in any country where crypto assets and crypto trading is allowed.
Is Trality for all traders?
Yes. We can use Trality without previous trading experience. If we want to develop or customize it, we should have proper experience.