The NFT mania has gained serious momentum in recent months due to its unusual and wondrous digital notion. Many prominent artists and celebrities have sold and bought these digital assets, including artworks, tweets, and videos for millions.
Moreover, non-fungible tokens generated economic activity of more than $2.5 billion in the first half of 2021, according to DappRadar. This data reveals the surging popularity of these digital tokens, as the NFT sales were only around $94 million in 2020.
The question remains whether this NFT hype would remain alive in the upcoming years or is it just a fad bubble. Before buying these digital commodities or investing in their stocks, understanding the NFT space, working technology, advantages, and limitations is essential.
In this article, we have listed the top five NFT stocks that are worth your consideration.

Three things to know about NFT stocks before starting:
They indicate the shares of institutions that manage or have the potential to associate with NFT projects.
You can trade them on stock exchange platforms like regular stocks.
Investment in such stocks is relatively safe as the companies generate revenue from several additional projects aside from NFTs.
How do NFT stocks work?
They refer to the share of companies with projects related to NFT or deals with this sphere. These tokens are unique and irreplaceable digital assets utilizing blockchain technology like cryptocurrencies. They can be anything from digital artwork to a video clip or tweet.
Moreover, each NFT possesses distinct code and minting data that verify the ownership of these blockchain tokens. After buying an NFT piece, individuals do not get access to some physical object but a specific blockchain address token.
We can say that the buying of NFTs is more about the acquisition of exclusive ownership rights. These non-fungible tokens are mysterious because people are spending thousands and millions of dollars to obtain them.
Furthermore, you can get involved with NFTs in two ways, by directly buying NFTs from a marketplace or investing in NFT stocks.
Reason to use for investors
The basic idea behind investing in NFT stocks is the same as traditional stocks, i.e., to generate gains from the upward price movement of shares in the upcoming years.
With the latest boom of NFTs, investors speculate on the corporations dealing with online digital collectibles and blockchain technology. The NFT craze has boosted the value of companies that have some association with these assets.
However, NFTs are relatively risky investments as their value solely depends on their demand, which could plummet with decreasing demand. Moreover, they have tax implications and depend on Ethereum value.
On the other hand, these terms do not affect the NFT stocks. They are a suitable option for risk-averse investors who also want to benefit from the NFT arena.
In addition, these stocks are reasonably safe investments as the related companies govern various projects in addition to the NFT ones. This diversification can guard your capital in case of diminution of these blockchain assets.


1. PLBY Group, Inc. (PLBY)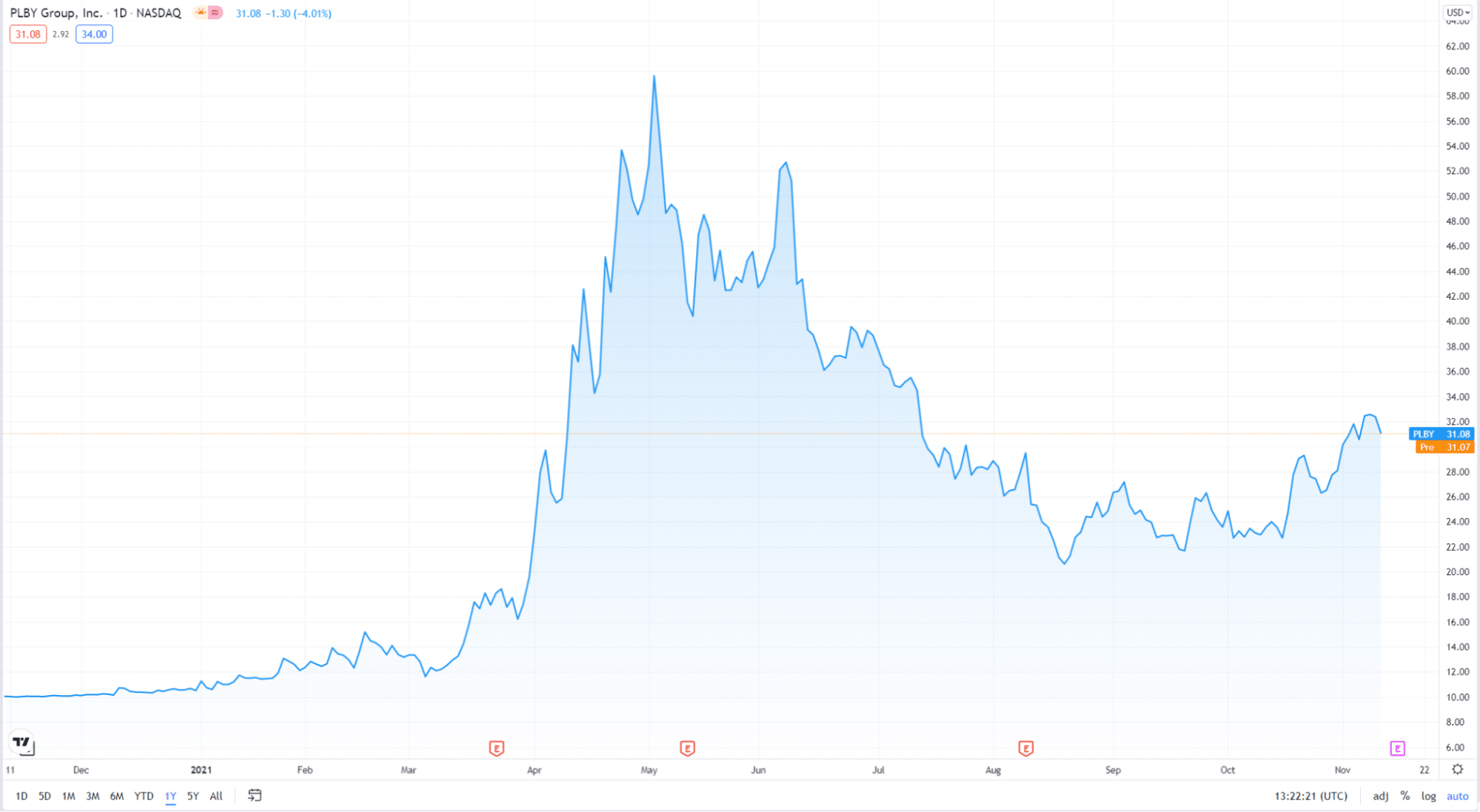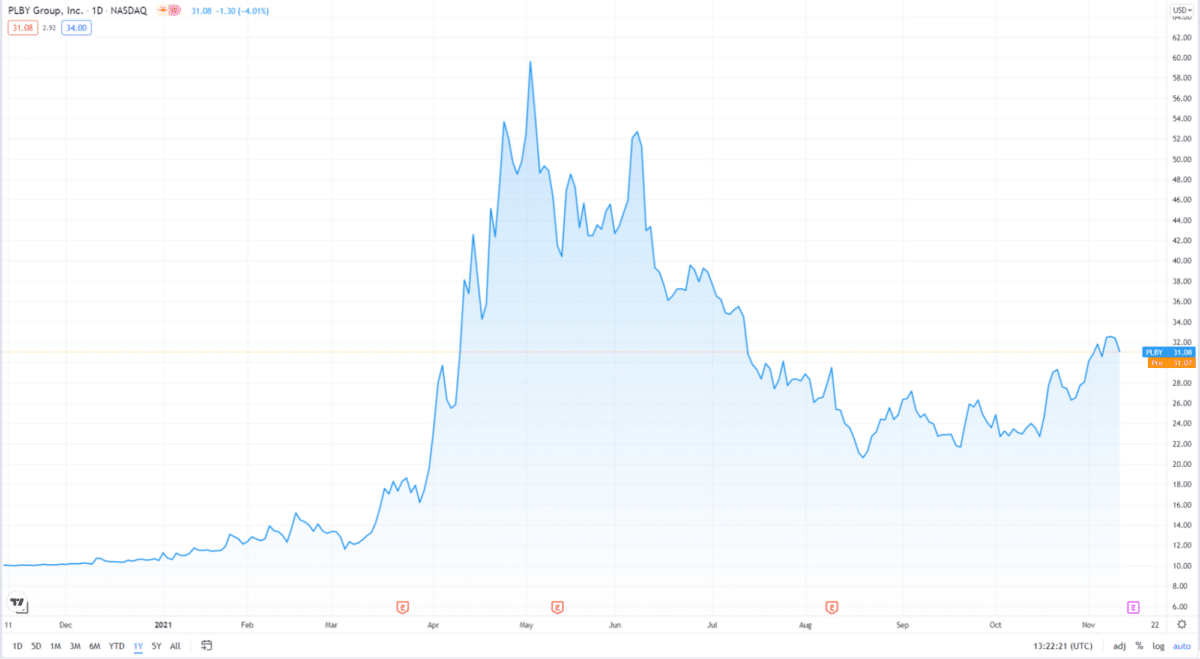 PLBY Group Inc. is a Los Angeles-based leisure company that offers many services and products, including arousal products, apparel for men and women, digital games, and beauty products.
Earlier this year, this organization's brand, Playboy, reported its interest in displaying NFT art pieces in a joint venture with Miami Beach Art Collection. The announcement caused a jump in the stock shares' price and signaled a potential NFT incorporation in the PLBY firm.
Currently, the company has a market capitalization of 1.3 billion and 41.1 million outstanding shares. At the time of writing, the stock price is $32.38, with a promising one-year target of $4.20.
2. Hall of Fame Resort & Entertainment Company (HOFV)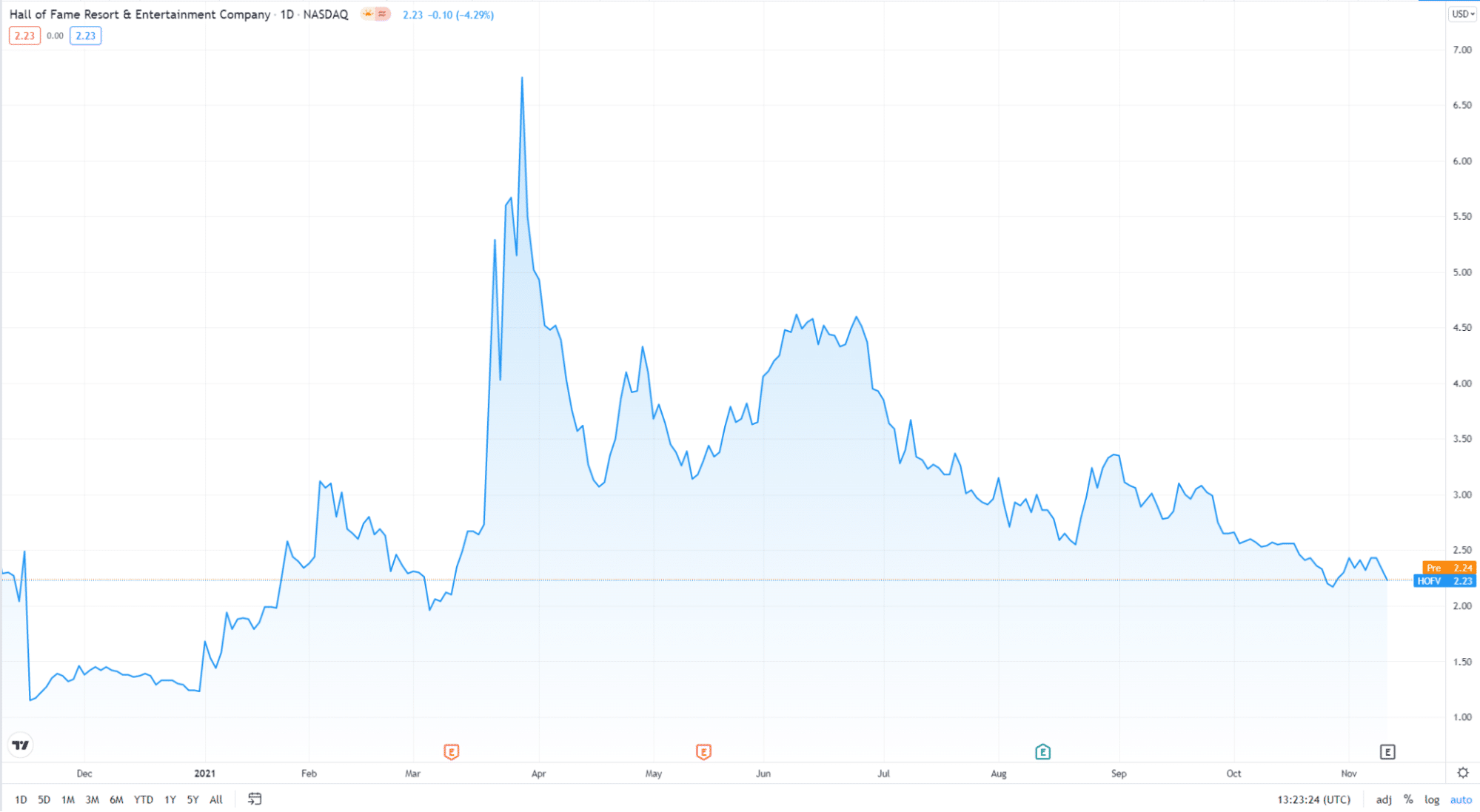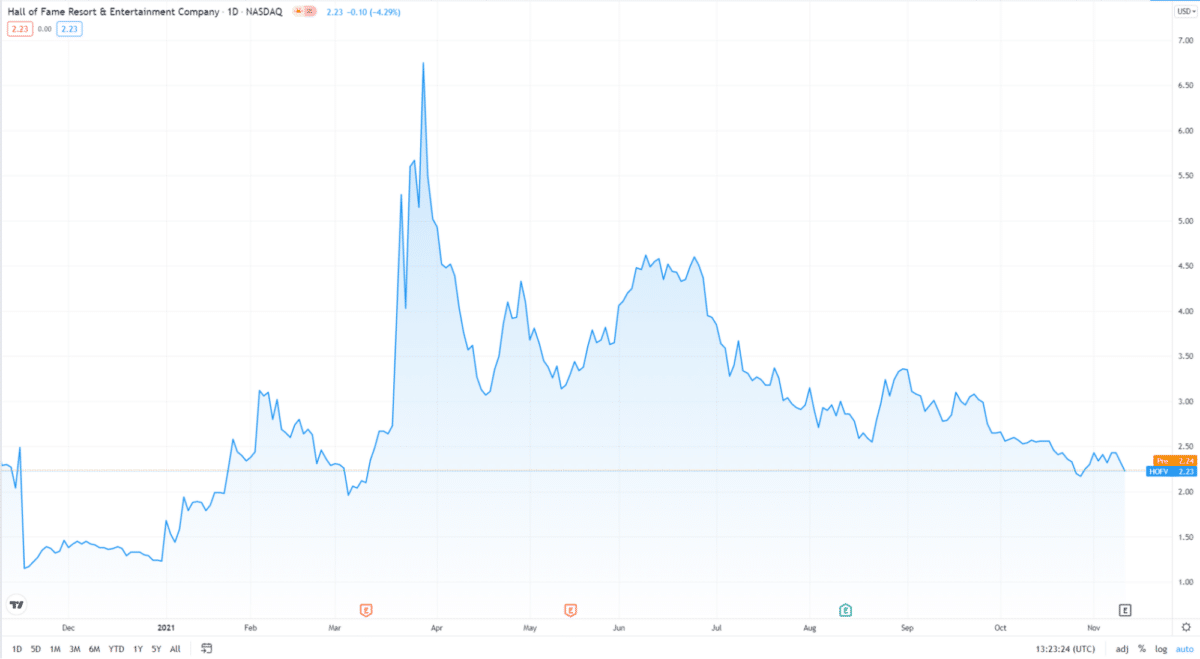 Hall of Fame Resort & Entertainment is an Ohio-based entertainment, sports, and media company targeting football lovers. This corporation has been operational since 2020 and is a fusion of HOF Village, LLC., and Gordon Pointe Acquisition Corp (GPAQ).
In August 2021, the company announced the launch of a playbook in partnership with Dolphin Entertainment. The playbook would be an NFT collectible series exhibiting the careers of six famous athletes.
This disclosure resulted in the increase of HOFV stock price to more than 5%. The company has a total market capitalization of 231 million with 95 million shares in circulation. Currently, the HOFV price is about $2.23.
3. Cinedigm Corp. (CIDM)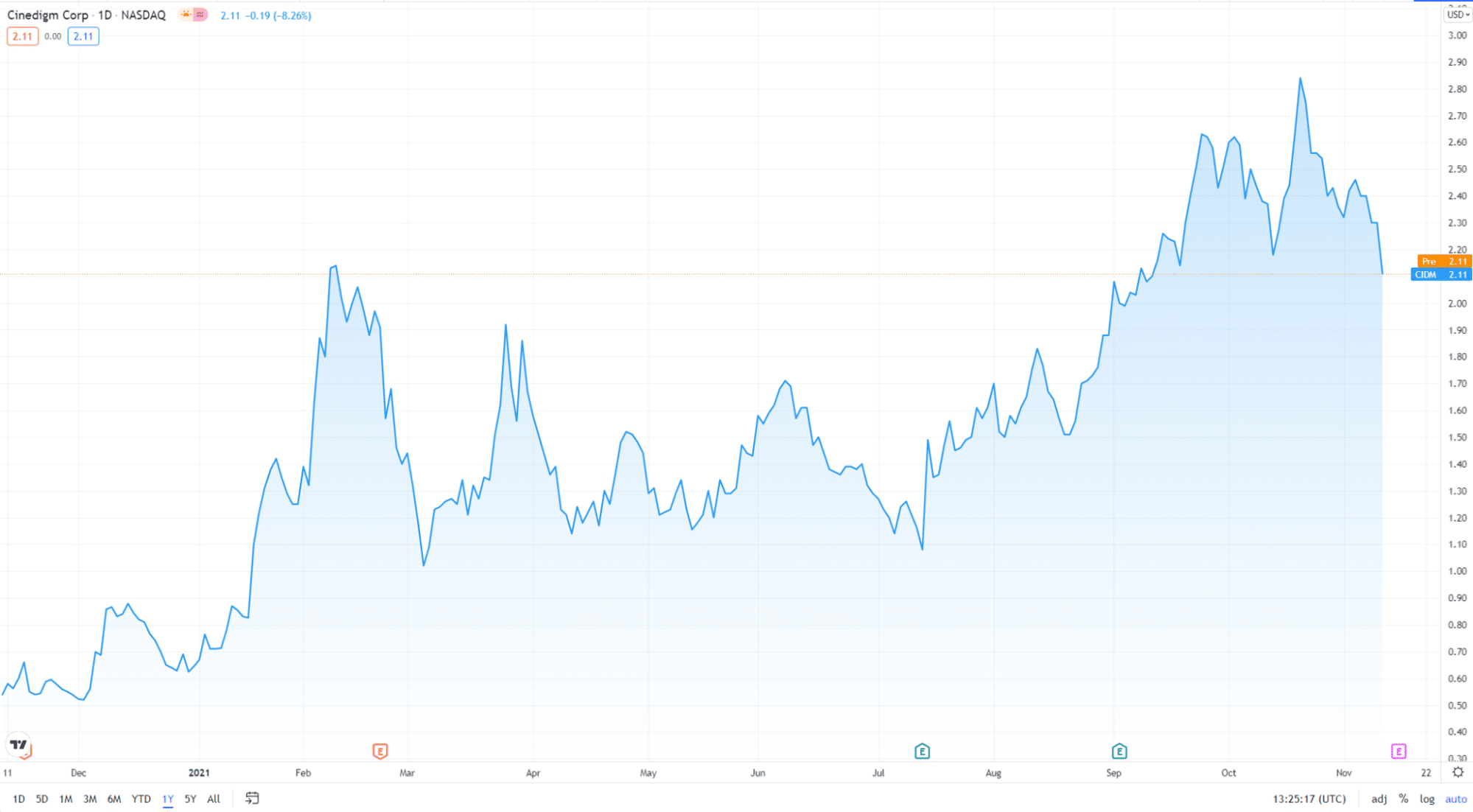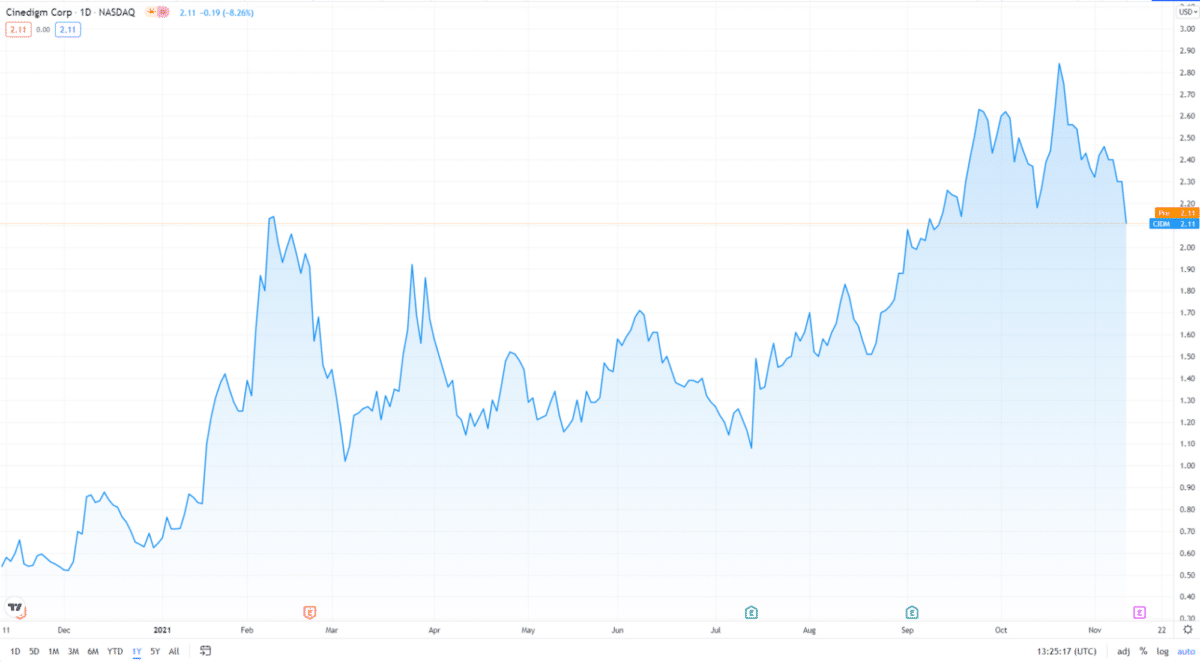 New York-based Cinedigm Corp. is a digital marketing company focusing on movies, short films, and TV series. Moreover, it collaborates with other brands to distribute and market entertainment and media content to targeted audiences.
In April 2021, Cinedigm launched its NFT film label, Fandor, which would release limited edition classic movies. The company has a market capitalization of over 405 million and an enterprise value of about 400 million.
Currently, the price of CIDM is $2.11, with a one-year estimated target of $4.25.
4. ZK International Group Co., Ltd. (ZKIN)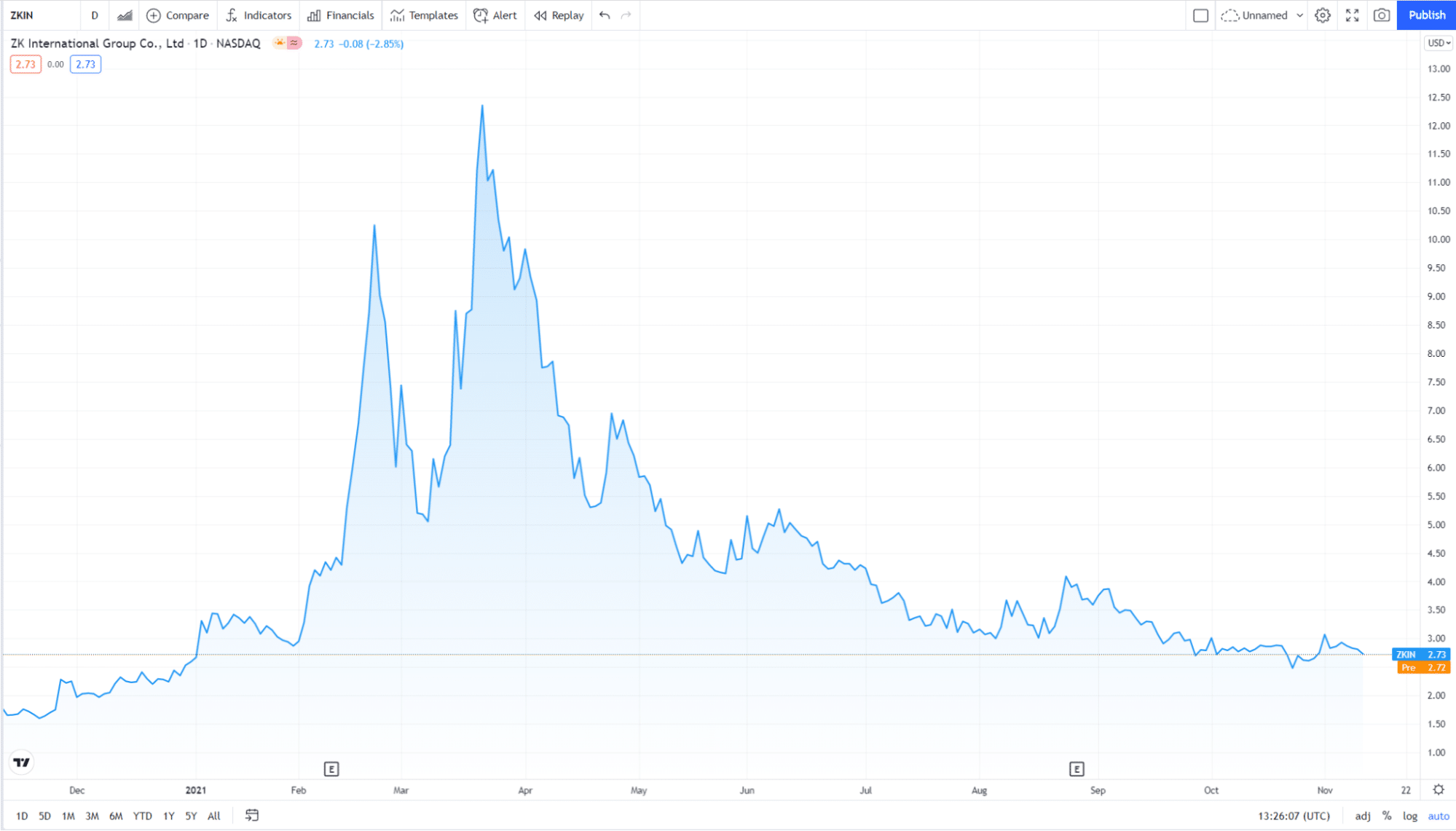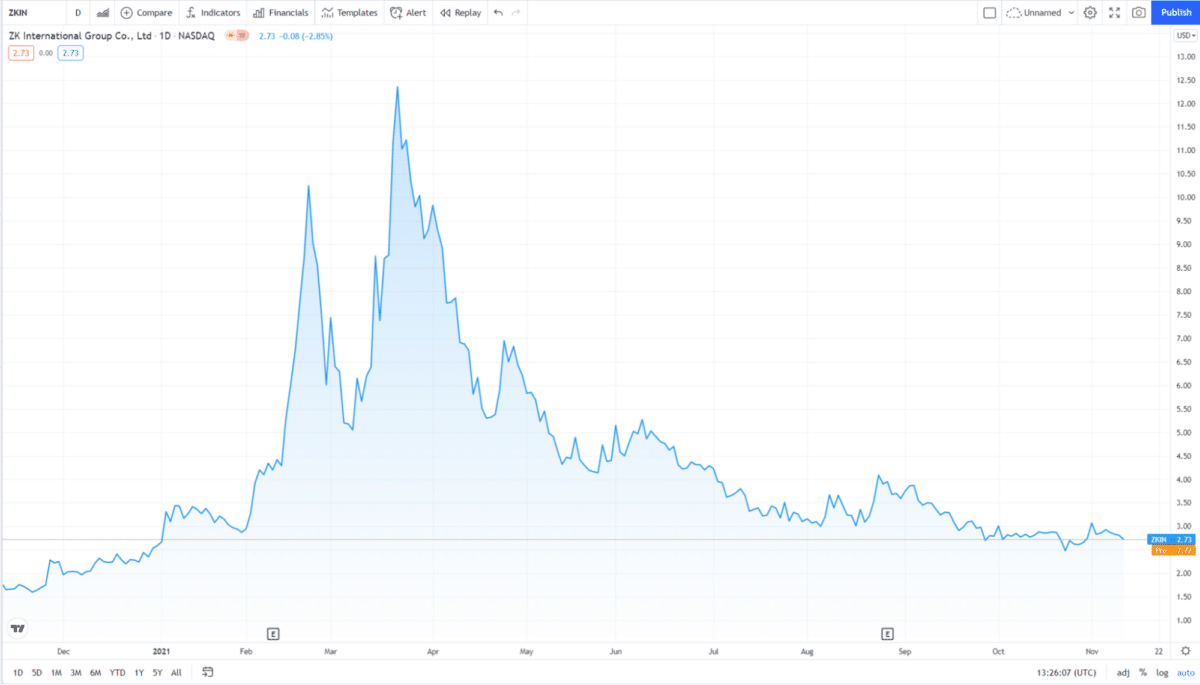 ZK International Group Co. Ltd. and its subsidiaries deal with the production and design of stainless and carbon steel, tubes and pipes, and other accessory items. Earlier this year, xSigma Corporation, a unit of the ZK group, developed a blockchain smart contract to introduce a non-fungible token marketplace.
This China-based company's market capitalization is about 74.4 million and shows a revenue statement of 88.85 million. The number of outstanding shares stands at 25.9 million with a 4.96 revenue per share.
At the time of writing, ZKIN stocks are trading at $2.73.
5. Takung Art Co., Ltd. (TKAT)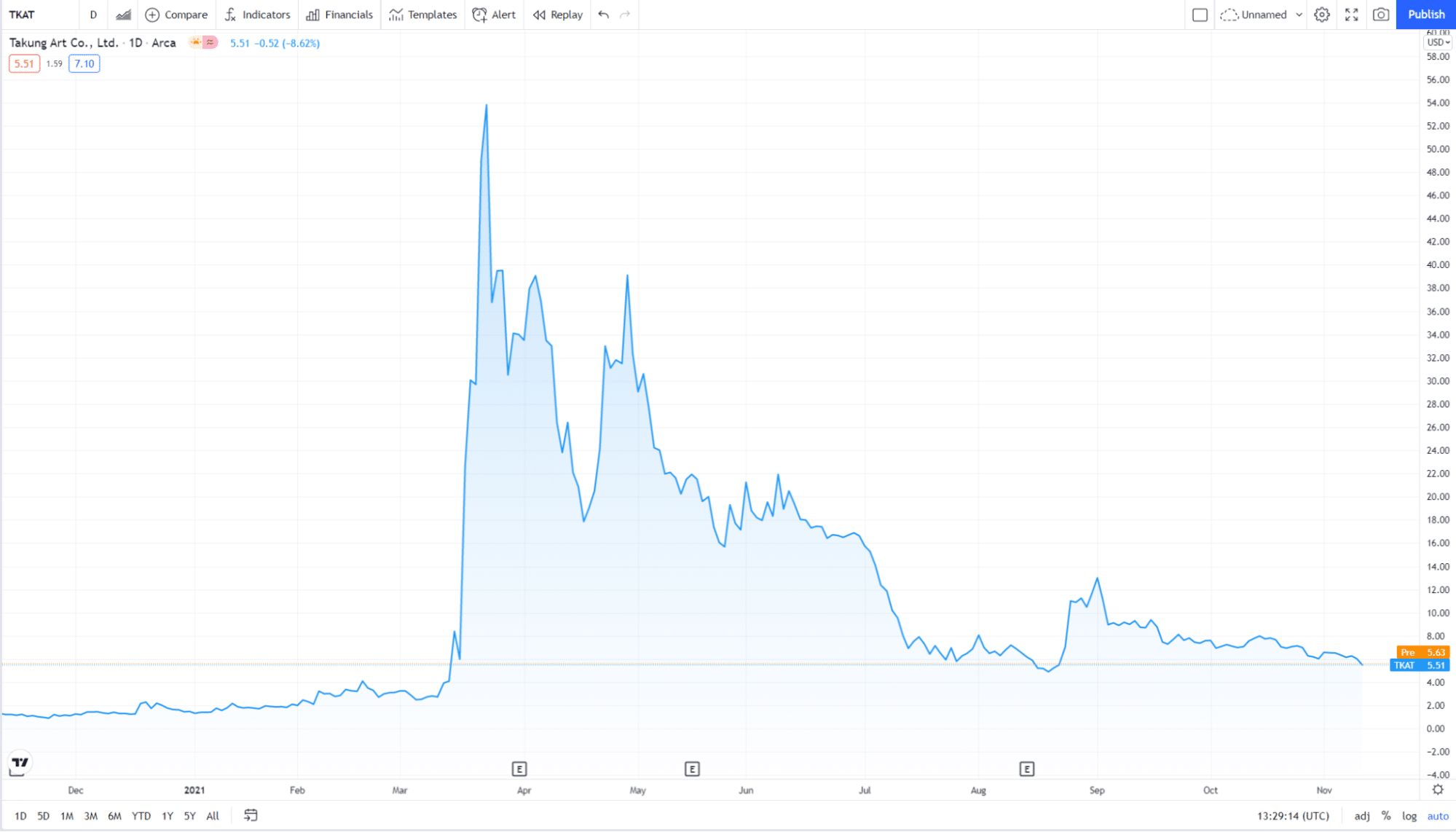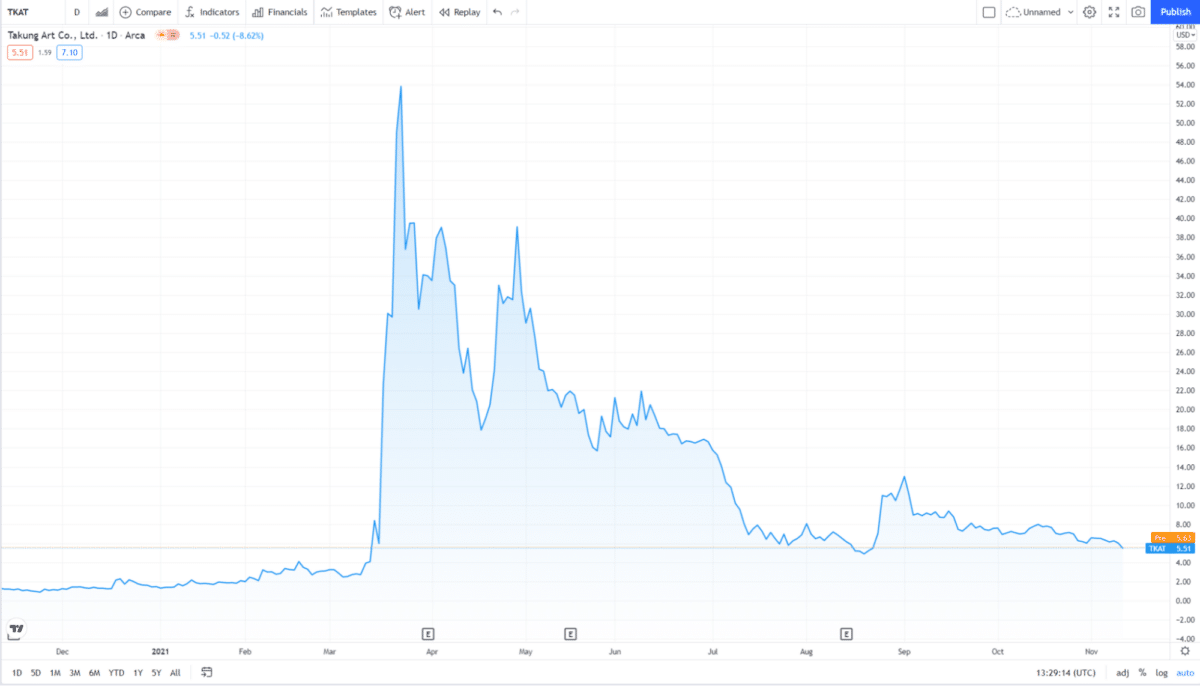 Takung Art Co., Ltd provides an electronic platform to art dealers, investors, and artists to trade valuable art pieces. This Hong Kong-based company offers a variety of items, including sculptures, paintings, calligraphy, and crafts.
Takung Art displayed the perfect impact of the NFT frenzy in the early months of 2021. Within one or two days, the company's stock price jumped from $4 to near $40.
The market capitalization of this corporation is above 70 million, with 12 million outstanding shares. Currently, the share price of TKAT is $6.03.
Pros & сons
NFT stocks can settle on a bullish momentum soon; however, they also have limitations. Some of their pros and cons are.
Worth to use
Worth to getaway
Easier to buy and sell
NFT stocks are suitable for beginners and new investors. Users can easily trade them through online brokerage platforms.
Dependent on demand and sentiment
NFTs extract their value from consumer demand. A dropping public sentiment can exponentially decrease their worth.
Smart contracts technology
Blockchain and the "smart contract" technology of NFTs indicate the authenticity of these digital assets.
Risk of capital loss
Investment in NFT stocks can result in a complete loss of your initial capital if the related company loses value.
Growing potential
The growing interest of companies to capitalize on NFTs has re-confirmed the growth potential of these tokens.
Security concerns
Blockchain technology's security has remained controversial due to several examples of security breaches and hacker attacks.

Final thoughts
Investment involves speculative elements, but sufficient expertise and knowledge of economic and financial behaviors can mitigate this risk. Investment in NFTs stocks can blunt the dangers that branch from direct investment in non-fungible valuables.
Professionals are constantly picking out companies with the potential to introduce and expand their NFT projects. The NFTs blockchain technology with its smart contract aspect reiterates the promising prospect of these digital assets.