Steel and its alloys have various applications due to their tensile strength and reasonable production costs. This silver hard metal is one of the most critical raw materials in the infrastructure, automotive, building, and equipment sectors.
The metal's ever-increasing and unrelenting demand is a positive indicator for investors to take advantage of this sphere. According to the World Steel Association report for 2021-2022, the steel demand would grow by 4.5% in 2021 and further 2.2% in 2022, climbing up to 1.855 billion tons.
So, do you want to know about some steel stocks that can help you capitalize on this trend? Read this write-up to learn about the top-performing steel stocks for gaining profits in 2022.
Three things to know about the steel stocks before starting:
These assets are shares of steel or steel alloys manufacturing and mining companies.
They have demonstrated exceptional growth due to surging steel demand in the last 12 months.
They are good value stocks with relatively lower prices to buy and hold long-term.
Steel stocks: how do they work?
Steel stocks refer to the shares of steel manufacturing and distribution companies. The companies process steel by scrapping metal, smelting ores, and solidifying it in various shapes. Stainless steel, carbon steel, and alloy steel produced by these firms have countless applications in the transportation and buildings infrastructure.
Correspondingly, steel stocks have long remained an excellent product for investors to achieve consistent annual gains.
The industry faced a severe hit due to the Covid-19 turbulence resulting in the crashing prices of steel stocks. However, solid and well-built companies have recoiled to the pre-pandemic levels while some have broken the previous all-time highs.
What to check before choosing steel stocks?
Though the steel industry has promising growth potential, not all steel stocks are the same. Investors should carefully decide on their investment strategy before buying a stock.
Moreover, it is essential to look at the companies' fundamentals to specify their valuation and potential. The P/E ratio, debt ratio, and P/B ratio can help determine a stock's intrinsic value concerning the market prices.
In addition, analyze a company's size, market capitalization, and revenue growth to enumerate the firm's stability and associated risk. Dividend-paying stocks can also help magnify the long-term gains if the payouts get re-invested.
Lastly, keep track of the steel-related news, trade policies, and import-export costs as they can heavily impact the relevant stocks prices.
Best steel stocks to buy in 2022
1. Nucor Corporation (NUE)
Price: $114.89
It is the most popular North Carolina-based steel producing company that manufactures and supplies steel or steel-related products. Its 'Steel Mills' branch deals with producing rolled, galvanized, and plate steel items. At the same time, its 'Steel Products' segment specializes in developing steel conduits, tubing, joists, and grating products.
The firm also operates a 'Raw Materials' branch that manufactures iron alloys, processes scrap metal, and conducts drilling operations.
Nucor has a total market capitalization of 32.8 billion, with approximately 286 million shares.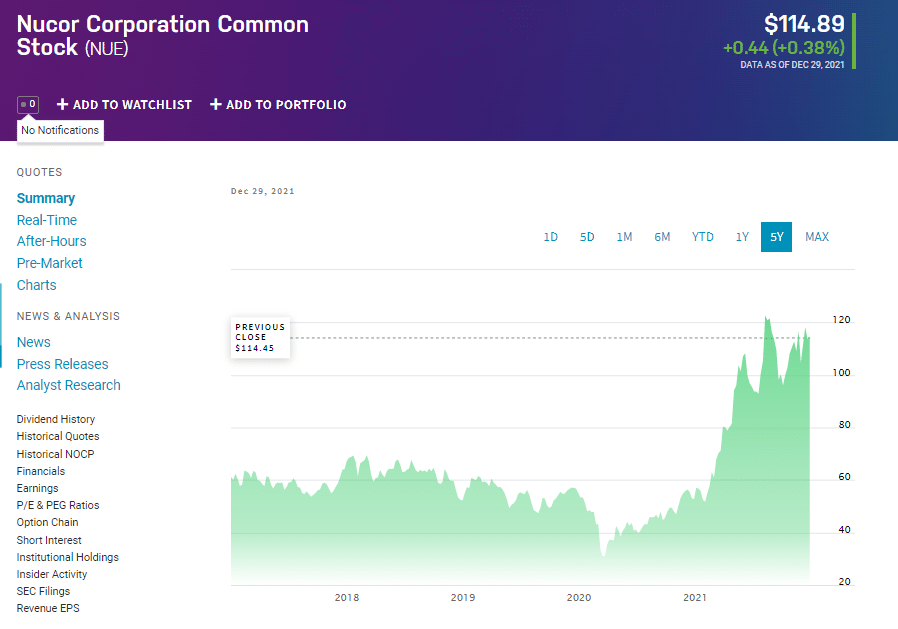 In the last 12 months, the company has generated more than 31 billion in revenue, showing remarkable quarterly revenue growth of 109.30%. Nucor pays dividends and has a forward annualized dividend rate of $2.
The corporation rebounded with the subsiding effects of the pandemic and showed an excelling performance in 2021 compared to the pre-covid period. Its current earnings per share and P/E ratio stand at $16.7 and 6.87%, respectively.
2. Arcelor Mittal (MT)
Price: $32.43
It is a Luxemburg-based steel manufacturing and mining company that distributes its products to the automotive, construction, machinery, and engineering industries. The company is operational in North and South America, Europe, Africa, & Asia and produces various steel products, including coils, slabs, sheets, pipes, rails, and wire products.
Arcelor also specializes in the production of mining items such as pellets, concentrates, and iron ore lumps. The company's market capitalization is around 30 billion, with more than 900 million shares outstanding.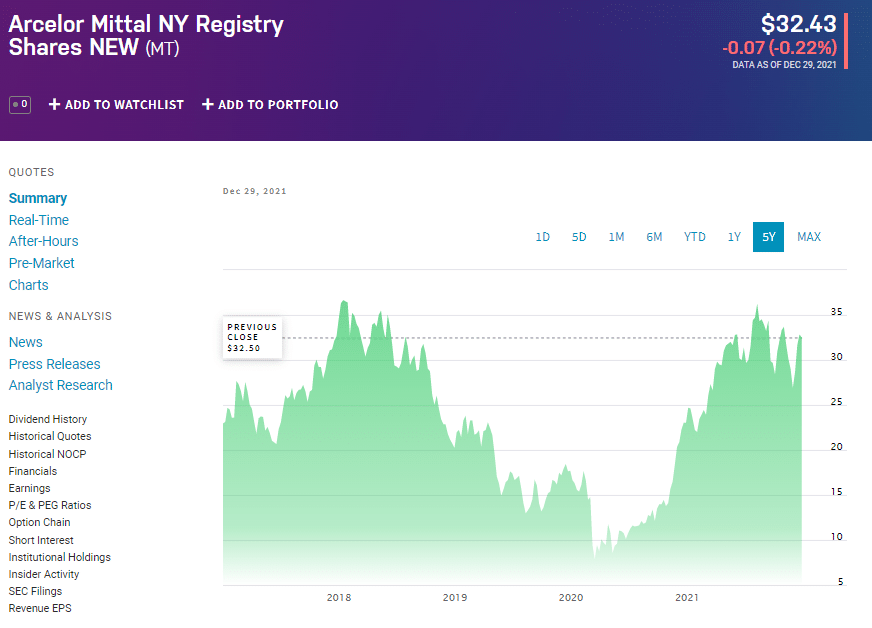 The company has reported a gross profit of 4.84 billion in the last 12 months. Moreover, its revenue per share and earnings per share are about 60.29 and 10.55, respectively.
Due to the solid foundation and robust management & operations of Arcelor, it has effectively recovered from the pandemic devastation. The latest quarterly revenue growth rate is about 52.5%.
3. Cleveland Cliffs (CLF)
Price: $20.78
Previously known as Cliffs Natural Resources, Cleveland Cliffs is the largest flat-rolled steel-making company in North America. The company deals with the mining and pelletizing of direct reduced iron as well as steel production, stamping, tubing, and tooling.
The company has a market capitalization of 10.3 billion, with around 500 million shares outstanding. The company's income statement has displayed a revenue generation of 17.5 billion in the past year showing explosive quarterly revenue growth of 265%.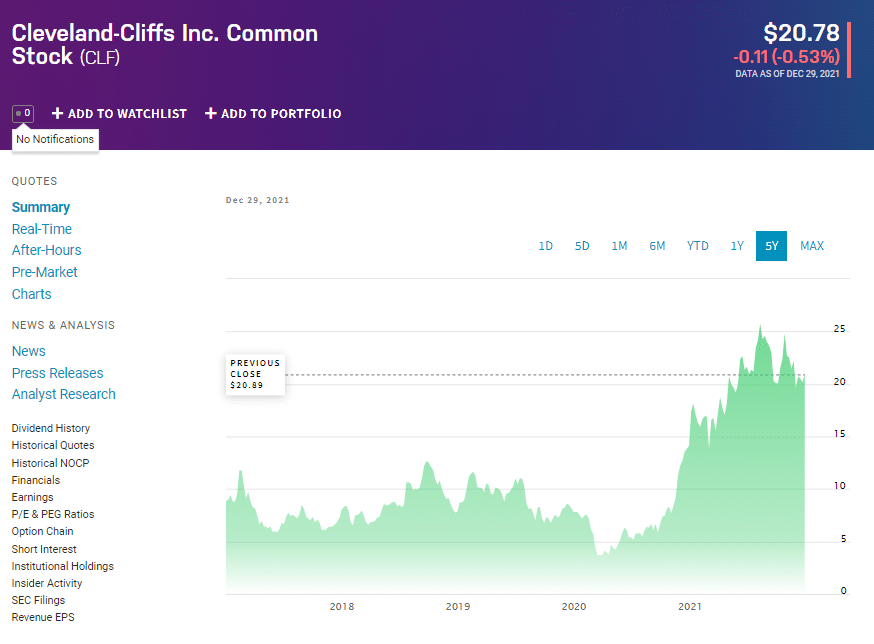 With the termination of corona lockdowns and restrictions, most steel stocks, including Cleveland Cliffs (CLF), manifested a price spike. This price surge was mainly due to the increasing global demand for steel and reduced suppliers.
Pros and cons
Here, we have discussed the most prominent advantages and drawbacks of investing in steel stocks.
| | |
| --- | --- |
| Worth to invest | Worth to getaway |
| Steel stocks have excellent growth capacity due to the metal's elevating global demand and its absolute necessity in building infrastructure. | Steel stocks may face a dormant phase or decline in price after the pent-up demand gets fulfilled. |
| Steel stocks incorporate significant liquidity and moderate volatility suitable for most investors. | All steel stocks are not equal, and there is aggressive competition within the industry; therefore, a wrong investment choice can cause significant losses. |
| The majority of steel companies distribute dividends that can enhance investment returns. | Like all investment products, steel stocks involve the risk element that can result in loss of the initial capital. |
Final thoughts
Steel stocks have outperformed the average stock market returns in recent months due to steel's expanding demand and production shortage. Due to the rejuvenation of the steel industry after the pandemic turmoil, investors are optimistic about the steel stocks' valuation.
However, steel investment products have certain limitations, so investors should carefully manage asset allocation according to their risk tolerance and financial goals.