Hippo Trader Pro is a fully automated Forex trading system. The vendor claims that the system has been tested for a period of 17 years and for every year it had a high profit/drawdown ratio. It is an EA that analyzes the market without using obsolete patterns and indicators. The robot mainly remains active during the European and Asian trading sessions.
Hippo Trader Pro trading strategy
Hippo Trader Pro looks for the main trend and makes its entries based on volatility with the help of the ATR filter. It predicts the likely future trend using trend patterns. In order to identify the trend, the EA uses the Relative Vigor Index oscillator.
Hippo Trader Pro backtesting report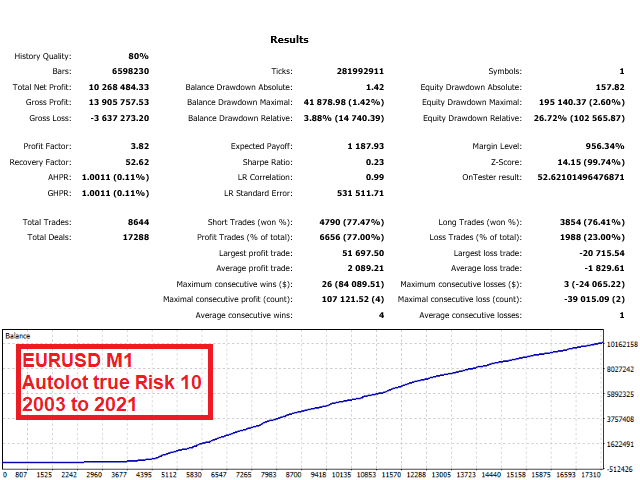 This backtest was conducted on the EUR/USD pair for the M1 timeframe. From 2003 to 2021, the EA conducted a total of 8644 trades, winning 77% of them. The total profit generated during this backtest was $10268484.33. There were 26 maximum consecutive wins and 3 maximum consecutive losses during the testing period. The profit factor was quite satisfactory at 3.82 while the relative equity drawdown was 26.72%.
Hippo Trader Pro live results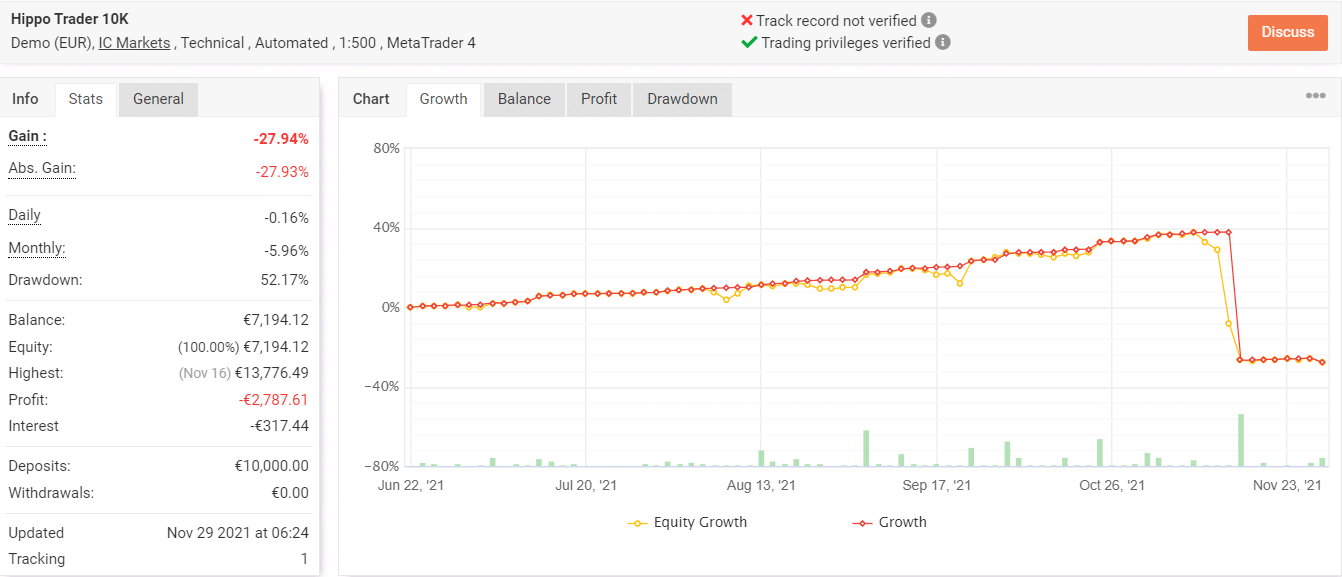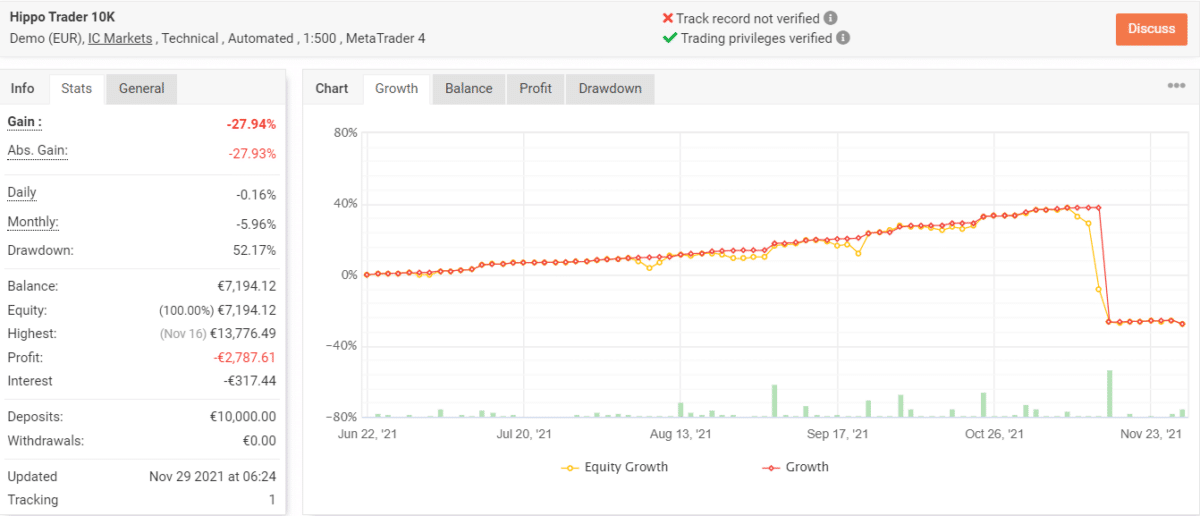 This demo trading account on Myfxbook has been active since June 22, 2021 to November 26, 2021. TFor this time it conducted 202 trades through this account. It had a win rate of 63%, which was significantly less than what we saw in the backtest. In spite of winning most of its trades, the EA suffered some heavy losses, due to which the account experienced a loss of -€2,787.61. The daily and monthly gains were -0.16% and -5.96% respectively, while the drawdown was 52.17%. Such a high drawdown indicates a risky trading strategy applied.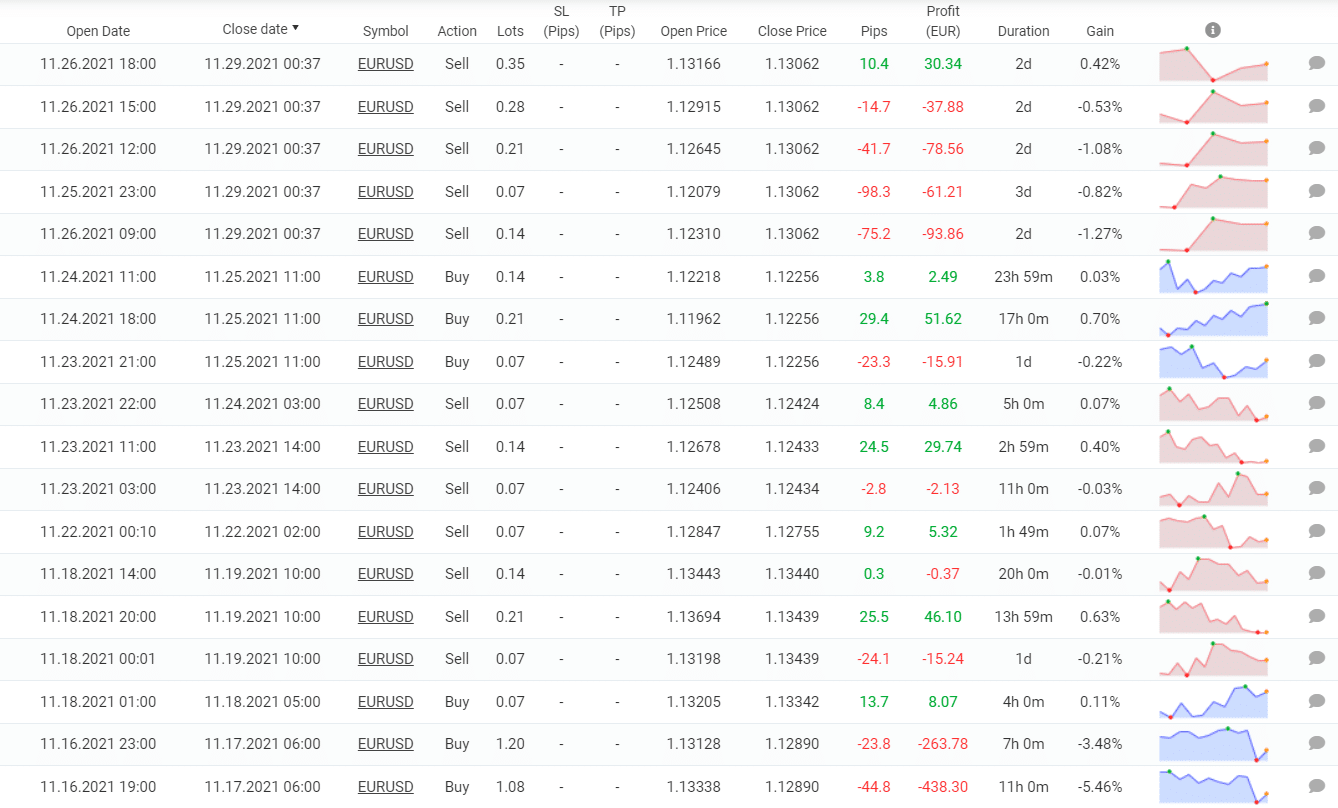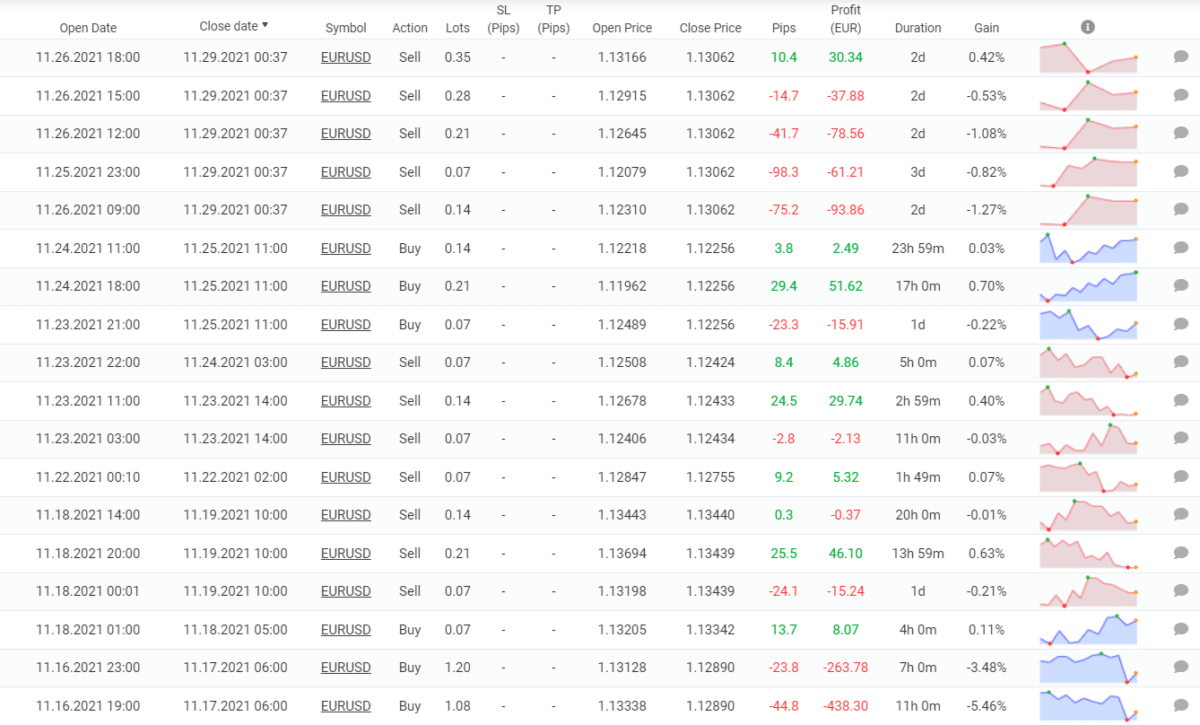 Here we have the recent trading history for this EA. It is evident that the robot was prone to suffering heavy losses back to back. In fact, out of the last 20 trades placed through this account, most have ended in losses. The average win and loss for this account were 19.64 pips/€52.52 and -48.22 pips/-€128.52, respectively.
Some features of Hippo Trader Pro
Hippo Trader Pro only works on the EUR/USD pair for the M1 timeframe. It is a FIFO-compliant system with a global stop loss set at $1000 for every 0.01 lot size. You can use this robot with any broker. The minimum deposit amount is $1000, but the vendor recommends using at least $3000 for best results. For the live trading account, the EA trades with 1:500 leverage.
| | |
| --- | --- |
| Total return | -27.94% |
| Maximum drawdown | 52.17% |
| Average monthly gain | -5.96% |
| Developer | Michela Russo |
| Created, year | 2021 |
| Price | $299 |
| Type | Trend |
| Timeframe | M1 |
| Lot size | $1000 per 0.01 lot |
| Leverage | 1:500 |
| Min. deposit | $1000 |
| Recommended deposit | $3000 |
| Recommended brokers | Any |
| Currency pairs | EUR/USD |
| ECN | No |
Main things to consider if you invest in Hippo Trader Pro
Here are some of the things you need to keep in mind if you are interested in this EA:
Lack of vendor transparency
We have no background information on the developer other than the fact that they are based in Italy. They have not provided any official email address. Also, we don't know whether they work alone or as a part of a team.
Poor live trading performance
This robot has lost more than it has won in the live market. The verified results show us that the win rate is decent enough. However, due to the high drawdown, the EA often suffers heavy losses.
Decent backtesting performance
During a 17-year test, the EA won 77% of its trades. It had a high profit factor and the drawdown was not extremely high. Hippo Trader Pro managed to win quite a large profit during this test.
Pricing details
The current price of the EA is $299. There are 1-month and 3-months rental plans priced at $199 and $269, respectively. Unfortunately, there is no money-back guarantee offer.
Customer reviews


There are no reviews for this EA on third-party websites. The ones present on MQL5 cannot be considered authentic.