Exchange-traded funds are a basket of securities that give significant exposure within one industry or numerous industries; hence known for their diversification. Restaurant ETFs are among the most prominent investment products that incorporate one-industry stocks, i.e., the restaurant or food sector.
The restaurant industry is under a recovery phase with the abating Covid-19 turbulence. The re-initiation of restaurant sector growth is a green signal for most investors to benefit from the rising trend.
According to the latest Statista forecast, the worldwide restaurant industry's market size can reach 1.7 trillion dollars by 2027, compared to 1.2 trillion dollars in 2020.
Read this article to know about the top three restaurant ETFs that can supply substantial profits with long-term holding.
Three things to know about restaurant ETFs before starting:
They provide an investment opportunity in the cyclical restaurant industry.
EATZ is the only ETF that exclusively invests in restaurant businesses.
They demonstrated outstanding growth due to global economic recovery in the last 12 months.
What are restaurant ETFs?
Restaurant ETFs are a collection of stocks that belong to the consumer cyclical, food, and restaurant sectors. They specialize in providing investors access to diverse fast-food chains and restaurants across the industry. Moreover, these funds offer various advantages such as portfolio diversification, tax efficiency, and low-cost investing.
People love to dine out and engage in leisure activities; consequently, restaurant spending will most likely continue to increase in the upcoming years. Though the industry faced a major decline during the pandemic, the year 2021 witnessed the recovery of all major cyclical sectors and the reopening of the global economy.
Moreover, investors are optimistic about restaurant-sector investments due to the significant pent-up demand and growth potential.
How to select restaurant ETFs?
All restaurant ETFs are not the same, and it is essential to gauge some factors before selecting an ETF for long-term holding. Firstly, look at a fund's benchmark index and determine its trading costs. A higher expense ratio can eat out a significant portion of investment profits.
Moreover, assess the fund's liquidity and average trading volume to get an idea about its trading activity. Highly liquid funds usually have tight bid-ask spreads that are favorable for investors.
In addition, select ETFs with minimal tracking error to take full advantage of the underlying index performance.
Top three restaurant ETFs to HODL in 2022
Most restaurant ETFs hold several food and beverages or consumer staples stocks along with the restaurant stocks. As of now, only one ETF, i.e., EATZ, is dedicated solely to the restaurant industry. Here, we have compiled a list of top-performing restaurant ETFs for securing consistent profits in the upcoming year.
1. The Invesco Dynamic Leisure and Entertainment ETF (PEJ)
Price: $49.57
Expense ratio: 0.55%
The Invesco Dynamic Leisure and Entertainment ETF seek the investment results of the Dynamic Leisure & Entertainment Intellidex℠ Index. The index consists of around 30 US companies associated with producing and distributing goods or services in the entertainment and leisure industries.
The fund invests approximately 90% of its assets in stocks of the underlying index that includes companies ranging from small-cap to large-cap.
This fund has been operational since 2005 and trades on the NYSE Arca exchange. PEJ has $1.36 AUM and more than 26.7 million shares outstanding. According to the fund's latest monthly report, its YTD and 5-year NAV growth stand at 14.5% and 3.58%, respectively.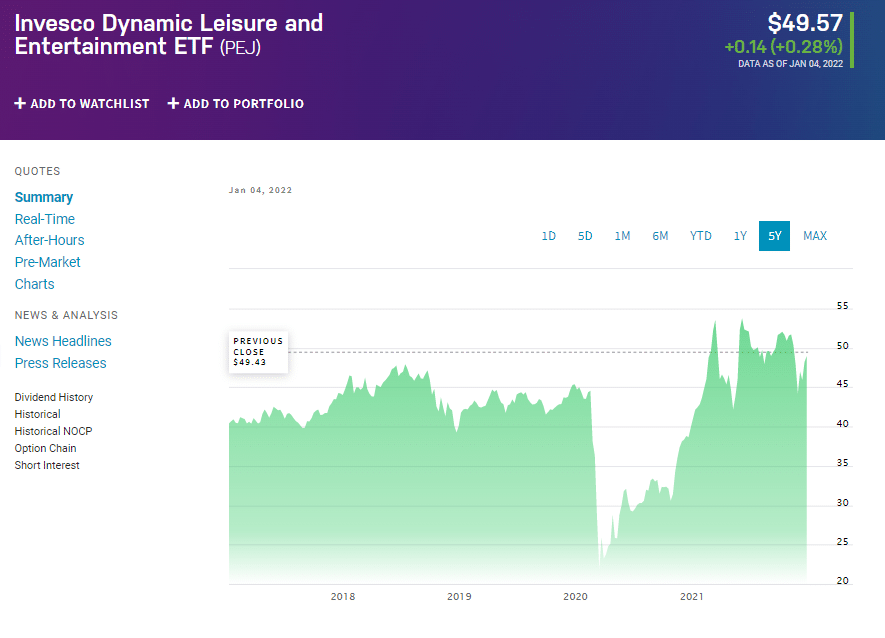 Restaurant stocks like McDonald's and Chipotle Mexican Grill come under the top ten holdings of the fund. As of January 2022, PEJ's first three holdings, along with the percentage of their assets, are:
Live Nation Entertainment Inc. — 5.27%
Booking Holdings Inc. — 5.22%
Expedia Group Inc. — 5.20%
2. The AdvisorShares Restaurant ETF (EATZ)
Price: $23.78
Expense ratio: 0.99%
The AdvisorShares Restaurant ETF (EATZ) is the recently launched ETF focusing exclusively on the restaurant and foodservice industry. EATZ is an actively managed ETF that invests around 80% of its assets in small to large-cap companies generating more than 50% of revenue from a restaurant and food-related dealings.
EATZ has approximately $4.1 assets under management and 175k shares outstanding. It has given the maximum allocation to North American eateries and less than 5% to Asian and European restaurants.
Since its inception, the fund's performance has remained choppy as restaurant businesses are still under the recovery phase after the corona devastation. Its primary reason is that 72.5% of companies under EATZ come under the small-cap category that has been struggling the most.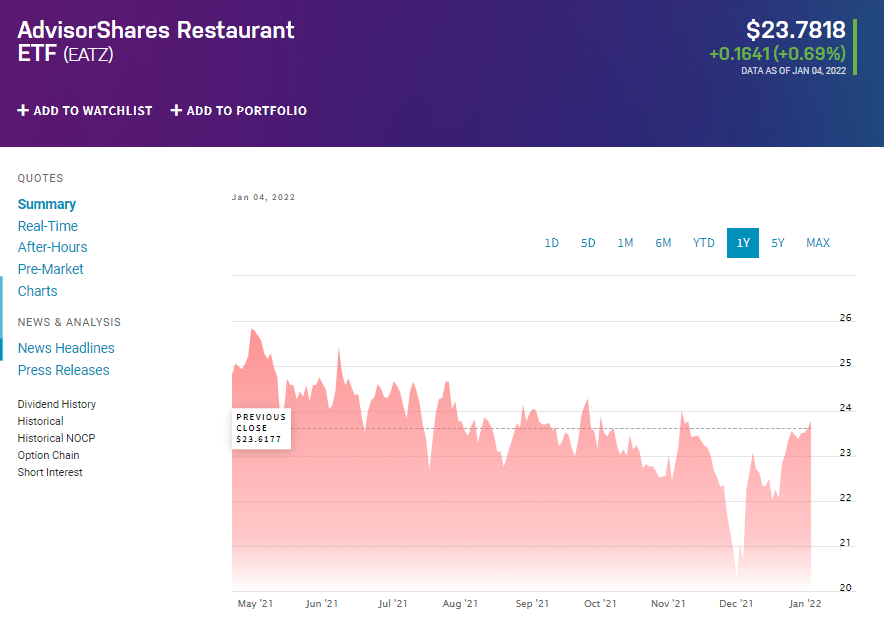 As of January 2022, the fund's top three holdings according to their assets weightage are:
RCI Hospitality holdings Inc. — 7.32%
Papa John's Intl Inc. — 5.73%
Domino's Pizza Inc. — 5.55%
3. The Consumer Discretionary Select Sector SPDR Fund (XLY)
Expense ratio: 0.12%
The Consumer Discretionary Select Sector SPDR Fund tracks the performance of the Consumer Discretionary Select Sector Index. The index represents the consumer discretionary portion of the S&P 500 Index that includes companies belonging to the hotel, restaurant, apparel & luxury goods, internet & marketing, and automobile sectors.
XLY fund has been operational since 1998 and trades on the NYSE Arca Exchange. This fund provides diversification to a wide range of sectors and gives around 18.45% weightage to the "Hotels, Restaurants, and Leisure" sector.
XLY is a stable fund with approximately $24 billion assets under management and 115.20 million shares outstanding. As of November 2021, this fund reported a remarkable YTD and 3-year return of 27.73% and 25.07%, respectively. Moreover, it has a P/E ratio of 33.53.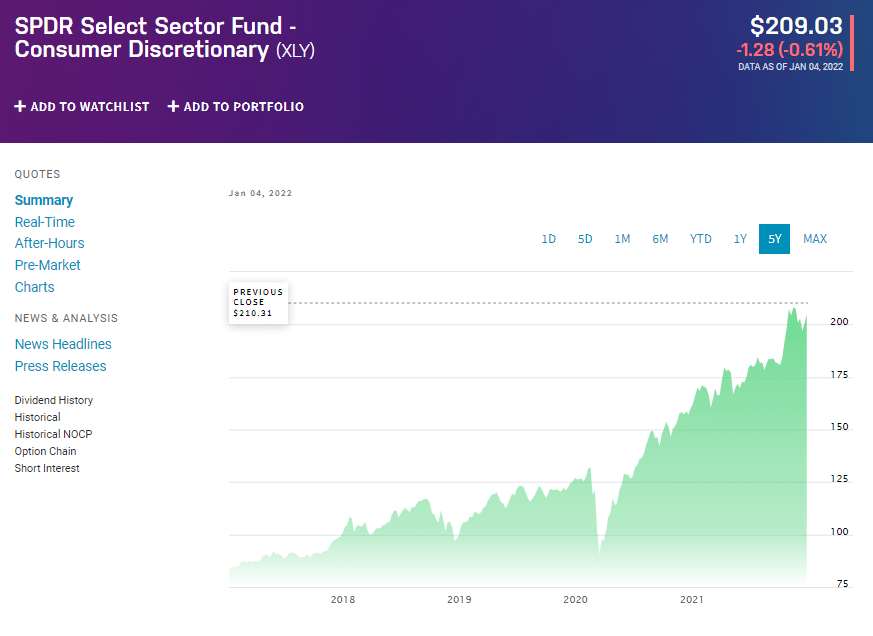 As of January 2022, the fund has 61 holdings, out of which the top three are:
Amazon Inc.— 22.09%
Tesla Inc. — 20.43%
McDonald's Corp. — 4.66%
Pros and cons
Here, we have summarized some of the advantages and limitations of restaurant ETFs.
Worth to invest
Worth to getaway
Growth potential
The hotels and dining industry have a lot of suppressed demand that can translate into future growth.
Dependent on economic activity
Restaurant spending depends on the economic conditions and can drastically decline during tough times.
Thematic diversification
Investors can invest in a variety of restaurant stocks with a single fund.
High cost of exclusive restaurant ETF
EATZ has a comparatively higher expense ratio than the category average.
Value stocks
Investors can gain massive profits from these cyclical ETFs by buying at the bottom.
Not suitable for beginners
Restaurant ETFs do not come under the category of defensive investments; hence can be risky for beginners.
Final thoughts
With the subsiding pandemic reverberations, restaurant-related securities have gained significant attention from investors. This optimistic wave is due to this industry's great inherent potential and growth capacity.
Investors can take benefit of the trend by capitalizing on restaurant ETFs that bestow a diversified exposure to the industry. However, every individual should estimate their risk tolerance and financial goals before making any investment decision.