Signal Factory is a firm that provides signals for Forex pairs. This can be useful for investors and traders. We have a positive claim that signals are the best and we are in the right place. So, let's check the service and see if those signals are good.
Signal Factory trading strategy
Unfortunately, we don't know details about the trading strategies behind the signals. The devs don't provide us with information about time frames or currency pairs the system trades on.
Signal Factory backtesting report
We couldn't find any sign of backtest reports. It's hard to understand why the developers skipped providing us with the final report and the growth chart. These details would show us that the system is stable and good to go. The final report usually provides details about win rates, drawdowns, risks, profitability, and so on.
Signal Factory live results
Another con is that the devs didn't want to reveal trading results. It's important to see that the system is able to be profitable on the real market. Also, this is a source of data about win rates, drawdowns, risks, leverage, brokers, average monthly and weekly gains, profit factors, average win and loss in pips.
Some features of Signal Factory
For your comfort, we have prepared a list of the most important information, features, settings, and so on.
The signals should help us to be profitable on the real market.
Signal Factory gives a bridge between professional Forex traders and retail traders.
We can expect automatic delivery signals directly in our terminal.
The core account works on the real market.
The system focuses on trading with low drawdowns.
There are over 45,000 people who participate in the service.
We haven't seen proof of this.
The advisor behind the service doesn't use Martingale in trading.
It works with fixed lot sizes.
If the account starts working worse, the devs make a decision to stop it.
They united signals from various sources under a single label.
We are allowed to work with risks that we want.
The devs don't charge us with hidden commissions or extra bills.
We can work with any broker house.
Main things to consider if you invest with Signal Factory
No trading results provided
We have no trading results or backtest reports provided. So, we have no data to analyze how the system performs on the real market.
Negative trading experience
Although the company has a page on Forex Peace Army, it has a low, 2 star rate there. Traders are unsatisfied with this signal service.
Pricing details
We have four packages on the board. We have a Telegram news package for $49.99 for a month. Copy Trading is allowed for $199.99. The tire pack is Algobot Signals Package for $99.99 monthly. The last one is Algobot Trade Copier for $199.99 monthly. We don't know if those signals truly cost that much. The offer doesn't include a refund policy.
Customer reviews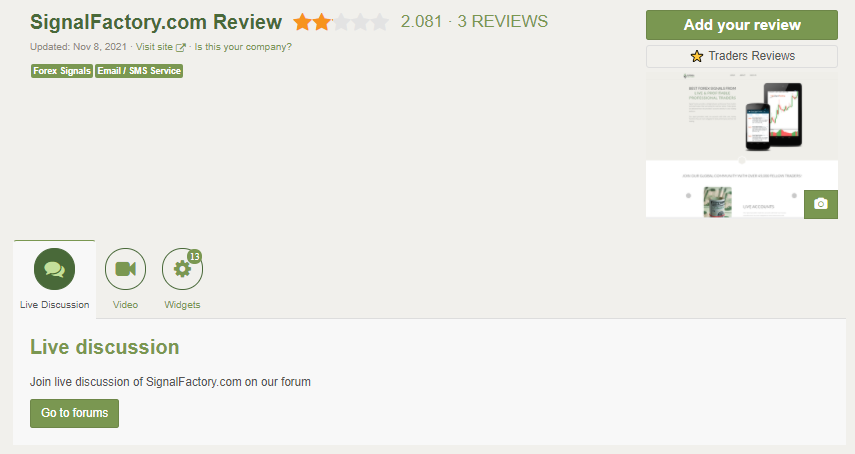 A page of the Signal Factory service was created on Forex Peace Army. There are no trading accounts connected. We can find 3 reviews with a 2.081 rate in total. Unfortunately, there are various negative testimonials about the service quality.