Tesla Inc. recently made record highs, and the stock exceeded the $1,000 per share price mark. The company's value has risen phenomenally.
The stock has gained over 21,023% in the last decade. It is, therefore, not a surprise that many investors are buying Tesla shares. However, it is a highly volatile stock, and if you are a novice investor, it might not be the safest option to start with.
This is where ETFs are an alternative. ETFs allow you to invest in the preferred assets without buying the stocks of the company. And Tesla ETFs are growing fast, with over 200 already in existence.
If you are interested in an ETF that invests its assets in Tesla, you should read this article further to find out which is the best to profit from right now.
Three things to know before starting:
ETFs with Tesla focus mainly on renewable energy investments.
Tesla is holding 244 US-traded ETFs.
The best ETFs that have holdings in Tesla have over 10% of its funds in Tesla Inc.
ETF with Tesla: how does it work?
An ETF is an exchange-traded fund, which means the fund is a publicly listed asset from which investors can purchase stocks. However, the fund consists of a group of different securities, and in this case, the majority holding is in Tesla.
Tesla Inc. is a US company that is a component on the S&P 500 and Nasdaq stock exchanges. Currently, the company is an asset of 244 US-traded ETFs.
ETFs allocate investors' funds to specific holdings and gain returns by tracking the performance of their holdings.
Therefore, a fund that invests the majority of its capital in Tesla will replicate the performance of the Tesla stocks and, in this way, yield returns for investors. Investors will not own Tesla stocks but rather a portion of the fund's stocks itself.
The largest holding of Tesla is in the Simplify Volt RoboCar Disruption and Tech ETF (VCAR), which invests 16.34% of its assets in Tesla.
What to check before choosing ETFs with Tesla?
There are a few things that you should take under consideration before investing in any Tesla ETFs.
Tesla is a volatile stock
Although investing in Tesla is an attractive option, buying Tesla ETFs is a different story. Tesla's stock price is highly volatile; since the ETF's majority holdings are in the company, it will mimic the volatility. Therefore, your portfolio should be able to withstand the up and down movements of the price.
Fees of Tesla ETFs
ETFs, in general, are actively traded like stocks, which means that commissions are payable every time positions are closed. With the Tesla stock being so volatile, day trading can become an expense that reduces your profits over time. In addition, investors should consider management fees like expense ratios as well.
Lack of liquidity
When we refer to Tesla stocks, liquidity might not be an issue. However, ETFs do not always have sufficient liquidity. In addition, 244 ETFs hold assets in Tesla; therefore, as an investor, you would understand that some of these ETFs have less liquidity.
It is essential to check the trading volume as it indicates how liquid an ETF is. Furthermore, the spread or bid and ask price is also a liquidity indicator. The tighter the spread, the higher the liquidity.
Best ETFs with Tesla to buy in 2022
1. VanEck Vectors Low Carbon Energy ETF (SMOG)
Price: $176.34
Expense ratio: 0.62%
The SMOG ETF focuses on renewable energy investments. These companies derive 50% of their revenue from solar, wind, hydro, hydrogen, waste, geothermal, and biofuels.
The ETF tracks an index of these renewable companies. Furthermore, companies that manufacture electric vehicles may also be part of the SMOG fund.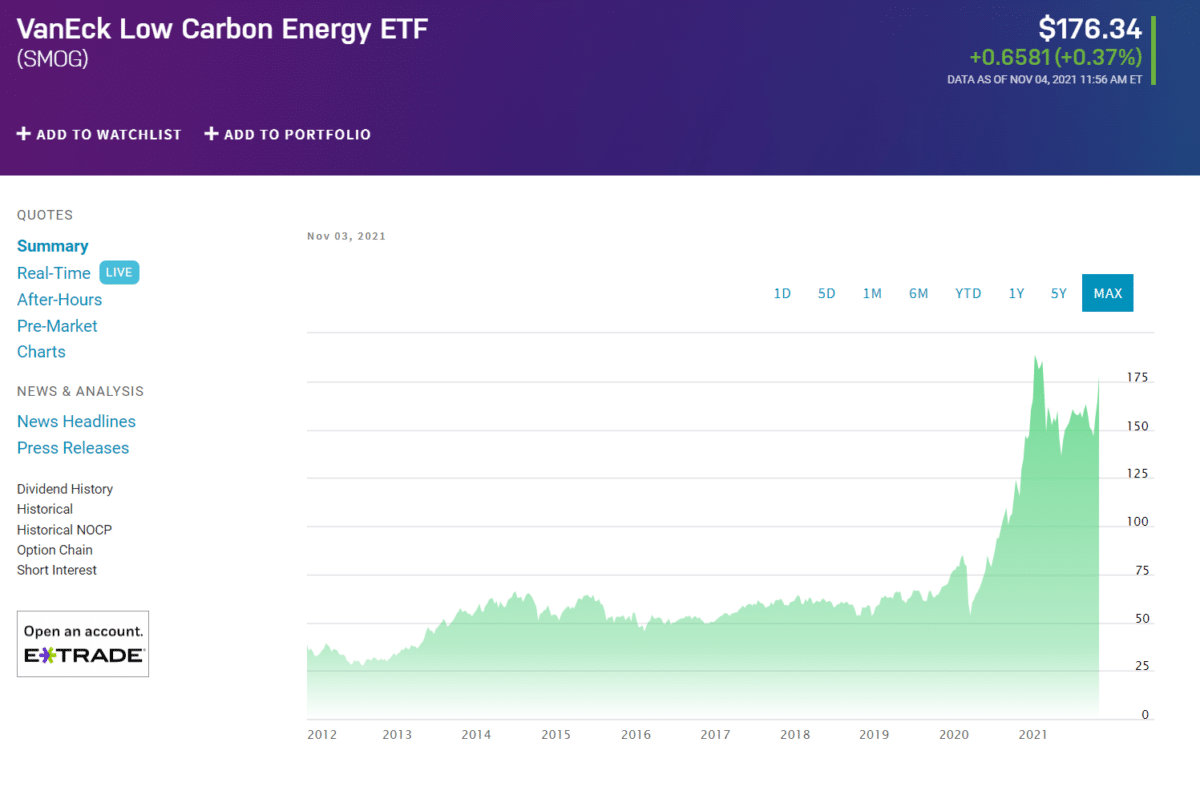 The fund follows a weighted methodology, and it has an average weighted market cap of $110.08 billion. The fund has assets under management of $331.14 million, and its year-to-date return is 6.31%.
The SMOG fund's inception was on 3 May 2007, and it has 70 holdings. SMOG's top five geographical holdings represent companies from the USA, Hong Kong, Denmark, Spain, and Italy.


The SMOG ETF invests 10.75% of its holdings in Tesla, thereby contributing the most significant weighting to the fund. The rest of its holdings are in other renewable energy companies.
2. ARK Industrial Innovation ETF (ARKQ)
Price: $89.19
Expense ratio: 0.75%
The ARKQ ETF is actively managed with a mandate to invest in companies its managers regard to benefit from automation and technological advancements.
ARKQ's managers are specifically interested in automation, energy, and artificial intelligence technologies with transformative businesses.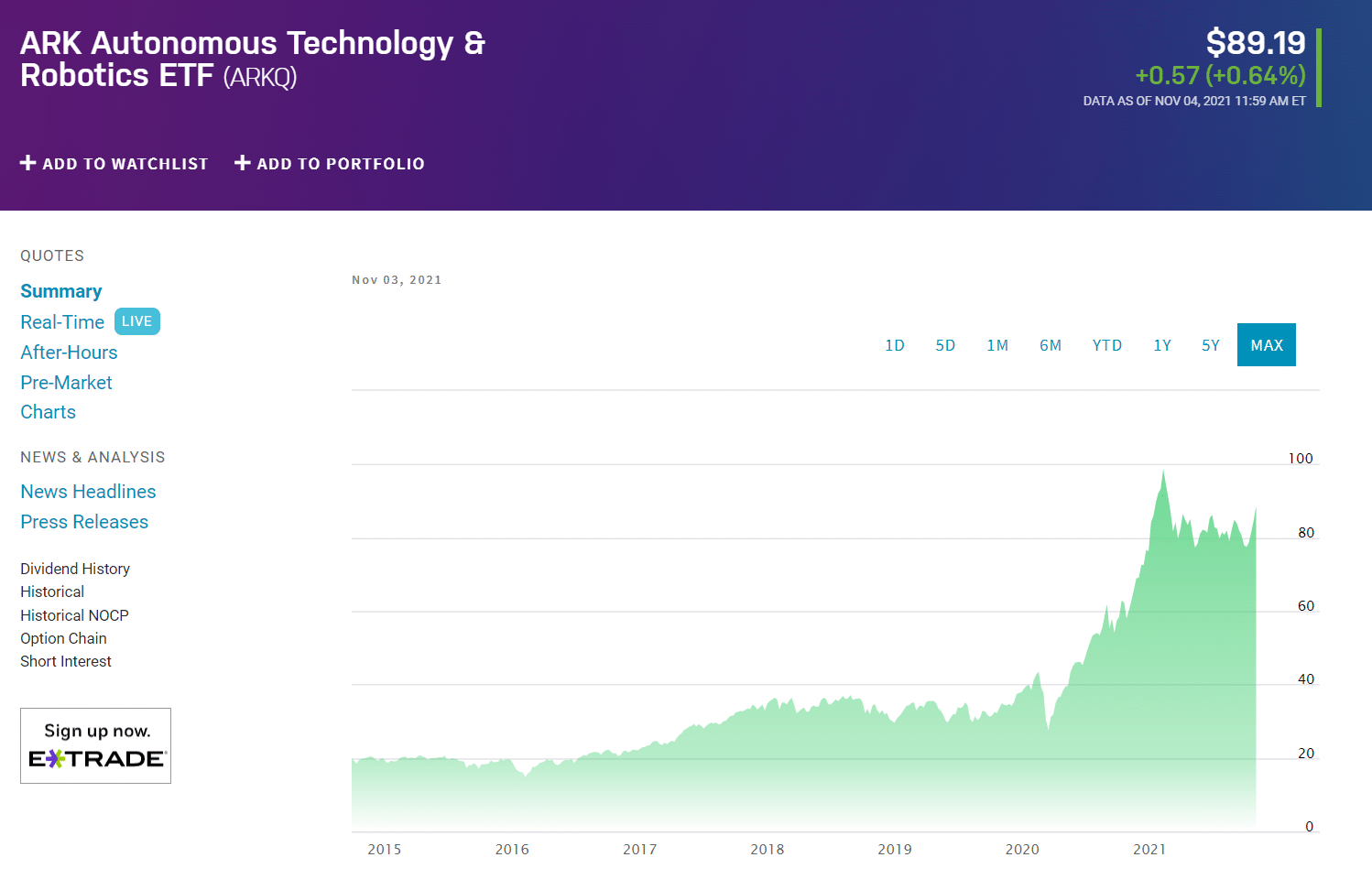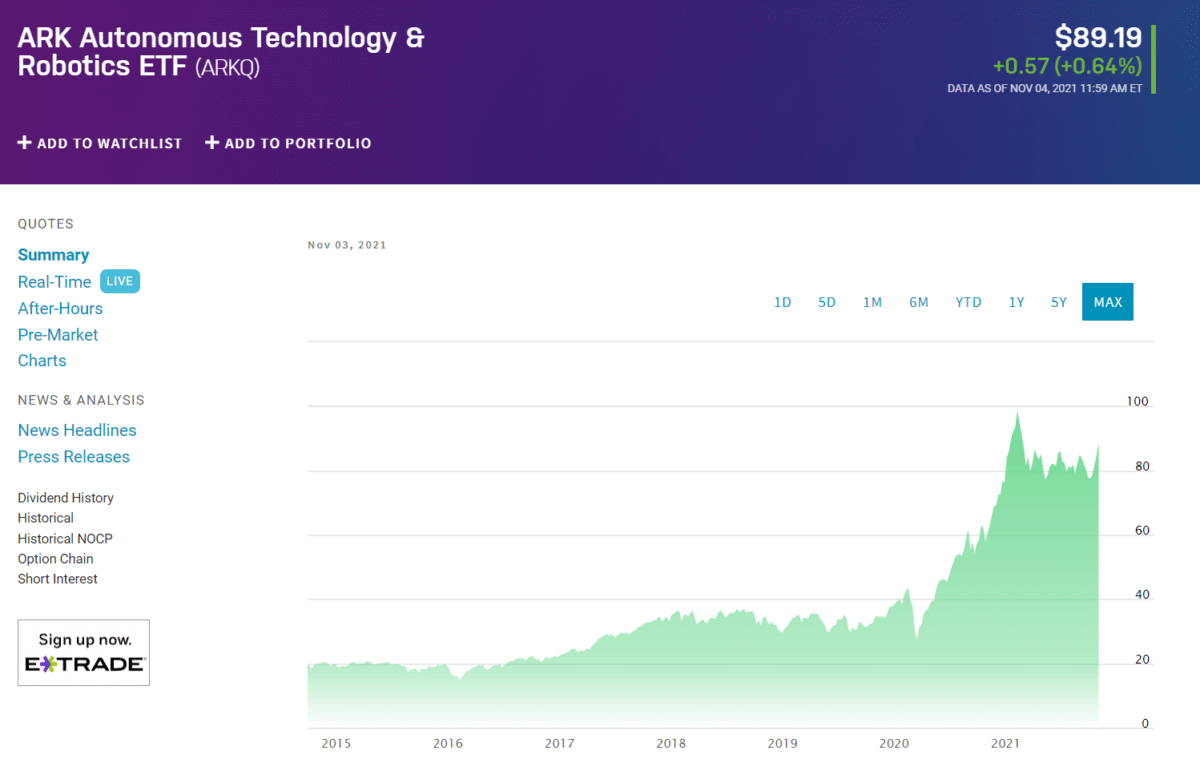 The ARKQ ETF inception was on 30 September 2014, and the fund has $2.65 billion assets under management. The ETF has a weighted market cap of $184.31 billion and $2.65 billion assets under management.
ARKQ's holdings comprise 39 companies, of which the largest is in Tesla Inc.; the fund invests 12.27% of its assets in Tesla Inc.


The fund's top geographical holdings are companies in the US, Hong Kong, Israel, Japan, and China. The ARKQ fund had a year-to-date return of 11.15%.
3. First Trust NASDAQ Clean Edge Green Energy ETF (QCLN)
Price: $80.93
Expense ratio: 0.60%
QCLN tracks a market-cap-weighted index of US-listed firms involved in clean energy. The companies deemed eligible for this fund must develop, manufacture, install, or distribute any of these sectors:
Advanced materials (that enable clean energy or reduce the need for petroleum products)
Energy intelligence (smart grid)
Energy storage and conversion (hybrid batteries)
Renewable electricity generation (solar, wind, geothermal, etc.)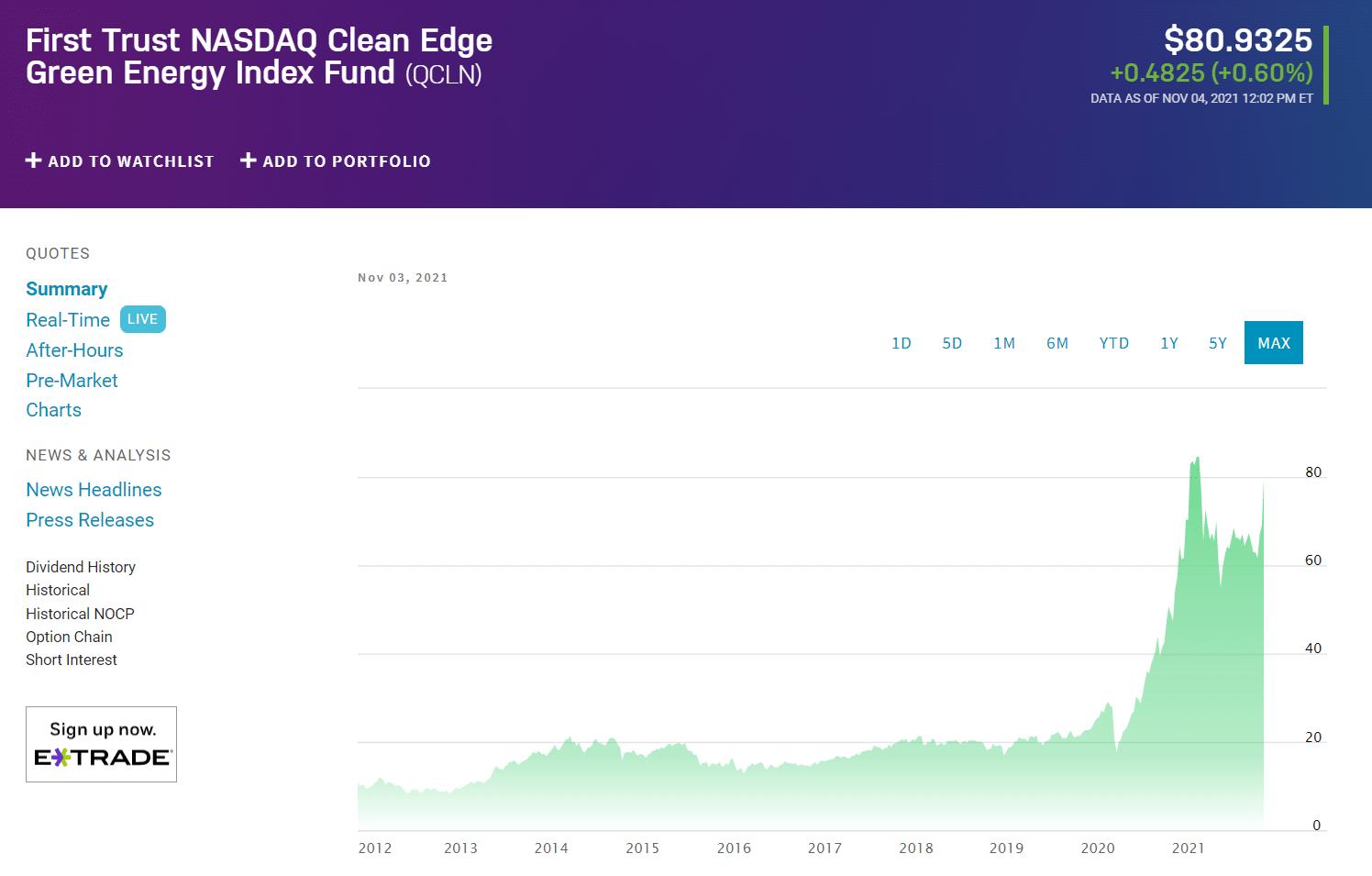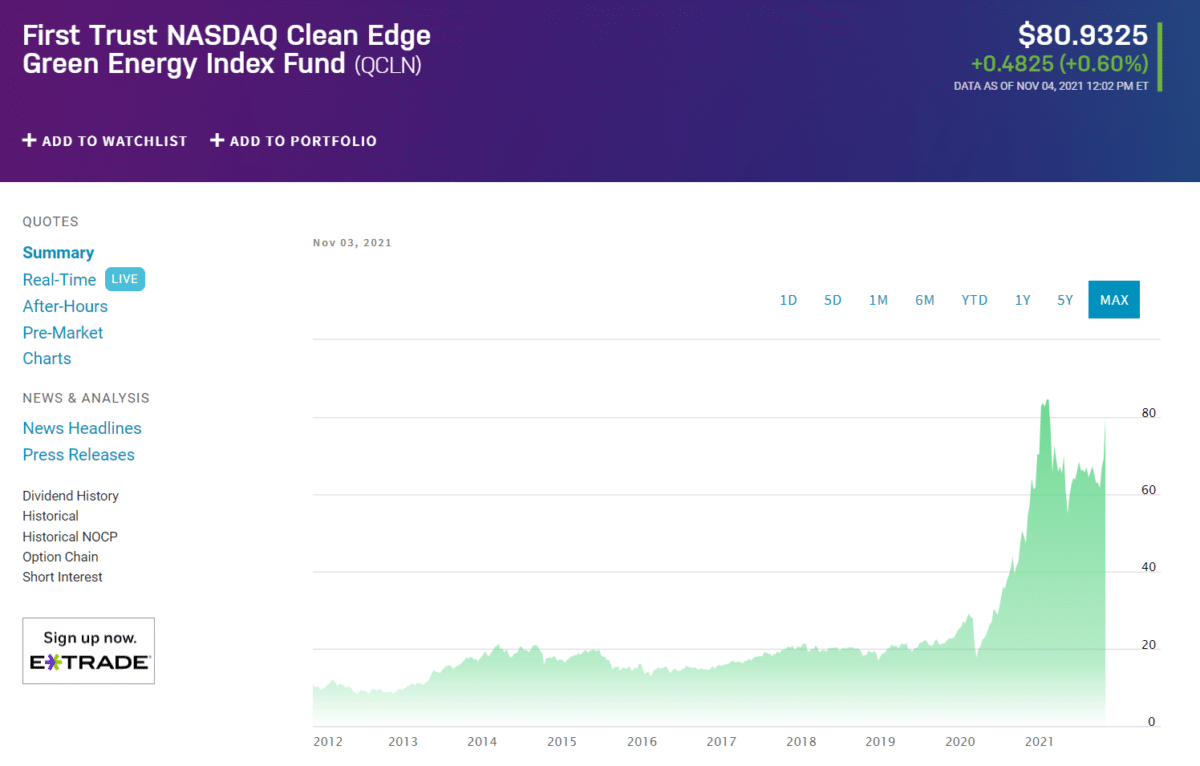 The QCLN fund's inception was 8 February 2002, and the fund tracks the NASDAQ Clean Edge Green Energy index.
The ETF has assets under management of $3.11 billion, and it has a weighted average market cap of $77.44 billion.
QCLN has 53 holdings with 10.38% invested in Tesla Inc. furthermore, the fund's geographical footprint covers the US, China, Canada, Hong Kong, and Chile.
The QCLN fund had a year-to-date return of 10.23%.
Final thoughts
There is a definite trend towards renewable energy and preserving our little resources on the planet. Companies that are pioneering this technology are growing rapidly and therefore become good investment opportunities. Furthermore, these are not short-lived growth but long term.
Suppose you are an investor interested in environmentally friendly investments but are looking for safer long-term yields. In that case, you can consider the ETFs, which hold the majority of Tesla shares.