Prop Firm EA is an expert advisor that was published under a MyEAAcademy brand that belongs to SinryAdvice. So, we shouldn't expect to see a well-written presentation. The main claim is "Trade and get funded like a pro."
Prop Firm EA trading strategy
The system received some explanations about what we should expect from it if we decided to buy the advisor. We systemized everything in the following list.
The advisor manages to trade for us automatically on a terminal. No extra effort is needed. We can relax.
The robot was released in August. So, it's a young trading solution.
The drawdowns will be low when we start trading.
An average profit can be from 10% to 20% monthly.
"Prop Firm EA is compatible with funding firms such as FTMO, MY FOREX FUNDS, etc."
"After successfully passing the challenge, you will generally be awarded an account funded up to $200,000 and your earnings on the account will be shared with a profit split between the firm and the individual."
We can work with a news filter. This allows us to skip trading when the news appears.
The system works with all pairs.
The maximal drawdown can be up to 5%.
The advisor doesn't run a strategy like Martingale.
The system has a "top-bottom reverse trading strategy along with grid, internal smart indicator signals and news filter as its trading strategy."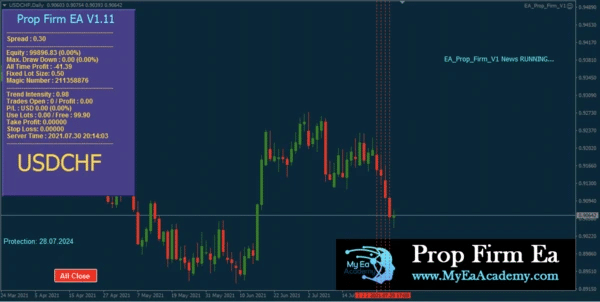 We can work with accounts of these sizes: "2k, 5k, 10k, 50k, 100k and 200k USD accounts."
The minimum balance should be $2000 for trading with a 0.01 lot size.
The system doesn't keep orders over weekends.
Prop Firm EA backtesting report
The advisor doesn't have proper backtest reports that could show that the system was carefully tested before being released. We don't know the results or win rate. We have no idea what broker data was used for this.
Prop Firm EA live results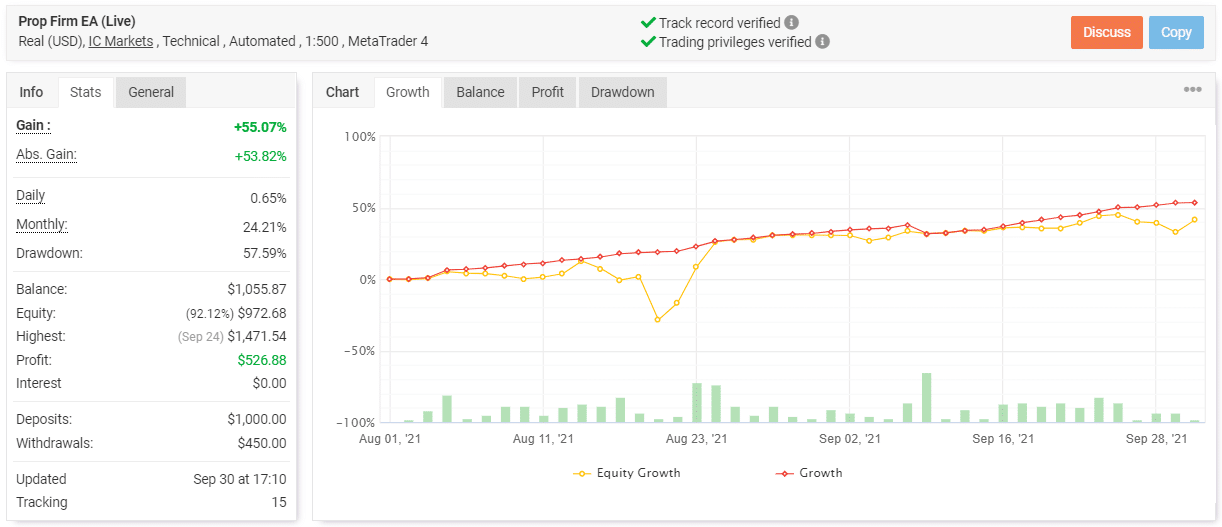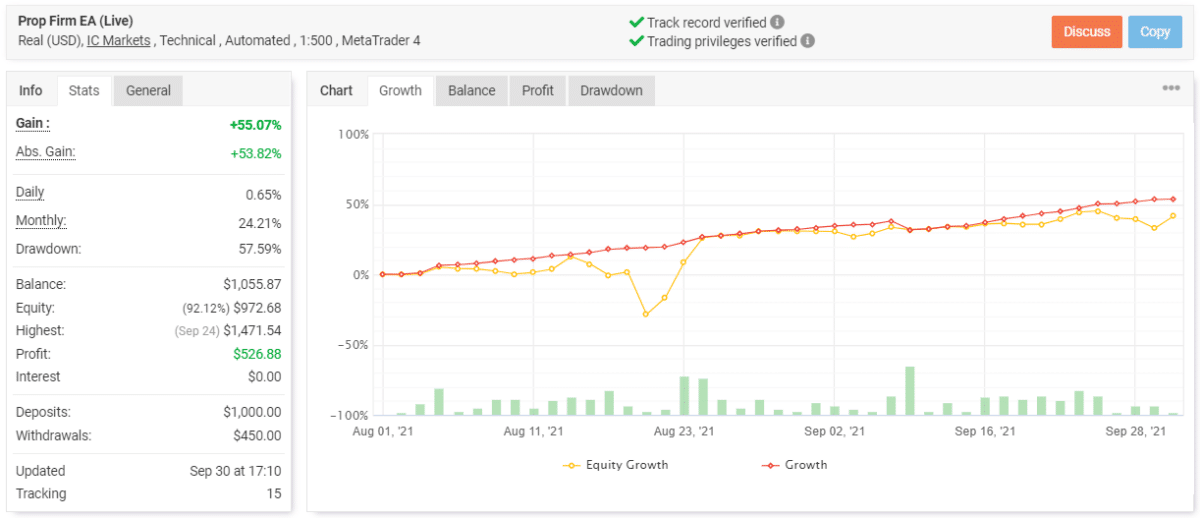 It's nice of the developers to provide us with verified myfxbook trading results. We can fully check what's going on in the account and how the robot can help us here and now.
The robot has been trading on a real account on IC Markets automatically. The system receives data from technical indicators from MT4. The account has two badges: verified track record and verified trading privileges. It was created on August 01, 2021, and deposited at $1,000, and withdrawn at $450. Since then, the absolute gain has amounted to 55.07%. An average monthly profit is 24.21%. The maximum drawdown is 57.59%. It's insane to trade with that deep drawdown on a real account because we can face a lack of margin.


It has executed 339 orders with 9887 pips. An average win is 56.54 pips when an average loss is -62.43 pips. There were 3.39 lots traded. The accuracy is 76-77% for both trading directions. The robot trades with an average trade frequency of two days and a profit factor of 2.62.
The advisor works with many pairs. It can be a con because the system isn't forged to trade several pairs in the best way.

Most of the orders are open three hours a day.

Tuesday and Wednesday are the most traded days.

The system works with medium risks. It has to lose 23 orders to lose 10% of the account.
The expert advisor is featured with a broker protection feature to hide SL and TP levels from it.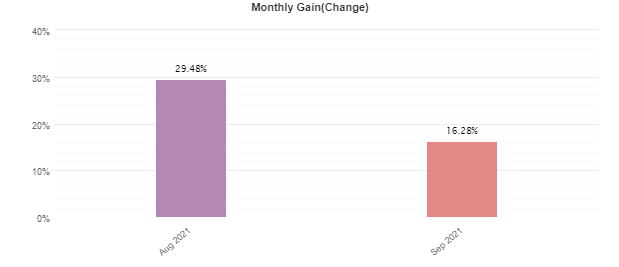 We still wait when the system starts trading in October 2021.
Some features of Prop Firm EA
| | |
| --- | --- |
| Total return | 55.07% |
| Maximal drawdown | 57.59% |
| Average monthly gain | 24.21% |
| Developer | Sinry Advice |
| Created, year | 2021 |
| Price | $588 annually |
| Type | Price Action |
| Timeframe | N/A |
| Lot size | N/A |
| Leverage | N/A |
| Min. deposit | $2000 |
| Recommended deposit | N/A |
| Recommended brokers | IC Markets |
| Currency pairs | Any |
| ECN | Yes |
Main things that make Prop Firm EA doubtful
There are many negative testimonials
People have given it a try and got no success. It's risky not to pay attention to them.
The system works with eleven times higher SL levels
So, one loss should be overtraded for 12-15 winning orders to cover a loss, commissions, swaps, and slippage. In case of a loss streak, it will be impossible to get back.
Pricing details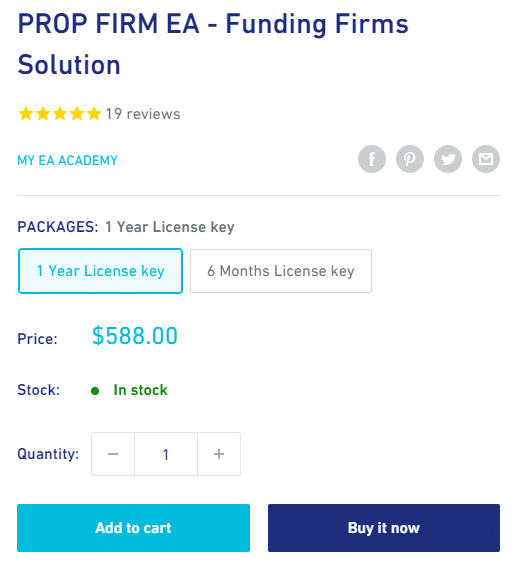 We can rent a system for $588 annually. It's too much. The devs provide a 14-day refund policy. We don't know what a package includes.
Other notes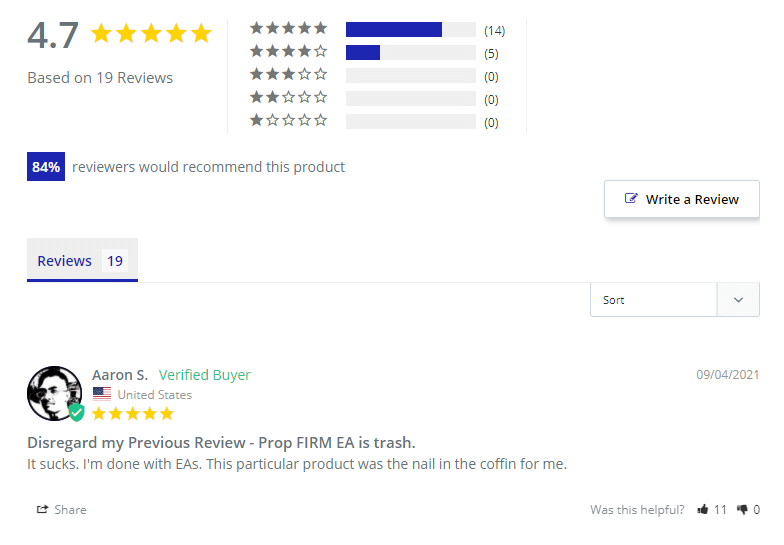 The clients have mentioned that the system is too dangerous and can't be a "prop" advisor at all.