50% of the American populace has interacted with cannabis products in one way or the other. With WHO estimating that 2.5% of the global population uses cannabis. Despite being illegal in most countries, Canada's recreational and medicinal cannabis legalization set a precedent for this emerging market.
In the US alone, every cannabis-related bill tabled in the senate in 2020 passed, and this was before the Democratic-led Biden administration took office-viewed as pro-pot.
In addition to Canada showing that the cannabis industry can thrive with proper structures, the UN delisted marijuana from its list of dangerous opioids. What does this mean for the industry? Analysts approximate a compounded year-on-year growth for the industry of 27%, worst-case scenario.
Despite this projection, marijuana use is still a way off from global acceptance and legalization, although there is no considerable perception shift. As such, pureplay cannabis organizations tend to be minor, with most listed in the OTC but not the leading stock exchanges, and characterized with high volatility. How then should an investor approach this budding industry? Through cannabis stock, ETF investing.
What is the marijuana stock ETF?
Having been demonized for such a long time, the global acceptance and legitimacy of marijuana and associated businesses are still far on the horizon. Most global countries, especially developed nations, are looking at both Canada and the US to develop their cannabis legislation. Medicinal marijuana is already legal in many countries, with recreational use being the hot topic. All these moving parts result in a very volatile market for individual marijuana equities, necessitating pot ETFs.
Warren Buffett advocates for investing in exchange-traded funds since they represent a section of the economy, which in the end has to grow. The same holds for emerging markets. Rather than try to time the cannabis market by picking individual winning stocks, there are marijuana stock ETFs made up of companies in the industry.
Marijuana ETFs comprise organizations involved in the cultivation, cannabis by-product production, cannabis ancillary products and services, cannabis research firms, cannabis product consumer firms, among others. They have global exposure since more countries globally are involved in cannabis research and medical marijuana use.
The best marijuana stock ETFs
Analysts estimate that by 2025, the marijuana industry's worth will be upwards of $145 billion. As more cannabis products and their acceptance spread globally, this emerging market has potential portfolio diversification and growth.
The following ETFs have the diversification across the cannabis industry to caution against the volatility of this budding industry while providing a raft of opportunities to make money as the industry grows driven by widespread legalization.
№ 1. Amplify Seymour Cannabis ETF (CNBS)
Price: $19.68
Expense ratio: 0.75%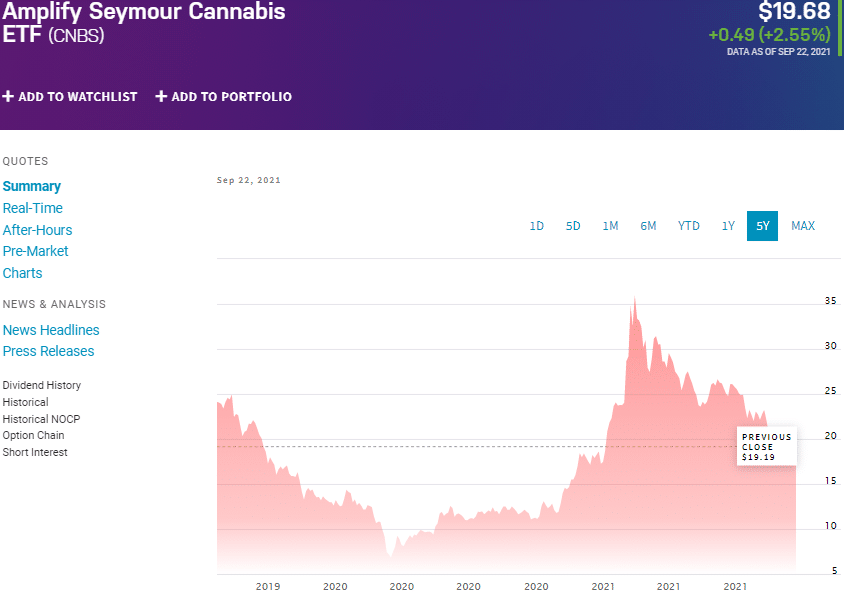 CNBS ETF is an actively managed marijuana exchange-traded fund, with 80% of its composition being pureplay cannabis equities. The funds seek capital appreciation by taking advantage of all opportunities and volatilities in the cannabis market.
To ensure it meets its objective, CNBS ETF invests at least 80% of its total assets in organizations all over the globe that generate at least 50% of their total revenues from the hemp and cannabis ecosystem.
CNBS top three holdings are:
US Dollar deposits — 21.02%
Dreyfus Government Cash Management Funds Institutional —11.94%
Tilray Inc. — 8.10%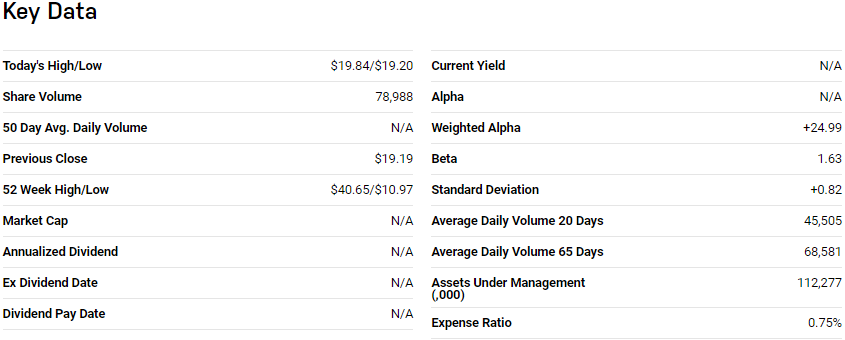 Amplify Seymour Cannabis ETF has $116.84 million in assets under management, with an expense ratio of 0.75%. With active management, which ensures flexibility in the face of a highly dynamic emerging market and global exposure, it is no wonder that this ETF, in its first year, recorded returns of 68.39%.
As the marijuana landscape changes, this ETF has shown an ability to ride the waves and come up with positive returns, warranting a second look for portfolio diversification.
№ 2. ETFMG alternative harvest ETF (MJ)
Price: $14.81
Expense ratio: 0.75%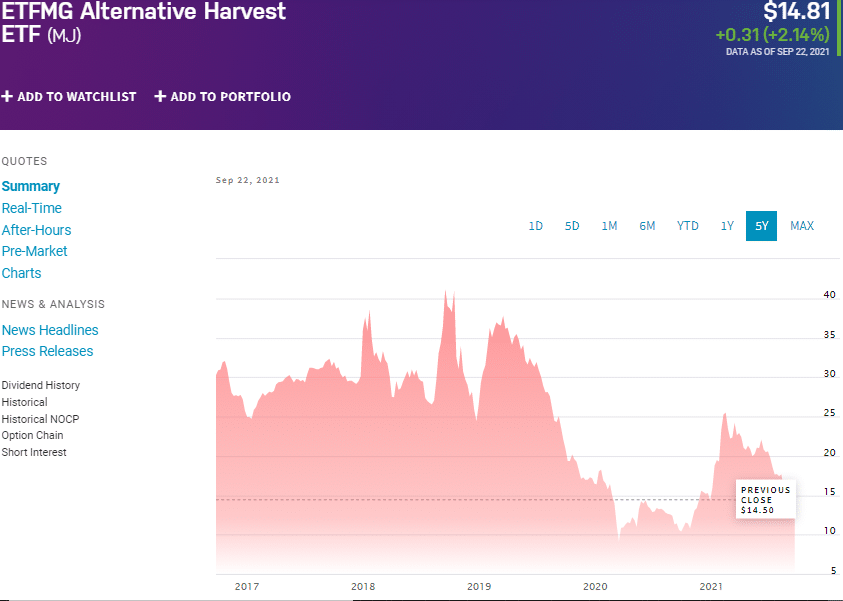 MJ is the largest and oldest Marijuana ETF, having been launched on 2nd December 2015. ETFMG Alternative Harvest ETF has global exposure to the cannabis industry by tracking the Prime Alternative Harvest Index.
Investors get exposure to the global cannabis-related Biotechnology, Pharmaceuticals, and Life Science organizations since it invests at least 80% of its total assets in the underlying holdings of the tracked index.
MJ is ranked №10 among 37 miscellaneous sectors of the ETF by US News analysts.
The top three holdings of this THC ETF are:
ETFMG Sit Ultra Short ETF — 7.98%
Tilray Inc. — 7.16%
Canopy Growth Corporation — 6.80%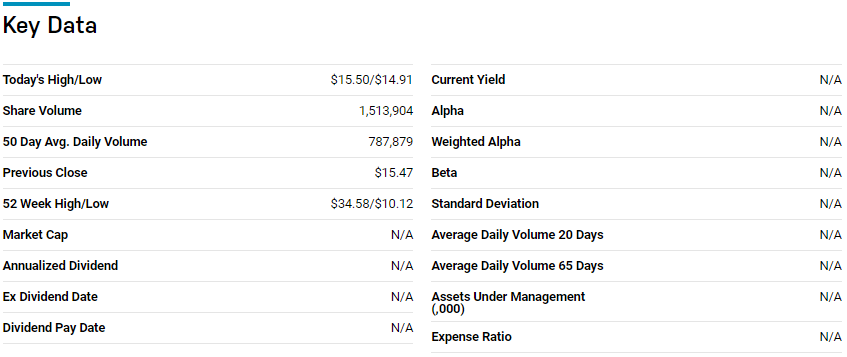 As the most prominent cannabis ETF, it comes as no surprise that MJ assets under management are valued at $1.16 billion, with an expense ratio of 0.75%. Being the pioneer pot ETF, MJ investors almost went up in smoke.
But since Canada showed the world that cannabis could be legalized and contribute to the economy, the returns have been phenomenal, with 1-year returns of 35.72%. With tentacles hooked across multiple industries, MJ has the potential to diversify portfolios and make money as this industry blossoms.
№ 3. Horizons Marijuana Life Sciences Index ETF (HMJJ.TO)
Price: $8.0
Expense ratio: 0.75%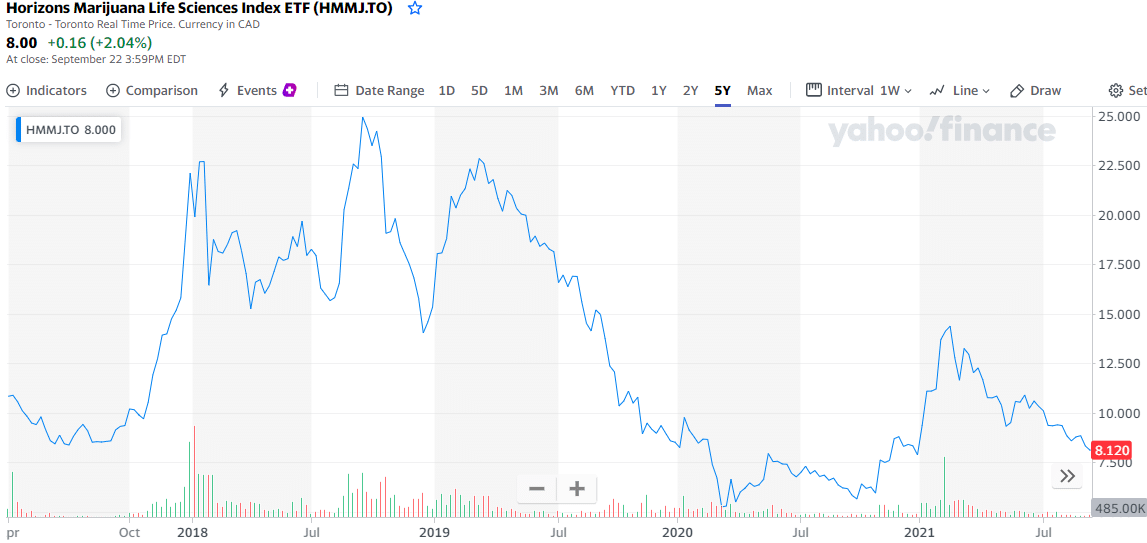 Horizons Marijuana Life Sciences Index ETF tracks the performance of the North American Marijuana Index. While MJ is the oldest marijuana ETF, HMMJ is the oldest pureplay cannabis ETF.
It is in two; one with the Canadian loonie as the base currency and the other with the green buck as the base currency. Therefore, it exposes investors to North American firms involved in cannabis hydroponics, marijuana cultivation/distribution, and farm equipment organizations supplying the cannabis industry. It also has a few biotech firms researching and developing cannabis products as part of its portfolio.
The top three companies in this ETF:
Aurora Cannabis Inc. — 16.6% weighting
Canopy Growth Corp. — 14.8% weighting
Aphria Inc. — 11.6% weighting

HMMJ has $410.04 million in assets under management, with an expense ratio of 0.75%. Couple active management to a dividend yield of 2.03%, and this ETF provides a solid case not only for portfolio diversification but income investing.
Final thoughts
Warren Buffett advocates for ETF trading because, in the long run, the economy has to grow. The marijuana industry is still in its infancy. Still, the remarkable shift in global perspective, especially with medicinal use, shows that it is an emerging market on the brink of a significant boom.
Rather than stress over which stocks will explode and which ones will fall off, the ETFs above have the diversification and historical performance to whether the storms above and make money for investors.