Real estate investing is more than just buying or selling properties. Mutual funds are the answer for individuals who have the capital to invest but too little to purchase properties.
Mutual funds invest the money across different assets and securities. However, the shareholders do not take ownership of the current assets.
Instead, you own shares in the fund, which tracks the sector's performance. These types of investments allow investors with low capital access to the market and build long-term wealth.
The BlackRock Real Estate Investment Fund allows investors to invest their capital in receiving lucrative annual returns. Furthermore, the fund has appointed top-rated fund managers to protect investor's interests.
Three things to know before starting:
BlackRock manages the BAREX fund, and they are the world's leading asset management firm.
BlackRock Real Estate Investment fund provides investment opportunities in the real estate sector.
The BAREX fund is non-diversified.
About BAREX
The BlackRock Real Estate Investment fund's inception was on 28 September 2012, and the fund holds assets in the real estate category.
The BAREX fund is non-diversified since its main assets are in real estate investment equities. It is a multinational asset management firm whose headquarters are in New York City. It was initially founded as a risk management and fixed income asset management company in 1988.
Since July 2021, BlackRock's assets under management (AUM) came to over $9 trillion, and they are the world's largest asset manager.
The BlackRock Real Estate Securities fund has 38 holdings and net assets to the value of $208.1 million. The fund has 94.3% of its assets allocated in stocks and 1.7% in cash.
Furthermore, the fund's five top holdings:
Prologis (9.78%)
Equinix (7.89%)
Simon Property Group (4.61%)
Extra Space Storage (4.60%)
Mid-America Apartment Communities (4.25%)
Regarding sector weight allocation, 94.28% is in real estate, 2.64% in Technology, and 1.84% in Communication services.
The BAREX fund has an MSCI ESG rating of BB as of September 2021.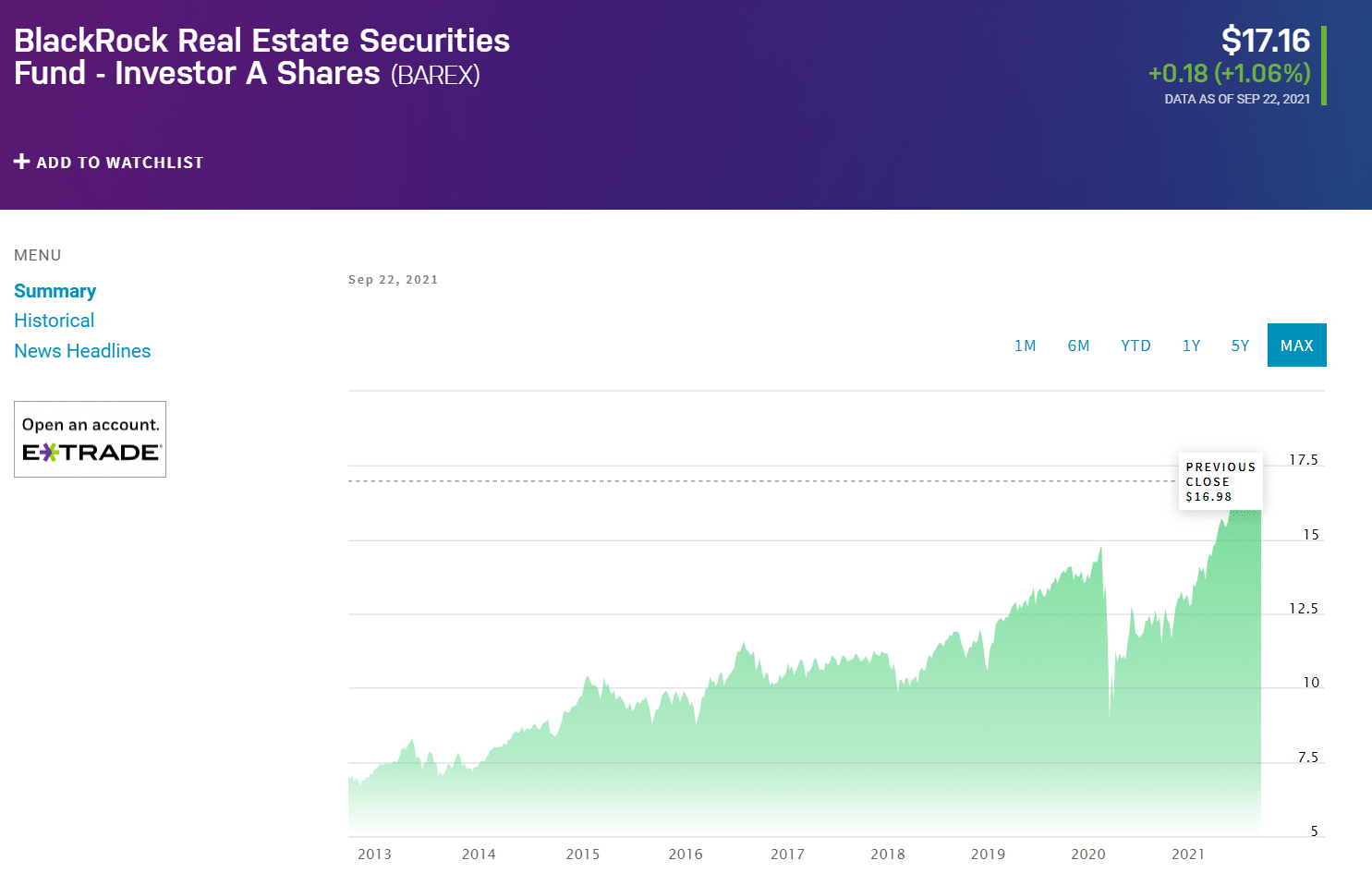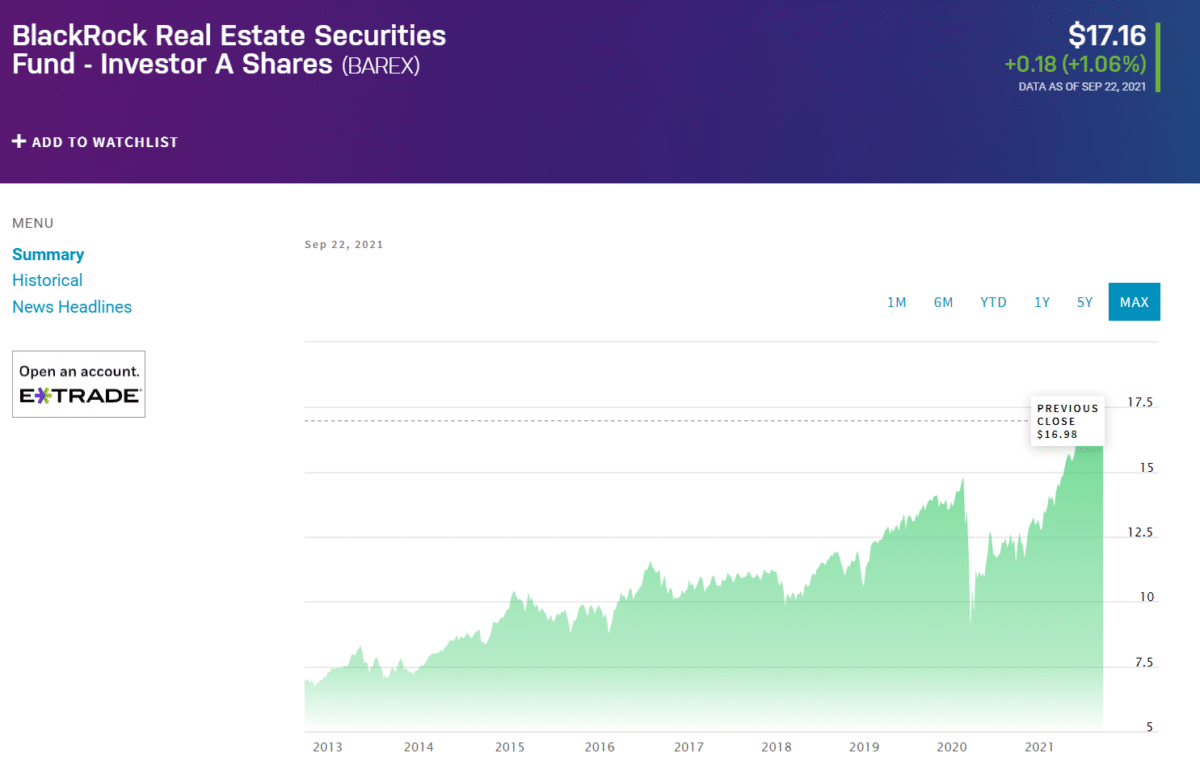 Role in portfolio
The BlackRock Real Estate Securities fund invests 80% of its assets in equity securities of US companies. These companies generate a minimum of 50% of their revenue or profit from commercial, industrial, or residential real estate industries. Furthermore, the fund invests up to 20% of its assets outside of the US.
The BAREX fund benchmarks the MSCI US REIT Index.
Management
As we mentioned, the fund has been under BlackRock management since 2012, and the portfolio managers are Mark Howard-Johnson and Rajan Rehan.
Mark Howard-Johnson, CFA, is Managing Director, Global Head of Global Real Estate Securities Management. He is responsible for developing and overseeing the investment team. He was the head and CIO for the Real Estate Securities Team at Goldman Sachs Asset management.
Howard-Johnson grew the business to over $5 billion of AUM during his ten-year tenure at Goldman Sachs. Mark Howard-Johnson holds a BA from Dartmouth College.
Rajan Rehan is a Portfolio Manager with the Global Real Assets Securities Group. His experiences in real estate investments span over 13 years which includes private equity and public markets.
Rajan Rehan joined BlackRock in 2013, and he holds a first-class honors BSc degree in Economics from the University of Warwick. Furthermore, he is a Chartered financial analyst and charter holder.
Risk
Morningstar rated the BAREX fund above average in risk compared to other funds in the same category.
Performance
The BAREX fund has an annualized return of 38.97%, 14.09% for the last three years, and 8.22% over the previous five years.
The fund is currently trading at $16.98. The fund's benchmark, MSCI US REIT Index, has an annualized return of 33.18% versus the fund of 38.97%. The fund has been outperforming its benchmark index and category since 2013.
Fees
The fund requires investors to pay fees in various ways, such as sales and management fees.
There are two types of sales fees, initial and deferred. The broker charges initial sales fees as a commission and deferred fees once investors redeem shares.
The initial sales fees for the BAREX fund are 5.25%. The fund does not charge deferred fees. Furthermore, the annual management fee is 0.75%, with no charges for administrative or redemption fees.
Net expense ratio
The BlackRock Real Estate Securities Investment fund has a net expense ratio of 1.09%.
Category average
The fund has a lower expense ratio than the category, which is 1.18%. However, the category's management fee is lower at 0.72% versus the fund's fee of 0.75%.
Volatility measurements
The volatility measurements of the fund reflect the risk of change or the uncertainty of a security's value.
Volatility measurement is a statistical calculation represented by the standard deviation, mean, and Sharpe ratio.
BAREX Standard deviation – 18.895
VGSIX Mean – 1.255
VGSIX Sharpe ratio – 0.734
Pros & cons of BAREX

Worth to use

Worth to getaway
Affordable
The BAREX fund requires a minimum investment of $1000 only.
Market risk
All investment types, irrespective of their asset allocation, come with risks. The same risk applies to the real estate sector in uncertain economic climates since the demand for properties declines.
Better returns vs. benchmark
The fund has outperformed its benchmark index consistently over the last decade.
Lack of diversification
The BAREX fund invests over 94% of its assets in real estate stocks and is therefore non-diversified.
Experienced fund managers
The fund managers have extensive experience in real estate investments and have good reputations in the industry.
High expense ratio
The fund has a high expense ratio of 1.09%.
Final thoughts
The BAREX fund has shown good performance over the last decade. The fund also consistently outperformed its benchmark as well as its category.
However, the fund has a high expense ratio compared to similar funds, and it should be a consideration for long-term investors since its an annual fee. Low-interest rates favor real estate funds and are currently a viable option for those seeking to focus their investments solely on real estate equities.