The Covid-19 pandemic has transformed the workspace and everyday life dynamics. Work from home has become a new normal that has introduced substantial geographical diversity as well. Moreover, employers, as well as employees, have realized the ease and benefits of working remotely.
According to a FlexJobs survey, almost 58% of participants expressed their preference to work remotely post-pandemic, whereas 39% of respondents favored a hybrid work model. The figures indicate the accelerating interest to work remotely.
Take note that productivity has not declined by working from home; therefore, analysts estimate that there can be more than 30% of full-time remote workers worldwide even after the pandemic subsides.
Capturing this firm trend, several institutions and fund managers have launched work-from-home investment products. In this article, we have discussed the specifications and performance of IWFH and WHF exchange-traded funds that have caught the massive attention of investors.

Top three things to know before the start:
ETFs like WFH and IWFH specialize in delivering the investment results of companies that capitalize on the work-from-home culture.
According to the current data, WFH ETF has outperformed the IWFH ETF.
WFH focuses on occupational companies and businesses, whereas IWFH focuses on entertainment companies and online services.
What is IWFH ETF?
In September 2021, BlackRock launched its iShares Virtual Work and Life Multisector ETF, which exposes companies to encouraging remote and virtual ways of life. The introduction of IWFH ETF highlighted the rising trend of work from home and the rapid development of relevant companies.
Fact-set analytics
iShares Virtual Work and Life Multisector ETF (IWFH) tracks the investment results of a market-cap weighted index called NYSE FactSet Global Virtual Work and Life Index. The index consists of US and non-US companies that deliver facilities, technologies, and products related to remote work, entertainment, and learning.
This fund invests in 41 securities of multiple sectors that focus on supporting the virtual lifestyle and telework. The chosen firms derive their maximum revenue from remote services and virtual life products. The fund manager has listed the companies based on their liquidity and FactSet Reverse Business Industry Classification System (RBICS).
Performance

Price: $24.70
Expense ratio: 0.47%
As of November 2021, the fund has about 5.1 million net assets with 200,000 shares outstanding. IWFH showed an average one-year total return of 4.12% and a 12-month trailing yield of 0.20%. Moreover, the price-to-earnings ratio and the price-to-book ratio stand at 31.28 and 6.46, respectively.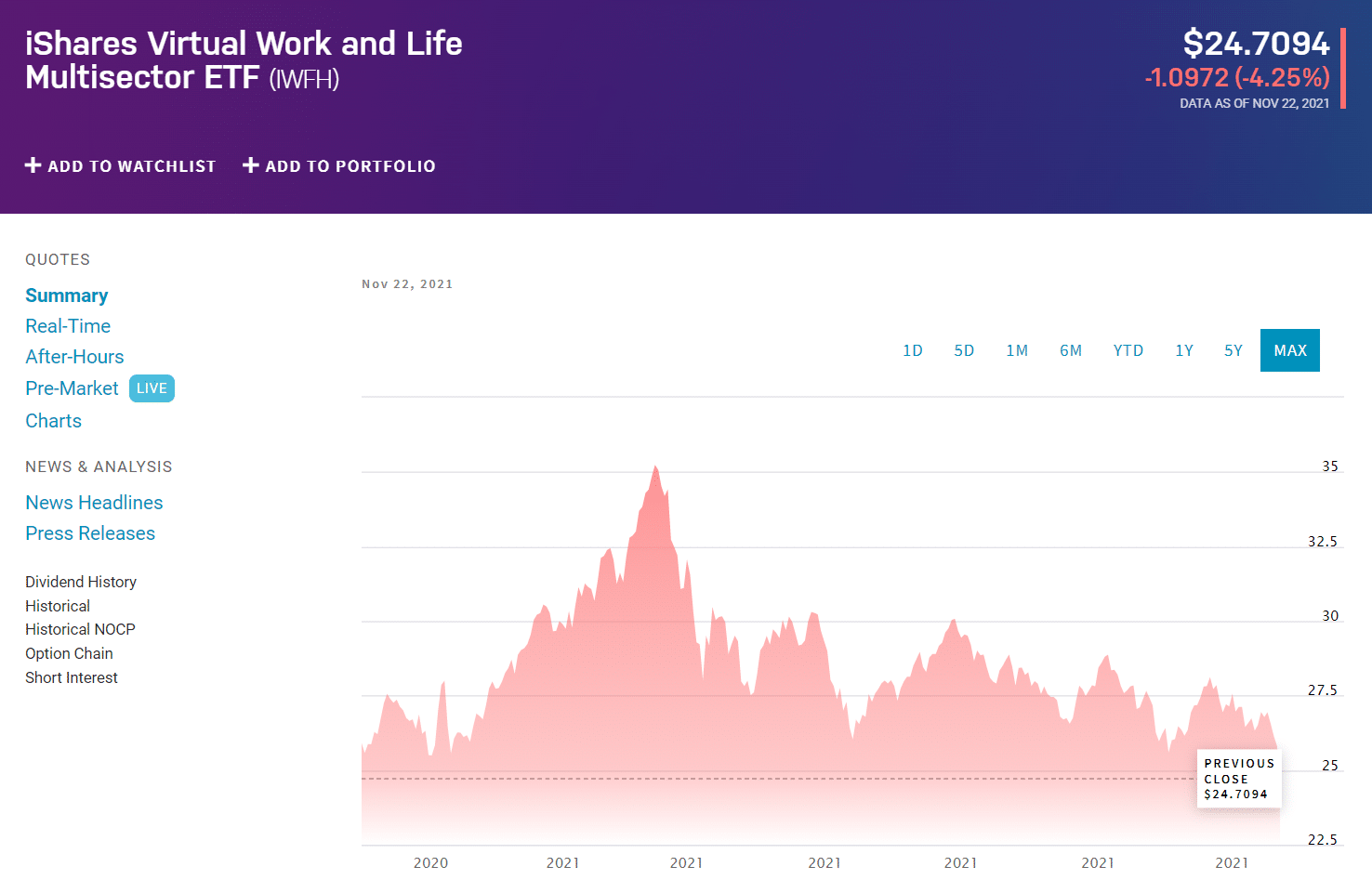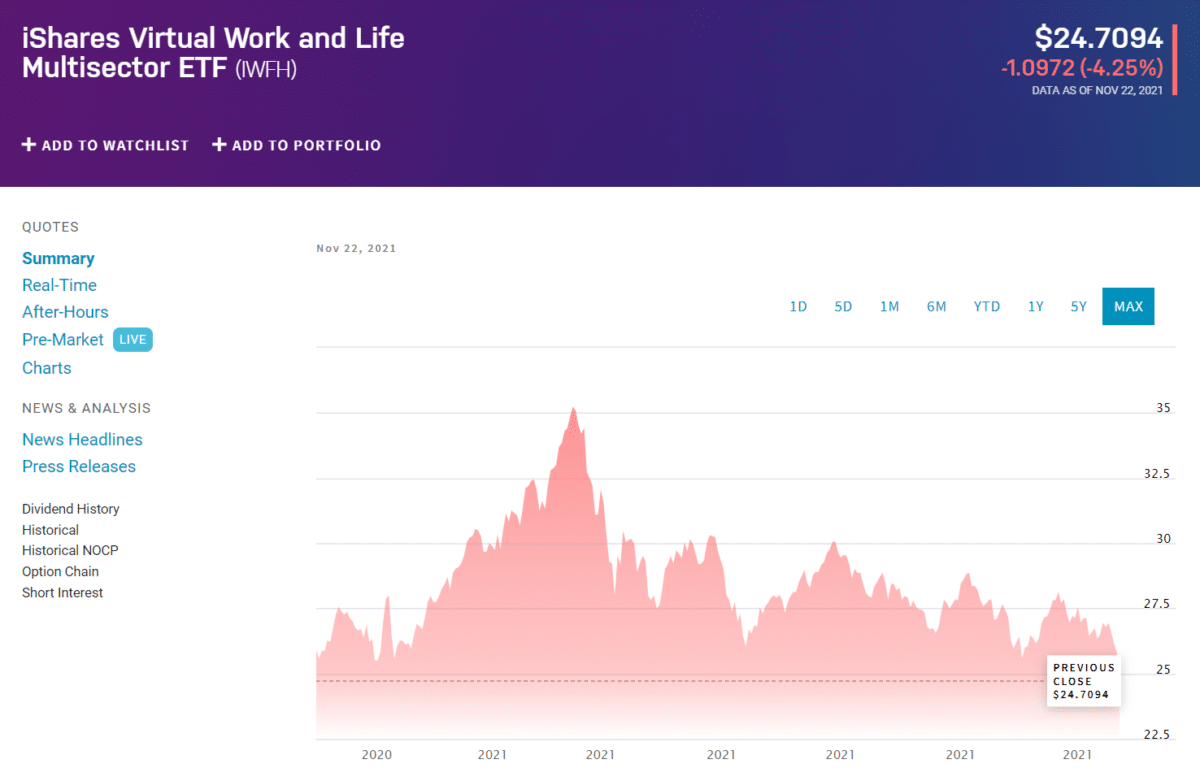 Top 10 holdings
Currently, there are 75 holdings in the IWFH portfolio, with information technology, communication, and consumer discretionary as their major three sectors. The top ten holdings with their asset percentage are as follows:
Cloudflare Inc Class A: 5.56%
Atlassian Plc Class A: 4.17%
Nice Ltd: 3.09%
Netflix Inc: 2.97%
Microsoft Corp: 2.96%
Sea Ads Representing Ltd Class A: 2.82%
Asana Inc Class A: 2.80%
DocuSign Inc: 2.48%
Spotify Technology: 2.38%
Delivery Hero: 2.32%
What is WFH ETF?

Direxion launched the world's first work from home ETF called "Direxion Work From Home ETF" in June.2020 to benefit from the emerging remote work inclination, a consequence of the pandemic.
Fact-set analytics
Direxion Work From Home ETF seeks the investment results of an equally-weighted index known as the Solactive Remote Work Index. The index consists of US securities and ADRs of corporations specializing in any of the four sectors that support and facilitate working from home. These WFH industries include cybersecurity, remote communications, online project management, and cloud technologies.
Moreover, WFH is a passively managed fund that invests in 40 companies, the top ten companies of each WFH industry. The fund manager utilizes the natural language algorithm and advanced techniques to select the most suitable, established, and growing companies.
Performance
Price: $75.83
Expense ratio: 0.45%
WFH exchange-traded-fund has approximately 110 million assets under management that trade on the NYSE, Arca exchange. According to the latest quarterly report, the fund's YTD total return stands at 9.88%. In addition, WFH has shown a return of 37.34% since its inception.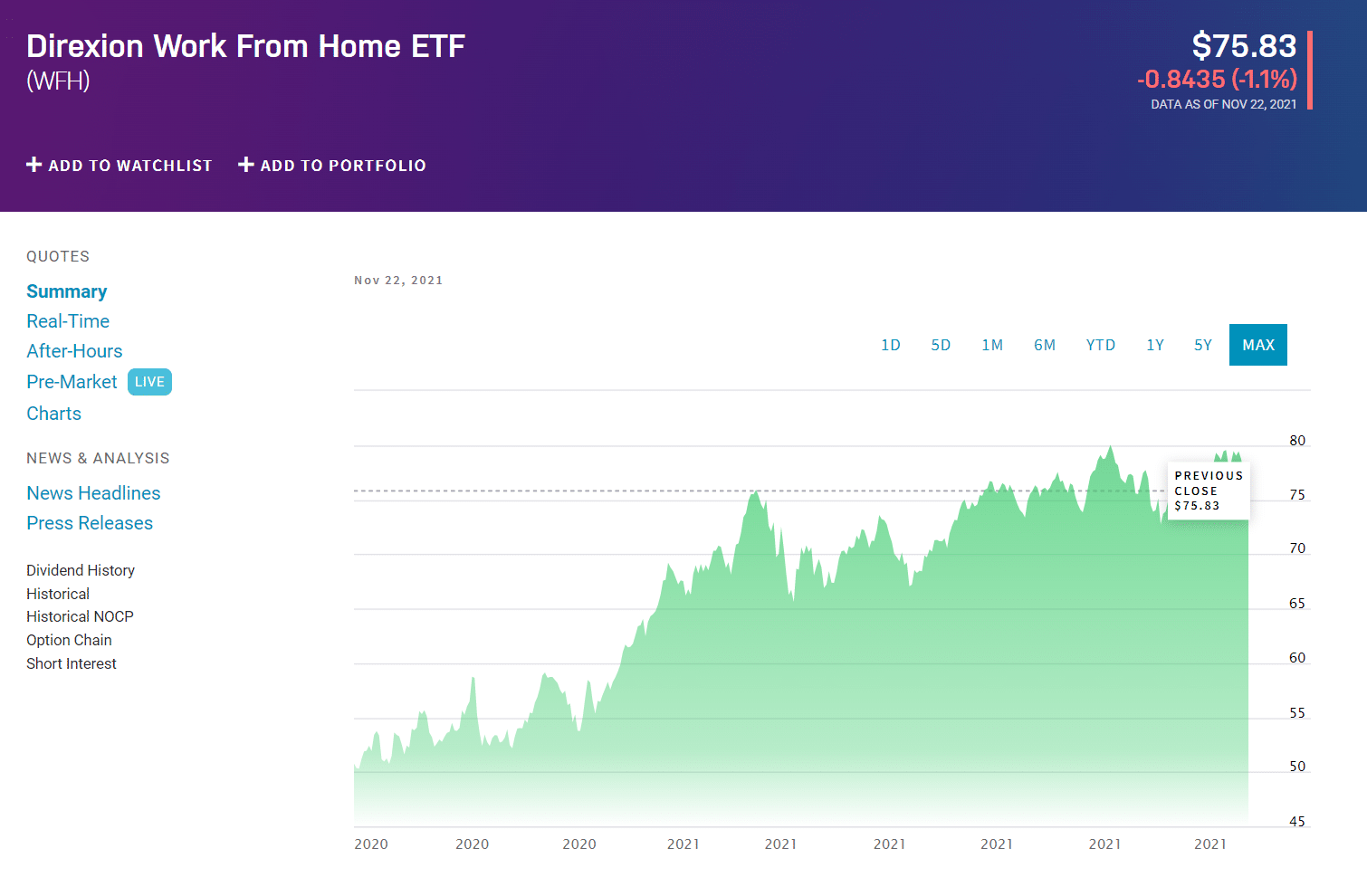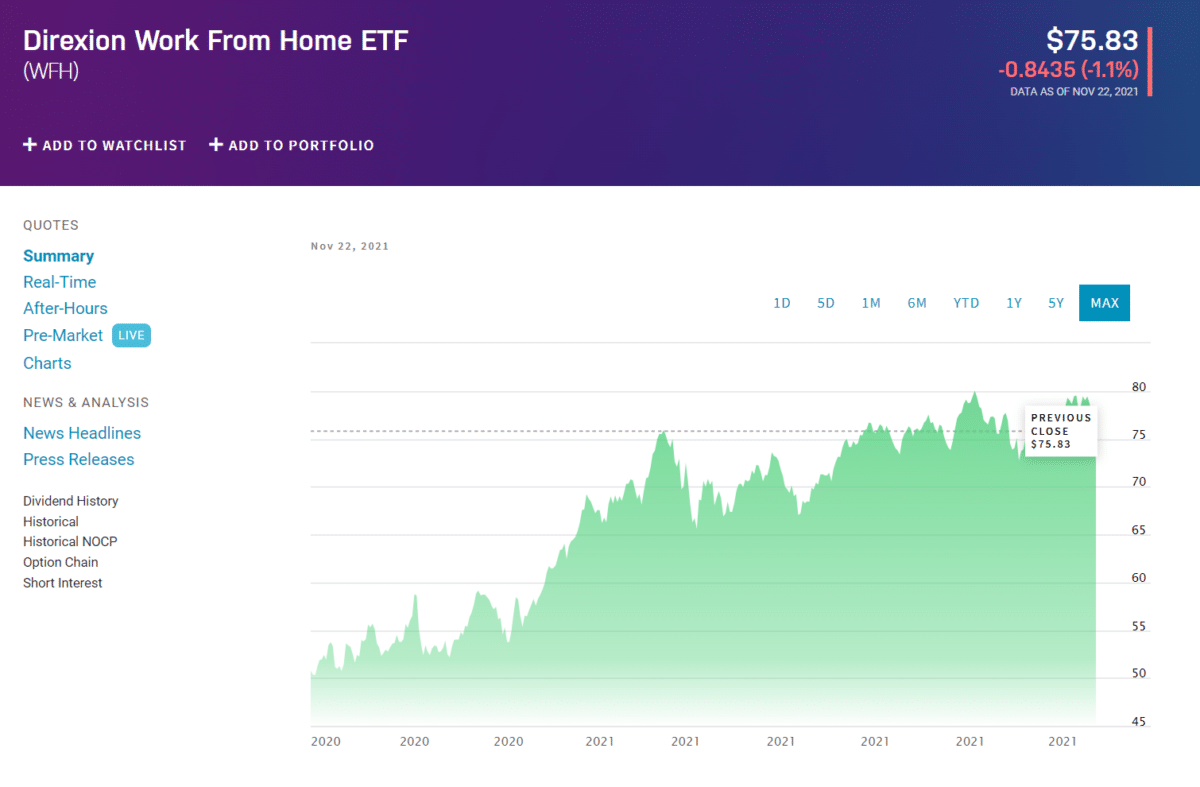 Top 10 holdings
The ETF has around 40 holdings, and the top three sectors of the index are information technology, communication services, and consumer discretionary. As of October 2021, the top ten portfolio holdings with the percentage of their assets are:
Atlassian Corp. PLC Cl A: 3.14%
Zscaler Inc: 2.93%
Marvell Technology Inc: 2.87%
Vonage Holdings Corp: 2.86%
Palo Alto Networks Inc: 2.82%
Progress Software Corp: 2.80%
Microsoft Corp.: 2.80%
Fortinet Inc: 2.78%
Ping Identity Holding Corp: 2.75%
Broadcom Inc: 2.74%
IWFH vs. WFH
WFH and IWFH ETFs both fall under thematic ETFs that focus on an ongoing and developing trend. The two funds appear similar work from home ETFs; however, their portfolio holdings are significantly distinct from each other.
WFH ETF holdings emphasize the "business" part of the remote lifestyle. This fund's stocks belong to companies that enable efficient work from home by operating and managing the online workflow, digital security, and remote communications.
On the other hand, IWFH ETF focuses on the consumer-related daily life activities of the home-stay. Its portfolio includes gaming, food delivery, home exercise, and songs or movie streaming companies.
These intrinsic differences are the primary cause of the divergent investment returns of these two ETFs. As of October 2021, WFH ETF has shown a 15.18% YTD return, whereas IWFH showed a negative YTD return of -12.15%. Moreover, WFH has generated a return of more than 39% since its inception. In contrast, the investment return of IWFH has been around 4% since its introduction.
The contrast between the two funds has become apparent with the diminishing pandemic effects and lifting of restrictions. WFH ETF is witnessing promising returns as the work from home businesses are adopting fully-remote or hybrid models due to various benefits of such work dynamics.
Whereas, IWFH ETF is on the downside as people are returning to their old ways by opting for outdoor activities, entertainment festivals, gatherings, and outdoor dining.

Pros and cons
Work from home ETFs have their perks but also carry certain limitations. Some of their pros and cons are:
Worth to use
Worth to getaway
High potential at the correct entry
Work from home ETFs provided remarkable profits to investors that gained entry at the start of the trend.
Risk of a sudden trend shift
Though the work-from-home ETFs are performing well nowadays, a trend shift can result in the undervaluation of these ETFs.
Effortless investment
Investors bypass the lengthy and complicated process to select the relevant stocks individually by investing in ETFs work.
Not suitable for long-term investment
Work-from-home ETFs are thematic ETFs that catch quick and emerging trends. Long-term investors may not achieve profits from these ETFs.
Diversification
Work from home ETFs provide diversification to the investors' portfolio and mitigate the level of risk.
Higher expense ratios
These ETFs have slightly higher expense ratios than the average.
Final thoughts
Investors can benefit from funds like WFH and IWFH, as they target the popular technology giants as well as the specific work-from-home-related companies. According to a PwC survey, 54% of the US companies are on the road to adopting remote work as their permanent work model.

This significant interest of companies to function remotely and the growth of institutions related to the work-from-home domain indicate the promising outlooks of this sphere. However, the performance variance between the WFH and IWFH funds highlights the fact that in-depth research and analysis of what you own is the key to success.