While rising rates have weighed on Americans' demand for new homes, homebuilder sector-related exchange traded funds can still find support from deep-pocketed investors who are targeting the rental market.
If you are looking for a way to invest in the housing construction industry, you may want to consider home builders' ETFs. These funds primarily invest in shares of companies that produce or sell building products or home furnishings and appliances.
But before you invest, it's wise to understand the trends and dynamics of this industry and what tends to affect the performance of such funds.
How does it work?
Home builders' ETFs comprise equities in the residential housing provision space, and all organizations generate significant revenues from providing ancillary services to this segment. However, most of these equities also operate in the broader construction segment.
These ETFs' features herein might overlap to include construction equities, but they draw significant revenues, the norm is 30%, from residential housing business activities. Investors with these qualities may be suitable for home builders' funds.
Investments that focus on one particular industry or market niche tend to carry a higher risk than investments in a broad market index. Investors with a high-risk tolerance may be able to handle the market swings best.
These assets have high relative market risk; it is prudent to hold them longer-term, at least five years but ideally ten years or more.
You don't need to be an expert in home construction to buy home builders' funds However, investors may be wise to avoid investing in something they don't understand.
Top three things to know before starting:
This industry underperformed the broader US stock market over the past year.
The top holdings of these funds are Lowe's Companies Inc., Owens Corning, and DR Horton Inc., respectively.
The sector can be used as a diversification tool when included in small percentages in a broad, diversified portfolio.
Best home builders ETFs to buy in 2022
Let's take a look at the best ETFs to invest in.
1. Hoya Capital Housing ETF (HOMZ)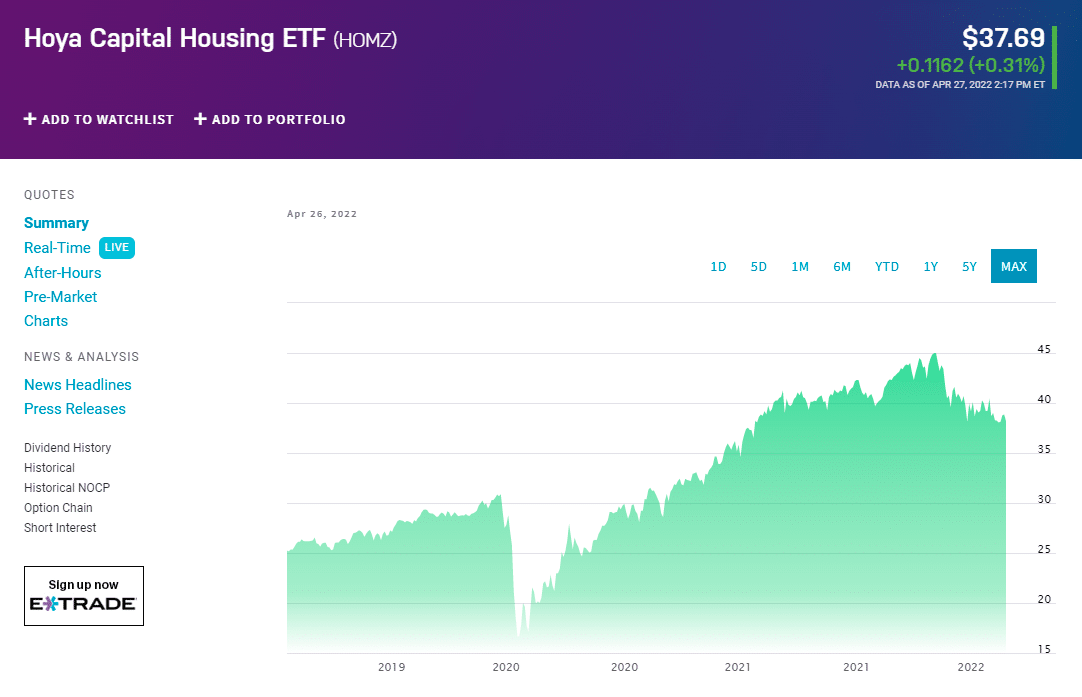 HOMZ targets the Hoya Capital Housing 100 Index. It invests in 100 companies across the US housing industry, including rental operators, home builders, home improvement companies, and real estate services and technology firms. It expects to pay monthly distributions.
The fund provides diversified exposure to the US residential housing industry. Its holdings are home builders, home improvement companies, real estate services, and technology firms. The fund follows a blended strategy of investing in a mix of growth and value stocks.
The top three holdings are:
The Home Depot Inc. — 3.02%
Lowe's Companies Inc. — 2.93%
Mid-America Apartment Communities Inc. — 1.75%
2. SPDR S&P Homebuilders ETF (XHB)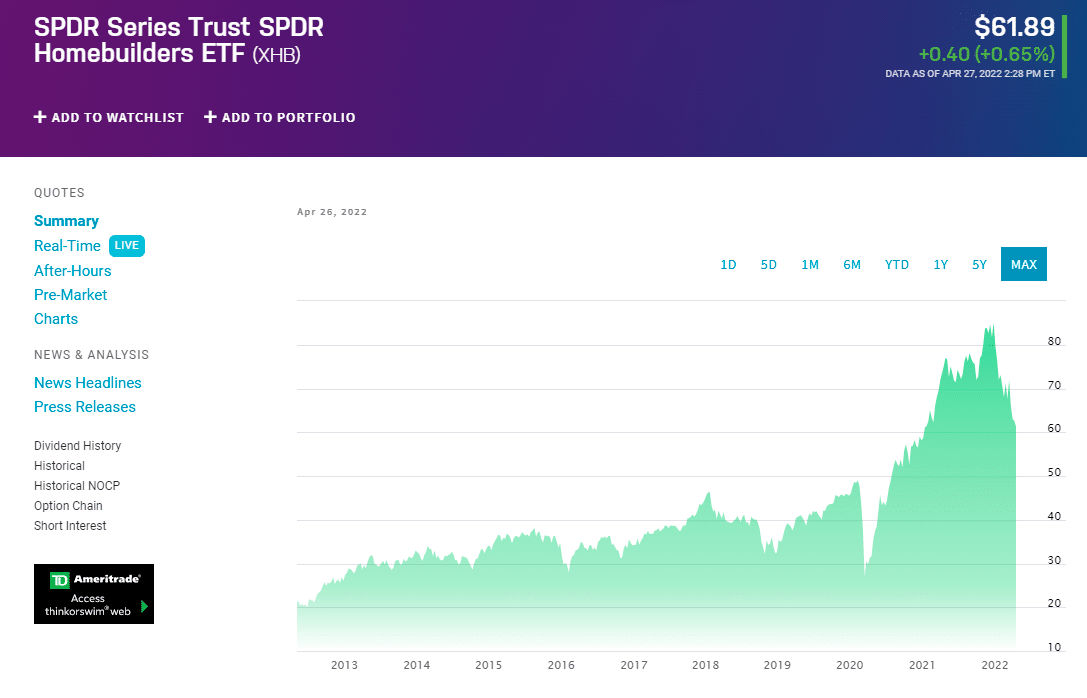 Due to the rise of data showing that active management performs poorly over the long term, investors now use ETFs as the backbone of most portfolios. These funds allow investors to target broad market sectors, like XHB issued by State Street Global Investors.
The fund exposes investors to the US homebuilding industry by tracking the S&P Homebuilders Select Industry Index, which represents the homebuilding sub-industry portion of the S&P Total Market Index. It uses an equal-weight approach in which companies with larger and smaller market capitalizations are given similar exposure.
It also follows a blended strategy, investing in a mix of growth and value stocks. The fund's largest allocation is to companies that provide building products, followed by homebuilders and home improvement retailers.
The top three holdings are:
Johnson Controls International PLC — 4.07%
Carrier Global Corp. — 3.98%
Williams-Sonoma Inc. — 3.86%
3. Invesco Dynamic Building & Construction ETF (PKB)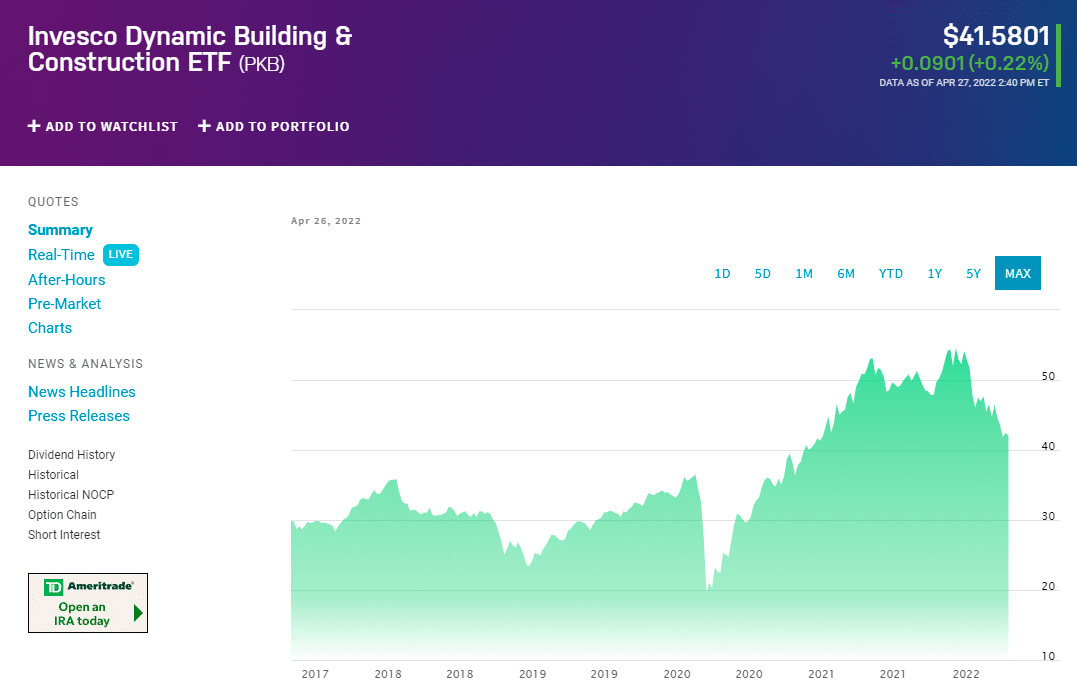 The PKB offers exposure to the US homebuilding industry and exposure to a corner of the domestic economy that tends to be cyclical. In addition to pure-play homebuilders, this fund includes companies related to the homebuilding industry.
The fund might appeal to investors looking for exposure to homebuilders who believe the methodology used by the underlying index, which utilizes quant-based stock screens, is capable of generating alpha.
The fund exposes US building and construction companies based on several criteria, including price momentum, earnings, management action, and value. The fund covers a broad group of companies that focus on home improvements, general construction, or large-scale infrastructure projects, like highways, tunnels, tunnels, airports, and power lines.
The top three holdings are:
Martin Marietta Materials, Inc. — 5.28%
Home Depot, Inc. — 5.25%
Lowe's Companies, Inc. — 5.11%
Pros and cons
| | |
| --- | --- |
| Worth to invest | Worth to getaway |
| Lower expense ratios | Trading costs to consider |
| Diversification | Investment mixes may be limited |
| Tax efficiency | Partial shares may not be available |
Final thoughts
Investors should consider investing in narrowly focused sector funds like homebuilders' ETFs that can increase market risk. High relative market risk is associated with higher relative volatility.
As a result, if an investor chooses to buy home builder funds. They may want to allocate only a small percentage, say 5% to 10% of their overall portfolio, to riskier investments like these. Therefore, homebuilder funds may be most appropriate for investors with a high tolerance for risk.