Athena EA features 2 EAs working side by side. One of the EAs places buy orders, while the other works with sell orders. The vendor says that the system's monthly profit potential ranges between 8% and 25%, depending on risk configurations. Apparently, riskier settings have a higher possibility of generating more profits compared to low-risk ones.
Athena EA is the creation of Elite CurrenSea, a company based in Tallinn, Estonia. It was formed in 2014 by Nenad Kerkez and Chris Svorcik. Ultima, Rush, and Zeus are the other brands produced by the company.
Athena EA trading strategy
According to the vendor, the system uses the grid trading algorithm with a specific approach to take profit to ensure it doesn't close trades with a loss. The EA also employs price swings, scalping, price action, as well as moving averages and oscillators for exits and targets.
Athena EA backtesting report
The devs have not provided the backtest report for this system. They say that you can backtest it for yourself but warn that the process may be challenging. The two EAs included in the algorithm are required to run concurrently on a number of EURUSD charts using varying timeframes, something that is hard to reproduce in a backtest.
Athena EA live results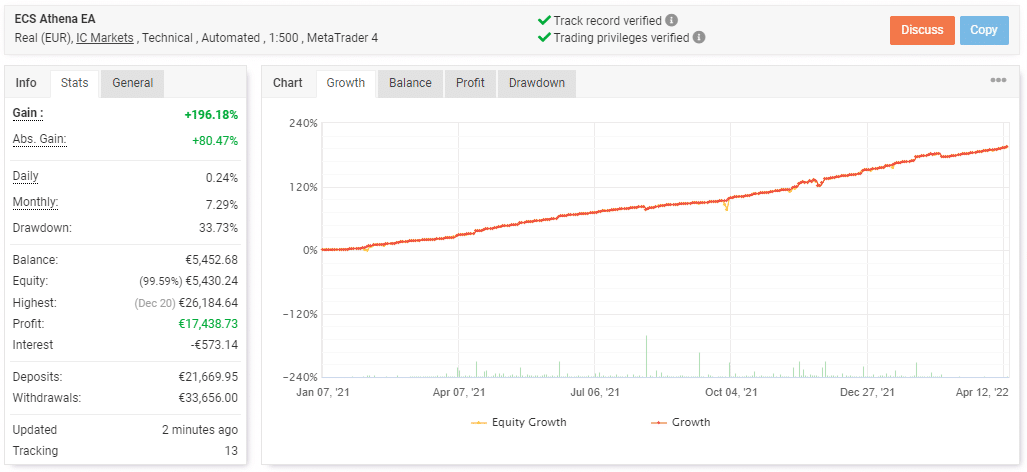 The above account was launched in January 2021 and deposited at €21669.95. And as you can see from the growth chart, the EA has been increasing the capital consistently. So, we now have a total profit of €17438.73. Consequently, the account's value has grown by a great margin—196.18%. The drawdown is 33.73% and a comfortable level for risky traders.

There are 21,887 implemented orders, with success rates of 69% for long positions and 73% for short ones. The profit factor of 1.65 tells us that the system is relatively profitable. Even then, the losses made are higher. This explains why we have an average win (6.43 pips) that is disturbingly lower than the average loss (-17.98 pips). The EA generally holds orders for 5h 16m.

The stats above prove that the account is still strong and cannot be ruined easily.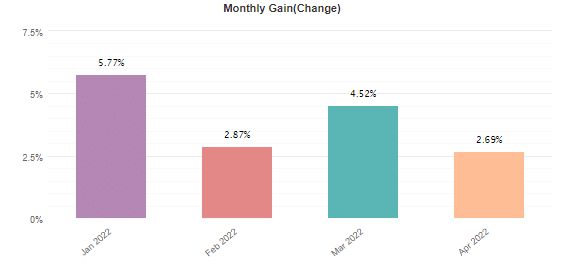 All months have been profitable this year, with January recording the highest profitability rate at 5.77%.
The robot worked with short time frames and set different take profit targets. It was able to meet most of the targets.
Some features of Athena EA
| | |
| --- | --- |
| Total return | 196.18% |
| Maximal drawdown | 33.73% |
| Average monthly gain | 7.29% |
| Developer | Elite CurrenSea |
| Created, year | N/A |
| Price | €799, €999, and €499 |
| Type | Grid, Price swings, Price action, Moving averages and oscillators |
| Timeframe | N/A |
| Lot size | Varying lot sizes ranging between 0.01 to 18.0 or more |
| Leverage | 500:1 |
| Min. deposit | $50, €4000, or €400 |
| Recommended deposit | N/A |
| Recommended brokers | Key to Markets |
| Currency pairs | EURUSD |
| ECN | N/A |
Main things to consider if you invest with Athena EA
Before you buy this EA, take the time to ponder over the following factors:
Grid trading
Though this strategy can earn decent profits for the user under the right market conditions, it carries significant risks. If the price takes the opposite direction continuously, the trader could end up accruing larger losing positions over time, hence reducing their capital significantly.
Single-currency support
The system only trades on the EURUSD currency pair. Therefore, if you like to trade with multiple symbols to increase your income potential, then you will be hugely disappointed.
Large lot sizes
The robot applies small lot sizes in trading for the most part, which is a good practice. However, there are instances where it can increase the size of the lots, making your account more vulnerable to losses.
Pricing details
There are 3 paid plans available. The Rental and Rental Sponsored packages cost €799 and €499, respectively. They both provide yearly access to the EA, and while the former plan offers flexible features, the latter one allows for quick onboarding and has no capital limits. A lifetime license can be obtained at €999, and it affords you a personal copy of the EA with complete access to all settings. In case you want the devs to manage your account, you can hand it over to them. They won't ask you to pay anything.
Other notes
As of now, there are no customer reviews for Athena EA on Trustpilot or FPA.