The travel and tourism industry is one of the world economy's largest sectors. The services of this industry are familiar to many people because they have used them in one form or another. Cruises are one of the most exciting divisions of this industry and attract the attention of tourists and many investors interested in cruise line ETFs.
This industry has been severely affected by the Covid-19 pandemic, related travel restrictions, and other social distancing measures. Because the entire industry has suffered losses in the most recent quarter, even relatively small absolute value changes in revenue are thus represented as enormous percentage changes.
How does it work?
There aren't any ETFs specific to cruise lines only, but there are plenty of funds that include major cruise companies in the mix.
Investors can use funds invested in cruise lines to boost capital into the industry without posing an enormous risk. As Norwegian Cruise, Carnival Corporation, and Royal Caribbean continue to await their first post-pandemic voyage, baskets of stocks are working together to keep the sector afloat in the market.
Top three things to know before starting:
In a basket of securities like an ETF, this is a good thing for a struggling industry and the investors who choose to put their capital at risk.
ETFs are more tax-efficient, and they offer increased security when it comes to returns.
Cruise ships were docked for more than a year, causing their owners to miss out on billions of earnings.
Best cruise line ETFs to buy in 2022
Cruises have long been a popular way to vacation. If you want to invest in cruise line funds, you have several attractive options.
1. Defiance Hotel, Airline, And Cruise ETF (CRUZ)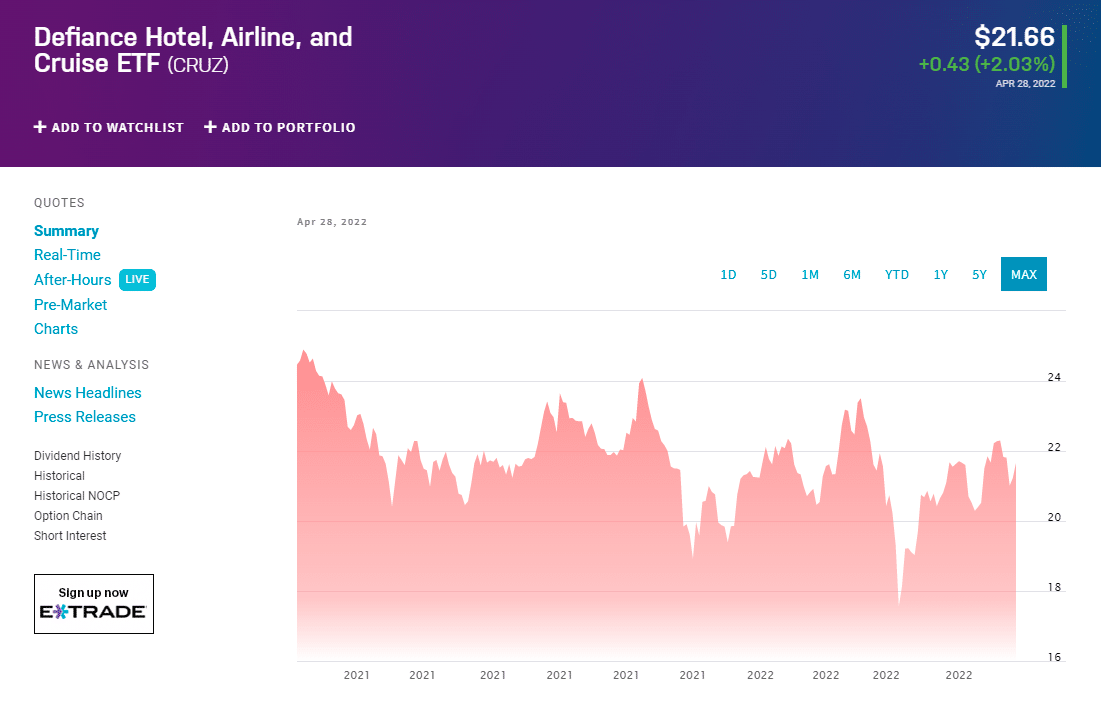 It provides pure-play exposure to three segments of the travel and tourism business — airline, hotel and resort, and cruise. The fund holds at least 25 globally-listed stocks of companies that derive at least 50% of their revenue from the three business segments. Eligible companies must also meet investability and liquidity requirements, including a minimum market cap of $150 million.
The index is reconstituted semi-annually and rebalanced quarterly. Weighting is done in tiers; holdings are weighted by market cap within each segment, subject to a liquidity overlay and an 8% single security cap. Each component is also restricted to 15-50% aggregate portfolio weight.
The ETF exposes retail and institutional investors to a cross-section of companies that we believe have significant growth potential. It seeks to track the performance before fees and expenses of the BlueStar Global Hotels, Airlines, and Cruises Index, a rules-based weighted index of companies primarily engaged in the passenger airline, hotel, and cruise industries.
Its expense ratio is average compared to funds in the Consumer Cyclical category. CRUZ has an expense ratio of 0.45%, which is 16% lower than its category. Recently, in March 2022, it returned 1.0%.
2. SonicShares Airlines, Hotels, Cruise Lines ETF (TRYP)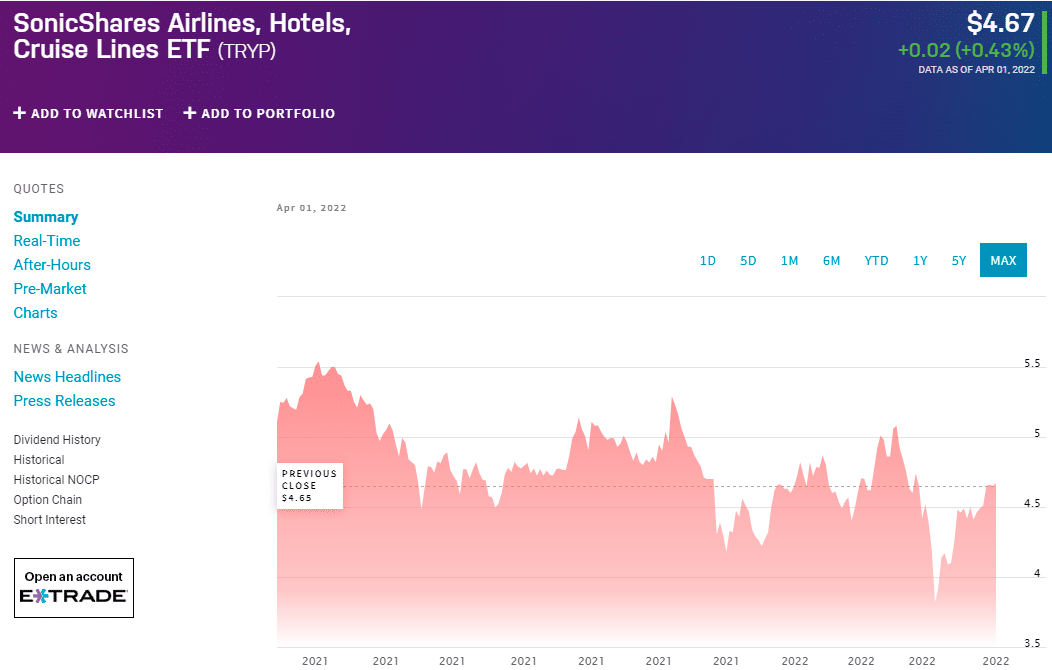 The fund seeks to offer exposure to the travel industry as it tracks global airline companies, hotel businesses, and cruise line operators.
The TRYP travel industry ETF tracks the Solactive Airlines, Hotels, Cruise Lines Index, which focuses on companies that derive significant revenue from the travel and tourism sector, including companies engaged in the airlines, hotels, and cruise lines business.
The fund holds globally-listed stocks of companies that meet minimum market-cap and liquidity requirements and derive at least 50% of their revenue from any three segments. The three stocks with the largest market cap are each given a 4.5% allocation in the portfolio within each segment. The remaining securities are weighted by market cap, subject to a 4% single security cap and a liquidity cap. The index is rebalanced semi-annually.
Its expense ratio is above average compared to funds in the Consumer Cyclical category. TRYP has an expense ratio of 0.75%, which is 40% higher than its category. Recently, in March 2022, it returned 0.4%.
3. AdvisorShares Hotel ETF (BEDZ)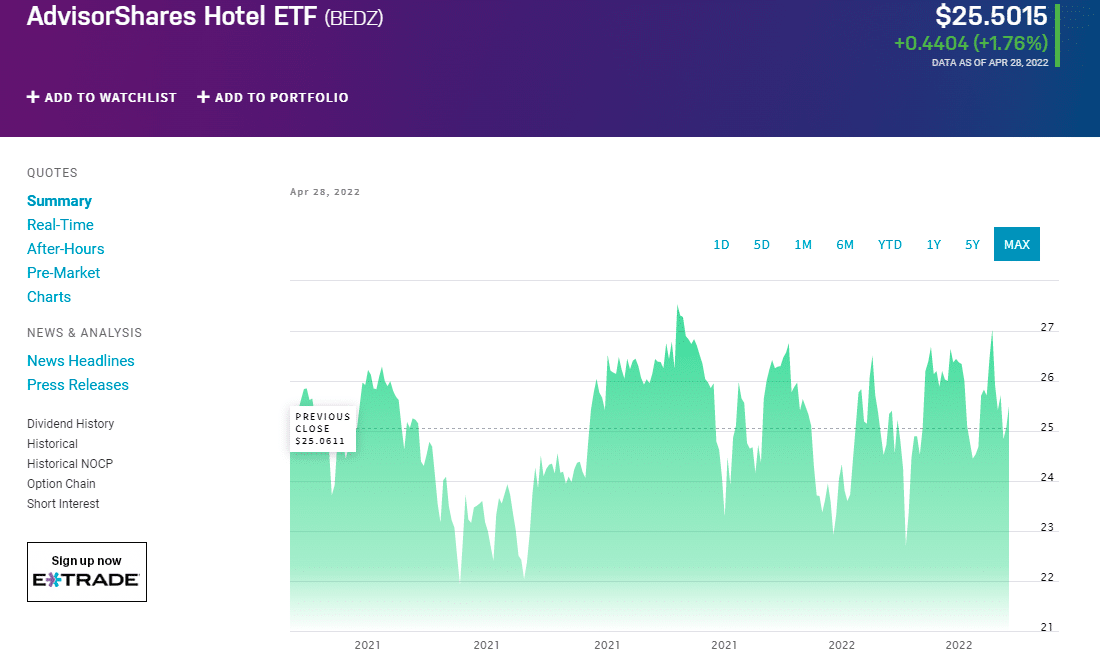 BEDZ was formed on April 20, 2021, and is domiciled in the United States. It aims to provide concentrated exposure to US companies in the hotel business, including hotels, resorts, cruise lines, travel agencies, tour operators, and other related services.
The fund is an actively ETF that seeks to achieve its investment objective by investing, under normal circumstances, at least 80% of its net assets in securities of companies that derive at least 50% of their net revenue from the hotel business. It may also invest in companies involved in other lodging and travel-related services.
Its expense ratio is high compared to funds in the Consumer Cyclical category. BEDZ has an expense ratio of 0.99%, which is 85% higher than its category. Recently, in March 2022, it returned 4.1%.
Pros and cons
| | |
| --- | --- |
| Worth to invest | Worth to getaway |
| These funds are still a long-term play that could have some rough seas ahead. | Vacation travel companies have survived the most challenging period. |
| They are a pure play on a return to a leisure activity, and the potential for highly effective coronavirus vaccines could put prior peak earnings back in play. | Investing in cruise ETFs includes a long path to revenue recovery and the need to raise additional capital in the meantime potentially. |
| Before the outbreak of the Covid pandemic in early 2020, the global Travel and tourism sector had been outpacing the growth of the global economy for nine consecutive years. | Fuel costs make up a significant part of the total cost of a cruise and this means that cruise companies are subject to large fluctuations in fuel prices, just like airlines. |
Final thoughts
Considering how the pandemic affects cruise lines, investing in them is relatively risky. The cruise line business has high operating costs, and many cruise companies have lost a lot of money. Investors searching for safe ETFs may want to stay away from this industry.
Nevertheless, cruise lines tend to have a passionate customer base with plenty of repeat passengers. Over the long term, cruise line ETFs may be a good value investment, provided you are comfortable with some volatility.