The vendor describes Happy Galaxy as a 100% fully automated system for trading. They say it is particularly efficient in trading on popular currency pairs, such as EURUSD, GBPUSD, USDCHF, EURGBP, and EURCHF. The EA is compatible with Windows 7,8,10, Mac OS, and Linux.
Happy Forex is the company that developed this EA. Happy Forex creates trading systems for the Meta trader platform. Some of its products include Happy Breakout, Happy Gold, Happy Way, Happy Neuron, Happy MartiGrid, and many more. However, there is no information whatsoever about the developers.
Happy Galaxy trading strategy
The vendor admits that they have added new methods to the system that mainly ascertain the direction of the trend, small grids, or recover losses. Furthermore, a news filter is included to decrease the drawdown when the market is highly volatile.
Happy Galaxy backtesting report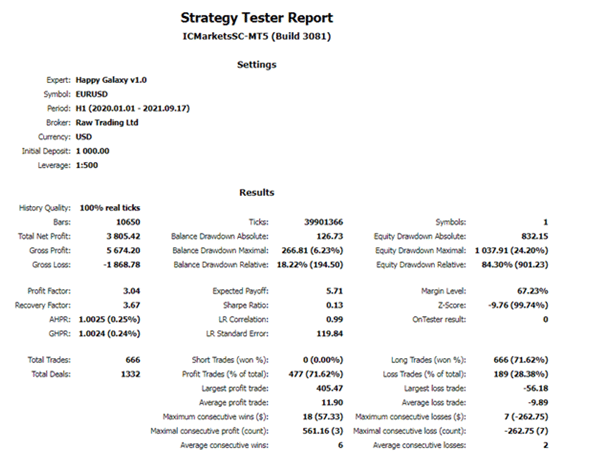 The EA was tested on the EURUSD currency pair using the H1 timeframe from January 2020 to September 2021. The end result was a total net profit of $3805.42 from 666 trades implemented. Notably, the robot didn't place any short trades. Rather, it worked with long trades and won 71.62% of these orders. There was a profit factor of 3.04, and a relative drawdown of 84.30% indicated that a dangerous strategy was applied.
Happy Galaxy live results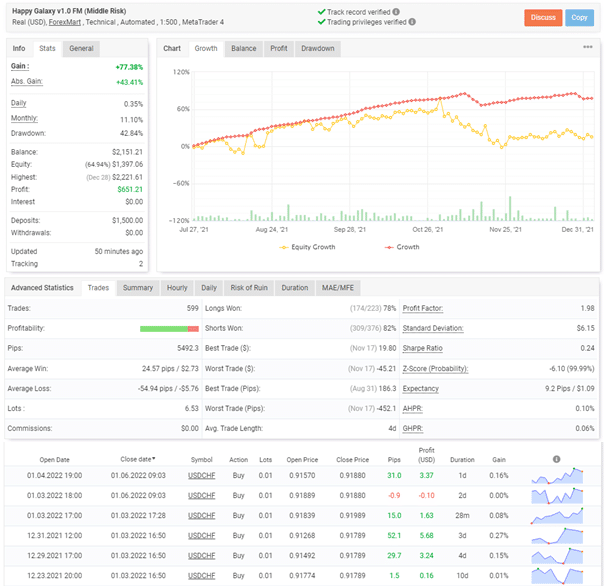 The risky nature of the EA's strategy is evidenced in this live account. The system has already obliterated 42.84% of the capital. Daily and monthly profits currently stand at 0.35% and 11.10%, respectively. So far, a profit of $651.21 has been made from a deposit of $1500. Consequently, the balance has increased to $2151.21.
The robot has carried out 599 trades with 5492.3 pips. The average win is 24.57 pips, but the higher average loss of -54.94 pips is a sign that the robot has a high losing streak. To date, 78% of the long trades and 82% of the long ones have been successful.
From the trading history, a grid of orders is evident. Some trades were held for long periods, and the profits generated from each order were small.
Some features of Happy Galaxy
| | |
| --- | --- |
| Total return | 77.38% |
| Maximal drawdown | 42.84% |
| Average monthly gain | 11.10% |
| Developer | Happy Forex |
| Created, year | N/A |
| Price | €299 |
| Type | Trend, small grids, and recovery losses |
| Timeframe | H1 |
| Lot size | 0.01 |
| Leverage | 1:500 |
| Min. deposit | $1000 |
| Recommended deposit | $2000 |
| Recommended brokers | Any broker |
| Currency pairs | EURUSD, GBPUSD, USDCHF, EURGBP, and EURCHF |
| ECN | Yes |
We have listed the other features of the EA here:
Supports FIFO rule
Is easy to install
It works on the MT4/5 accounts
Includes autodetection of 4 or 5 digit quotes
Main things to consider if you invest with Happy Galaxy
If you are having any thoughts of purchasing this EA, then you should put the following factors into consideration:
Risky strategy
The EA works with the grid strategy, which is notorious for generating devastating outcomes on trading accounts. In just 5 months of trading, the algorithm has almost eaten up half of the user's capital.
Unimpressive profitability rate
As earlier mentioned, Happy Galaxy has only made a profit of $651.21 since it began trading. So, it makes about $130 monthly for the user. This amount is low for a trading system.
Pricing details
Happy Galaxy is currently available at a price of €299. It comes with a bonus of Happy Forex full pack that features 10 extra EAs for free. When you purchase Happy Galaxy, you will also get a single license for an unlimited number of demo/real accounts, free updates and upgrades, and a 30-day money-back guarantee.

Other notes
Happy Galaxy does not have any customer reviews yet. Consequently, we are not sure if it has buyers or not.