Happy Way is an expert advisor that belongs to the Happy Forex family. As a result, it received a common presentation that includes some explanations about the system's settings and features. The dev tries to convince us that it is a good trading tool to invest in. Let's check it out.
Happy Way trading strategy
Happy Way executed two strategies like a Grid of orders and Martingale.
We can open orders on USDCAD, AUDUSD, AUDCAD, CADCHF, and AUDCHF.
Trading is possible on all time frames.
Happy Way backtesting report
Unfortunately, there are no backtest reports provided. From it, we could know the win rates, profitability, drawdowns, profit and recovery factors the system had before release.
Happy Way live results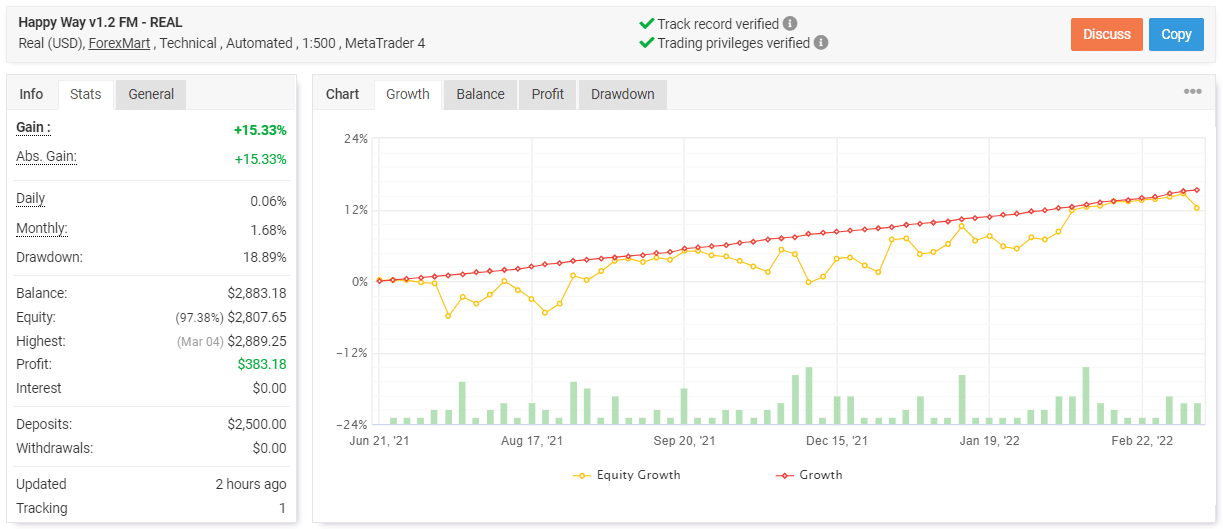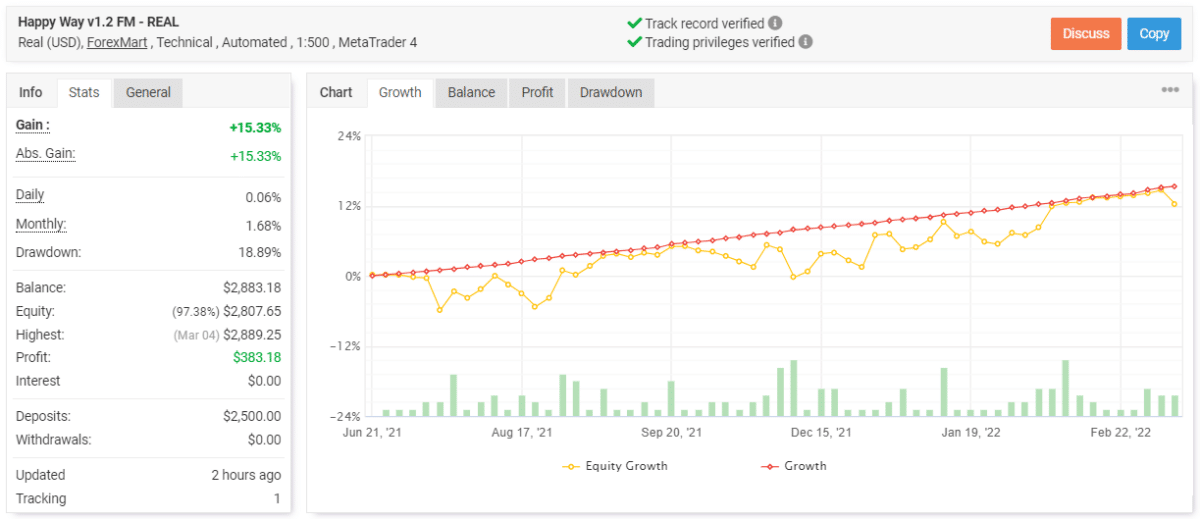 The robot was set to trade on a real account on ForexMart. It works with 1:500 leverage on the MetaTrader4 platform automatically. The account has a verified track record. It was created on June 21, 2021, and deposited at $2,500. Since then, the total gain has amounted to 15.33%. An average monthly gain is 1.68%. The maximal drawdown is 18.89%.


The robot has traded 158 deals with 4242.8 pips. An average win is 84.10 pips when an average loss is -90.45 pips. The win rate is between 67% and 69%. An average trade length is 19 days. The profit factor is 1.99. It's a good number because it's higher than 1.4-1.6.


The robot works with five pairs where USDCAD is the most traded: 56 deals and $137.30 of profit.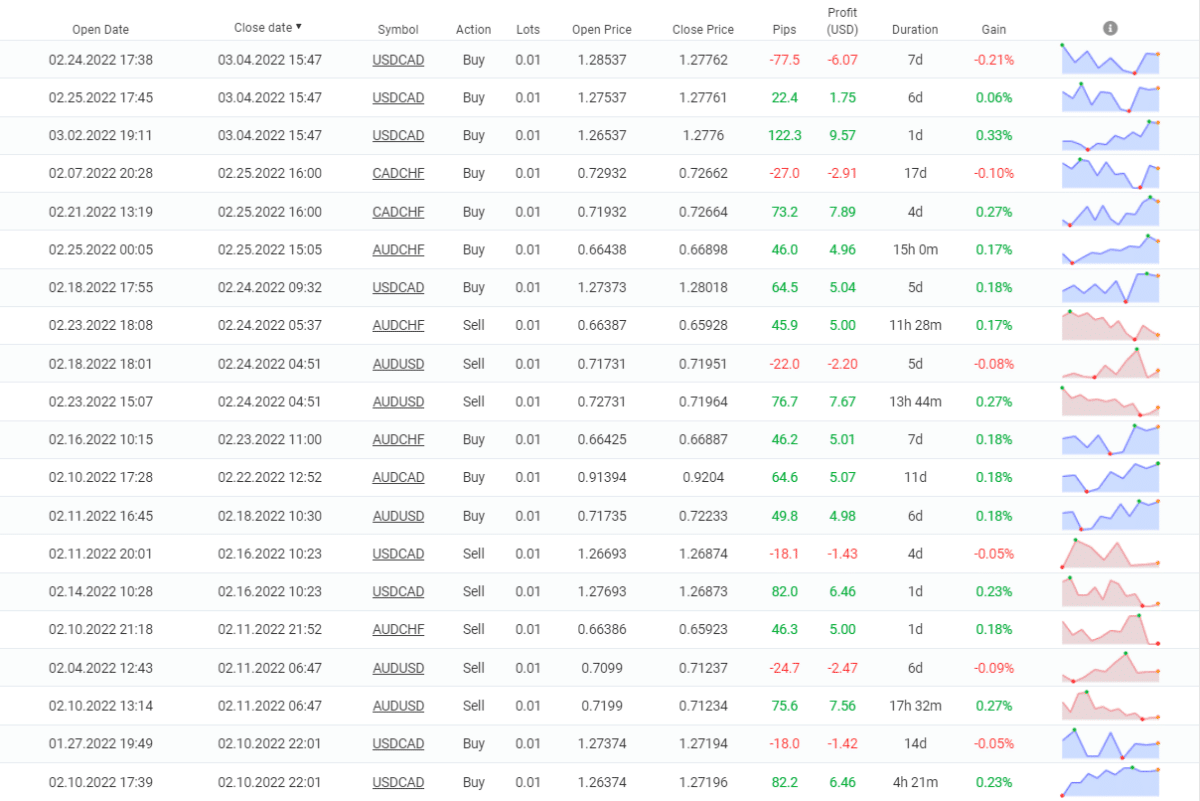 The robot works with Grids of two-three orders to close them in a profit.
Some features of Happy Way
Let's talk about settings, details, features, and various claims about how the system is going to work on our account.
The robot can provide us with automatic orders execution.
We may do no extra effort.
The advisor focuses on following the market direction.
It works based on a trend and price action strategies.
We can set the system to trade on the following charts: USDCAD, AUDUSD, AUDCAD, CADCHF, and AUDCHF.
It works with a Grid and Martingale strategy, so it doesn't need data from indicators according to the developers view.
The Grid strategy can place several orders to make more profits.
We can work with any cross pair that we want.
It fits various traders' expectations.
The account size can vary from several hundreds to thousands of dollars.
There is a Lot multiplier feature on the board.
We can trade following FCA and FCS rules.
The leverage is standard, 1:500.
It places orders on the market with high frequency.
We have to work with as low as $15 on our account balance.
We have over 10 robots in the package.
We aren't sure that they can handle the current market conditions.
The developers insisted that we can work on Windows 7, 8, 10, Mac OS, and Linux.
The robot works through the MT4 platform.
It has to work on the account with over $1000 on the balance.
It trades on the market 24/7, seeking for opportunities.
We have to cooperate with ECN brokers only.
| | |
| --- | --- |
| Total return | 15.33% |
| Maximal drawdown | 18.89% |
| Average monthly gain | 1.68% |
| Developer | Happy Forex |
| Created, year | 2011 |
| Price | €299, €499 |
| Type | N/A |
| Timeframe | Any |
| Lot size | N/A |
| Leverage | 1:500 |
| Min.deposit | $1000 |
| Recommended deposit | N/A |
| Recommended brokers | N/A |
| Currency pairs | USDCAD, AUDUSD, AUDCAD, CADCHF, and AUDCHF |
| ECN | Recommended |
Main things to consider if you invest with Happy Way
Cross pairs diversity
We can work with any of five pairs available to trade. This can spread our risks and get stability in general.
A well-known developer company behind the robot
Happy Forex is a pretty-known developer among Forex-related traders. We can trust this company and its products.
Performance
The advisor has verified trading results. It's easy to note that the robot is profitable and good to go.
Pricing details
We can purchase a robot through one of two offers. We can buy a two-license pack for €299. The five-license pack costs €499. We can expect that the packages have updates, upgrades, support, and a 30-day refund policy.
Other notes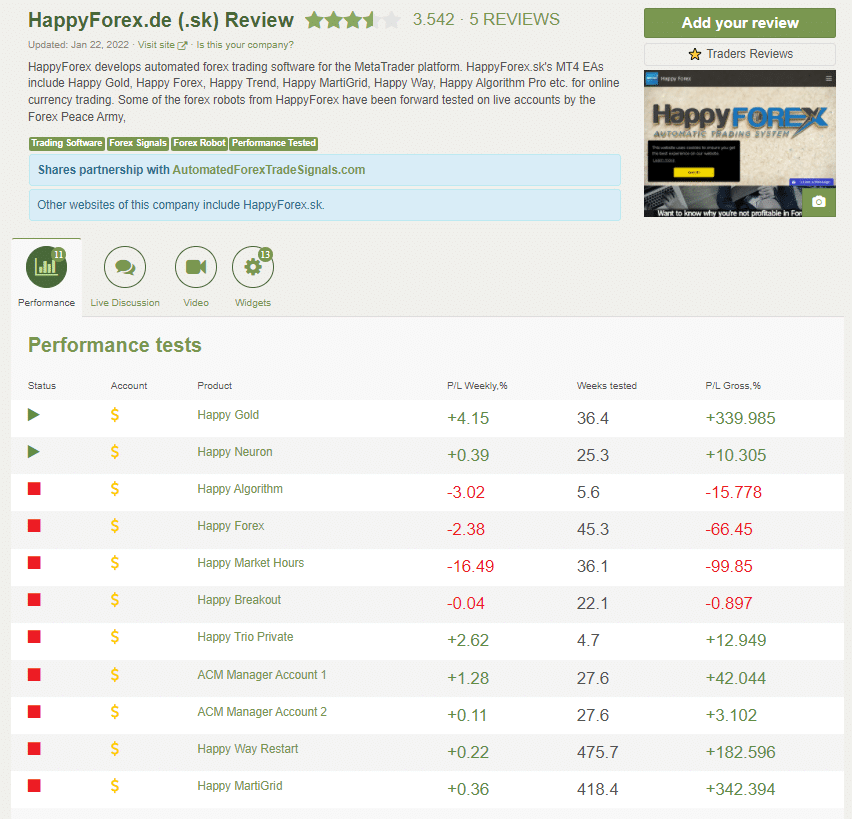 Happy Forex has a page on Forex Peace Army. We can check many accounts that were connected. There are five reviews written that formed a 3.54 rate.
The company also has a page on Trustpilot with a high 4.5 rate based on 13 reviews. Traders claim that the EAs the company sells are profitable and stable.