Happy MartiGrid is a Forex expert advisor that claims to offer the best profits and stability. It is a product from the Germany-based Happy Forex team that is known for manufacturing Forex EAs like Happy Frequency, Happy Gold, Happy News, Happy Trend, Happy Way, and Happy Fast Money. It is a system that is compatible with operating systems like Linux, Mac OS, and Windows.
Happy MartiGrid trading strategy
This robot uses a martingale plus grid combo. It also uses a news filter and technical indicators. The vendor claims that the strategy requires utmost attention on the part of the trader.
Happy MartiGrid backtesting report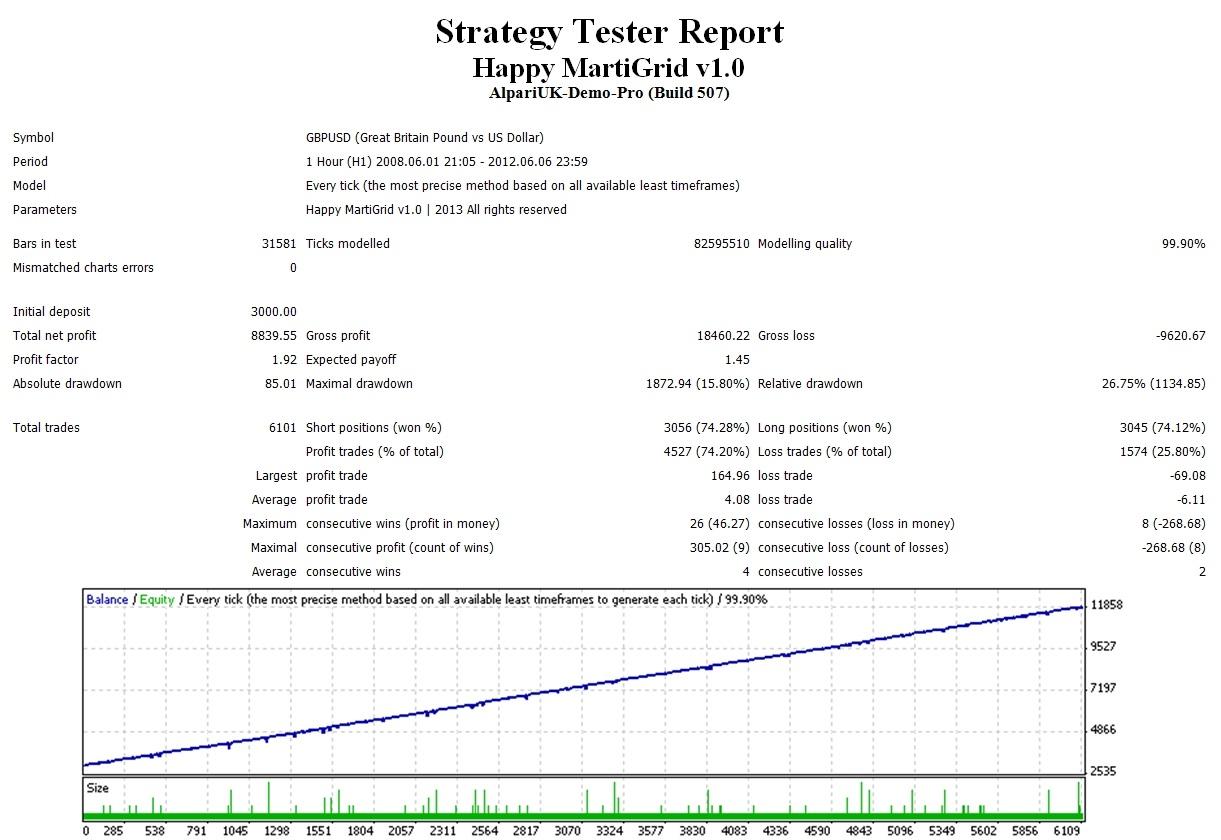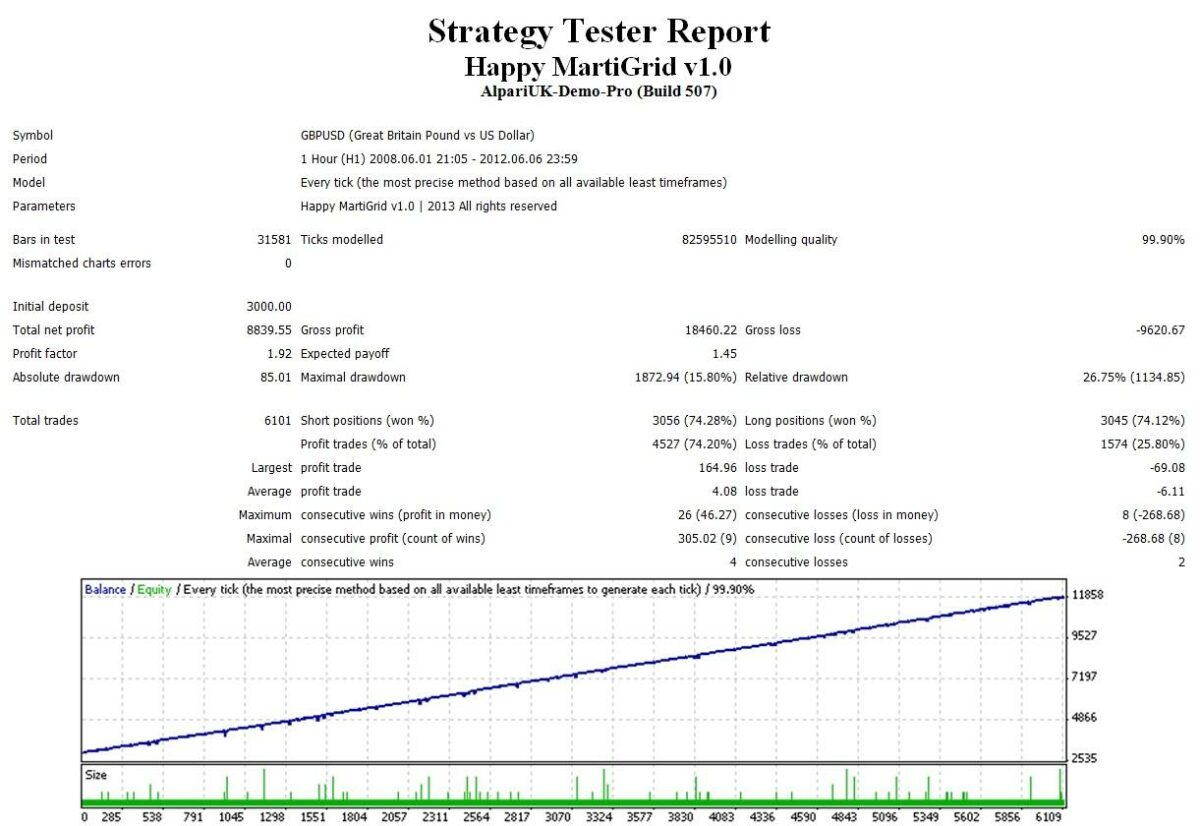 This backtest was conducted with an initial deposit of $3000. The EA conducted a total of 6101 trades from 2008 to 2012 using an every tick model. By maintaining a win rate of 74.20%, it made a total profit of $8839.55. For the testing period, the EA had a profit factor of 1.92. There were 26 maximum consecutive wins and 8 maximum consecutive losses, which means the performance was quite decent. The relative drawdown was 26.75%, which is indicative of a risky strategy.
Happy MartiGrid live results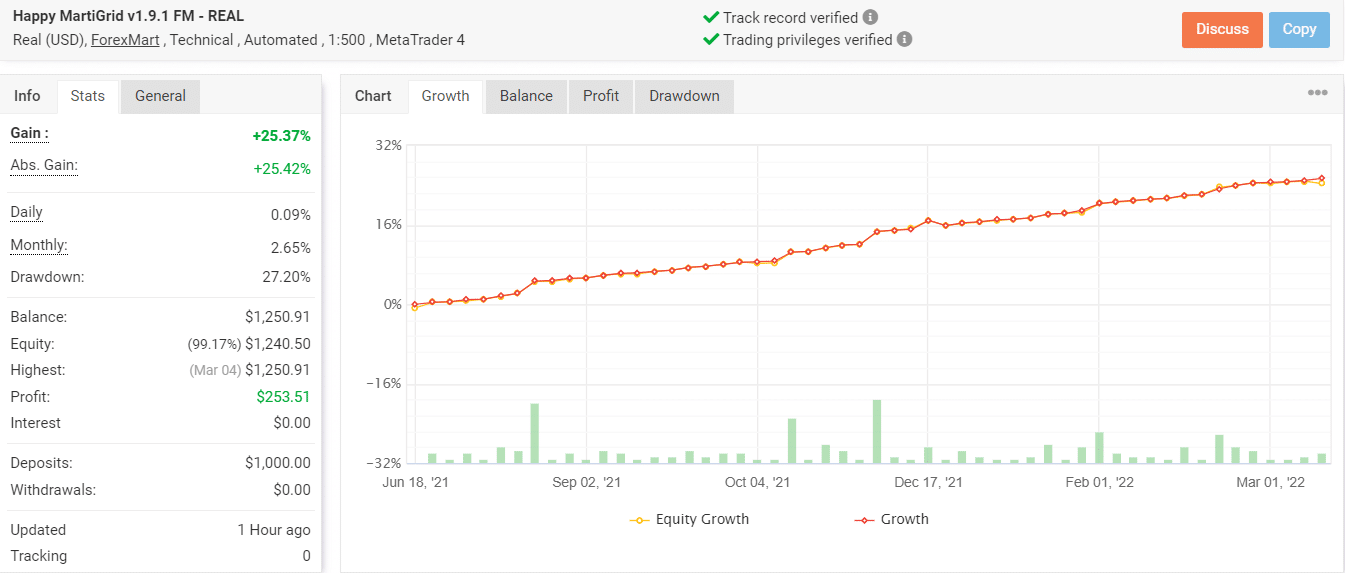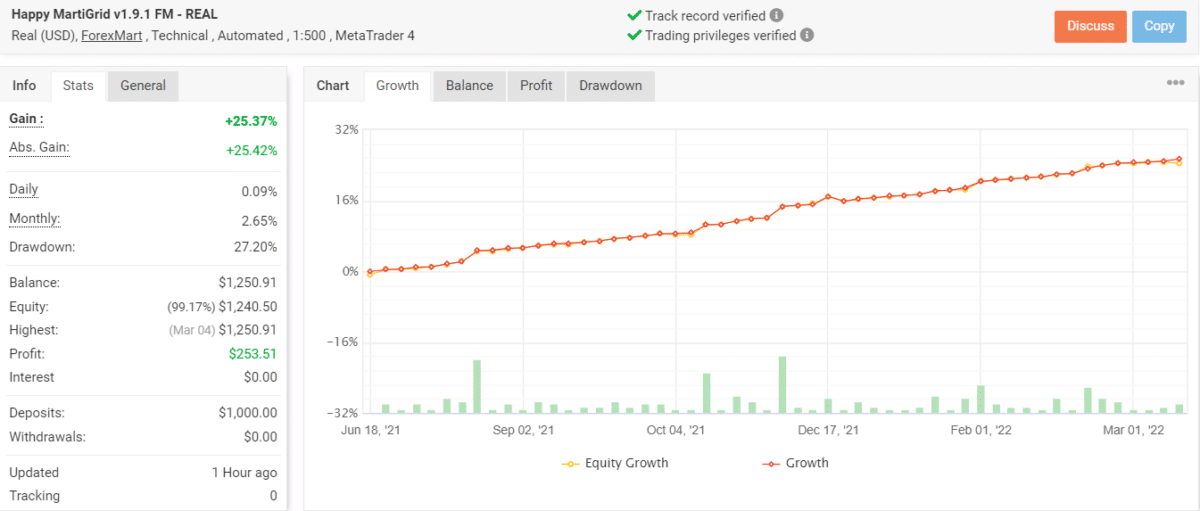 This live trading account on Myfxbook was launched on June 18, 2021. To date, the EA has conducted 160 trades through this account, winning 77% of them. The win rate is slightly higher compared to the backtest. This account has a high profit factor of 1.80 and a time-weighted return of 25.37%. While the daily and monthly gains are quite high at 0.09% and 2.65%, respectively.
From recent trading history, it is evident that the EA is able to generate profits at a steady rate. The last 19 trades have been conducted with a lot size of 0.01.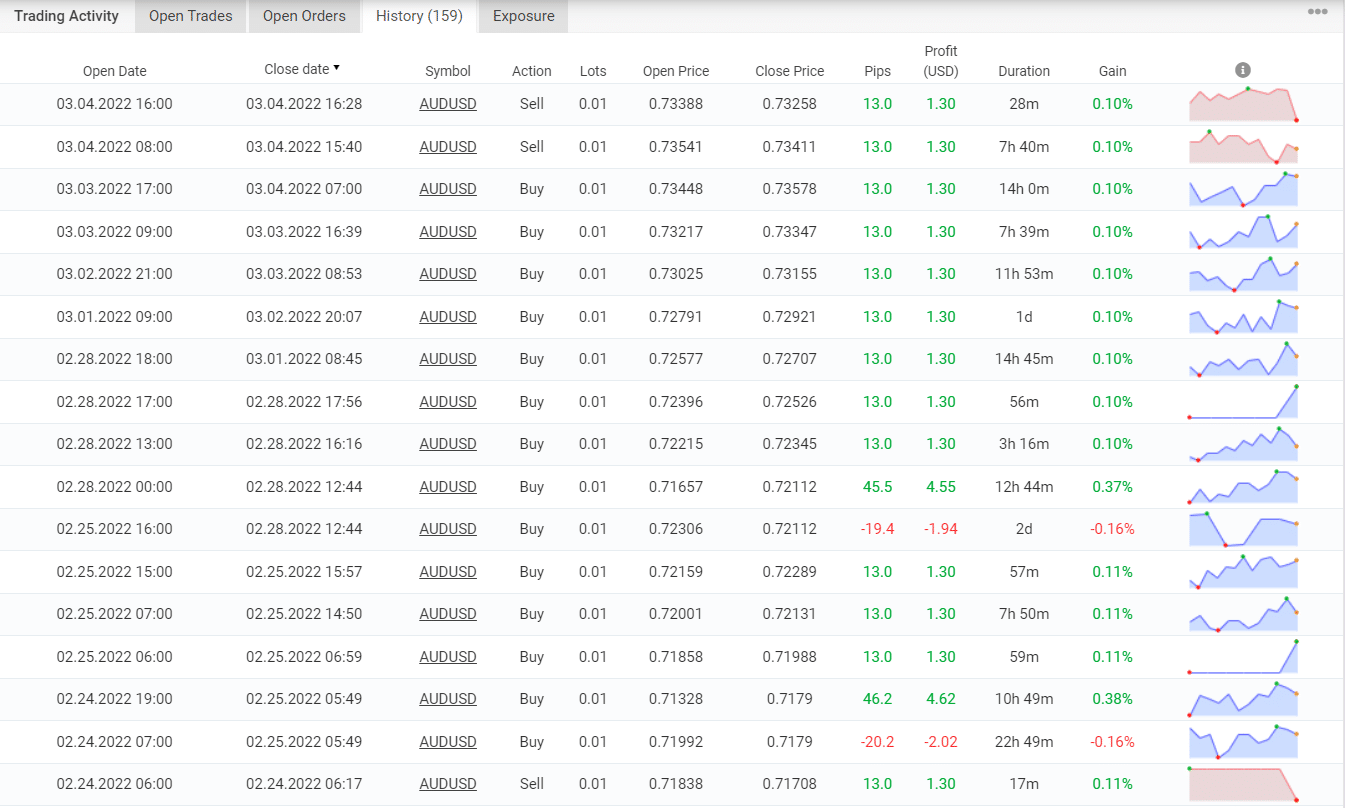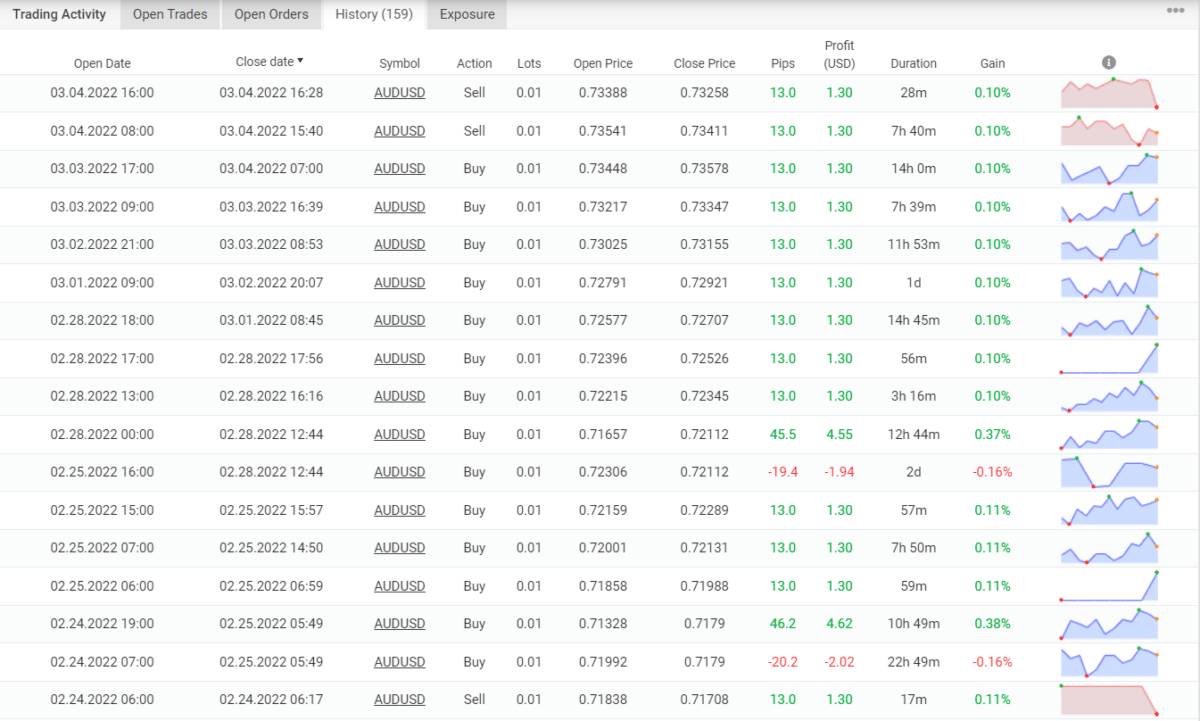 On average, the robot holds an order for five days, but we can see instances where trades have been closed within a few minutes. This system also applies the martingale strategy as shown below.

Some features of Happy MartiGrid
This is an EA that only trades in AUD/USD. You need to deposit at least $3000 or 3000 cents to get started with this system, based on the type of account you're using. It is compatible with micro, mini, and standard accounts.
Happy MartiGrid supports ECN brokers. It is easy to install and can automatically detect 4 or 5 digits quotes. Since it is 100% automated, it can function without manual inputs.
| | |
| --- | --- |
| Total return | 25.37% |
| Maximal drawdown | 27.20% |
| Average monthly gain | 2.65% |
| Developer | Happy Forex |
| Created, year | 2021 |
| Price | 299 Euros |
| Type | Martingale/Grid |
| Timeframe | N/A |
| Lot size | 0.01 |
| Leverage | 1:500 |
| Min. deposit | $3000/3000 cents |
| Recommended deposit | N/A |
| Recommended brokers | N/A |
| Currency pairs | AUD/USD |
| ECN | Yes |
Main things to consider if you invest with Happy MartiGrid
If you wish to purchase this EA, you need to consider the following:
High profitability
The EA has a win rate of 77% for the live trading account. For the backtest, the win rate is 74.20%. Thus, compared to other EAs, Happy MartiGrid is highly profitable.
Experienced developer
Happy Forex, the development company, has been manufacturing Forex EAs for over five years. It is a transparent company that is well-known for building profitable EAs. You can find the verified track records for all of their EAs on third-party websites.
Attractive offer
When you buy this EA, you get the Happy Forex Full Pack containing 10 EAs. You don't need to pay anything extra for this. You can combine these systems for better results.
Pricing details
For two licenses, you need to pay 299 Euros, while five licenses cost 499 Euros only. Compared to other EAs, the pricing plans are not too expensive. The vendor offers free updates and a 30-day money-back guarantee.
Customer reviews
At this moment, there are no customer reviews for Happy MartiGrid on trusted third-party websites.