Happy News is an expert advisor that is compatible with the MT4 trading platform. This robot helps you trade the news releases that are relevant to Forex trading pairs. It works on various operating systems like Windows 7, 8, 10, Linux, and Mac OS. Since it is a fully automated trading system, you can run it without any manual inputs. It avoids using risky trading strategies like grid, martingale, and hedge, which means there are fewer chances of losing money with this robot.
Happy News trading strategy
To make the best of the market momentum, the EA places pending orders in both directions. This way, you can earn profits if the news release significantly impacts the price of a particular pair. The EA collects the news from reliable sources like Forex Factory and filters it based on your preferences and requirements. You can follow all the news releases or only the ones relevant to the current pair attached to the chart.
This EA uses multiple filters, so you can decide what kind of impact the release should have on the market or whether it should vary from previous releases.
Happy News backtesting reports
At this moment, there are no backtesting results for this expert advisor.
Happy News live results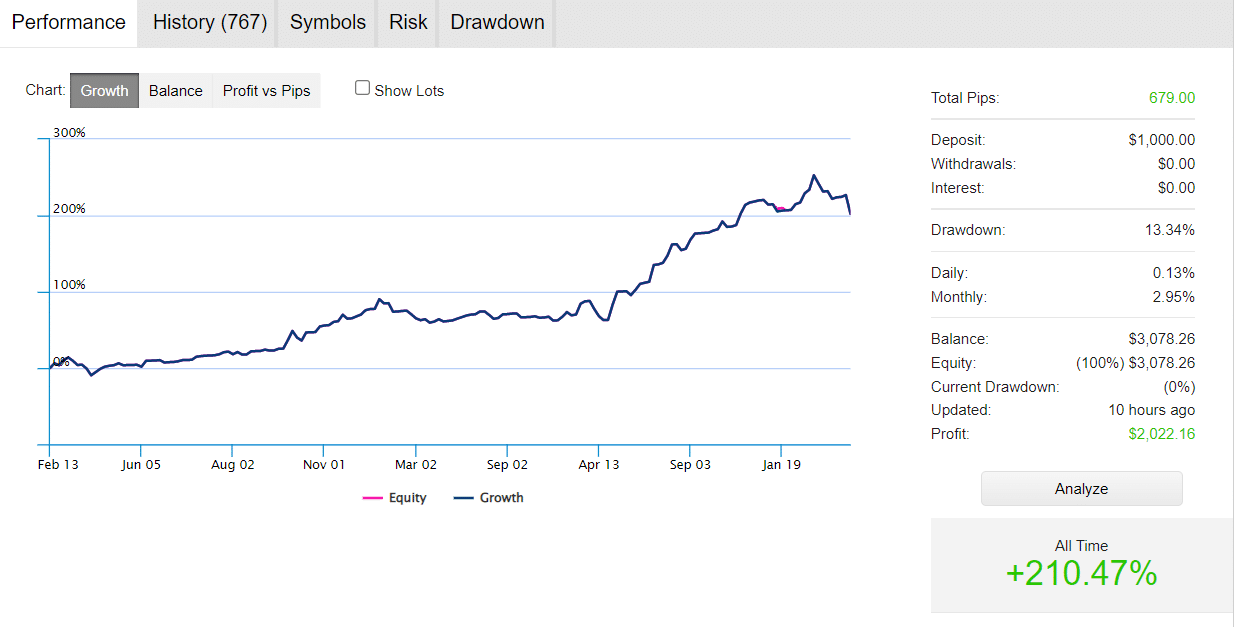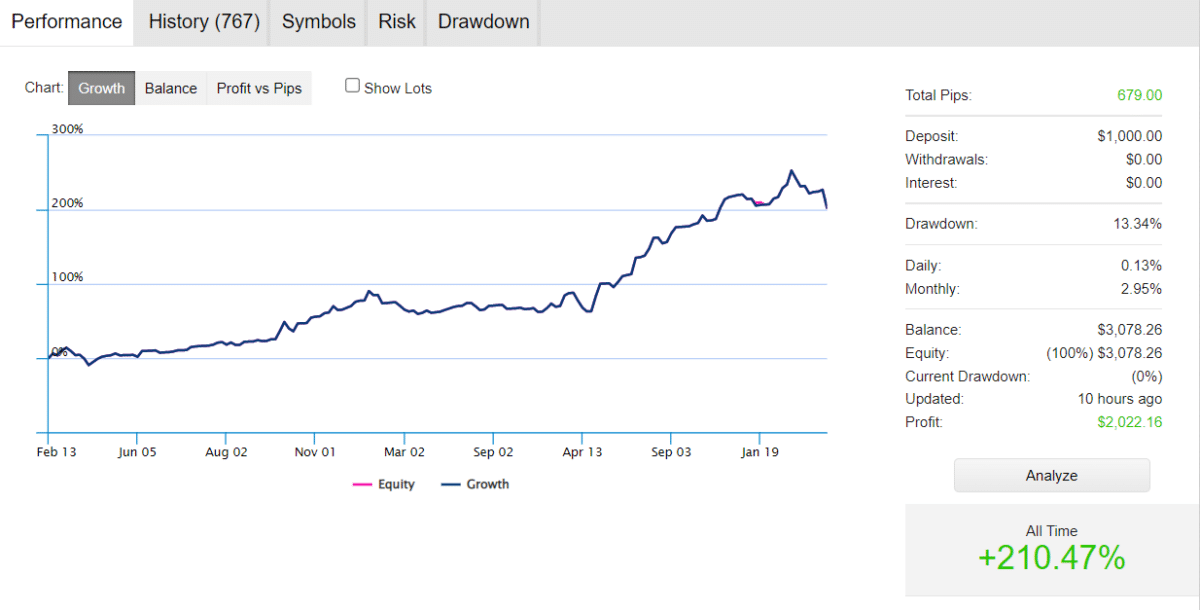 This live trading account on the FXStat website has been conducting live trades since February 2019. To date, it has placed 425 trades through this account, winning 372 of them. It currently has a very high win rate of 87.53% and an impressive profit factor of 1.68. At this moment, the total profit generated through the account stands at $2,022.16.
The daily and monthly gains for this account are quite high at 0.13% and 2.95%, respectively. Considering the long time the account has been active and the high win rate, the drawdown of 13.34% is quite low. This tells us that the EA follows a low-risk strategy and you are less likely to suffer heavy losses while trading with it.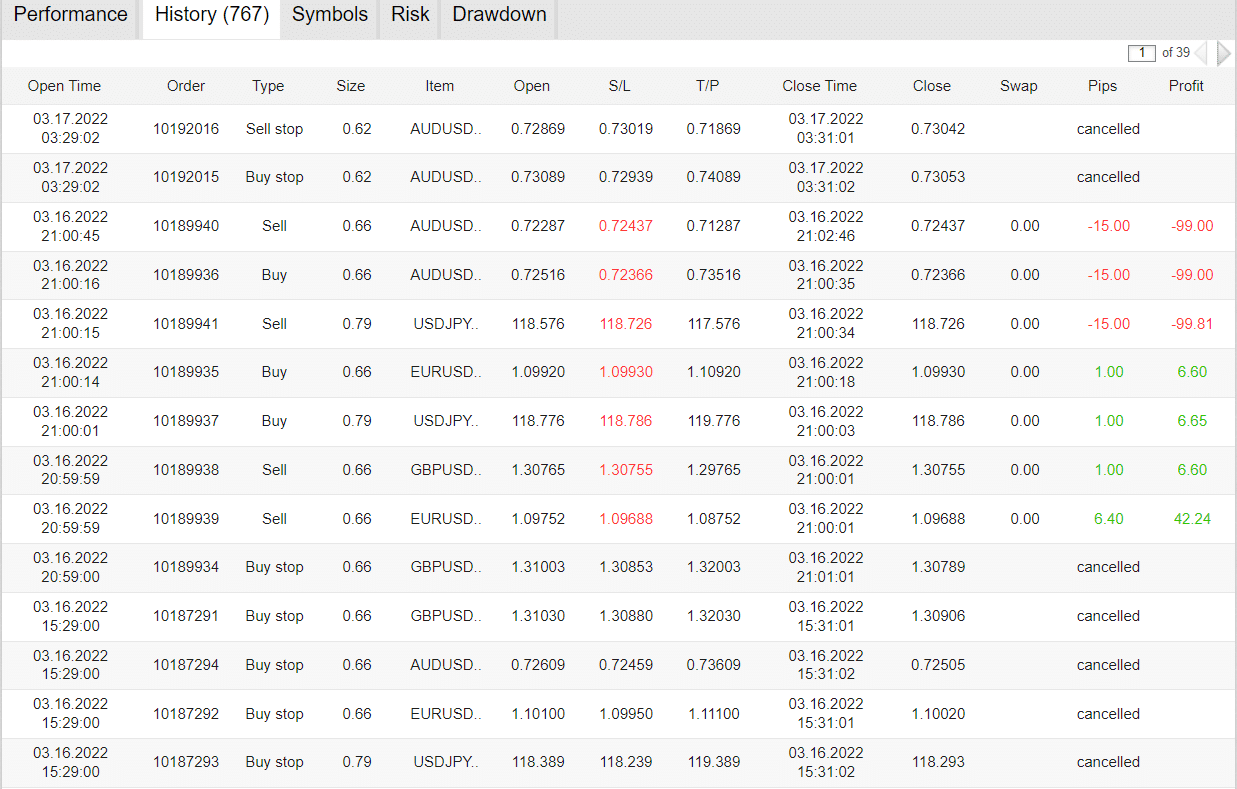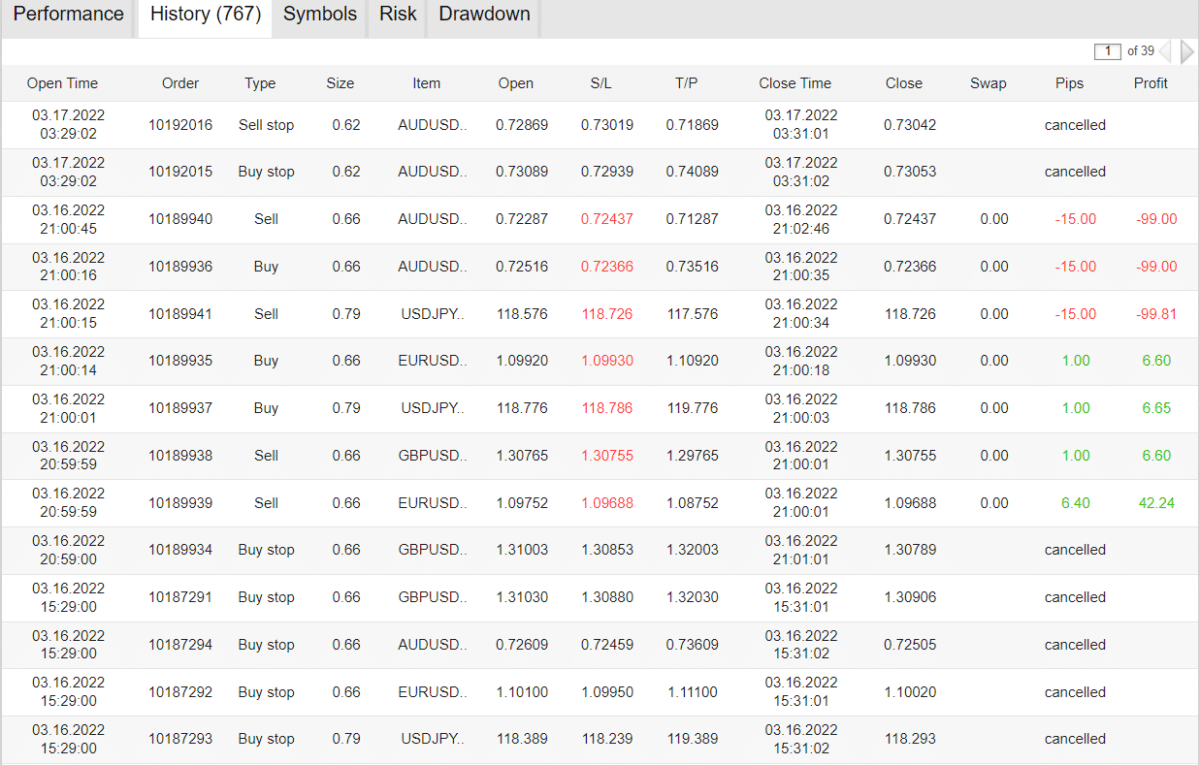 Here you can see the recent trades conducted through this account. For the last few trades, the EA has used a lot size of 0.62 to 0.79. The average profit and loss for this account are $13.42 and -$56.05, respectively. On average, each trade lasts for 0.08 hours.
Some features of Happy News
The currency pairs compatible with this system include GBP/USD, EUR/USD, AUD/USD, and USD/JPY. You can get started with a small initial deposit of $100. The EA supports ECN brokers and can automatically detect 4 or 5 digit quotes.
| | |
| --- | --- |
| Total return | 210.47% |
| Maximal drawdown | 13.34% |
| Average monthly gain | 2.95% |
| Developer | Happy Forex |
| Created, year | 2019 |
| Price | 299 Euros |
| Type | News Trading |
| Timeframe | N/A |
| Lot size | 0.62-0.79 |
| Leverage | N/A |
| Min. deposit | $100 |
| Recommended deposit | N/A |
| Recommended brokers | N/A |
| Currency pairs | GBP/USD, EUR/USD, AUD/USD, & USD/JPY |
| ECN | Yes |
Main things to consider if you invest with Happy News
If you wish to purchase this EA, you need to pay attention to the following:
High win rate
This EA has an incredibly high win rate of 87.53%. It has been able to maintain such a high win rate in spite of being active since 2019. This tells us that the EA wins most of its trades and generates substantial profits.
Multiple news filters
Thanks to the news filters, you can trade news more efficiently. There are several news releases for the Forex market, and you cannot possibly conduct trades based on all of them. The filters allow you to trade the relevant releases.
Special offer
There is a special offer where you get the Happy Forex Full Pack containing 10 EAs for free. This includes EAs like Happy Gold, Happy Frequency, and Happy Way. By combining the robots, you can achieve better results.
Pricing details
For two licenses, you need to pay 299 Euros, while five licenses cost 499 Euros. The prices are quite reasonable and the vendor offers a 30-day money-back guarantee.
Customer reviews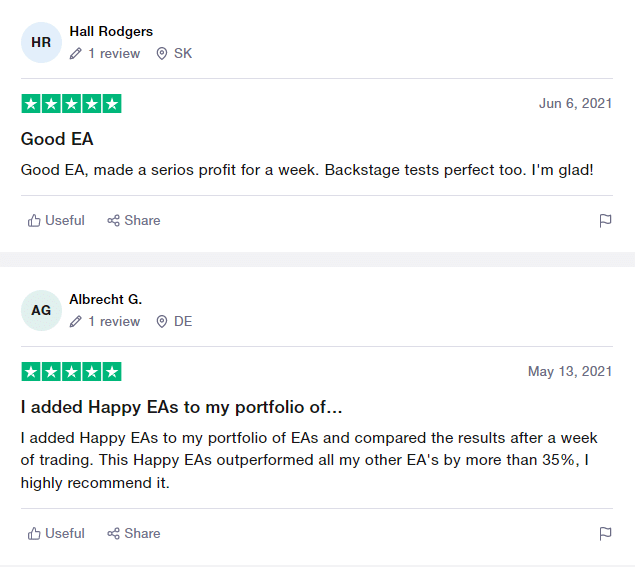 There are no reviews for this Forex EA. However, Happy Forex has a rating of 4.5 out of 5 on Trustpilot based on 13 reviews and several users have praised the performance of the EAs.