FXZipper is a system that provides us with a possibility to be profitable on the Forex market. The presentation lacks settings and features explanations but includes backtest reports and trading results.
FX Zipper trading strategy
The core strategy is scalping profits from the market volatility.
GBPCAD, GBPAUD, EURCHF, AUDUSD, AUDCAD, USDCAD, GBPUSD, and EURCAD are the pairs to work with.
We don't know details about time frames.
FX Zipper backtesting report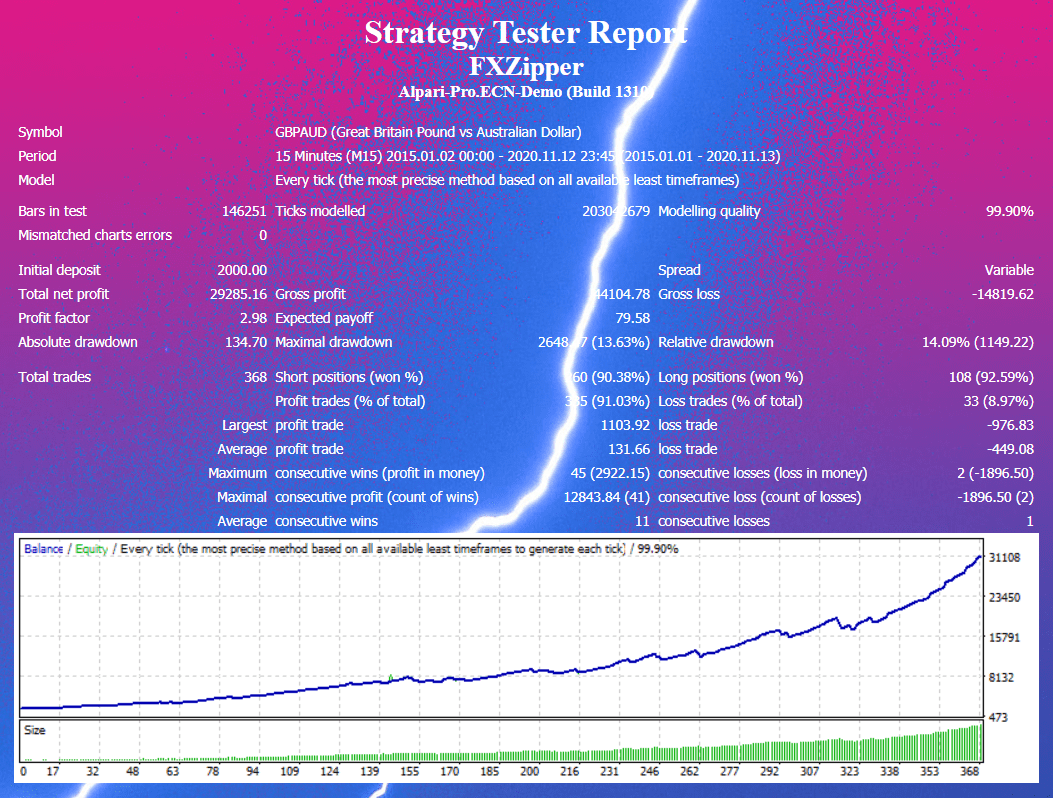 We have some reports from the robot testing. It's a GBPAUD report that was received after testing the advisor on the M15 time frame. The tick data was received from 2015 to 2020. The modeling quality was 99.90% with the variable spreads. An initial deposit was $2000. The system has turned them into $29,285 of the total net profit. The profit factor was 2.98. The maximum drawdown was 13.63%. There were 368 deals traded. We have accuracy at 90% for shorts and 92% for longs.
FX Zipper live results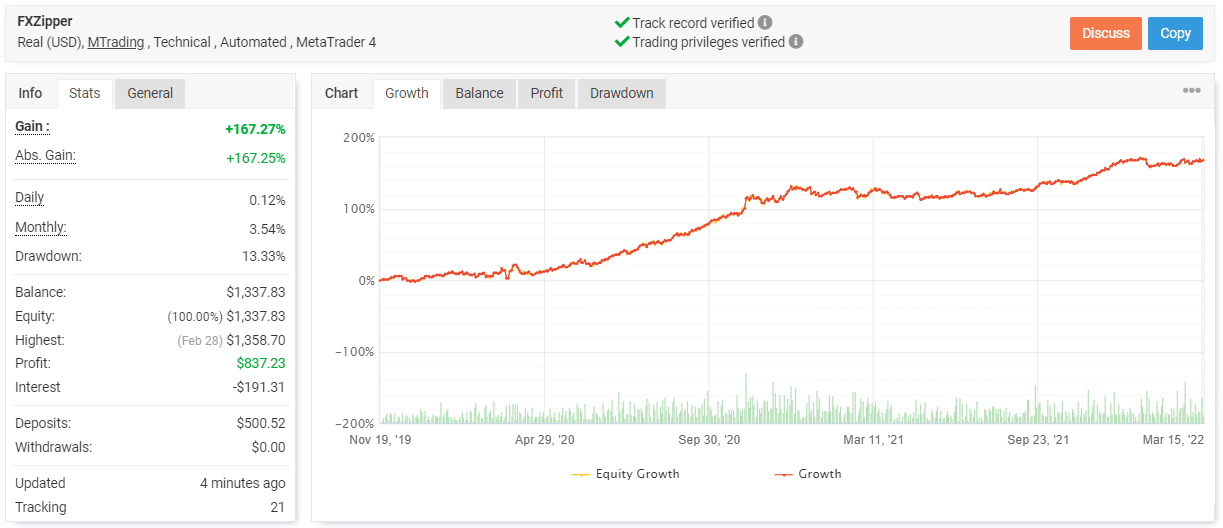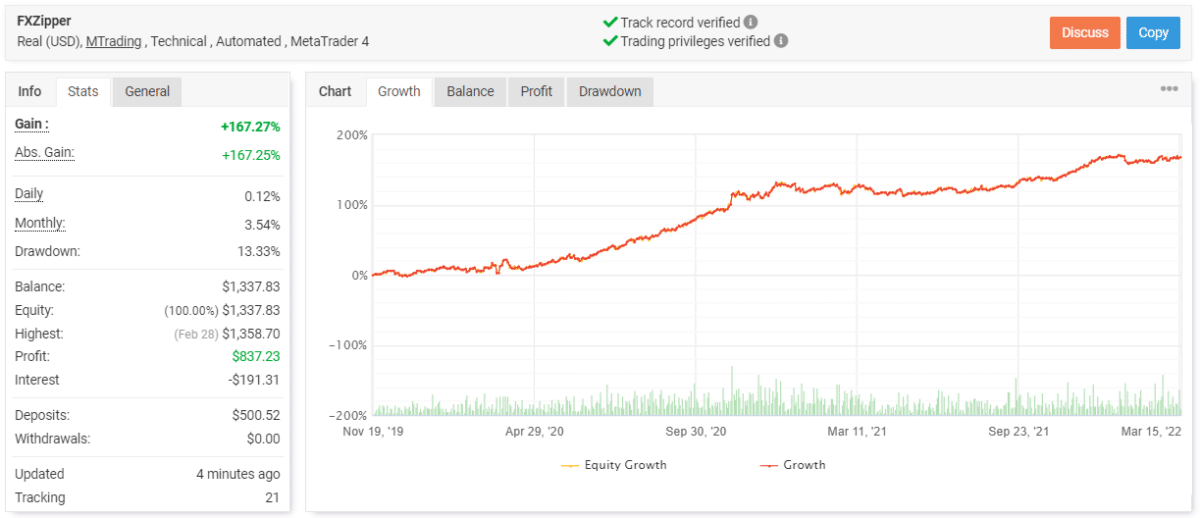 The system executed orders on a real MTrading-based account automatically. We'd like to note that this broker is rarely used for algorithmic trading. The account has both verified track record and trading privileges. It was created on November 19, 2019, and deposited at $500.52. Since then, the total gain has become 167.27%. An average monthly gain is 3.54%. The maximum drawdown is 13.33%. We have 21 traders who look for the upcoming trading results.


There were 1157 deals executed with 2517.5 pips obtained. An average win is 7.58 pips when an average loss is -18.10 pips. Expected accuracy is 77% for longs and 79% for shorts. An average trade length is 9 hours and 5 minutes. The profit factor is 1.37.


The system tries to perform orders on ten cross pairs at the same time. EURCHF is the most traded (235 deals) and the most profitable at $225.91 among them.


It prefers opening orders when the market is calm and experiences low volatility.

The system trades equally during a week, adding some extra orders on Monday.


There's a 1.38% chance of losing 14 orders. This forces the account to lose 10% of the balance.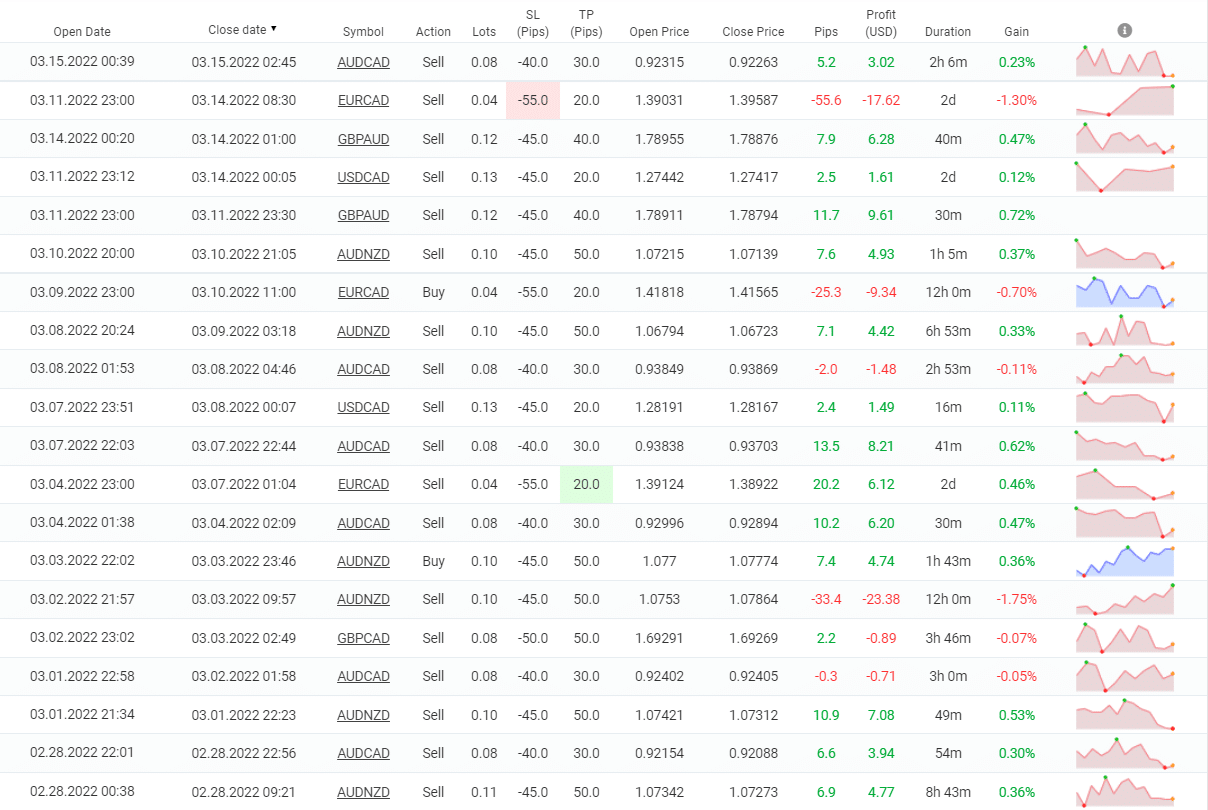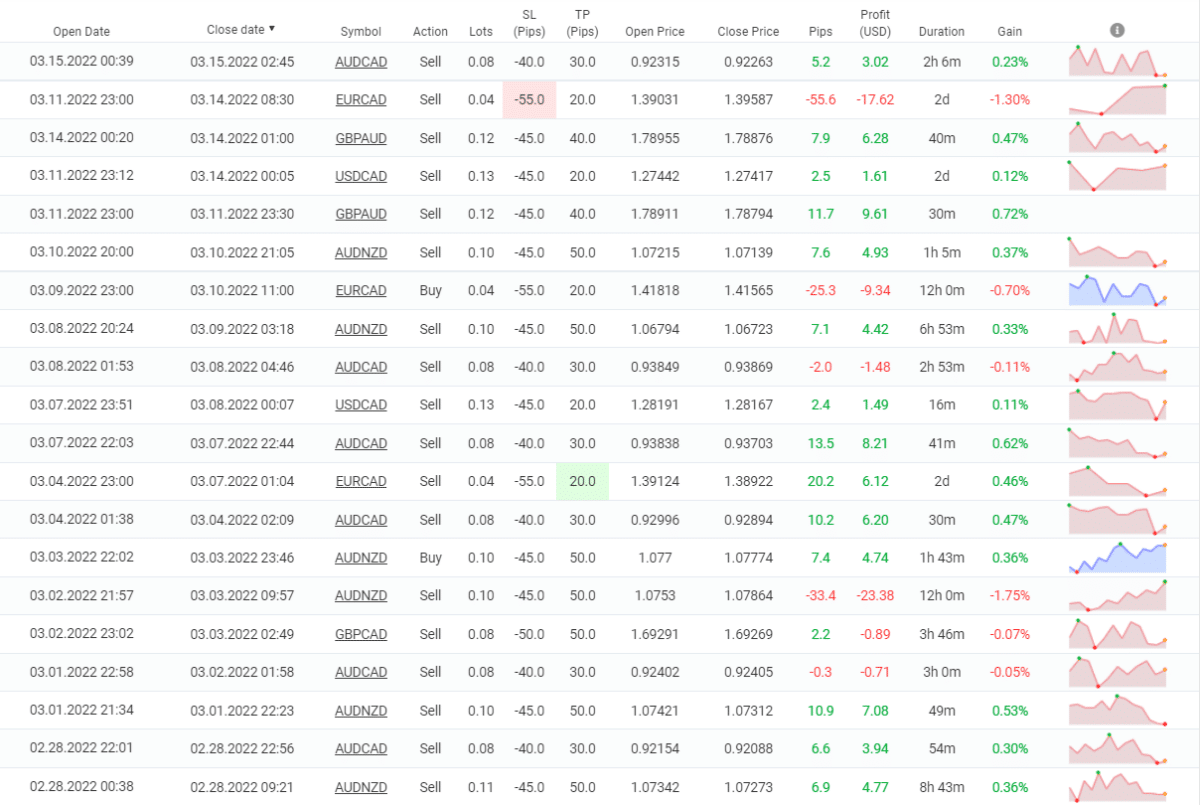 The advisor works with conservative-sized Martingale.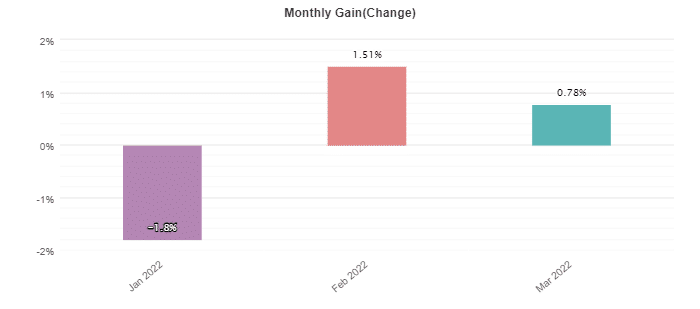 January 2022 doesn't look good. It is working much better now.
Some features of FX Zipper
The presentation includes various information about how the system functions. We have united all important intel in the following list.
The advisor is able to cover us with executing our orders completely automatically.
We may do nothing in addition.
It can protect our orders by placing relevant SL levels.
The robot can close orders if they start bringing losses.
The core strategy is scalping.
We can get from 6 to 12 pips from every winning order.
It cuts some pips from market's volatility.
The advisor can open orders on the following charts GBPCAD, GBPAUD, EURCHF, AUDUSD, AUDCAD, USDCAD, GBPUSD, and EURCAD.
To close a single order, the system keeps it on the market for over 7 hours.
There's a spread protection not to open orders from significant losses at the beginning.
We have to work with it on an ECN account only.
A VPS service is a good option to work the whole day.
The system protects our orders from being hunted by a broker.
| | |
| --- | --- |
| Total return | 167.27% |
| Maximal drawdown | 13.33% |
| Average monthly gain | 3.54% |
| Developer | N/A |
| Created, year | 2019 |
| Price | $349 |
| Type | Scalper |
| Timeframe | N/A |
| Lot size | N/A |
| Leverage | N/A |
| Min.deposit | N/A |
| Recommended deposit | N/A |
| Recommended brokers | N/A |
| Currency pairs | GBPCAD, GBPAUD, EURCHF, AUDUSD, AUDCAD, USDCAD, GBPUSD, and EURCAD |
| ECN | Recommended |
Main things to consider if you invest with FX Zipper
Cross pairs diversity
The advisor works with many cross pairs. So, we can work with all of them or pick several of the best ones to focus on.
Performance
We have real account trading results. So, they convinced us that the robot is a consistently profitable trading solution.
Official FX Zipper website
The site looks pretty simplified. We are sure that the developers could have written it better.
Pricing details
There's a single price option available. We can purchase a copy of the system for $345. The package includes common extras like a real account license, some demo account licenses, trading on 8 pairs, MT4 and MT5 versions of the system, user manual, free updates plus upgrades, and 24/7 support. The developers cover us with 30 days of a money-back guarantee.

The system is rated 9.1 from 10 on the Forex Store. We may note a badge that the robot works under NFA regulation.
Other notes
We don't have testimonials written about how good the system is. Also, there's no sign that it's possible to repeat success on people's accounts.